This post may contain affiliate links. This means I may make a small commission at no additional cost to you when you make a purchase. Find out more in the Disclosure Policy
In 2022, the Mediterranean Diet continues its elite status as the #1 Best Diet Overall awarded by US News in 2021. This lifestyle eating plan has been studied and found to help reduce the risk of diabetes, heart disease, and many other chronic health conditions. What is it about the Mediterranean Diet that makes it so special? It's the Mediterranean Diet Recipes and Food List that includes healthy, plant-focused foods. Combine food and recipes with regular exercise and stress management and you are on your way to a healthy lifestyle.
---
Article Index
---
Learn How to Eat for a Healthy Diet
Learn how to eat the Mediterranean Diet with a look at a day of food on the Mediterranean Diet. Since most people who start a diet are looking to lose a few pounds, I based my day on a 1200-calorie diet. If you want more calories, I've included tips on adding food. You may be surprised how quickly calories add up.
To help you I include other recipes that you can mix and match to your preference to complete a week or even a 30-day meal plan of eating the Mediterranean Diet.
Lastly, you will find a Mediterranean Food List that will help you shop and get started.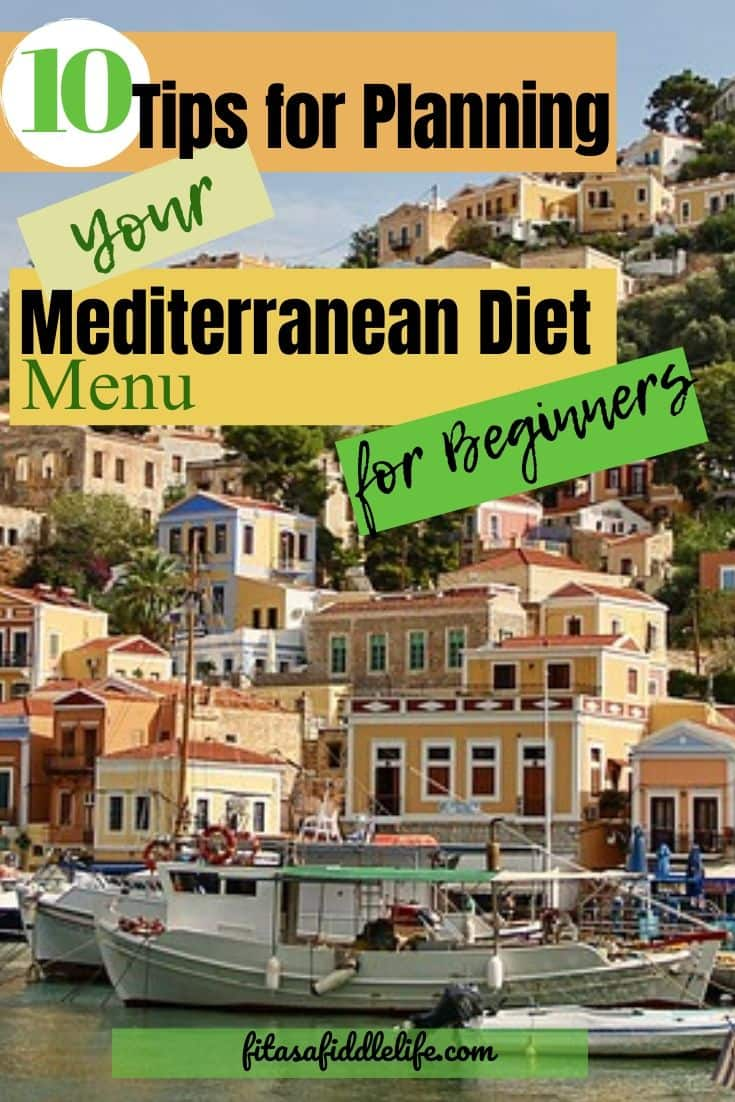 ---
Mediterranean Diet Overview
The traditional Mediterranean Diet focuses on plant-based foods, whole grains, fish and seafood, poultry, beans and legumes, and healthy monounsaturated olive oil.
While nothing is excluded from the Mediterranean Diet, processed foods, red meat, and sweets are limited.
Another thing to consider on the Mediterranean Diet is portion size. While the traditional Mediterranean Diet does not specify portions, and usually most followers will eat until satisfied, portions are not super-sized.
In addition, you should limit snacking when following the Mediterranean Diet. A handful of nuts, a small piece of fruit, or a couple of whole-grain crackers are options to consider. But not too often.
The Mediterranean Diet is overall a low glycemic index diet, which means that the carbohydrates included in the diet don't impact and raise your blood sugar as easily as simple carbohydrates.
Mediterranean Diet whole grains are filled with fiber and complex carbohydrates which are slower to absorb and digest so blood sugar impact is moderate.
All these foods as well as exercise and social interaction, work together to make the Mediterranean Diet an eating plan for long healthy life.
For more information on the Mediterranean Diet, read my post, Mediterranean Lifestyle, and Diet Basics.
---
Mediterranean Diet Pyramid
The Food Pyramid was introduced in the United States by the USDA as guidance on eating a healthy diet. It was modified in the 1990s to reflect the Mediterranean Diet.
Now the Pyramid rests on a foundation of exercise and community. The Pyramid is divided into 4 sections of food.
The Pyramid base includes vegetables, fruits, whole grains, beans, legumes, olive oil, nuts, and seeds which should be eaten daily. Meals are flavored with herbs and spices.
The Pyramid's midsection includes fish and seafood which should be eaten at least twice each week.
Just below the top of the pyramid, is the third section which includes poultry, eggs, and low-fat dairy, and yogurt. These foods should be included in moderate portions of the diet daily to weekly. 
At the very top of the pyramid are sweets, red meat, and other processed foods. These foods should be limited and included in the diet no more than once each month if at all.
Your primary beverage should be water. Coffee and tea are allowed, while sugary drinks should be avoided.
Red wine has many health benefits and the traditional Mediterranean Diet suggests one small glass to be enjoyed with a meal per day for women, and up to 2 glasses daily for men. But, this is not a requirement to experience the benefits of the diet.
---
Portion Size on the Diet
One of the many benefits of the Mediterranean Diet is its lack of restrictions. There are so few guidelines that many people may not know where to start. Some suggest eating until satisfied.
Without a calorie limit, a carbohydrate max, a low-fat goal, or other diet restrictions, it may not feel like you are on a diet at all.
A popular way to look at the Mediterranean Diet is to think of your plate as you plan your meal.
Fill half the plate with a salad of dark leafy greens dressed with an olive oil dressing. The other half of your plate should be divided in half. Fill one-quarter with protein and the second quarter with higher complex carbohydrate foods, such as whole-grain pasta, a small slice of whole-grain bread, or brown rice.
Limit snacks to a handful of nuts, a small piece of fruit, or vegetables with a couple of tablespoons of hummus. The key is to curb snacking on the Mediterranean Diet.
---
A 1200 Calorie Day on the Mediterranean Diet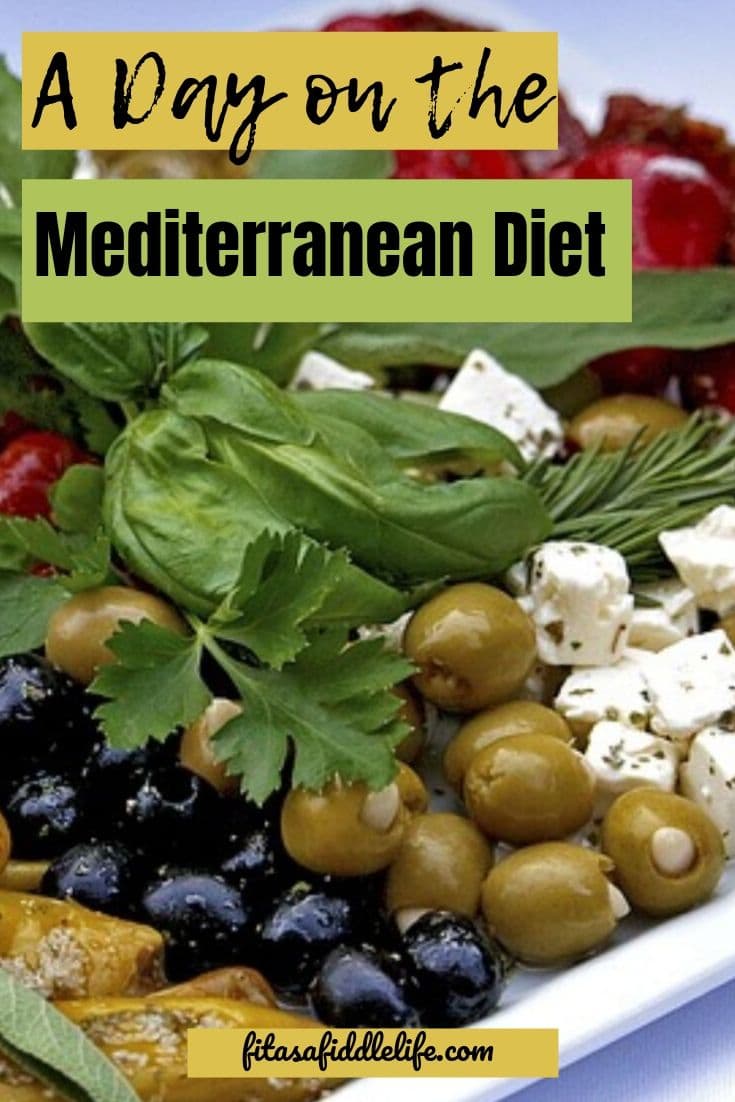 You still may be wondering how to start the Mediterranean Diet and feel uncomfortable with how to eat on the diet. So take a look at a typical day on the diet. For the purpose of losing weight, I limited the daily calories to approximately 1200.

Breakfast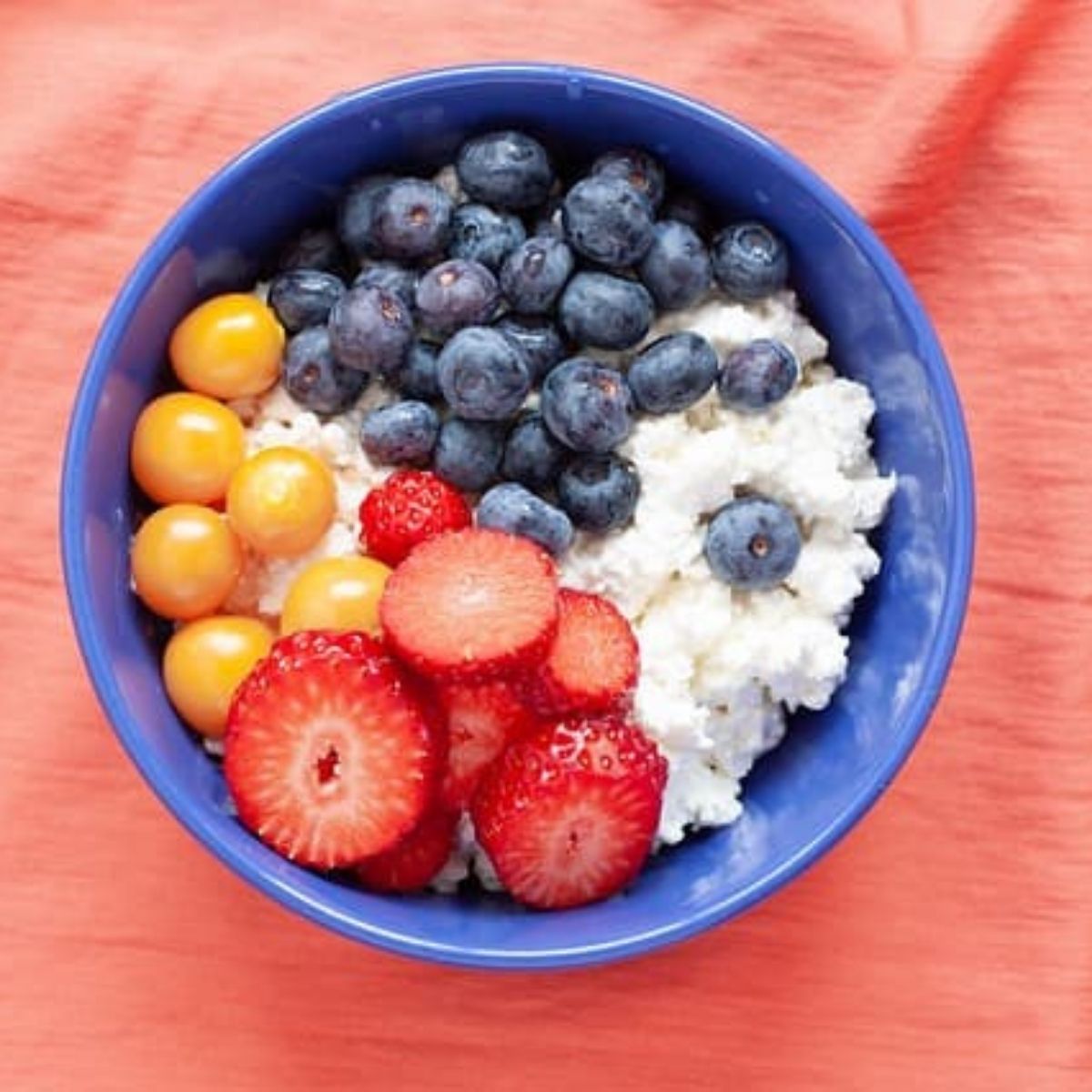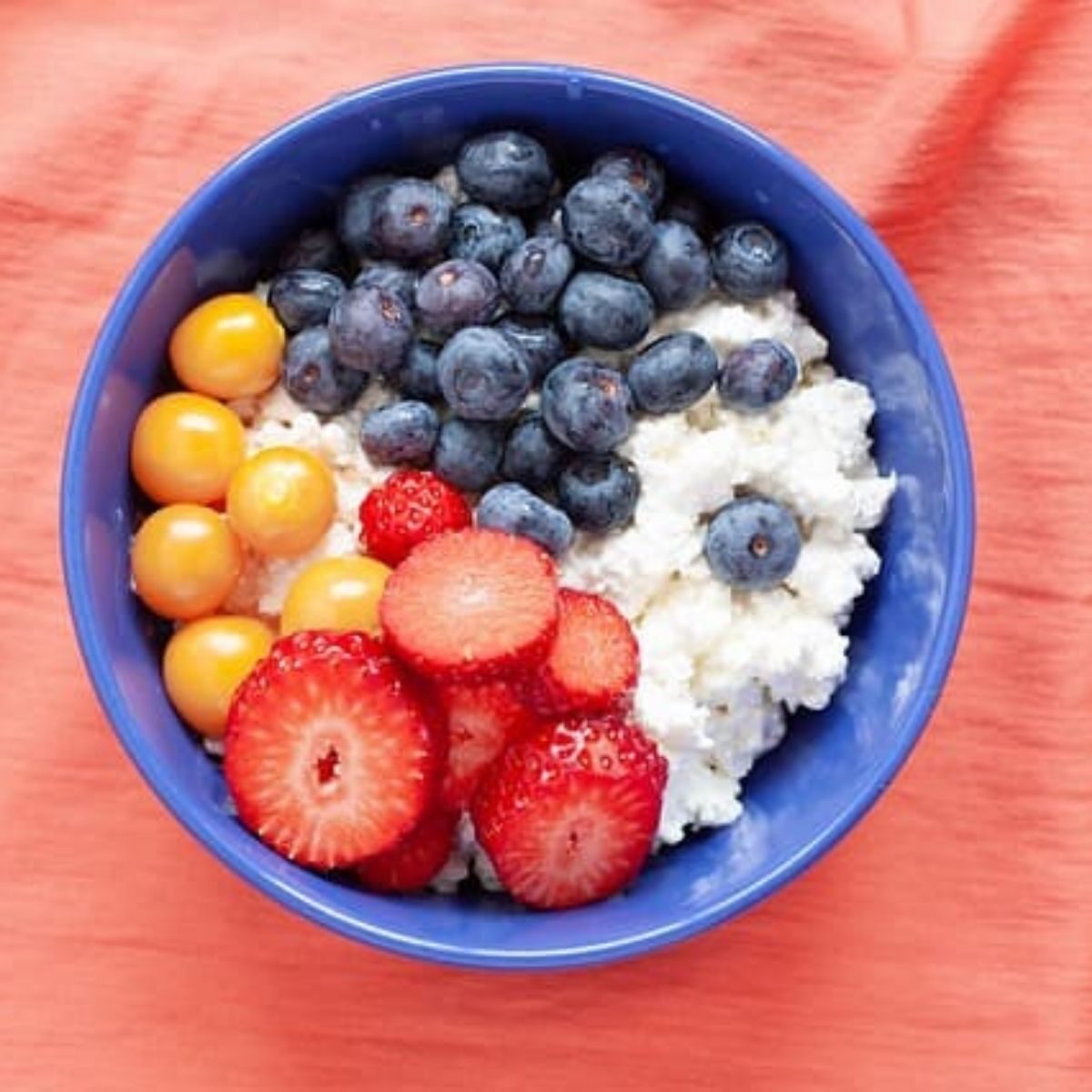 Cottage Cheese with Blueberries and Walnuts
½ Cup
Cottage Cheese
¼ Cup
Blueberries
1 Tablespoon
Chopped Walnuts
Calories=191, P=20g,
F=8g, C=12g, Fi=2g


Lunch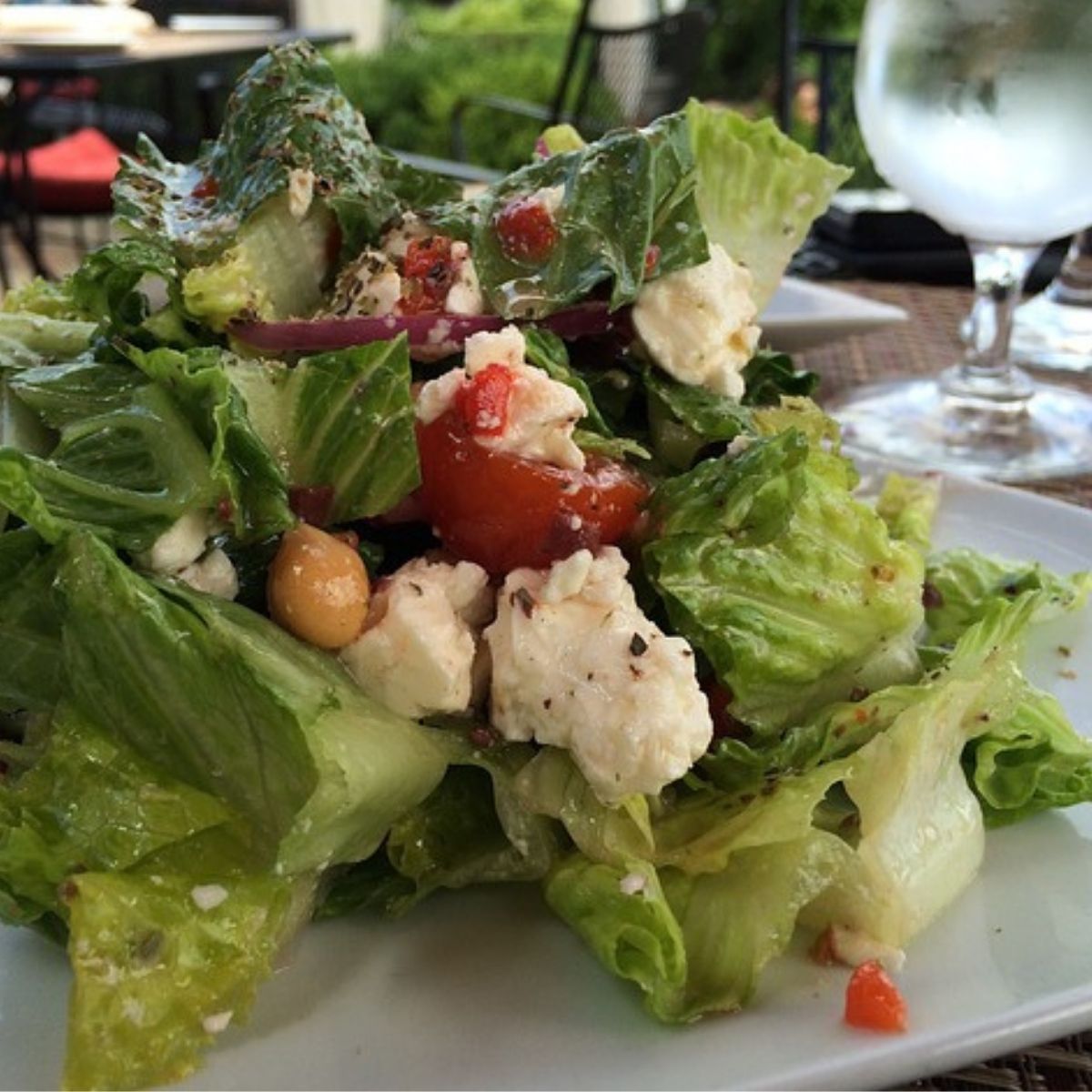 Green Salad with Chicken, Chickpeas, Cucumber, Almonds, Feta Cheese, and Olive Oil Dressing
3 Cups
Salad Greens
2 oz
Chopped Chicken
2 Tablespoons
Chickpeas
½ Cup
Sliced Cucumber
2 Tablespoons
Sliced Almonds
1 oz
Feta Cheese
2 Tablespoons
Wine Vinegar/
EVOO Dressing
Calories=440, P=28g,
F=32g, C=18g, Fi=6g


Snack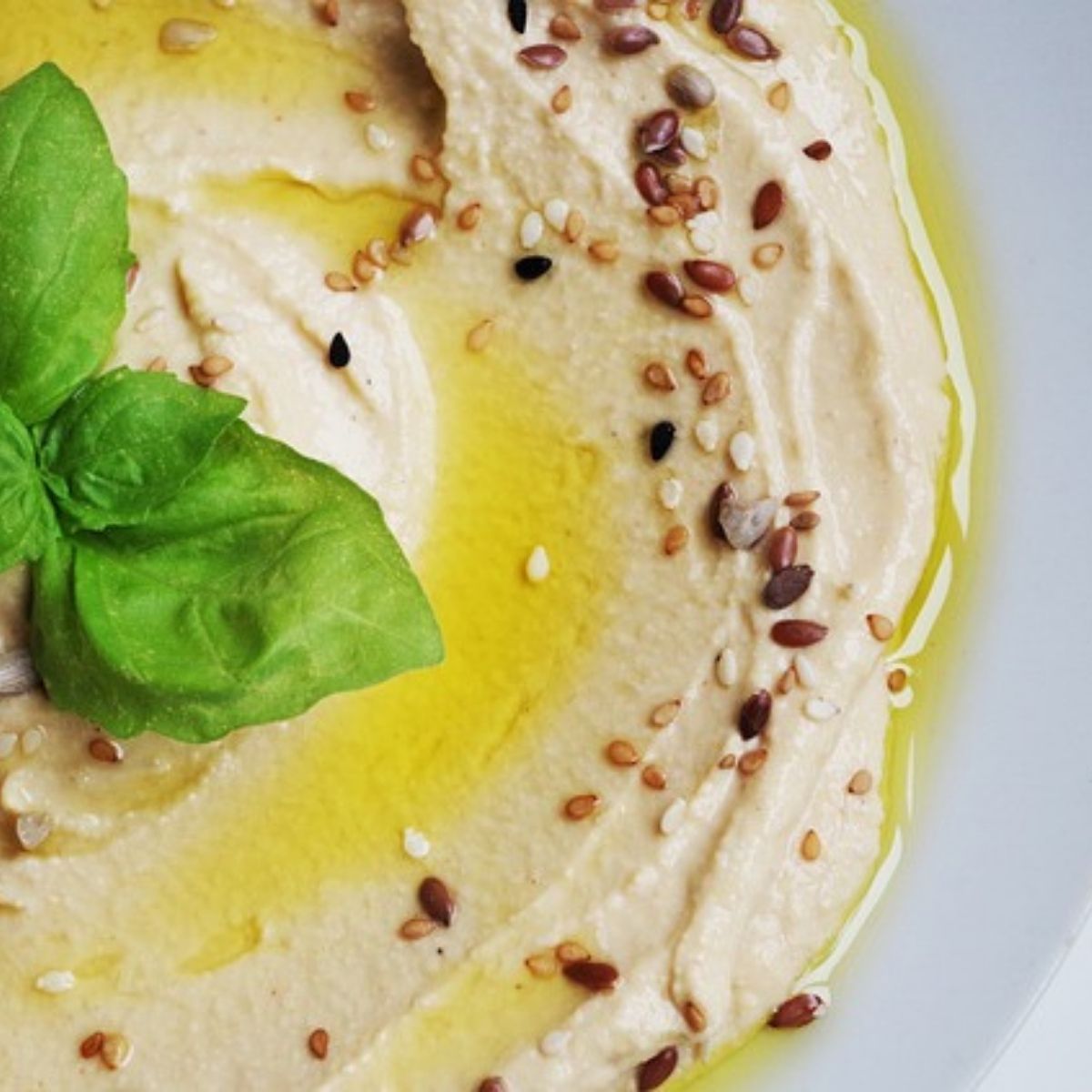 Celery, Carrots, and Green Pepper with 2 Tablespoons Hummus
100g
Carrot Sticks
100g
Celery Sticks
100g
Green Pepper Sticks
2 Tablespoons
Hummus
Calories=138, P=3g,
F=0g, C=19g, Fi=6g


Dinner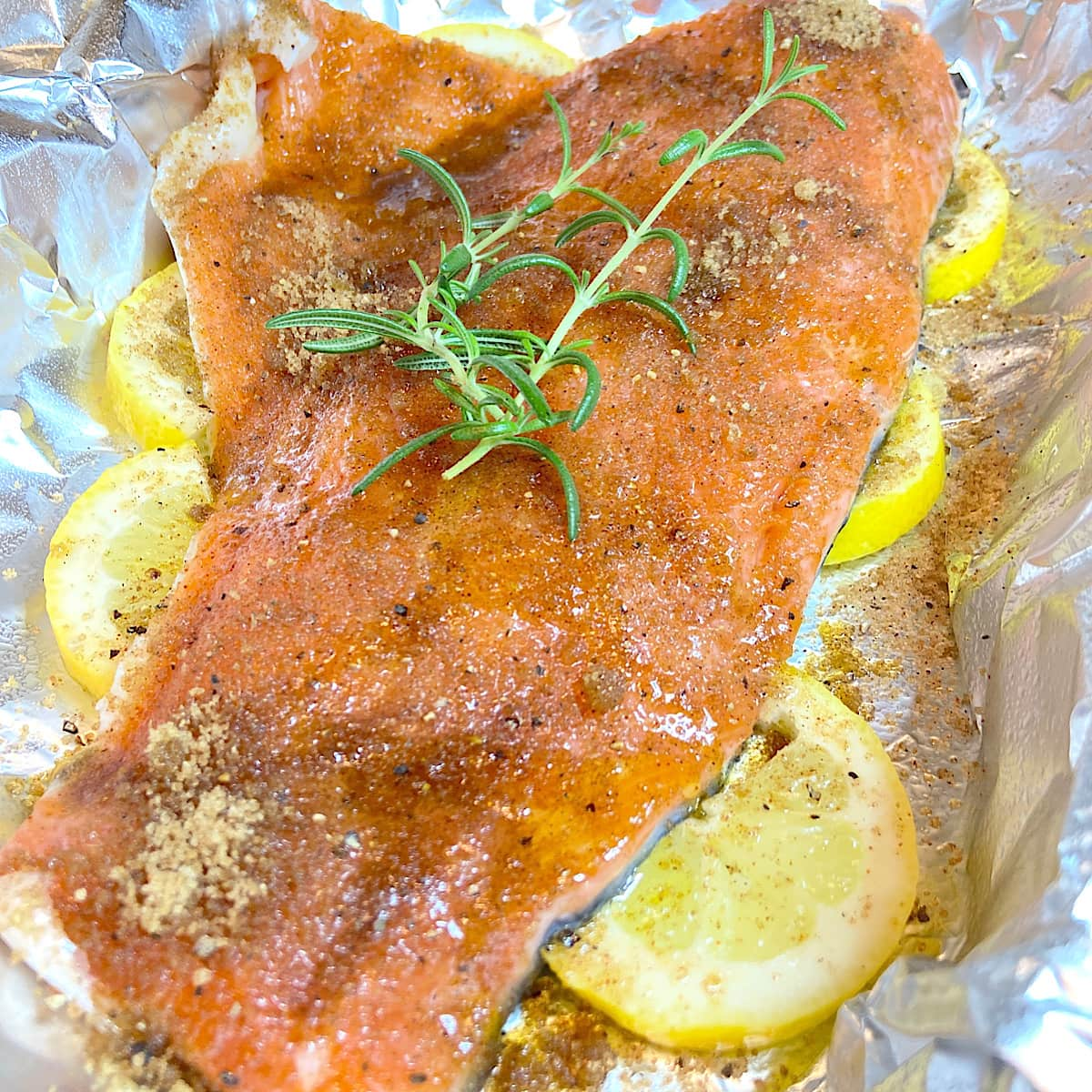 Baked Salmon with Broccoli, Olive Oil, Spices, and Pear
4 oz
Baked Salmon
2 Cups
Broccoli
1 Tablespoon
Olive Oil
1 Tablespoon
Herb Rub w Garlic
1 Cup
Sliced Pear
Calories=456, P=33g,
F=13g, C=35g, Fi=3g


DailyTotals Calories=1225, P=84g, F=53g, C=84g, Fi=18g (USDA)

Add More Calories
This amount can easily be increased by adding a couple of tablespoons of olive oil (240 calories) to meals throughout the day and a small slice of whole wheat bread(~150 calories), or 1 cup of pasta (~180 calories) and your daily calories will be closer to 1600 calories.
As you become more familiar with the Mediterranean Diet and food portions, you should be able to relax and not worry so much about calories.
Want to try a week on the Mediterranean Diet? Take a peek at my 7-Day Mediterranean Diet Menu.
---
Mediterranean Food Tips

Planning your meals on the Mediterranean Diet is relatively easy.
Follow These 10 Tips:
1 Plan your meals for the week and shop ahead. Have ingredients available to make the aromatic and flavorful meals of the Mediterranean Diet.
2 Plan your meals to stay within the basic guidelines of the Mediterranean Diet Pyramid.
3 Focus your menu on fresh seasonal vegetables and fruits. Don't like a particular vegetable, then substitute other vegetables.
4 Include beans, and legumes in a few of your weekly meals. Sprinkle on salads and add to soups. High in fiber and nutrients, they are a key part of the Mediterranean Diet.
5 Focus fats on extra virgin olive oil, nuts, and seeds. Extra virgin olive oil is primarily a monounsaturated fat and is considered heart-healthy. Substitute for butter, and other fats. You can even bake with it!
6 Add moderate amounts of protein in the form of fish, poultry, and complex carbohydrates such as whole grains.
7 For portions consider the Mediterranean Diet Plate. When you focus your main meals on dark leafy greens, you will help manage your overall daily calories.
8 Limit protein and high carbohydrate portions to 4 oz portions. To visualize this think about a portion that will fit in the palm of your hand. Managing portion size will help keep those calories in check too.
9 Make healthy substitutions. For example, choose water, tea, and coffee for sugary drinks, and whole-grain for processed white flour pasta and bread.

10 Include a variety of Spices in your recipes. This will make your meals flavorful, and you will also reap the additional benefits from healthy food and spices.
As with any diet, the first few weeks may be a challenge as your body adapts to smaller portions and less snacking, but this is how you allow your body to lose those excess pounds.
---
Mediterranean Diet Recipes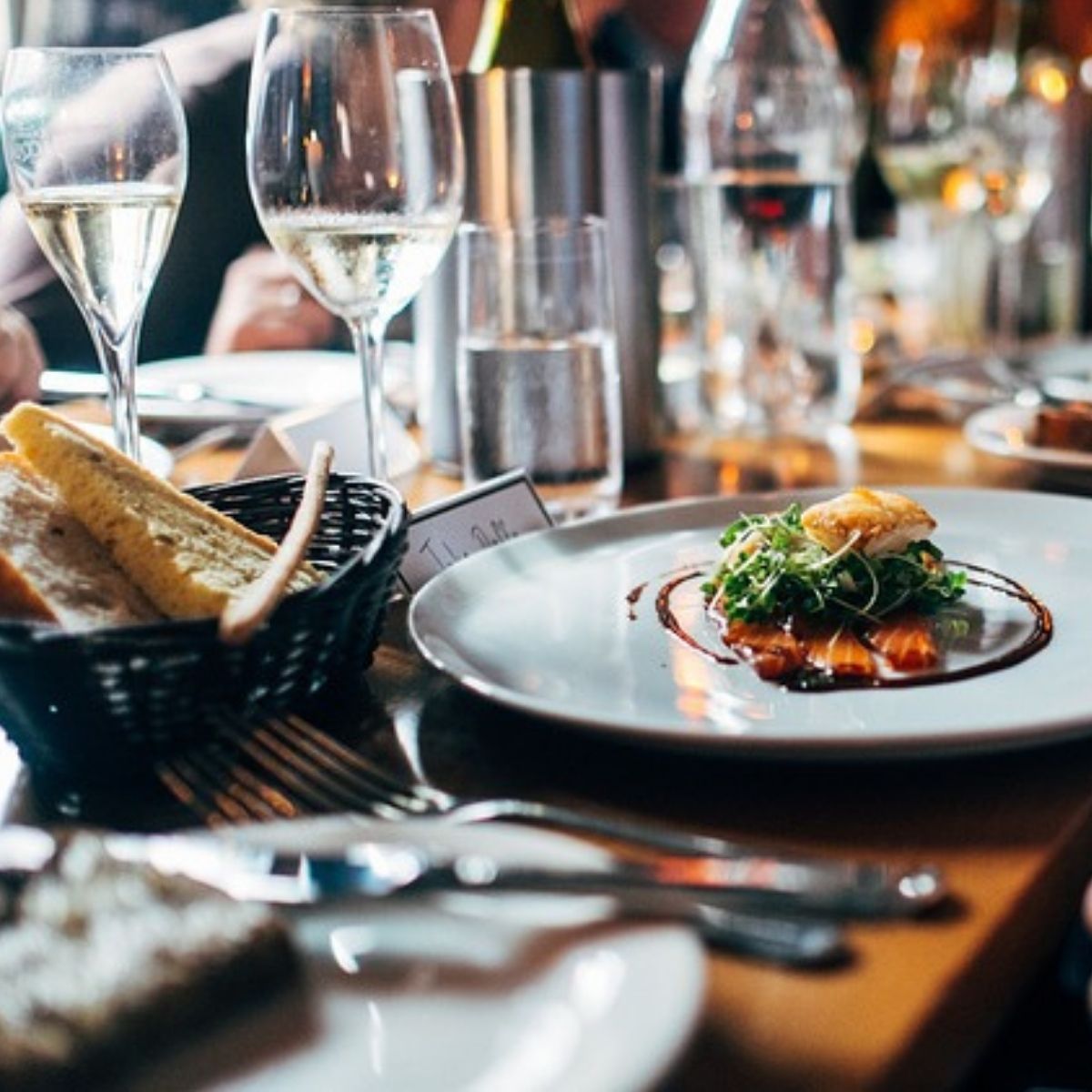 Still not sure what you will eat? I pulled together a few recipes to get you started. Recipe ingredients are included in the Mediterranean Food List below.
You can mix and match these Mediterranean Diet Breakfast, Lunch, Dinner, and Snack recipes.

Recipes to fuel the start of your day.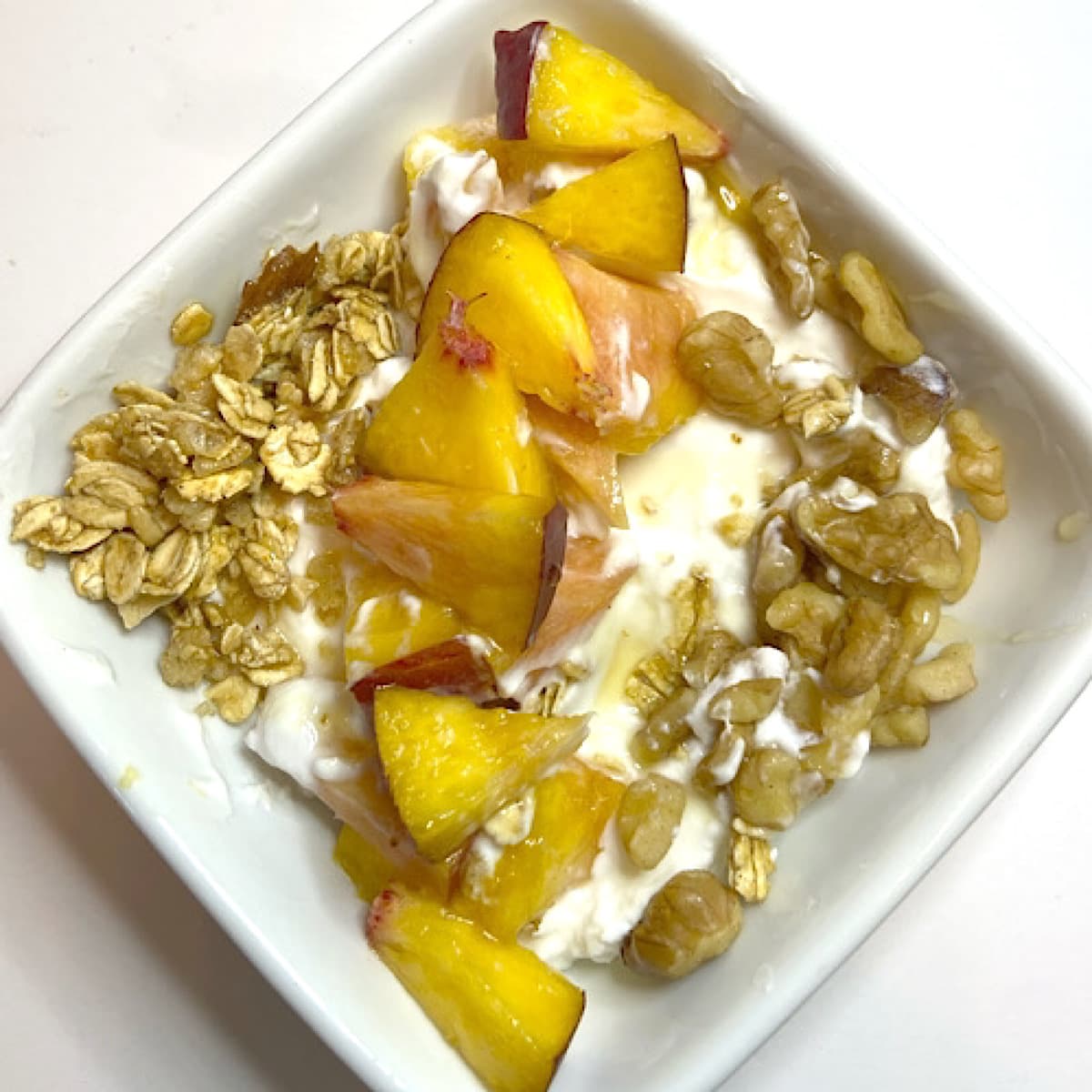 Greek Yogurt, Nectarine, Oats, and Nuts: ¾ Cup Greek yogurt, ¼ Cup nectarine, 1 tablespoon of nuts, sprinkle of oats.
Overnight Oats: 1/3 Cup Old Fashioned Oats, 1/3 Cup Liquid (almond milk, milk, water), 1 Tbs Greek Yogurt, 1 Tablespoon Sugar-Free Peanut Butter or Almond Butter, 1 Teaspoon Honey or Brown Sugar, ½ Teaspoon Cinnamon. Make the night before, store in the refrigerator, and enjoy in the morning.
If you prefer warm oatmeal, skip the yogurt, and adjust other ingredients to your liking. I make mine in the microwave. Set the timer for 1 minute, 30 seconds, stir, then set the timer for another 30 seconds until done.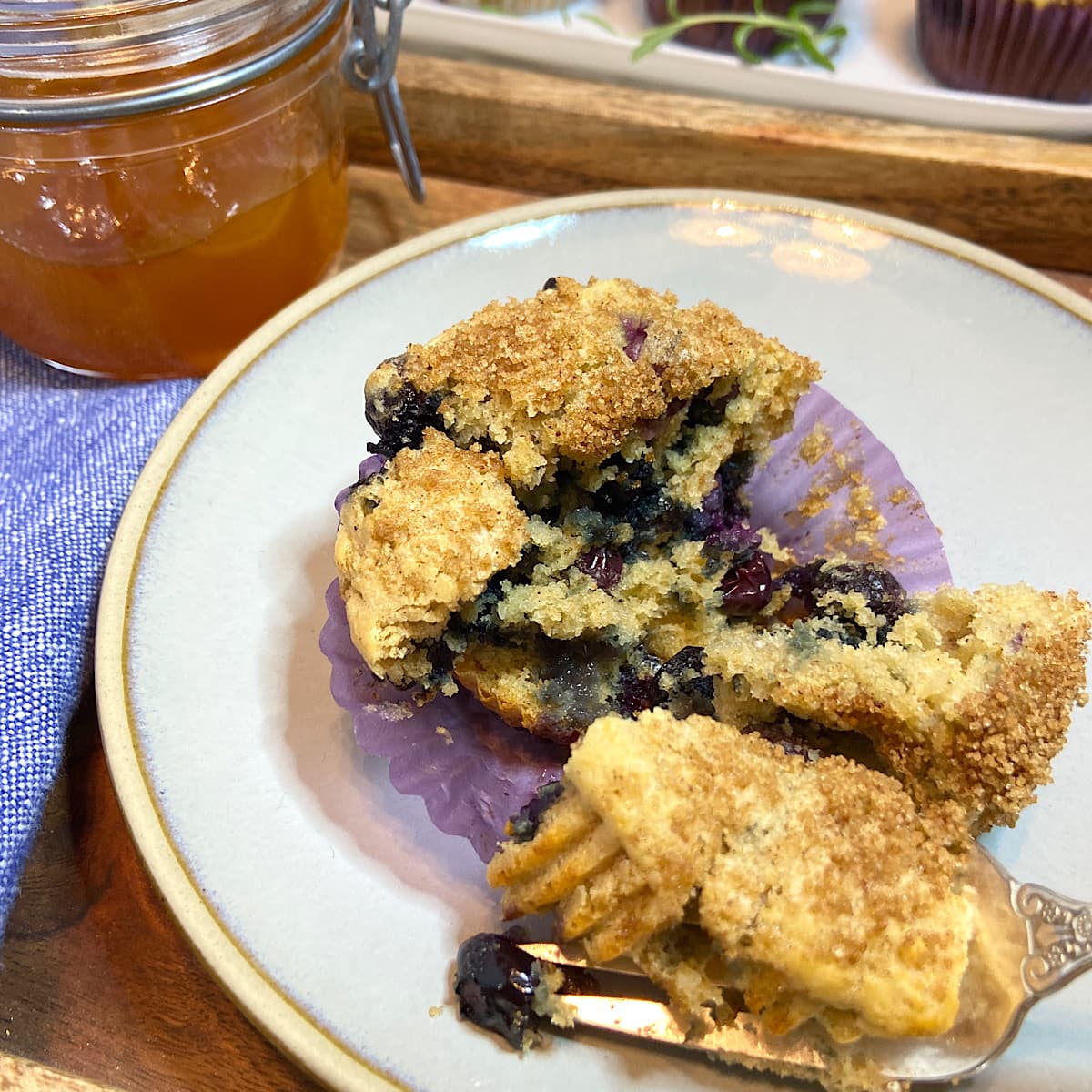 Blueberry Whole Wheat Muffin: These whole wheat muffins are light and fluffy. The key is using King Arthur's White Whole Wheat Flour. Made from hard white winter wheat, it is lighter in color and milder in flavor than whole wheat flour.
Another moist muffin made with white whole wheat flour and olive oil is my recipe for Streusel-Topped Whole Wheat Apple Muffins. Yum.
Egg Omelet: 2 Eggs scrambled, a Handful of Spinach, 2 Tablespoons of Green Pepper, 3-4 Cherry Tomatoes, 1 Tablespoon of crumbled Feta Cheese, and 1 Tablespoon of Olive Oil.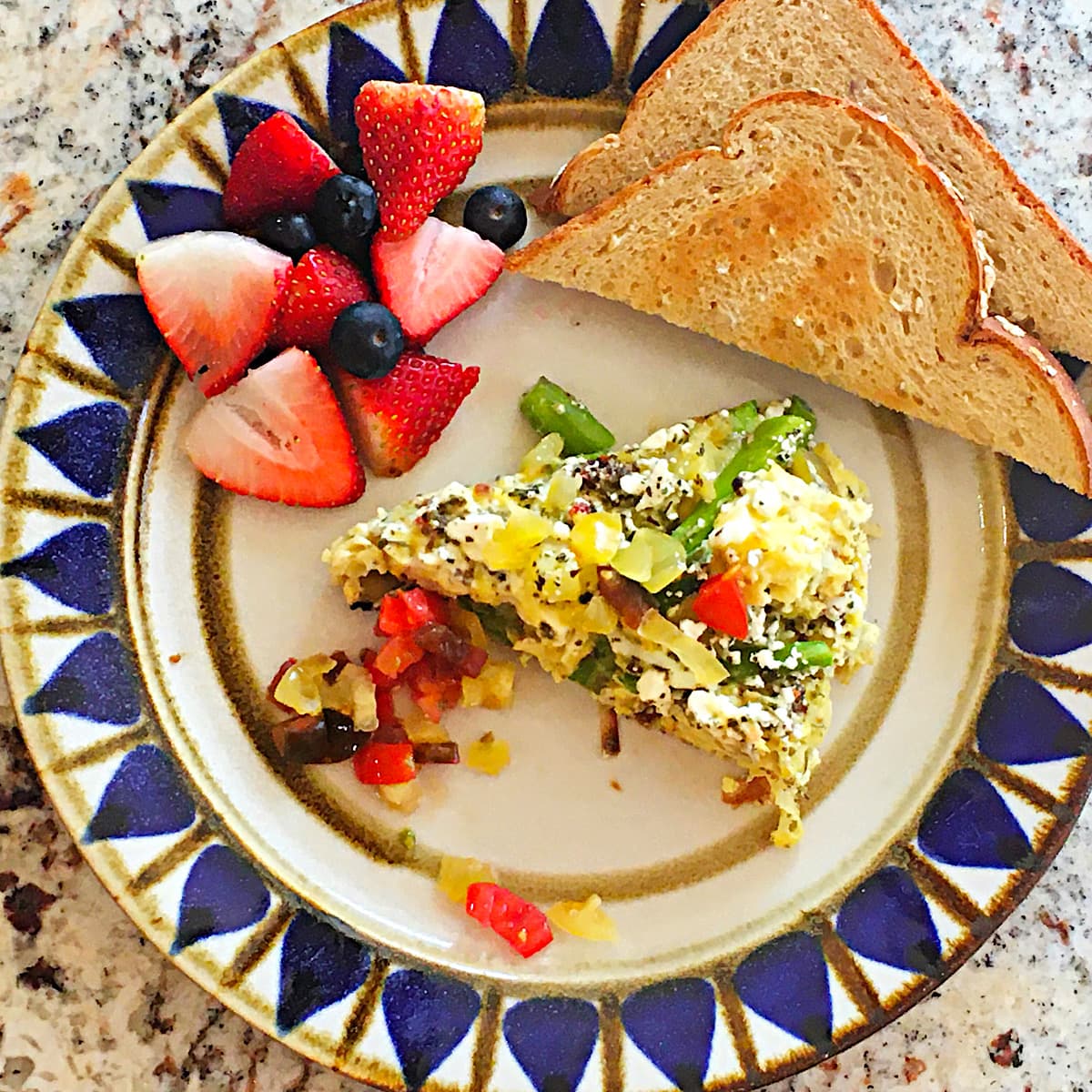 Leek and Asparagus Frittata is made with fresh asparagus, potatoes, and leeks.
Cottage Cheese, Berries, and Nuts: ½ Cup Cottage Cheese, ¼ cup of Berries, 1 Tablespoon of Nuts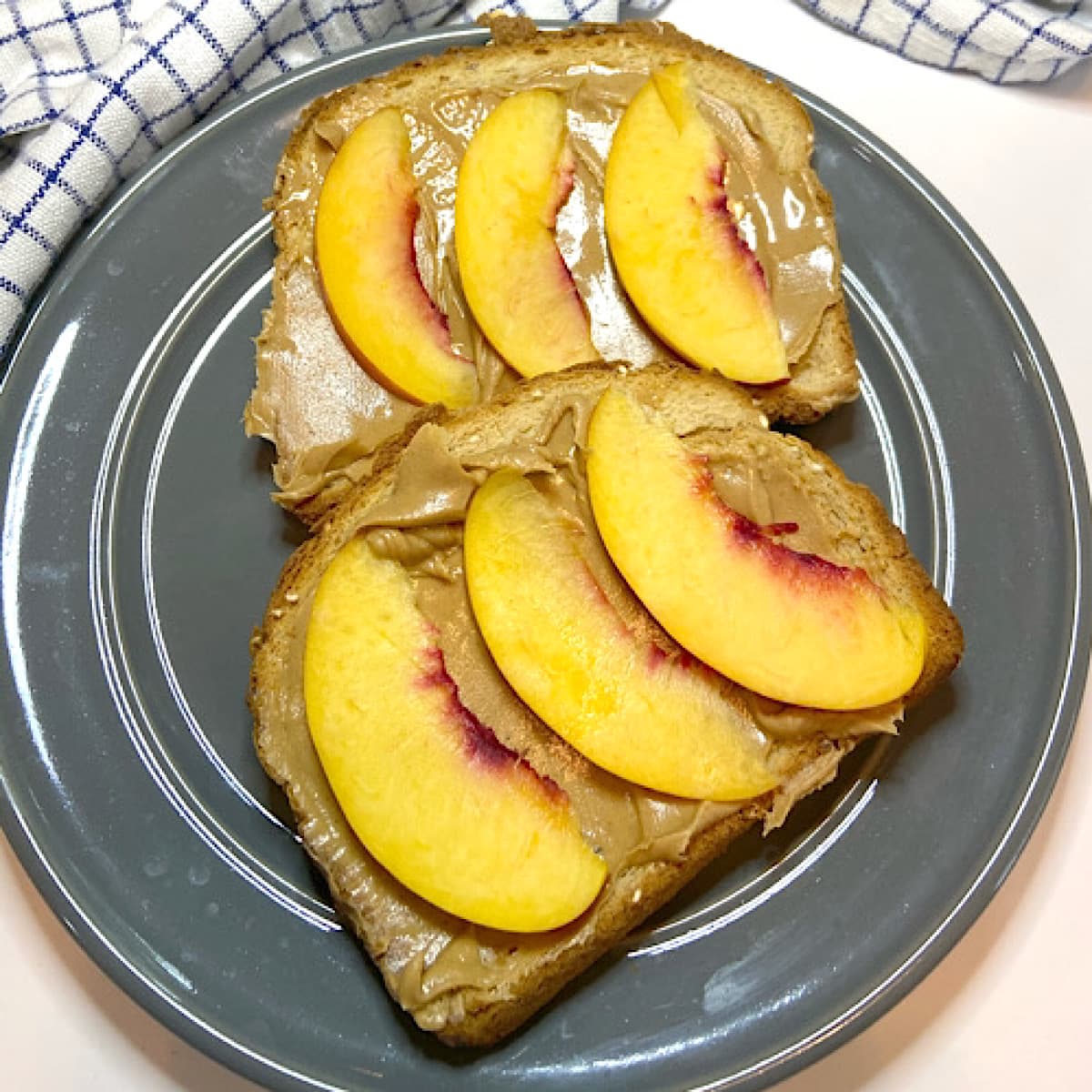 Whole Wheat Toast and Fruit: 1 Sl Whole Wheat Bread, 1 Tbs sugar-free almond butter, 1 small nectarine. I like Gordon's Oat Nut Whole Wheat Bread. Look for the stamp for whole wheat per serving.
Looking for more breakfast recipes? Read my post The Best Mediterranean Breakfast Ideas.
Mediterranean Diet Lunch Recipes
A light lunch of protein, leafy greens, vegetables, and fruit. Healthy nutrients to support your busy day.
Green Salad with Chicken and Fruit: 2-3 Cups Salad Greens, 2 oz Chicken, 2 Tablespoons Chickpeas, ½ Cup Cucumber, 2 Tablespoons Sliced Almonds, 1 oz Feta Cheese, and 2 Tablespoons Vinegar/Olive Oil Dressing. 1 Cup sliced Pear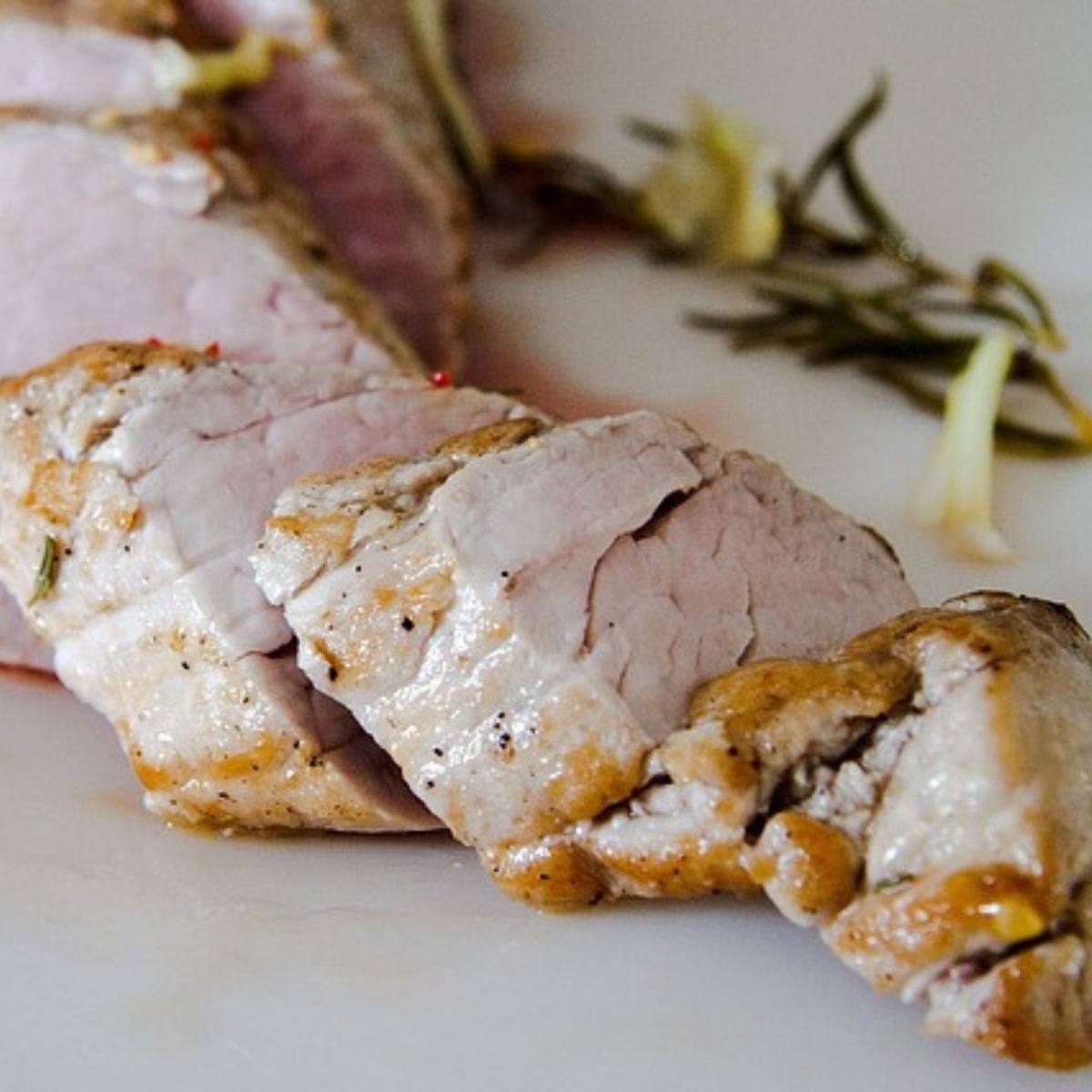 Pork Tenderloin, Cooked Apples and Onions, 1 Tbs Greek Yogurt Dill Dip on Whole Wheat Pita. Cucumber and Tomato Salad.

Lettuce Wraps with Chicken: 2 oz Chicken tossed in Vin/EVOO Salad Dressing, ½ oz Shredded Cheese, ¼ Cup Chopped Cucumber, 3 Sl Cherry Tomatoes, 5 Sl Black Olives, 2 Large Romaine Lettuce Leaves. 1 cup Strawberries.
Cucumber Tomato Quinoa Salad with Whole Wheat Crackers: 1 cup sliced Nectarines.
Mediterranean Turkey Meatballs, Greek Yogurt Dill Dip on Whole Wheat Pita. 2 Cups green salad with Vin/EVOO Dressing.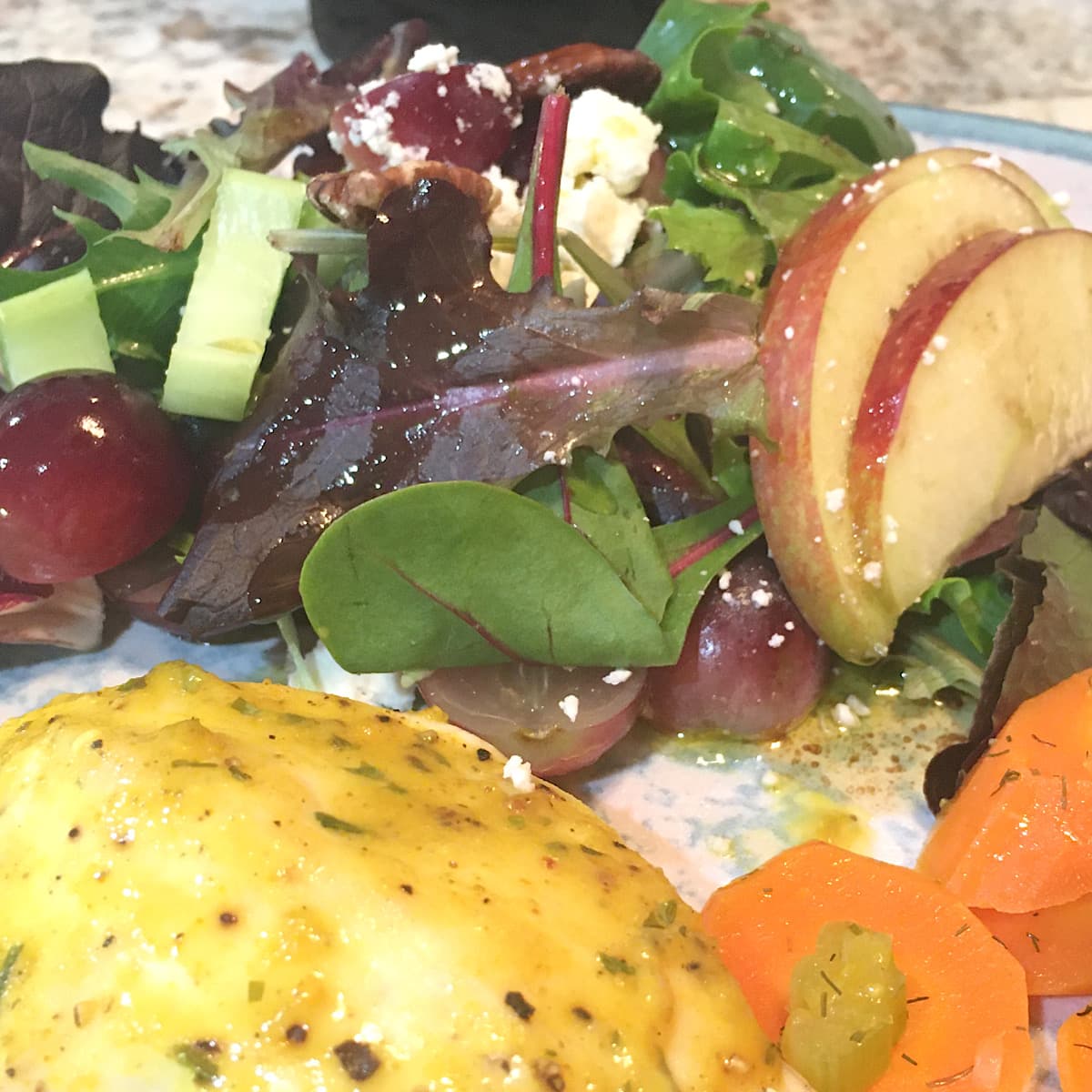 Feta Cheese, Grape, Apple, and Pecan Salad with Raspberry Vinegarette.
Flavorful dinner ideas to complete your day. Made with healthy ingredients and spices to top off a healthy day of eating.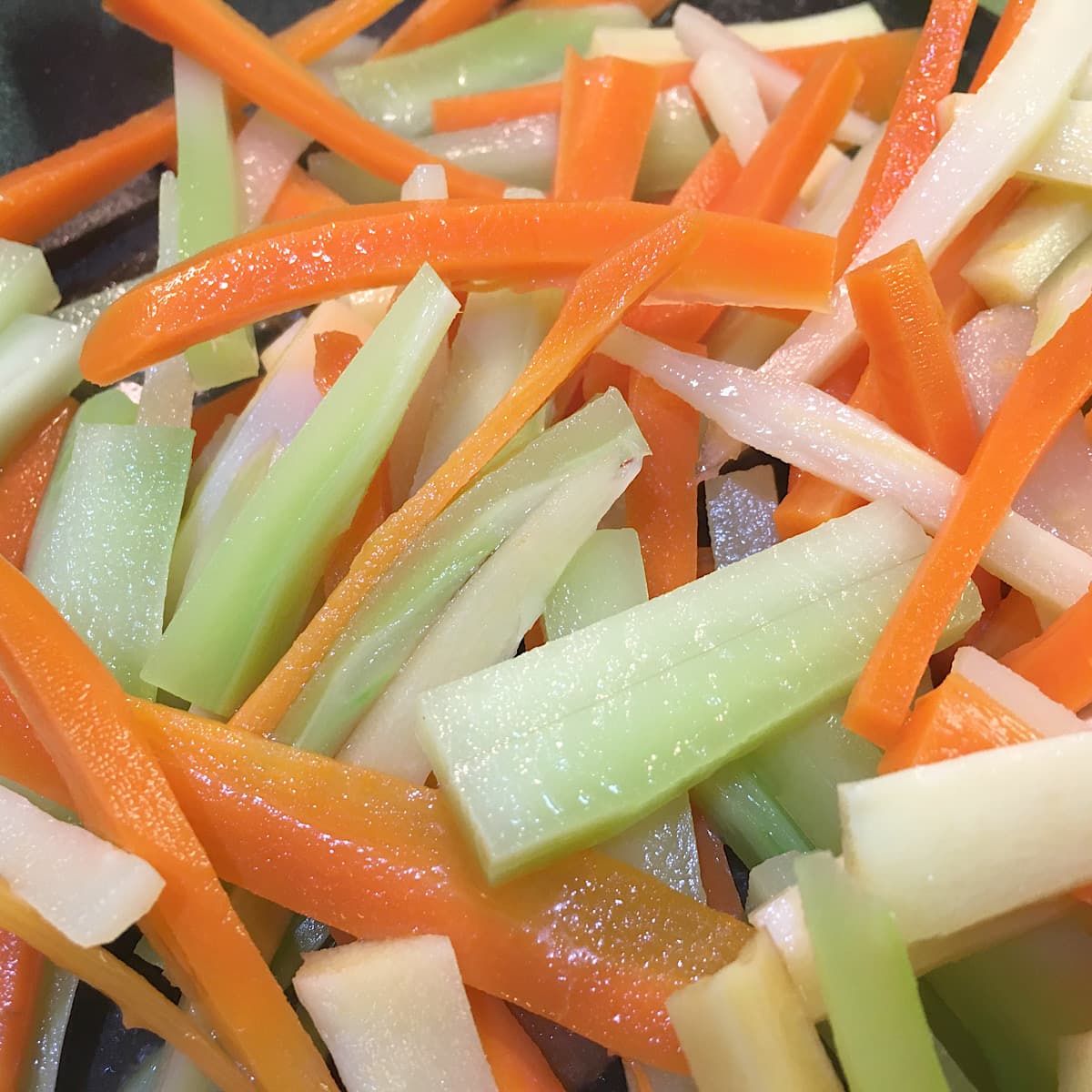 Feta Stuffed Chicken Breast and Julienned Veggies chicken breasts stuffed with feta cheese, sundried tomato, and basil along with a colorful mixture of julienned broccoli, parsnips, and carrots.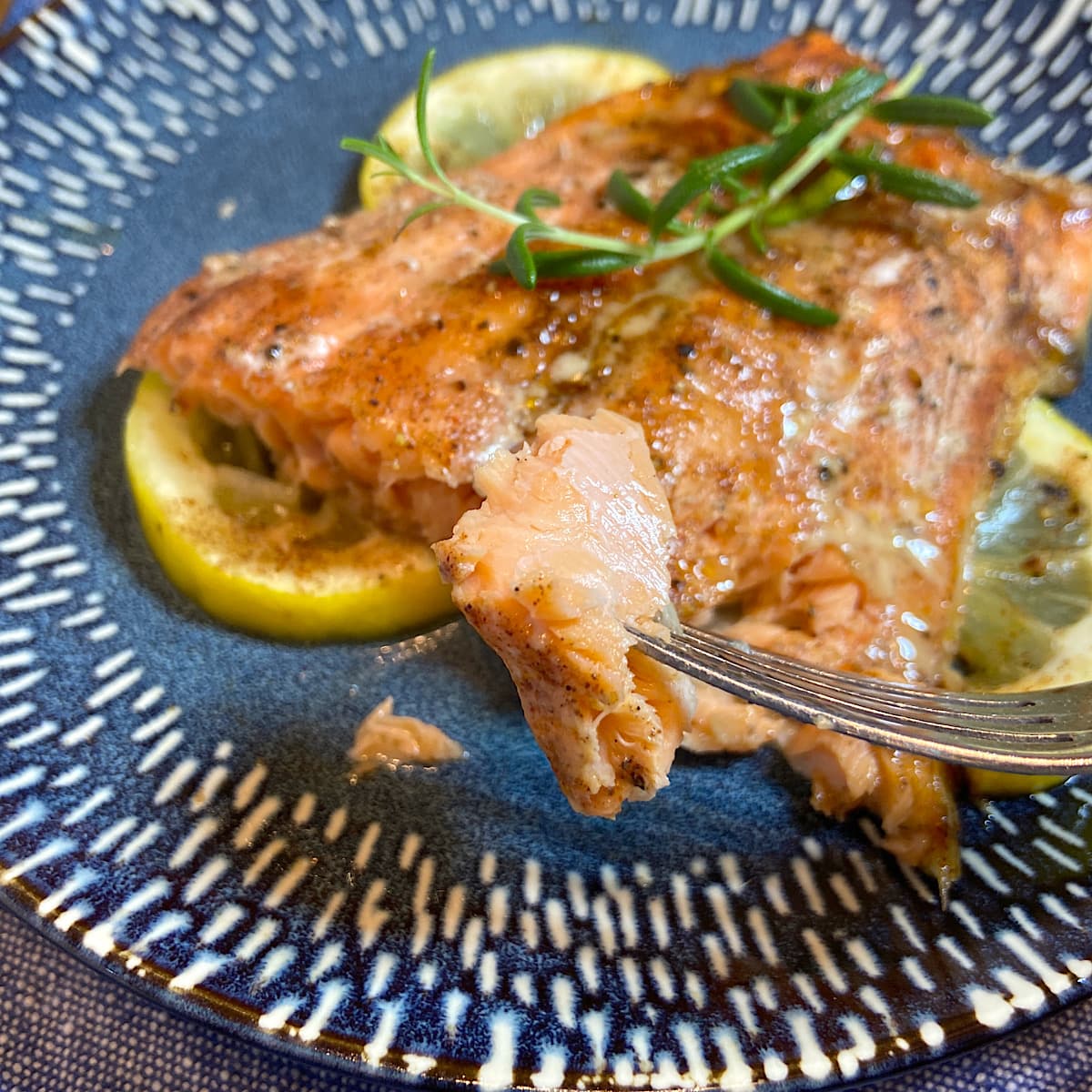 Baked Salmon with Mixed Vegetables and Fruit: 4 oz salmon flavored with Mediterranean Spice Mix, 2 cups of Mixed Vegetables, 1 Tablespoon EVOO, 1 Cup Sl Nectarines.
Mediterranean Turkey and Eggplant Filets with Mixed Green Salad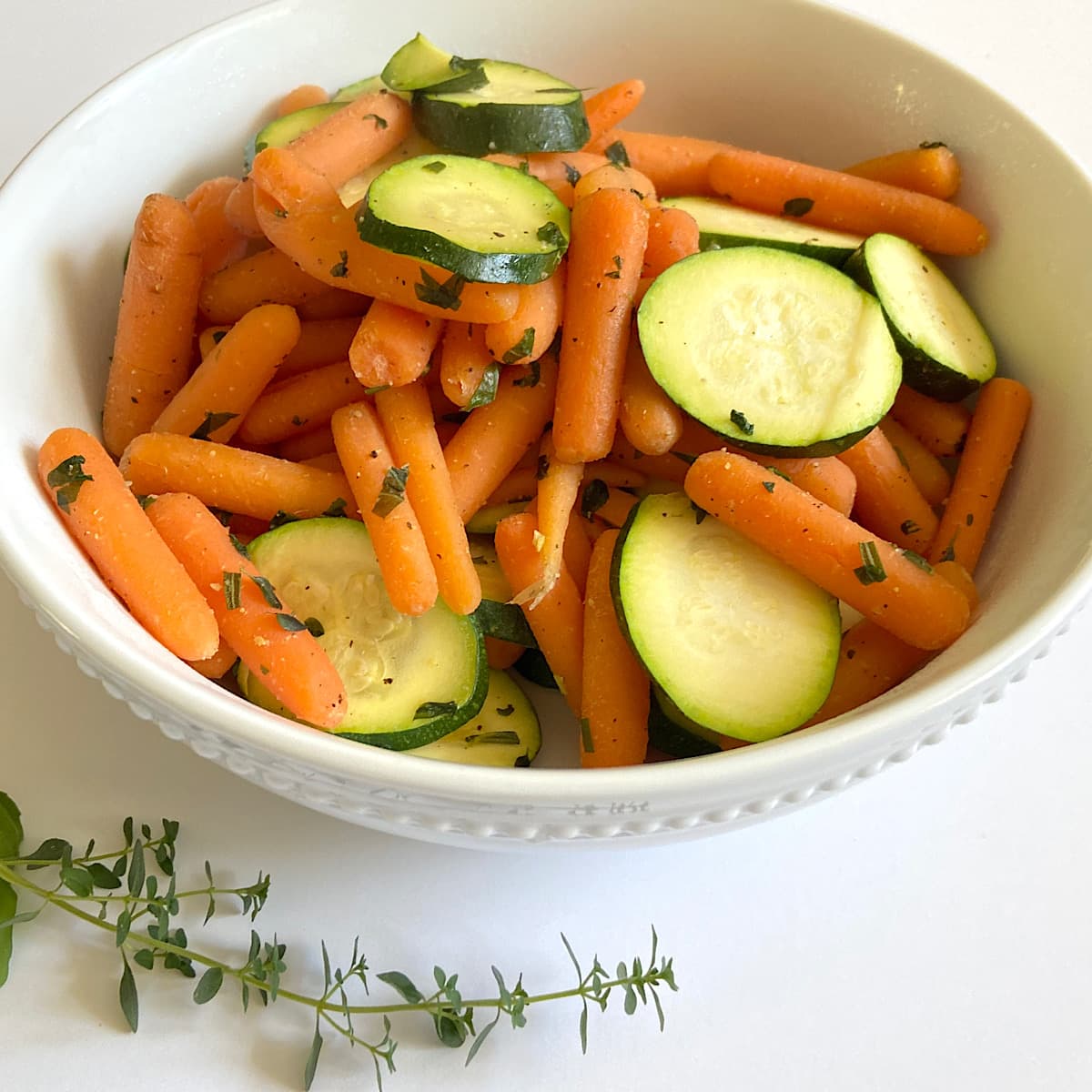 Pork Tenderloin with Apple and Shallots and Herbed Carrots and Zucchini.
Foil Baked Cod with Green Beans, and Broccoli. Honey Glazed Carrots and Celery.
Mediterranean Turkey Meatballs with Green Salad and Mediterranean Oven Roasted Potatoes.
Baked Chicken with Steamed Broccoli and Whole Wheat Bread.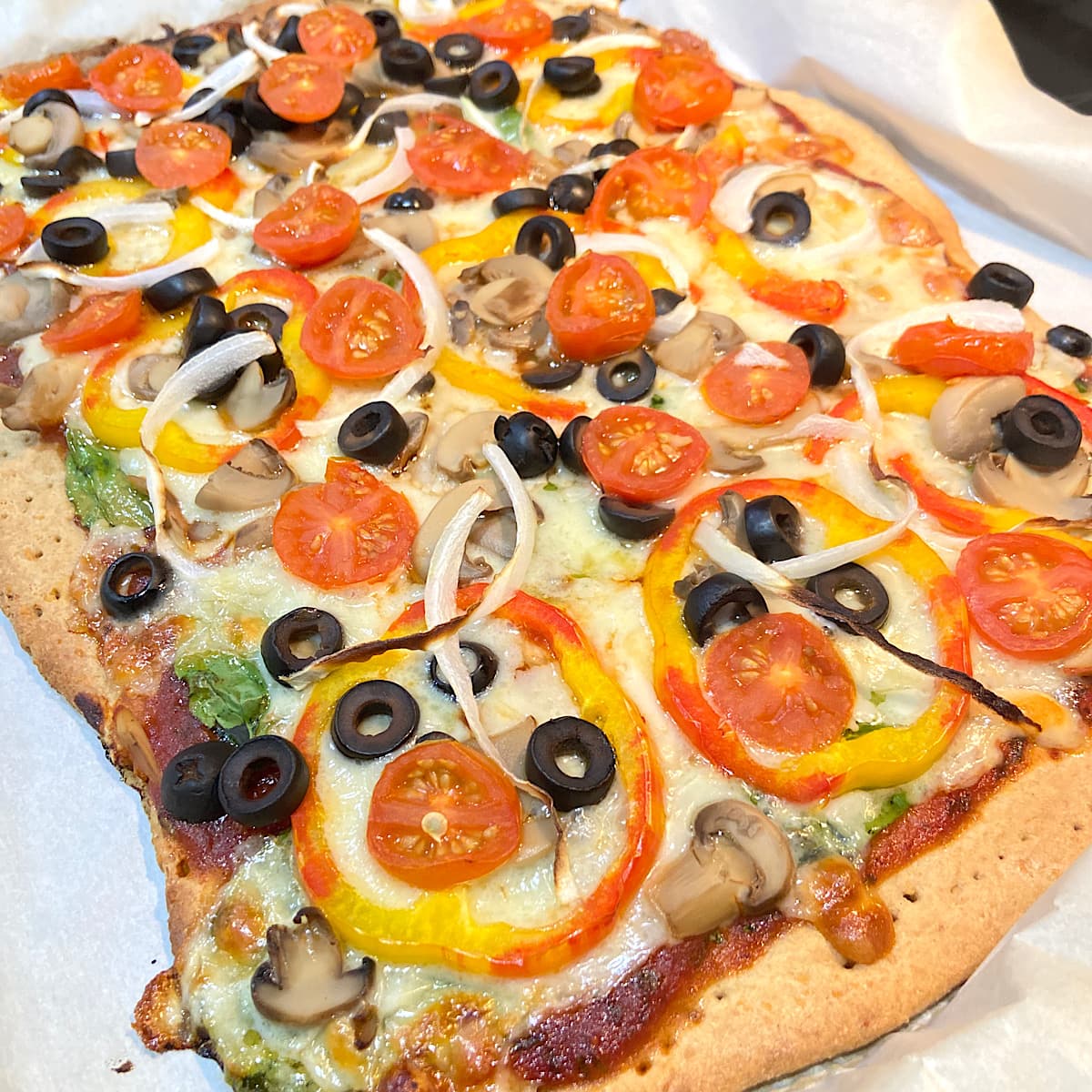 Mediterranean Whole Wheat Thin Crust Pizza
Snack Ideas
The traditional Mediterranean Diet does not include much snacking. Maybe a small handful of nuts.
Meals are savored and enjoyed with family and friends. But, in our busy life, sometimes meals don't happen on time or maybe you just need a little something to tide you over. The following snack ideas will help.
Celery, Carrot, and Green Pepper Sticks with 2 Tbs Creamy Greek Yogurt Dill Dip or 2 Tbs Sugar-free Almond Butter or Peanut Butter
2 Tbs Nuts with 5 Dried Apricots or 2 Tbs Raisins
Seeded Flatbread Crackers with Almond Butter or Hummus
Tomato, Cucumber, Feta Cheese with Mediterranean Spices and Evoo
A handful of Spicy Roasted Almonds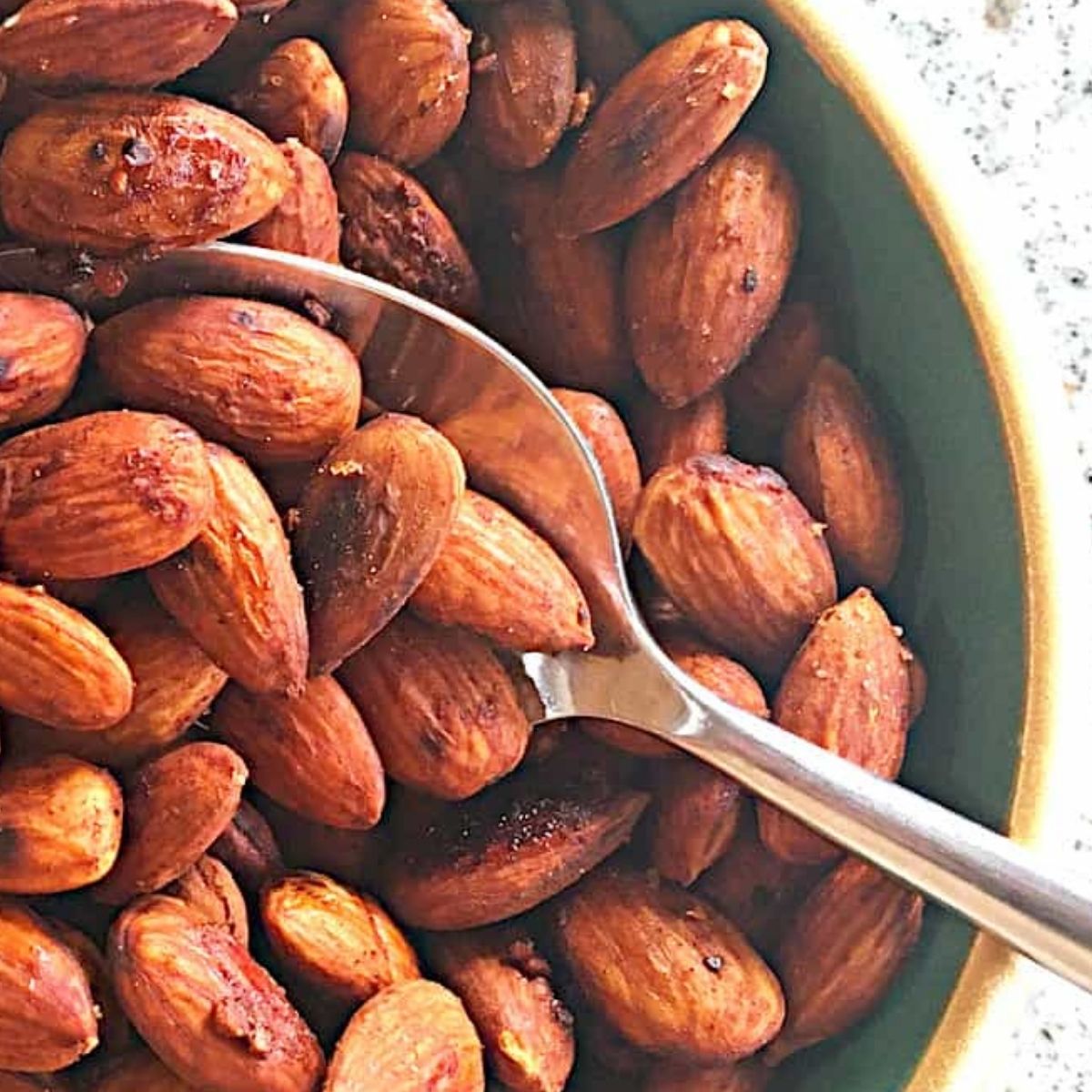 ---
Mediterranean Food List
Fresh Fruit (Nectarines, pears, apples, strawberries, berries, fruit in season). Dried nectarines or raisins.
Seasonal Vegetables (Frozen mixed vegetables for soups, broccoli, mixed salad greens, kale, cucumber, tomatoes, eggplant, carrots, celery. green beans, potatoes, shallots, etc)
Extra Virgin Olive Oil (it makes a difference, read my post, 4 Factors to Consider When Purchasing Olive Oils. Olives
Whole Grain Products: bread, pasta, flour (I prefer King Arthur White Whole Wheat Flour), old-fashioned oats, quinoa, barley, etc.
Beans and Legumes: Chickpeas, Hummus, Beans
Nuts: (sliced almonds, walnuts, pecans), Almond Butter, Almond milk
Dairy: Greek yogurt, feta cheese, hard cheese
Protein: Salmon, Cod, Shrimp, and other seafood. Chicken breasts, ground turkey, pork tenderloin
Spices: many you will already have in your pantry. But don't be afraid to try other Mediterranean Spice Mixes such as Baharat, Tabil, and Za'atar. For a great recipe using Za'atar, try my Easy Za'atar Bread. Made with a thin crust pizza dough, olive oil and spice. An easy appetizer or bread for dinner with a salad.
Follow Me on Facebook and Pinterest.
---
August 2022 Update: Minor post updates.
---
Medical Disclaimer
This site contains general information about diet, health, fitness, and nutrition. This information should not be used to diagnose, treat, prevent, or cure any disease or condition. Please consult with your physician before using any dietary supplement or before beginning a diet or exercise program.