This post may contain affiliate links. This means I may make a small commission at no additional cost to you when you make a purchase. Find out more in the Disclosure Policy
Are you looking for a quick way to prepare vegetables on the Mediterranean Diet? Try easy julienned veggies. This method of preparing vegetables gives a unique presentation and is a great way to incorporate healthy root vegetables into your diet.
I chose a mixture of carrots, broccoli stalks, and parsnips so the finished dish would be colorful. Others will work too. The key is to pick vegetables with similar denseness so they cook in a similar way.
We eat broccoli and carrots a lot at our house and I was looking for a more flavorful way to prepare them.
I was also looking for a way to incorporate more vegetable variety into our meals. This is a great julienned vegetables recipe to use up broccoli stalks that are often discarded.
Ingredients
For this julienne vegetables recipe I used the following:
I love the taste of these veggies sauteed with extra virgin olive oil and seasoned with sea salt and pepper. For variety, add garlic or other spices too.
Instructions
Step 1. Fill a large pot or dutch oven with 6-8 cups of water. Heat water in a large pot over high heat. Place ice in a large bowl. Add water to cover the ice.
Step 2. Scrub vegetables underwater. Use a hand peeler to scrape the outer skin and bottom fibrous edge or stem from the vegetables.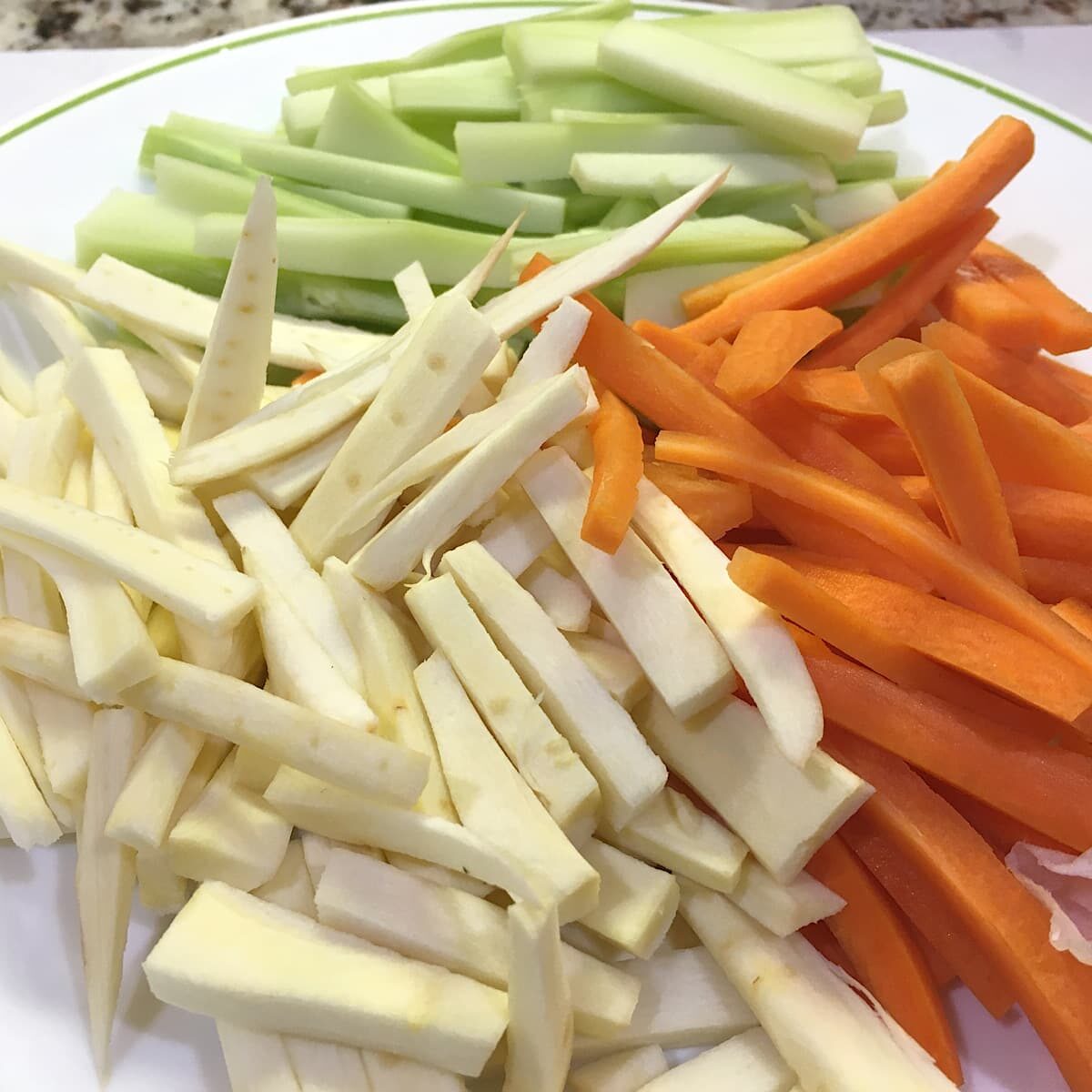 Step 3. Use a knife to cut the vegetables into the desired size. It's best to be as size consistent as possible when cutting the vegetables so they cook and are done at the same time. See tips for cutting julienned vegetables under FAQs below.
Step 4. When water has come to a rolling boil, carefully add vegetables to the water. Boil for 2-3 minutes.
Step 5. Remove vegetables with a long-handled strainer and add to the ice water bath to stop the cooking process. Remove vegetables from the water and drain on a paper towel.
Step 6. Heat Olive oil in a frying pan over medium heat. Add the vegetables to the oil and saute for 3-5 minutes until they are fork-tender. Season with salt and pepper. Remove from pan and serve immediately.
FAQs
Best Vegetables to Julienne

The best vegetables for julienne are root vegetables or those with flesh or stem that is solid and firm.

The following are good options carrots, broccoli stalks, parsnips, rutabagas, turnips, winter squash, or potatoes. Use what you already have in your pantry.

How to Julienne Vegetables
Wash the vegetables underwater. Use a hand peeler. #ad to remove the outside layer or skin of the vegetable. I love this hand peeler. It is comfortable and easy to grip when you are peeling a large number of vegetables.

Next, look for the flattest side of the vegetable. Slice a thin layer from this edge and place it down on the cutting surface. This should secure the vegetable as you julienne it. For carrots or other round vegetables, cut the vegetable in half on the long edge and place the flat edge on the cutting surface.

Hold the vegetable with fingertips tucked toward the body in a claw-like grip. Cut the vegetable into 1/8-1/4 inch planks with a chef's knife. Stack the planks. Carefully cut the vegetables into 1/4 inch sticks that are 2-3 inches long. Cut vegetables approximately the same thickness and length for even cooking.
How to Blanch Vegetables
To retain the color and flavor of the julienned veggies, blanch the vegetable strips for 2 minutes.

Fill a large pot with water and bring to a boil over medium-high heat.

Add julienned vegetables. Water should return to a boil in approximately one minute. Boil for 2 minutes.

Fill a large bowl with ice and water.

Use a strainer to remove the vegetables from the boiling water and immediately submerge the strips into the bowl filled with ice and water.

This will stop the cooking process. Now you can freeze the vegetables for storage or prepare them in your recipe.

Blanching is a quick-cooking process that so worth the extra minutes and pan. To make the transfer of the vegetables to the ice bath easier I use this long-handled strainer.

To learn more about common vegetables to add flavor and variety to meals on the Mediterranean Diet, read my post, Colorful Mediterranean Diet Vegetables.
What to Serve with Julienned Veggies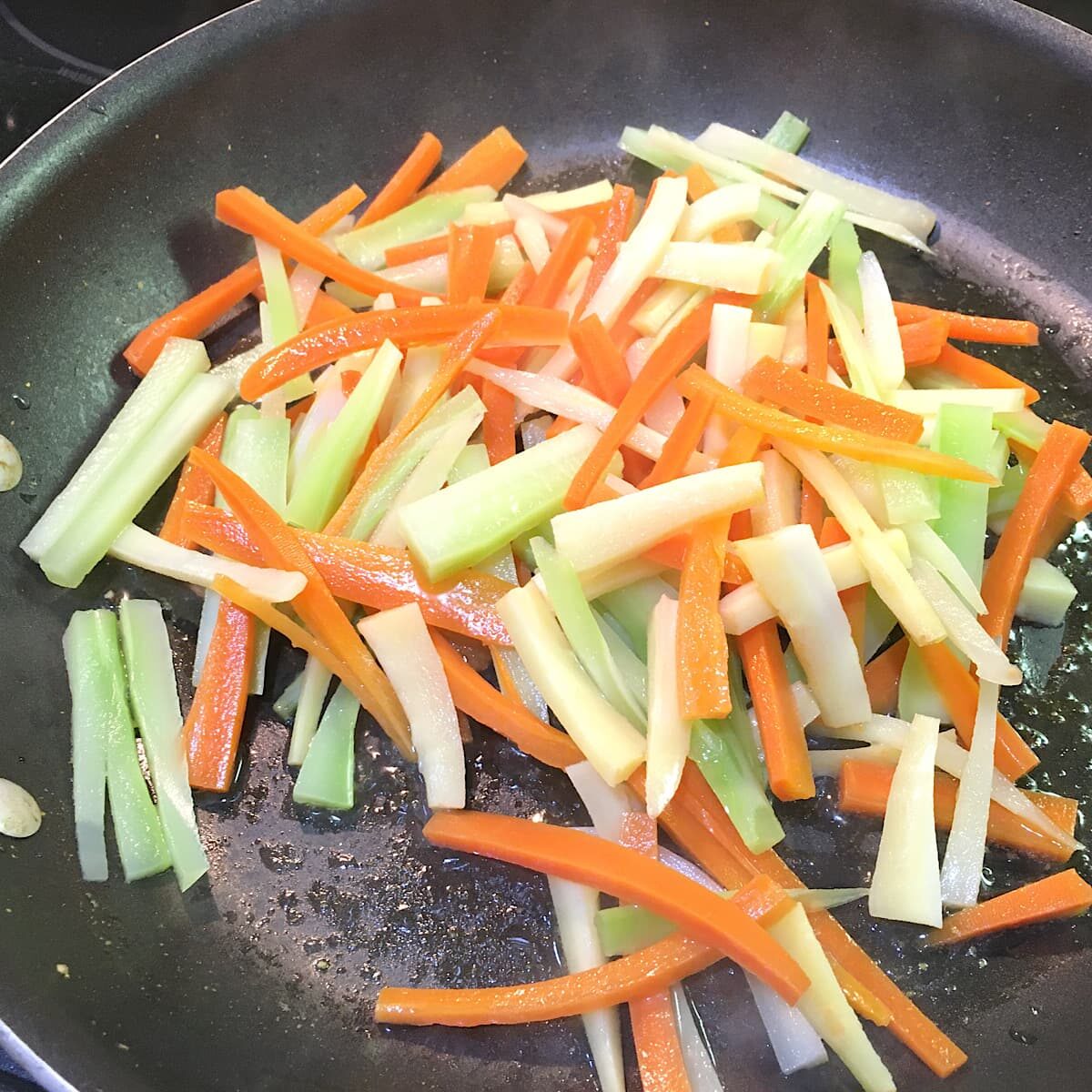 This simple julienned vegetable recipe is perfect for almost any meal. Serve it with Bacon Wrapped Chicken or for a special occasion Feta-Stuffed Chicken Breasts.
Try more Side Dish Recipes here.
Other Healthy Vegetable Recipes for You
---
---
October 2022 Update: Minor post updates.