This post may contain affiliate links. This means I may make a small commission at no additional cost to you when you make a purchase. Find out more in the Disclosure Policy
Learning to follow the Mediterranean Diet is easy. If you follow a visual pyramid for the diet, the base of the pyramid rests on physical activity, stress management, and enjoying meals with others. The bottom section of the pyramid includes fruits, grains, nuts and seeds, legumes, healthy fats, and colorful Mediterranean Diet vegetables.
Unlike the American Diet, meat is secondary to the Mediterranean Diet. Protein focuses on the plant-based protein found in food items like chickpeas and legumes. Eat fish and seafood protein in moderation. Enjoy chicken and turkey twice weekly. Red meat and sweets, are at the very top of the pyramid and are eaten less frequently.
If you look at the My Plate way of planning your midday and evening meals, aim for:
half the plate to be leafy greens and low carbohydrate vegetables,
reserve one-quarter of the plate for protein, and
the second quarter for higher complex-carbohydrate vegetables.
This is especially important if you are enjoying Mediterranean Diet vegetables and also want to lose weight.
Include a variety of colorful vegetables in your recipes and meals to reap the benefits of the heart-healthy Mediterranean Diet.
Vegetables on the Traditional Mediterranean Diet
Leafy Greens
Leafy greens include lettuce, dandelion greens, collard, mustard greens, kale, Swiss Chard, and spinach. A mix of these greens will make a wonderful, flavorful salad. Choose young tender varieties for the best bite.
Greens add a variety of flavors from kale's bitterness to arugula's peppery taste and turnip greens' spicy palate. Beet greens are generally the mildest, followed by collard, then dandelion, with turnip and mustard having the sharpest flavor.
Besides the greens' flavor, these vegetables are full of vitamins and nutrients. Regularly including a variety of leafy greens in your meals will help you meet daily requirements for vitamins A, K, C, D, and many Bs.
Focusing meals on leafy greens promote health and may help manage blood pressure, improve lipid levels, and blood sugar levels, as well as may help reduce blood clots and promote strong bones.
How to Choose and Prepare Leafy Greens
Pick greens that have good green color, and are fresh and springy. Avoid bunches that are wilted, yellowed, or dried-out greens. There is no way to rehydrate them.
Thoroughly wash fresh greens in water prior to cooking. When taken fresh from the garden they will have lingering soil you will want to remove.
Most greens will require the thick stem to be removed. Folding the edges of the leaf together with the stem up, and then pulling down on the stem to remove. You can also use a knife to cut out the stem.
The best way to cook greens is not to overcook them. Overcooking leaves them waterly, limp, and soggy. Cook greens in water with chicken or ham broth, which enhances the cooked flavor of greens. Limit sauteeing greens as that can increase their bitter flavor.
Lettuce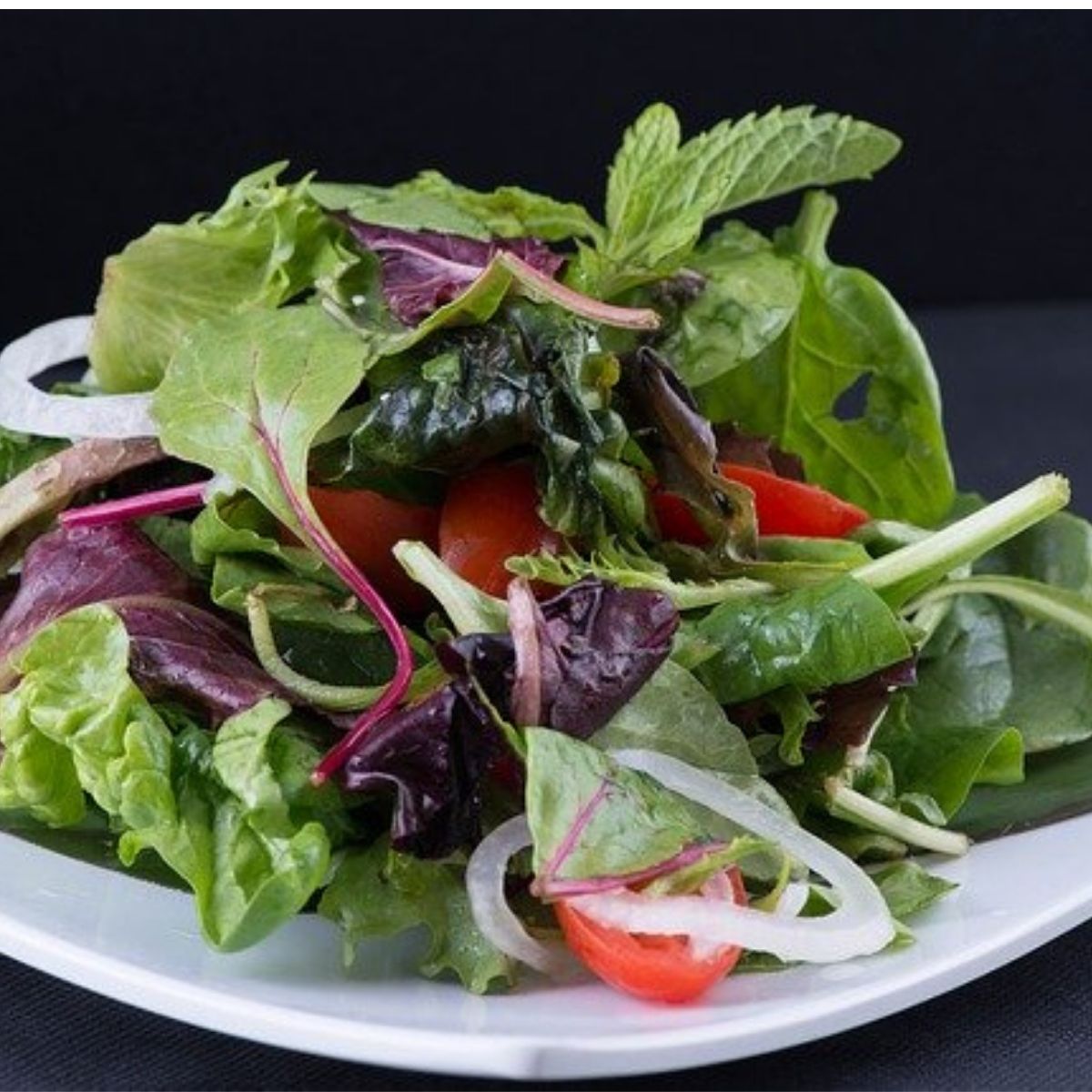 Cabbage-Type
Plan on including an assortment of lettuces in your meals. Almost everyone is familiar with iceberg lettuce and has enjoyed a classic wedge salad. The iceberg is crisp and full of water. But, you will also find softer-leafed Boston, Bibb, and Buttercrunch options in the product section of the grocery store.
Greens
Leafy greens are also excellent in salads. Their slightly bitter flavors add depth to the traditional lettuce recipe. Choose young baby greens such as arugula, watercress, and dandelion.
Upright
The most popular variety of upright lettuce is romaine. A stable for Caesar salads, its firm leaves easily hold up to heavy dressings. It has a sharper flavor than cabbage-type lettuce.
Mediterranean Diet Lettuce Recipes
Onions
Onions are root vegetables. There are several types of onions common to the Mediterranean Diet.
Bulb Onions
The most common cooking onion. They come in yellow, white, red, and sweet varieties. White onions have a milder, sweeter flavor. Red onions can be quite hot and strong. Choose red onions in the Spring and early Summer when their flavor is milder. Cooking dulls the color of red onions, so saute lightly or serve cold in a salad recipe.
Shallots
In comparison to bulb onions, shallots are smaller and have an oval, elongated shape. Their flavor is a combination of onion and garlic. They have fewer layers and less water than bulb onions so their flavor is more concentrated, producing an intense garlicky flavor. Small amounts of minced shallots are excellent in salads or sauces. Their flavor mellows with roasting. Saute lightly and watch closely as they burn and toughen easily.
Leeks
Leeks have a milder and sweeter flavor than bulb onions or shallots but share the shallot's garlicky flavor. Almost always cooked due to their fibrous nature, enjoy them roasted, sauteed, or as part of a soup. Cooking leeks results in a milder flavor.
Scallions
Often referred to as green onions, Scallions are often used as a garnish or finely chopped in salads. Their green stalks have a milder flavor than white onion bulbs, but a spicy taste. Usually not eaten alone but as part of another recipe.
Chives
Similar to green onions, but more slender and tender, Chives are part of the onion family, but only their green stalk is used in cooking and seasoning recipes. They impart the mildest flavor of plants in the onion or allium family. Use to brighten the flavor of dishes, especially eggs, rice, and potatoes.
Garlic
A primary flavoring in many Italian dishes, Garlic can be cooked in a variety of ways from roasted whole to chopped, minced, or even mashed. Whole garlic has the mildest flavor, while mashed garlic releases the most garlic juices and is, therefore, one of the most potent flavor preparations.
Roasted Whole Garlic Recipe
Try roasting a whole garlic bulb for a toasty flavored garlic that makes a soft paste that is wonderful in pasta, sauces, and dips. Or simply spread it on toasted bread slices and enjoy.
To prepare, remove the white outer garlic bulb skin. Use a sharp knife to slice the pointed tops off of the garlic Bulb. Place in foil squares, Drizzle with olive oil, and sprinkle with salt and pepper. Wrap foil tightly and place bulbs on a baking sheet. Bake for 20-25 minutes at 400 F. Garlic is done when it feels soft when gently squeezed.
Roots, Tubers, and Bulbs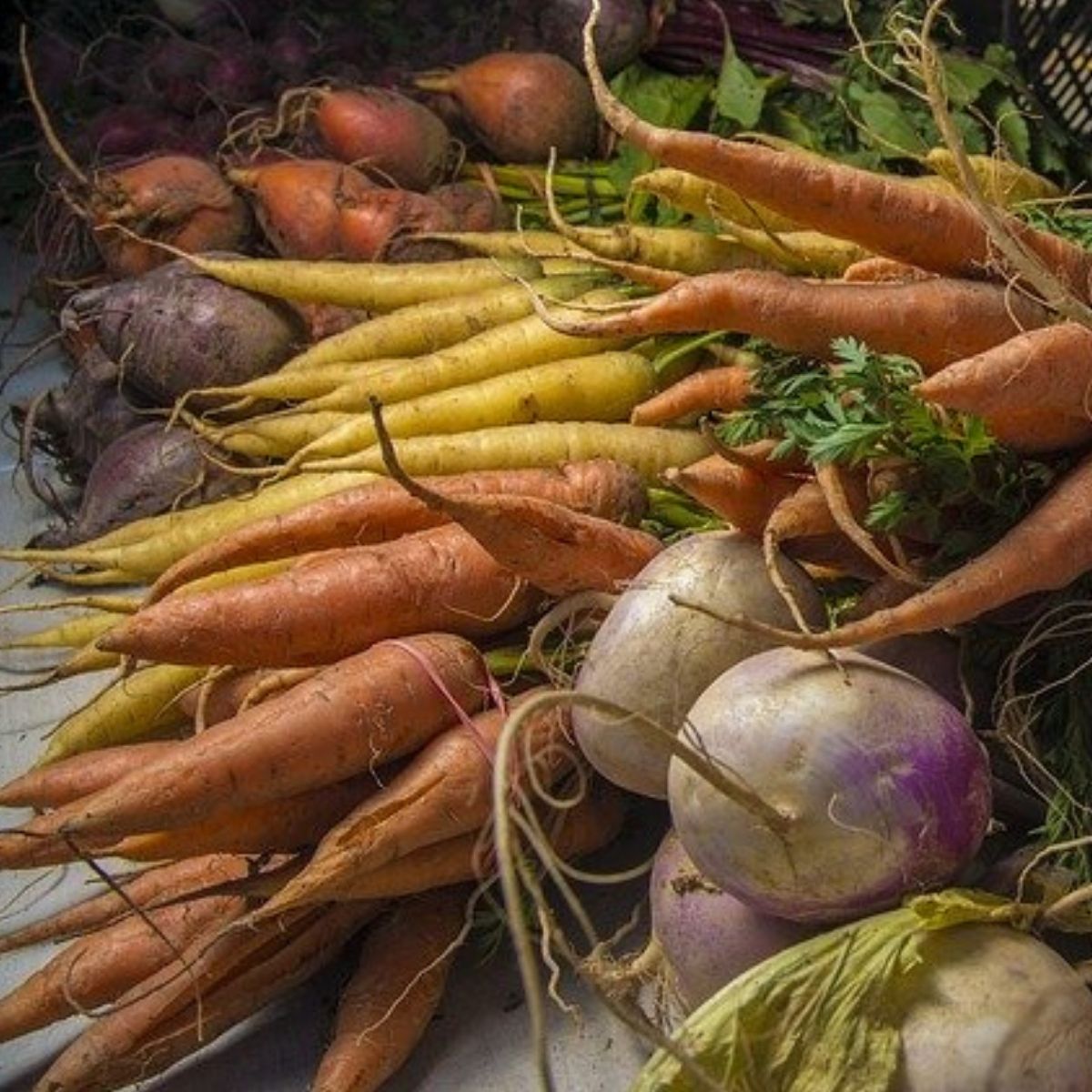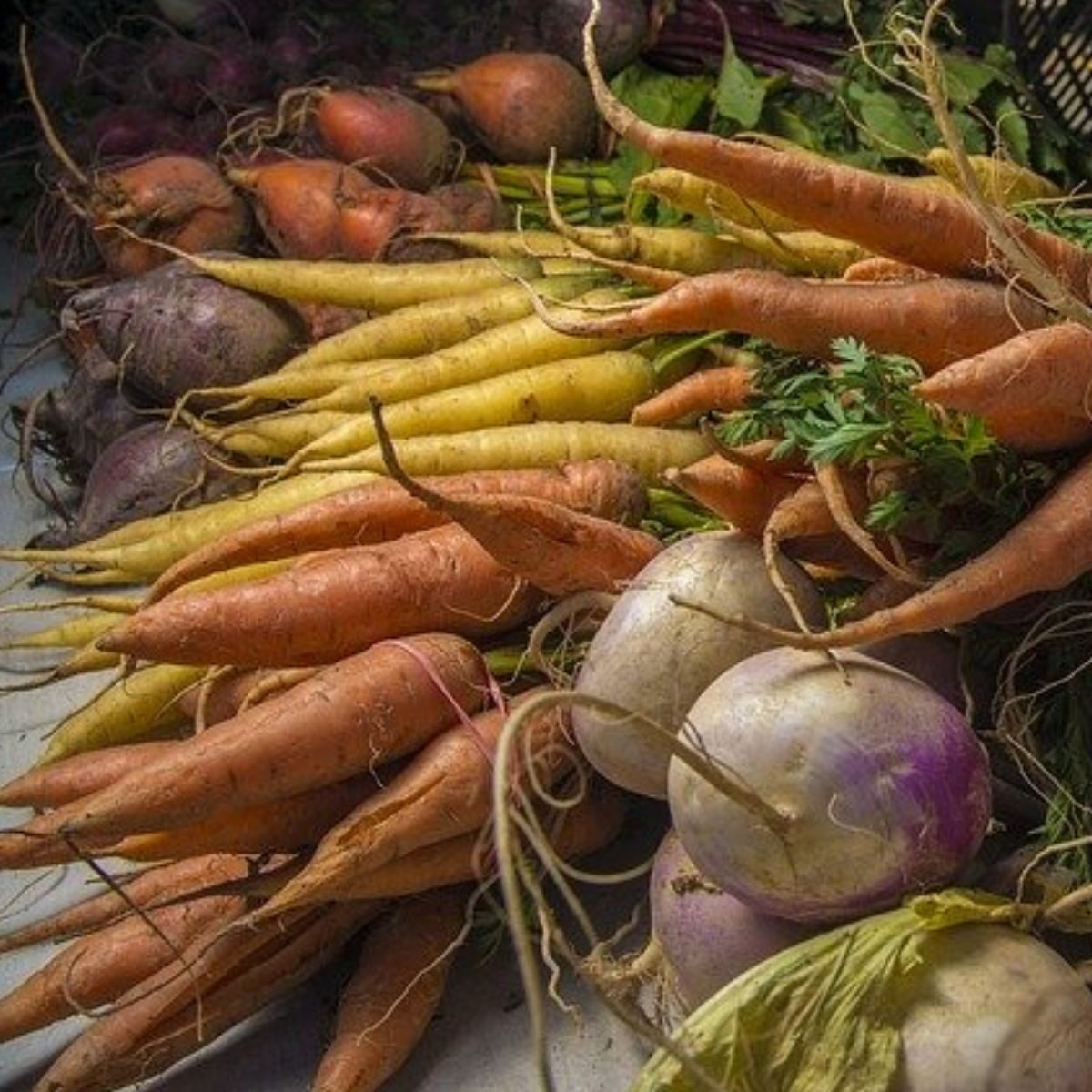 Root vegetables are the eatable parts of plants that grow underground. To get technical, root vegetables may actually be the root of the plant while others are tubers or bulbs that store nutrients and help the plant multiply. 1
These nutrient-dense foods are packed with vitamins and minerals. They are also an excellent source of fiber. Full of complex carbohydrates. they provide your body with energy. Because they are energy-dense, eat in moderation with the Mediterranean Diet.
A good rule of thumb for root vegetables is to include one 1/2 cup serving per meal.
Eating too many root vegetables just like pasta or bread can derail weight loss efforts. When you take in more nutrients than the body needs it will store that excess energy as fat.
Types of Root Vegetables
When we think of root vegetables, most people think of radishes, carrots, and potatoes.
Potatoes
Potatoes come in many varieties, from the popular baking potato to the creamy golden potato. Prepare by slicing grating, julienning, cubing, or mashing.
Baking Potatoes are large brown tubers that are starchy. The most common names include the Russet, and Idaho, named for the state where they are most often harvested.
White Potatoes have pale tan skin and whiter flesh. Often referred to as boiling potatoes, they are medium to low-starch potatoes, that are firm and moist. This makes them good braised and stewed.
Red-Skinned Potatoes are often referred to as new potatoes. They are low-starch potatoes with a waxy texture. These potatoes have thin skin and are less likely to scorch and burn than the starchier varieties of potatoes. Prepare by boiling, roasting, or steaming.
Yellow Potatoes are light-skinned with buttery and creamy flesh. They have a good balance of starchiness and waxiness. Prepare by steaming, or boiling. They work well in gratins, stews, and mashed potatoes.
There are also the orange sweet potatoes, which are the roots of trailing vines. These vines are part of the morning glory family. Sweet potatoes range in color from the common orange to white and even purple. Yams are often interchanged with sweet potatoes but they are native to West Africa or Asia and is totally different from the sweet potato.
Other less common root vegetables include beets, parsnips, radishes, turnips, & rutabagas. Ginger and turmeric are root vegetables even though we often think of them as spices.
Beets
are grown both for their leaf foliage used as greens and for their bulb. Known for their colorful red flesh, most people have eaten them canned. Fresh beets have a unique flavor and a crisp texture. Prepare beets by grating, slicing, julienning, or chunking. Beets can be baked for the best flavor, steamed, or boiled. Serve beats with butter, with a dill sour cream sauce, or a vinaigrette.
Parsnips
are close to the carrot family, but have a white color rather than orange. Prepare by washing in warm water and then peeling the external skin. Slice, grate, julienne, or chunk evenly for cooking. Be sure to not overcook, they cook quicker than expected. Prepare by sauteing, steaming, boiling, baking, or roasting.
Turnips and Rutabagas
are vegetables that are less commonly used in recipes. Turnips are members of the mustard family and have white flesh and purple crowns. Rutabagas are larger with a yellow-orange color. Young turnips can be eaten raw or cooked. Peel mature turnips' tougher skin prior to cooking. Cook by steaming, boiling, or baking. Prepare by slicing, cubing, julienning, or mashing. Serve with butter or cream sauce.
How to Prepare Root Vegetables
Wash and peel root vegetables prior to cooking. For potatoes, both regular and sweet, place in cool water after peeling to prevent discoloration.
Prepare root vegetables by baking, roasting, or sauteing or you can eat them raw. Include small amounts of raw radishes, young turnips, or carrots in salads, or on appetizer platters.
Best Root Vegetable Recipes
Above Ground Vegetables
Above-ground vegetables are usually lower-carbohydrate vegetables. They are typically the eatable flower bud, fruit, or stalk of plants. While some are technically considered fruits, they are generally not what we consider sweet when we think of fruit.
Like other Mediterranean Diet vegetables, they are an excellent source of fiber, vitamins, minerals, and other nutrients. Enjoy these lower-calorie and less carbohydrate-dense vegetables more frequently and in larger portions of your meals.
Above-ground vegetables for Mediterranean Diet include artichokes, broccoli, Brussel sprouts, cabbages in green, red, or white varieties, cauliflower, celery, okra, and eggplant.
Two other common above-ground vegetables you will find in Mediterranean Cooking are peppers and tomatoes. While these vegetables are not indigenous to the Mediterranean, they are a common staple since they were introduced to Europe by the Spaniards after they explored the Americas.
Above-Ground Vegetable Recipes
Vegetables on the Vine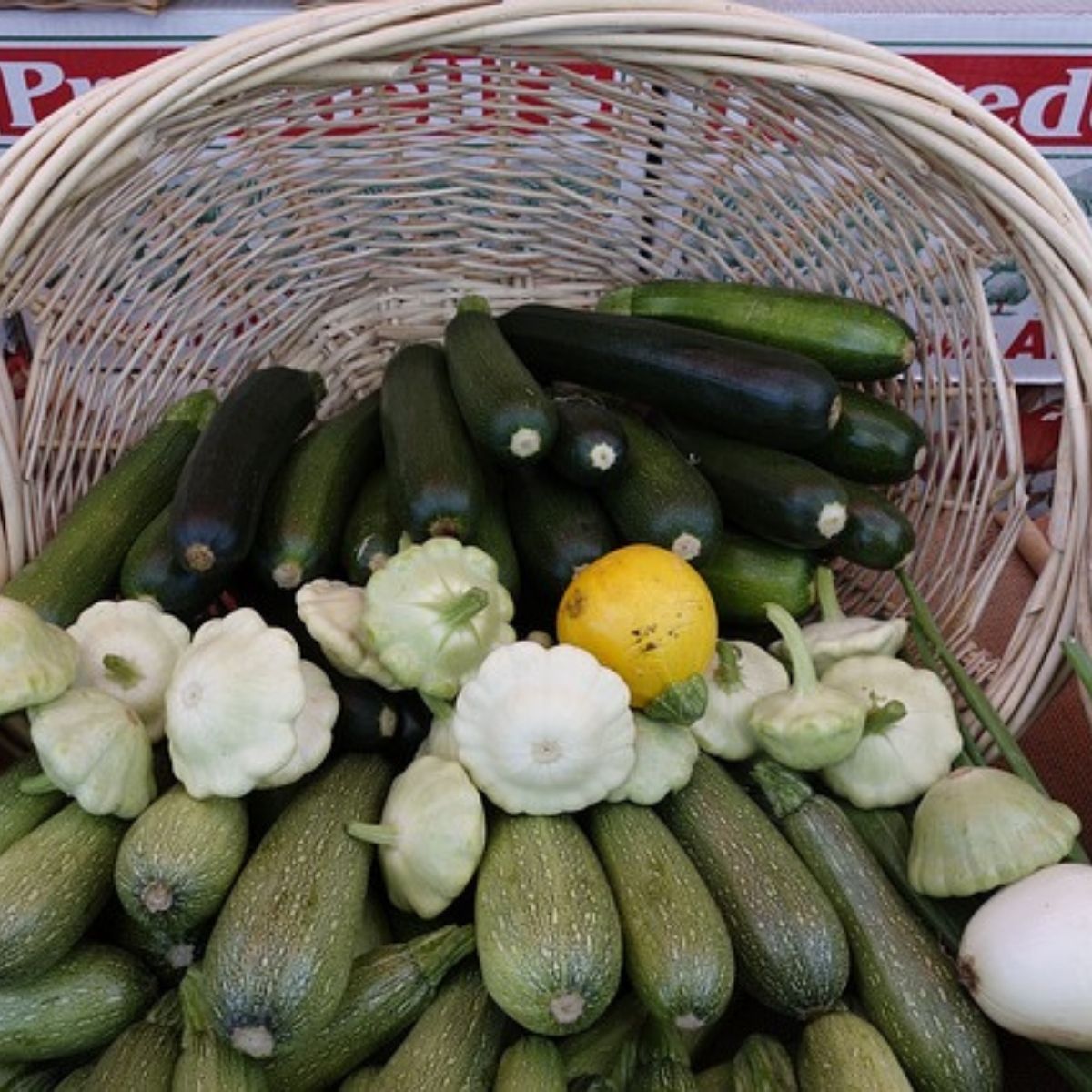 Some above-ground vegetables grow on vining plants. They require room for the vines to spread. For a gardener with limited space, they work well when you train to climb or plant in large containers.
Vining vegetables include Summer squash such as zucchini and yellow-skinned varieties. Harvest when young and skin and seeds are still tender.
Winter Squash includes acorns, pumpkins, and other hard-skinned forms. Harvested when mature and skin and seeds are hard. Cucumbers, pole beans, and peas are other vining vegetables for the Mediterranean Diet.
Vining Vegetable Recipes
Mediterranean Diet Vegetable Take-Aways
The Mediterranean Diet focuses on plant-based foods. Vegetables provide an excellent source of vitamins, minerals, and fiber.
While vegetables are very healthy, limit root vegetables and squash to 1/2 cup portions. These energy-dense vegetables have more carbohydrates and may impact weight loss if that is your goal on the diet.
Focus on leafy greens and other lower-carbohydrate vegetables. Plan half your plate as leafy greens.
Explore all the vegetables to enjoy on the Mediterranean Diet. Add variety and flavor to your family's meals.
To learn more about the Mediterranean Diet, read my post, Mediterranean Diet Basics.
---
---
---
Medical Disclaimer
This site contains general information about diet, health, fitness, and nutrition. This information should not be used to diagnose, treat, prevent, or cure any disease or condition. Please consult with your physician before using any dietary supplement or before beginning a diet or exercise program.
April 2023 Update: Minor updates to post.