This post may contain affiliate links. This means I may make a small commission at no additional cost to you when you make a purchase. Find out more in the Disclosure Policy
A favorite for many when out to dinner. You can make your own at home. Try this grilled chicken caesar salad with Mayfair Dressing. A salad with grilled chicken, crisp and tender homemade croutons, and an anchovy-based Mayfair dressing. No reason to only eat Ceasar salad when dining out.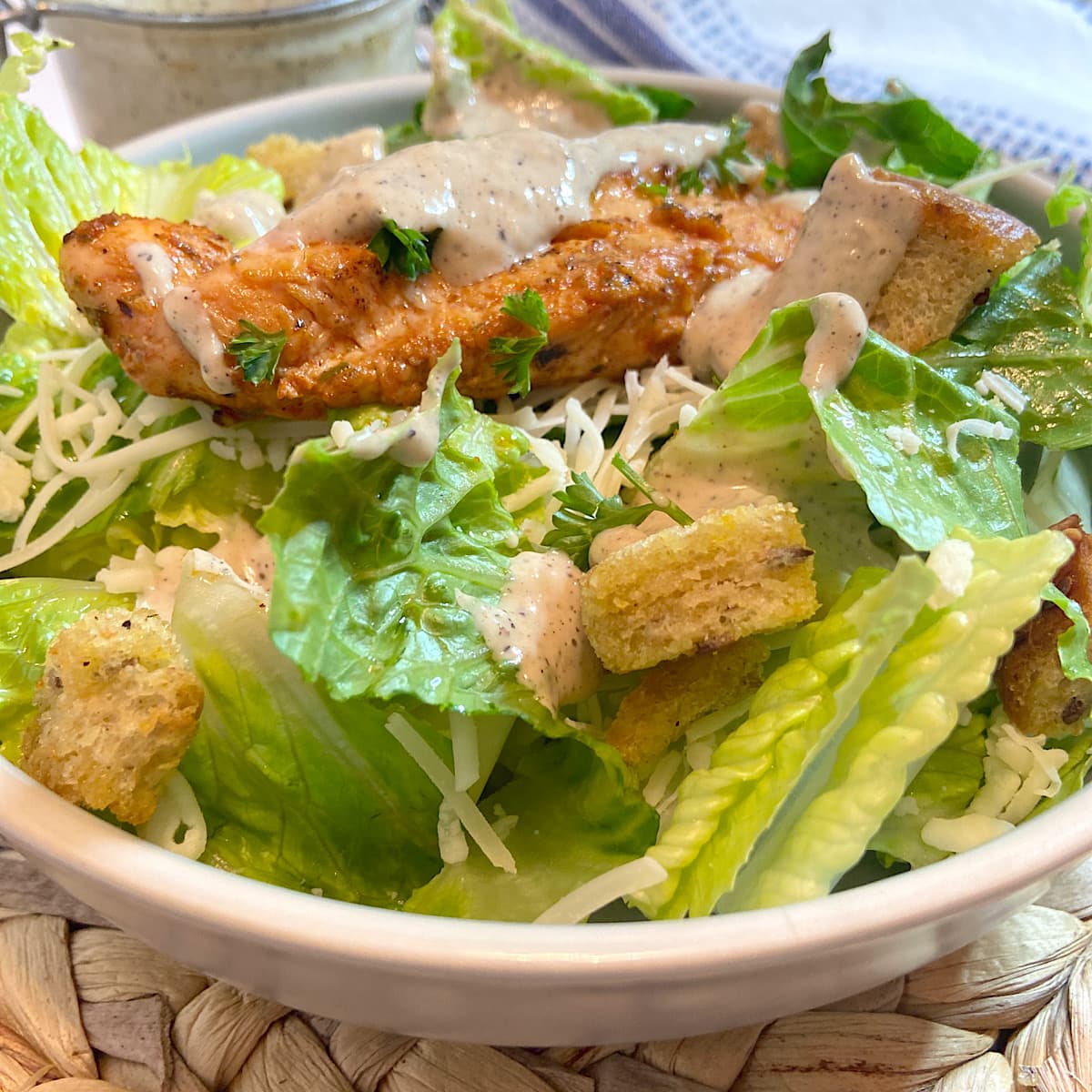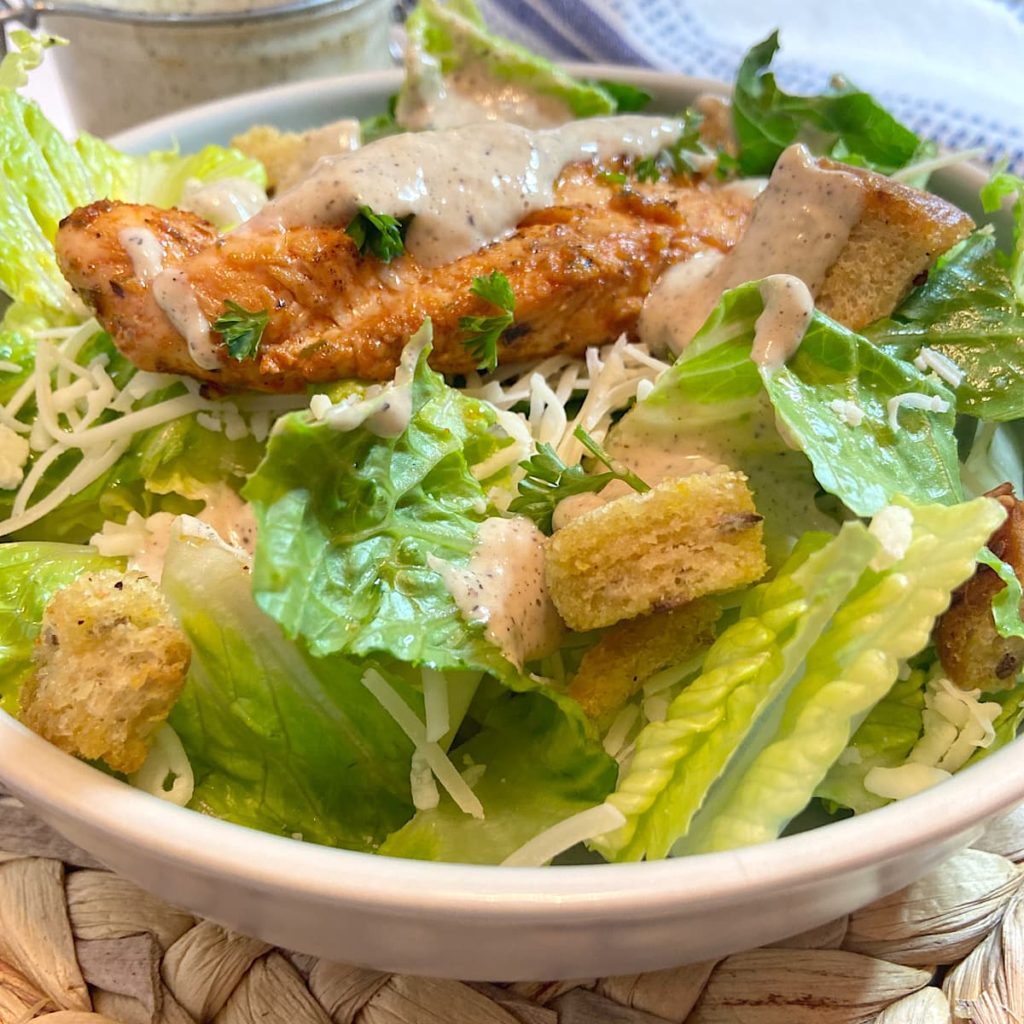 I usually pick up salad kits in the produce department. They are adequate but nothing like enjoying a caesar salad when dining out. The croutons at resturants are light and crispy and the dressing is full-bodied and flavorful.
You can make a caesar salad at home that equals this experience. Here's how you do it.
Ingredients in Grilled Chicken Caesar Salad
This recipe is fairly simple and uses only grilled chicken, homemade croutons, shredded parmesan cheese, romaine lettuce, and Mayfair Salad dressing.
For the grilled chicken, I used my recipe for Grilled Chicken Kabobs.
The marinade in this recipe adds spicy flavor and moistness to the chicken. You can use the leftover chicken from kabobs or cut your chicken into roughly equal strips and grill.
Homemade Croutons are the best.
They are amazingly easy to prepare and the difference in texture from premade bags of croutons is significant. Here's my simple recipe where you can use sliced whole wheat bread. I used whole wheat nut bread that had seeds and nuts added.
Mayfair dressing is a caesar-style dressing that whips up in 15 minutes. It's best when chilled for up to an hour to give the flavors time to meld. It includes anchovies, but no raw egg. Definitely worth the effort. Try my simple recipe.
Shredded parmesan cheese. No amount is too much of this tasty garnish.
Romaine lettuce works best in this salad. It has a firm structure with a light and crispy bite. It holds up well to the Mayfair dressing.
How to Prepare Grilled Chicken Caesar Salad with Mayfair Dressing
Start with freshly cleaned and cut romaine lettuce. You can clean and cut this up to 24 hours prior to preparing the salad. Just add a damp paper towl to the bag of cut lettuce to keep it moist.
Place lettuce in a bowl. Add prepared grilled chicken. Sprinkle on croutons and shredded parmesan cheese.
Drizzle dressing on salad and toss. Enjoy!
How to Store Caesar Salad
Once the dressing is added to the lettuce, this salad is best served immediately.
But, when using premade ingredients: grilled chicken, Mayfair dressing, and croutons, you can store individually up to 24-48 hours prior to serving. This is a time-saver.
What to Serve with Grilled Chicken Caesar Salad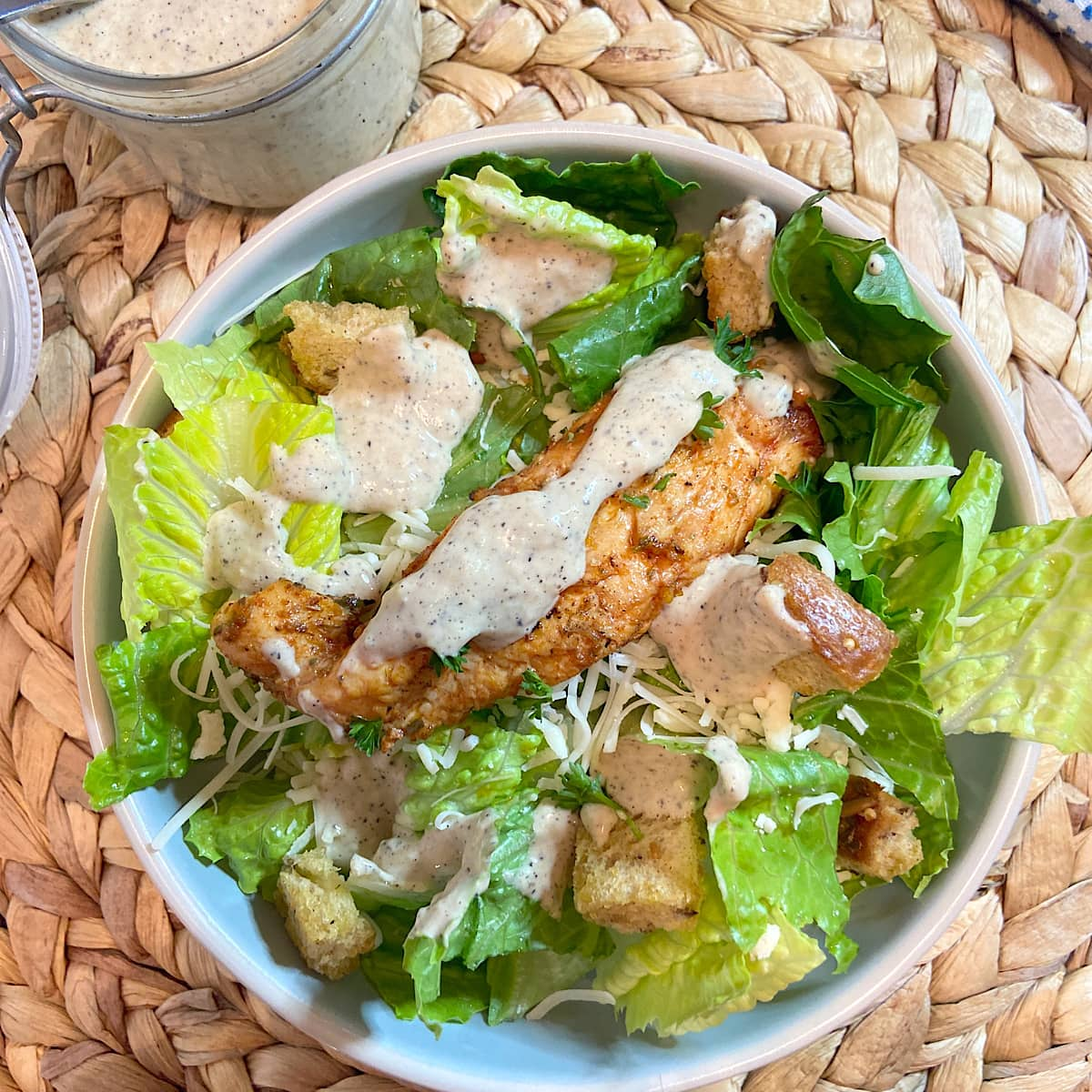 This light salad is a meal in itself. But you can serve as a side salad without the chicken.
---