This post may contain affiliate links. This means I may make a small commission at no additional cost to you when you make a purchase. Find out more in the Disclosure Policy
Try this simple recipe for Tasty Grilled Chicken Kabobs and marinate chicken in seasonings that will add a Mediterranean flavor.
The grilled chicken will be tender, juicy, and flavorful. Perfect for the main entree, or in a pita, or on a salad.
We eat a lot of chicken at our house and sometimes we need a change. This chicken is one of our favorites, especially when it is grilling season.
If you are watching your diet this recipe is low carb and works well with the Keto Diet.
It uses olive oil and common spices of the Mediterranean so works for the Mediterranean Diet too.
Ingredients
Chicken breasts
Lemon juice
White wine
Extra virgin olive oil
Minced garlic
Spices
Instructions
Step 1. Combine olive oil, lemon juice, white wine, garlic, oregano, rosemary, smoked paprika, salt, and bay leaves in a gallon zip lock bag.
Step 2. Slice chicken breast in half. Add to zip lock bag. Close bag and squish bag to make sure chicken is coated with the marinade.
Step 3. Place zip lock bag in the refrigerator for at least 30 minutes and up to 2 hours or more.
The best flavor comes from letting the chicken soak in the marinade for up to 2 hours. Always discard the marinade after the chicken is removed.
Step 4. Chop onion and bell peppers into 1 to 2-inch squares. Set aside.
Step 5. Cut chicken into 2-inch pieces.
Step 6. Gather metal skewers and thread chicken, then onion, then bell pepper, and alternate to fill the skewer.
Step 7. Place skewers over an area of direct high heat on your grill. Sear kabobs for 5 minutes per side until all sides browned. Move skewers to the side to continue to cook in indirect heat. Use a meat thermometer to ensure the chicken is heated to an internal temperature of 165F.
Grilling Tips
There is an art to grilling, at least my husband says there is. Here are a few of his tips:
cut chicken into roughly the same size pieces,
allow the chicken to soak in the marinade for at least 30 minutes, flavor improves the longer you marinate, up to 2 hours,
use a temperature probe (#ad) to monitor the chicken temperature, aim for 160-165 degrees F,
sear chicken on all sides on high, then move chicken to a non-flame area of the grill and cook until the desired temperature.
What to Serve with Grilled Chicken Kabobs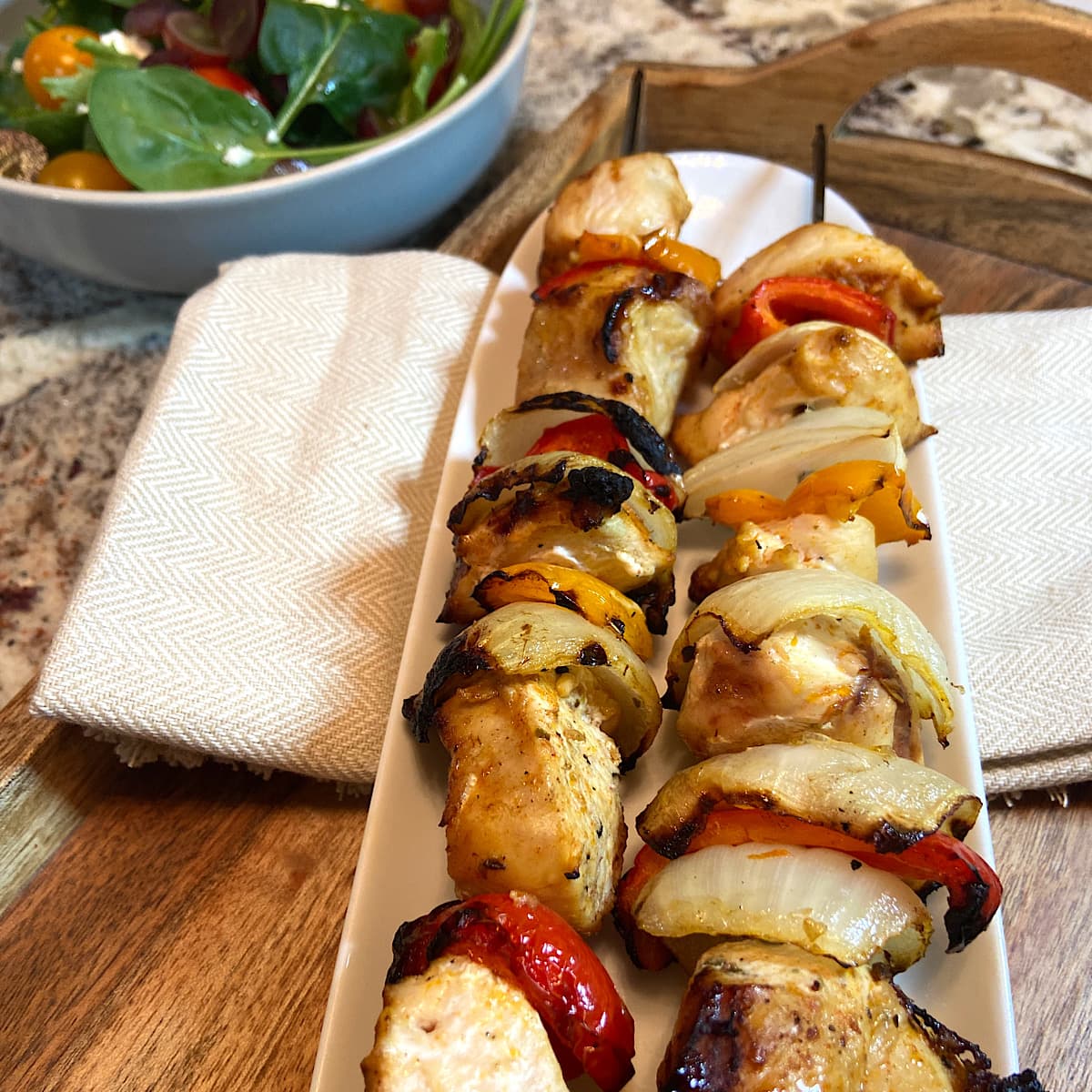 Serve with a salad, such as my Apple Pecan Salad, Roasted Acorn Squash, or Honey Glazed Carrots and Celery.
Looking for more chicken dishes? Check out my post on Easy Healthy Chicken Recipes. Chicken entrées are made with simple healthy ingredients and ready in less than an hour. For other tasty recipes check out my Dinner Recipes.
Other Healthy Chicken Recipes for You
---
May 2022 Update: This post was updated with Ingredients, Instructions, and Other Recipes Sections.