This post may contain affiliate links. This means I may make a small commission at no additional cost to you when you make a purchase. Find out more in the Disclosure Policy
This recipe for Baked Chicken with a sweet and smoky spice rub takes your weeknight chicken dish to a new flavor level. A mixture of spices, a little brown sugar, lime juice, and olive is all you need for this moist and juicy simple chicken dish.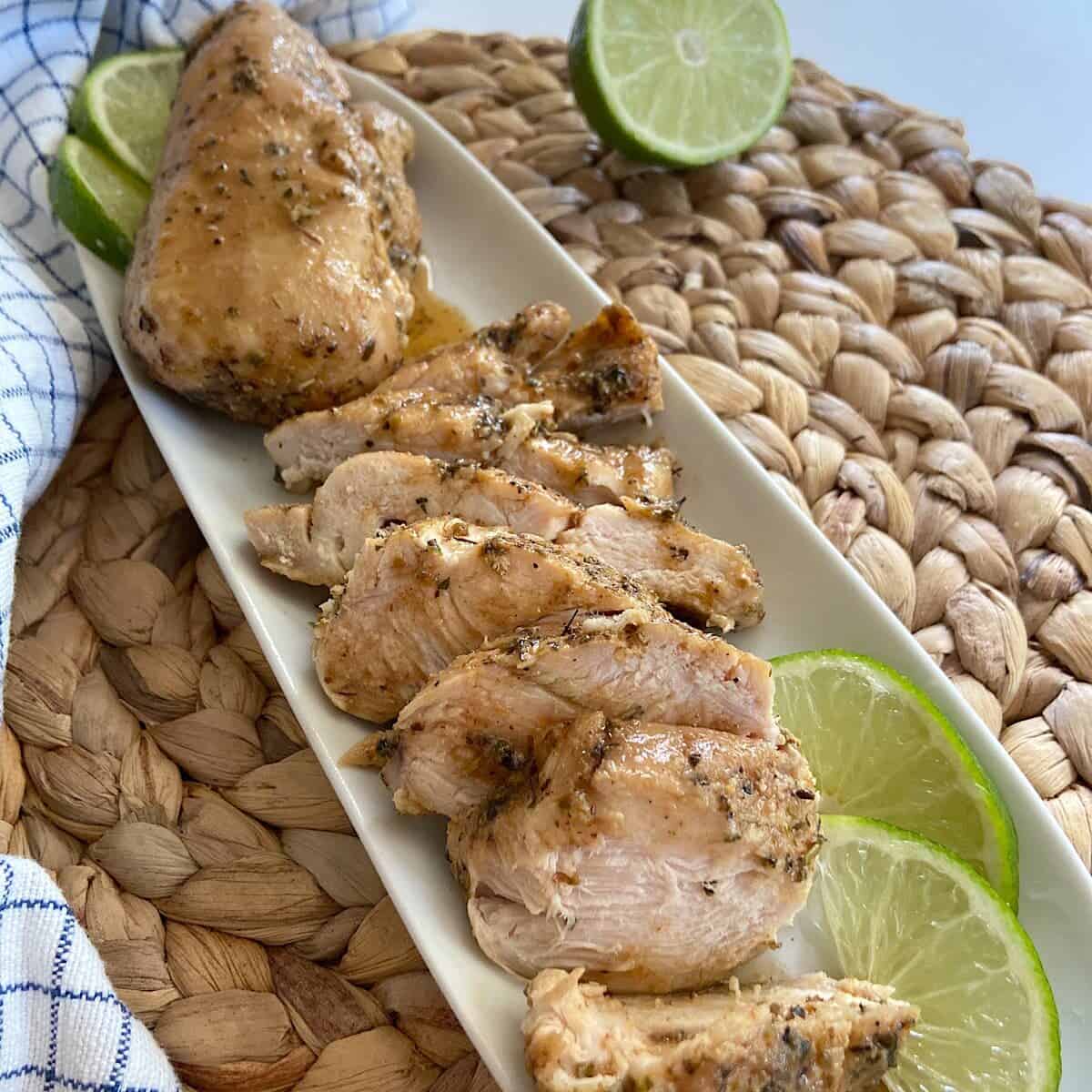 The unique blend of spices along with lime juice and EVOO create a sweet and smoky flavored tender and moist chicken breast and a tasty sauce.
Baked in the oven for just about 30 minutes, and served with a leafy green salad, and baked potato, you will have a healthy meal on the table in just about an hour.
Ingredients
Preparation
Preheat oven to 400F.
Step 1 Line a baking pan with aluminum foil.
Step 2 Place lime slices in pan. Lay chicken breasts over lime slices.
Step 3 Drizzle olive oil over chicken breasts.
Step 4 Mix spices and brown sugar together for the chicken rub.
Step 5 Sprinkle rub on all sides of chicken.
Step 6 Squeeze lime juice over chicken
Step 7 Place the pan on the bottom rack of the oven.
Step 8 Cook until the internal temperature is 165F in the thickest part of the chicken. I use a temperature probe #ad like this one to make sure the chicken is done but not overcooked.
Step 9 Remove chicken from oven and cover with foil for 5 minutes.
Step 10 Slice and pour drippings over chicken slices.
Frequently Asked Questions
What is a Spice Rub

A rub is a mixture of herbs, spices, salt, pepper, and or sugar that is sprinkled and rubbed on meat and fish prior to cooking to add flavor.

There are dry rubs that are just dry ingredients and there are wet rubs where oils, and juices, or vinegar are added to form a paste.

Rubs are used when grilling, baking, or sauteing.
What is a Good Substitute for the Rub Spices

A tablespoon of Italian Spice Mix is an easy substitute for the basil, oregano, marjoram, rosemary, and thyme in this recipe.
Serving Suggestions
This flavorful baked chicken recipe stands alone with its flavor. Serve it with a leafy green salad and a side dish. Try one of these easy side dishes.
Herbed Baby Carrots and Zucchini - light and a healthy side dish of carrots and zucchini flavored with herbs.
Healthy Wild Rice - a colorful rice side dish made with a quick cook parboiled wild rice combined with carrots, celery, chopped green onion, golden raisins, and chopped apple.
Vegetable Pasta Salad - a creamy and flavorful pasta salad filled with crunchy vegetables. A lemony dill avocado mayonnaise dressing blends all the flavors into a delicious bite.
Other Chicken Recipes For You