This post may contain affiliate links. This means I may make a small commission at no additional cost to you when you make a purchase. Find out more in the Disclosure Policy
Simple Oven Roasted Chicken is a healthy whole chicken recipe. A few simple ingredients produce chicken that is moist and tender.
This is a perfect recipe for a busy weeknight or for Sunday dinner.
Roasted chicken is one of my husband's favorite meals. I usually prepare it once a month with sides of potatoes or Broccoli, Leeks, Mushrooms, and Rice.
I usually have the ingredients in my pantry, and if I happen to be out of one or the other, this recipe is easy to substitute.
Ingredients in Oven Roasted Chicken
Just and few simple ingredients and you are on your way to a moist and flavorful chicken dinner.
Preparation of Simple Oven Roasted Chicken
First, choose your chicken. Depending on how many people you will serve at your meal will determine the chicken size. Ensure chicken is completely thawed prior to baking.
Preheat oven to 350F.
Remove giblets from the chicken cavity. I like to simmer them in some water while the chicken is roasting. Then I chop them up finely to add to the gravy along with some of the cooking water. They add great flavor.
Rinse chicken and pat dry with a paper towel.
Spray a baking dish with cooking spray and add chicken.
Loosen the skin at top of the chicken by sliding your finger under the skin. Add olive oil to both sides of the chicken.
Stuff cavity with lemon and onion wedges. Pull skin over cavity opening to seal. Tie end of legs together with twine. This is optional but helps keep cavity ingredients in place.
Remember to wash hands with soap after handling chicken.
Salt and pepper the outside of the chicken. Sprinkle with spices.
Place baking pan on the bottom rack of oven. Cook chicken for 15-20 minutes per pound. For a 3 pound chicken, check internal temperature at 45 minutes.
A done temperature will be 165F with a temperature probe inserted in the thickest part of the thigh.
Let chick rest for 5-10 minutes prior to slicing.
What Are the Different Types of Whole Chicken
You may see whole chickens labeled as roasters, fryers, broilers, or stewing chickens. Which one should you pick?
For baking, you want to stick with whole chickens that are labeled as roasters, fryers, or broilers that are younger chickens and will be more tender when cooked. Any can be used for roasting.
You may occasionally see stewing chickens at the grocery store. They are chickens that are older and past their prime for laying eggs. They have a tougher texture and are intended for slow cooking. Reserve stewing chickens for making soups and stews.
How Many Servings in a Whole Chicken
A three to four-pound chicken will typically provide 5-6 servings of meat. If you are serving more, you might consider roasting more than one chicken.
How to Use Leftover Whole Chicken Bones
The bones and leftover meat from a whole chicken or turkey are a treasure for making homemade bone broth and soups.
They add flavor and healthy nutrients to your soups, stews, and other recipes that call for broth. Learn how to make your own broth with my recipe Simple Homemade Bone Broth. Made in the slow cooker it is a set and forget recipe that will have your home smelling like homemade chicken soup.
Don't have time to make it now? Simple freeze your chicken in a freezer bag and use it for soup or broth in the future.
What to Serve with Chicken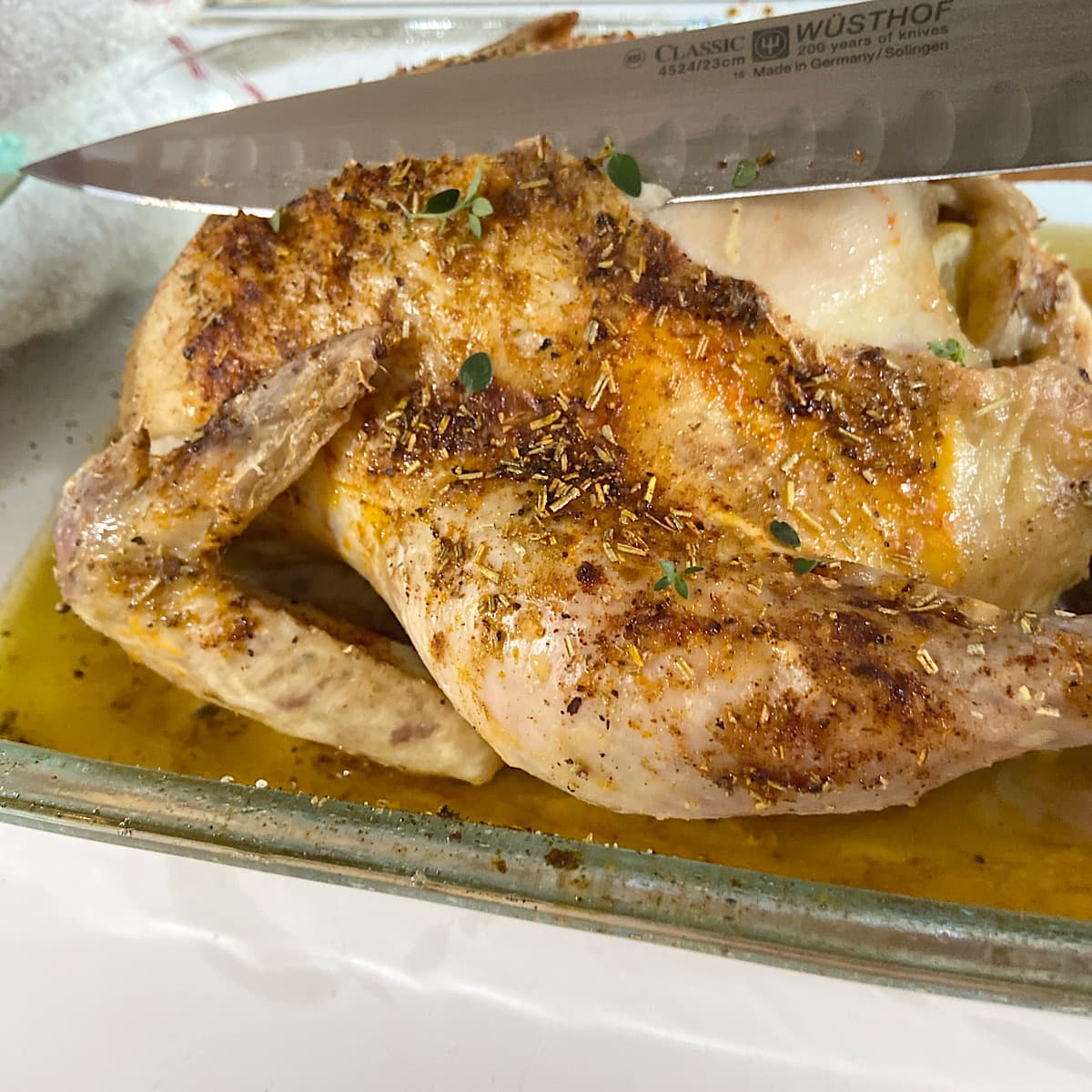 Oven-roasted chicken is perfect with potatoes or rice. Serve with a leafy green salad with a healthy Green Goddess Dressing recipe and a vegetable side dish. You might enjoy roasted chicken with one of the following healthy recipes.
Broccoli Leek Mushrooms and Rice - Made with brown rice, fresh broccoli, mushrooms, leek, it complements almost any meal.
Herbed Baby Carrots and Zucchini - a simple vegetable side dish flavored with fresh herbs, olive oil, and broth.
Mediterranean Oven Roasted Potatoes - potatoes with a creamy, melt-in-your-mouth texture that is rich and moist.
Marinated Green Beans and Tomatoes - cooked green beans and tomatoes tossed in a simple vinaigrette.
---