This post may contain affiliate links. This means I may make a small commission at no additional cost to you when you make a purchase. Find out more in the Disclosure Policy
Brown Rice with Broccoli and Mushrooms is flavorful and filling side dish. Made with chewy brown rice, fresh broccoli, mushrooms, and sliced leek, it complements almost any meal.
This recipe is one of my favorite Mediterranean Diet brown rice recipes. Brown rice is a healthy whole grain.
Including whole grains in your meals is important when following the Mediterranean Diet. A small serving of whole grains adds complex carbohydrates, fiber, and chew to your meals.
I love rice and mushrooms. Since following the Mediterranean Diet I am adapting many of my recipes to include whole grains. For this recipe, I substituted brown rice for the traditional wild or white rice.
To learn more about adding whole grains to your diet, read my post, Get the Scoop on Whole Grains.
Ingredients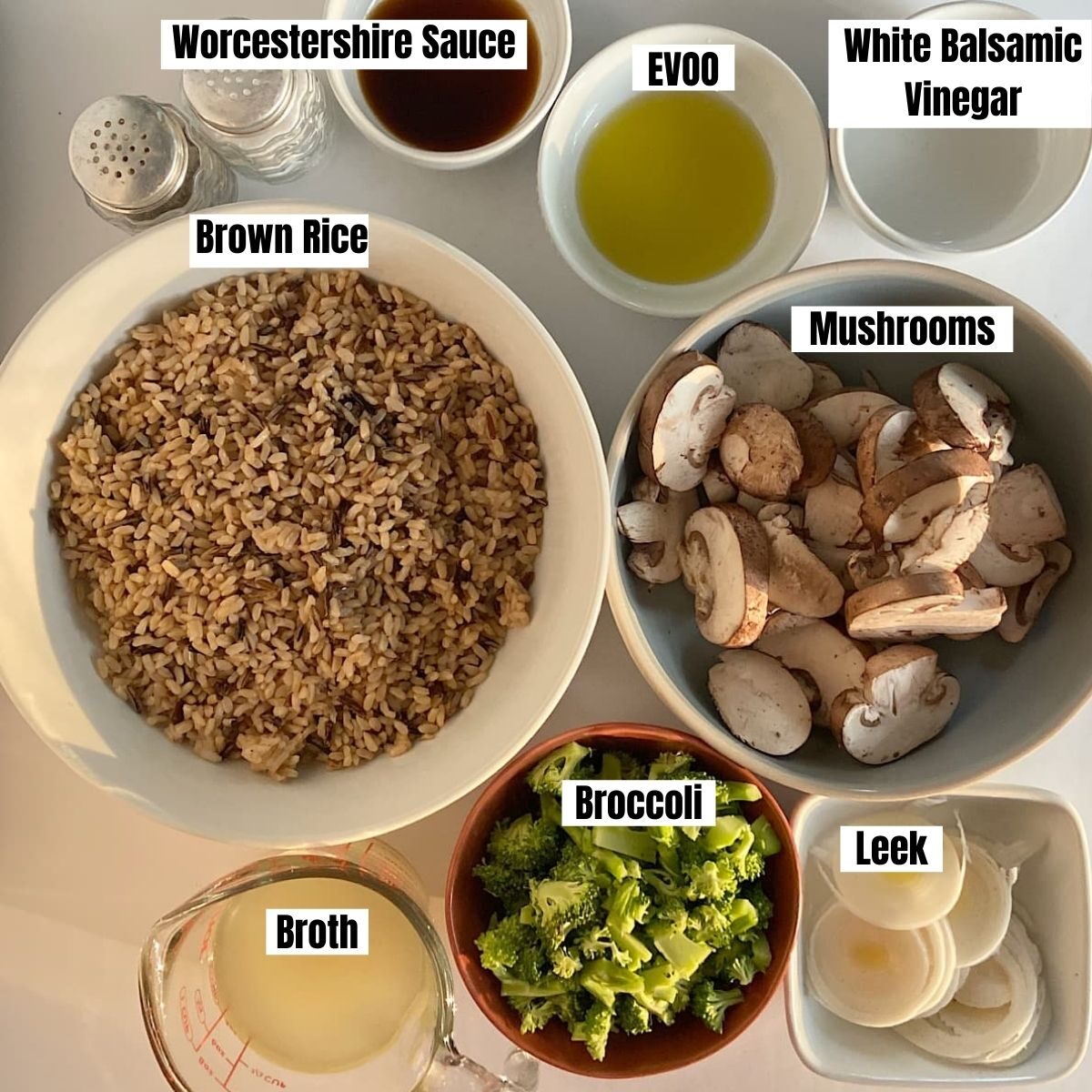 Preparation Tip: For this recipe, I take advantage of Uncle Ben's Ready Rice #ad. It is whole-grain brown rice that is partially cooked so that your recipe is ready in about an hour. Using this type of rice cuts the recipe preparation time by about 30 minutes.
Instructions
Step 1. Chop broccoli into 1/2-inch pieces. Finely slice the leek. Slice mushrooms. Set all aside.
Step 2. Heat 2 tablespoons of olive oil over medium heat in a frying pan. Add broccoli to the pan and saute for 3 minutes.
Step 3. Add leek to broccoli and continue to cook until leek softens and starts to brown.
Step 4. Stir in sliced mushrooms and remaining oil and cook until mushrooms are tender.
Step 5. Mix rice with the mushrooms and saute. Add Worcestershire sauce and balsamic vinegar. Pour broth into the frying pan. Stir until broth is absorbed. Cover and lower heat and cook for 3-5 minutes.
Frequently Asked Questions
What is the Difference Between White and Brown Rice

White rice and brown rice are both a grain. Each has the inedible outer hull removed.

The difference is how the grains are processed. The processing of white rice removes important bran and germ nutrient layers of the grain. This leaves a simple carbohydrate that raises blood sugar rather than leaving us full and satisfied.

We cook and eat brown rice in whole-grain form. It includes both the bran and germ layer where the whole grain fiber and nutrient benefits are stored. 1

Wild rice is whole-grain with just the outer inedible layer removed. It adds chew to your recipes.
How to Store Mushrooms and Brown Rice

This broccoli, leek, mushrooms, and brown rice can be stored covered in the refrigerator for up to 7 days. Reheat over medium heat on the stove or heat for 2-3 minutes in the microwave.
What to Serve with Mushroom and Brown Rice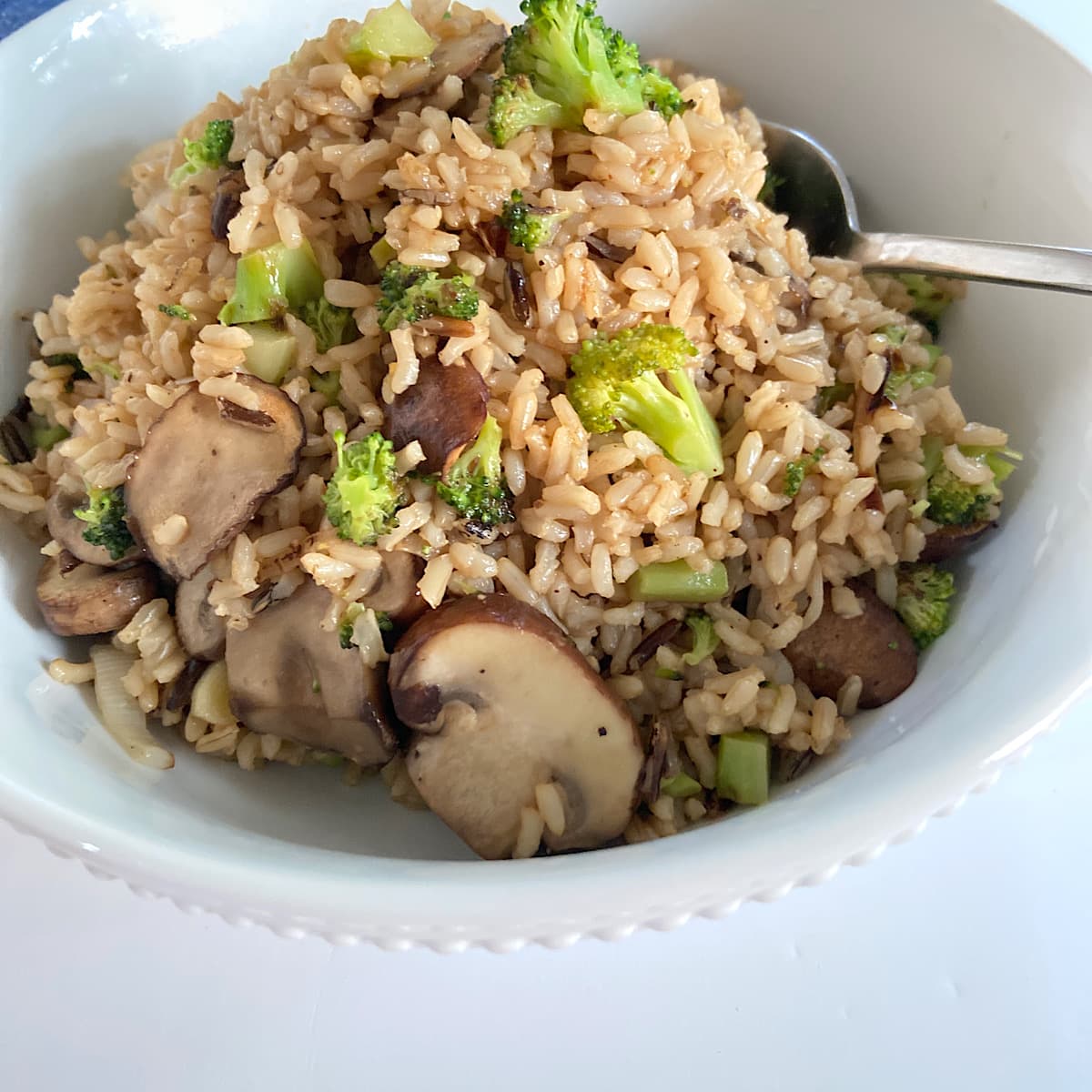 This is one of my favorite broccoli, mushroom, leek, and brown rice recipes. This simple side dish works with fish or chicken. You might like it with:
Chicken Saute with Apple and Onion
Other Healthy Side Dish Recipes for You
---
---
October 2022 Update: Minor updates to post.