This post may contain affiliate links. This means I may make a small commission at no additional cost to you when you make a purchase. Find out more in the Disclosure Policy
This Oven Baked Salmon in foil recipe is juicy and filled with light lemon and spicy flavors. Just a few ingredients from your pantry and you will have a quick and easy meal. Ready and on the table in about 30 minutes. Perfect for a busy weeknight.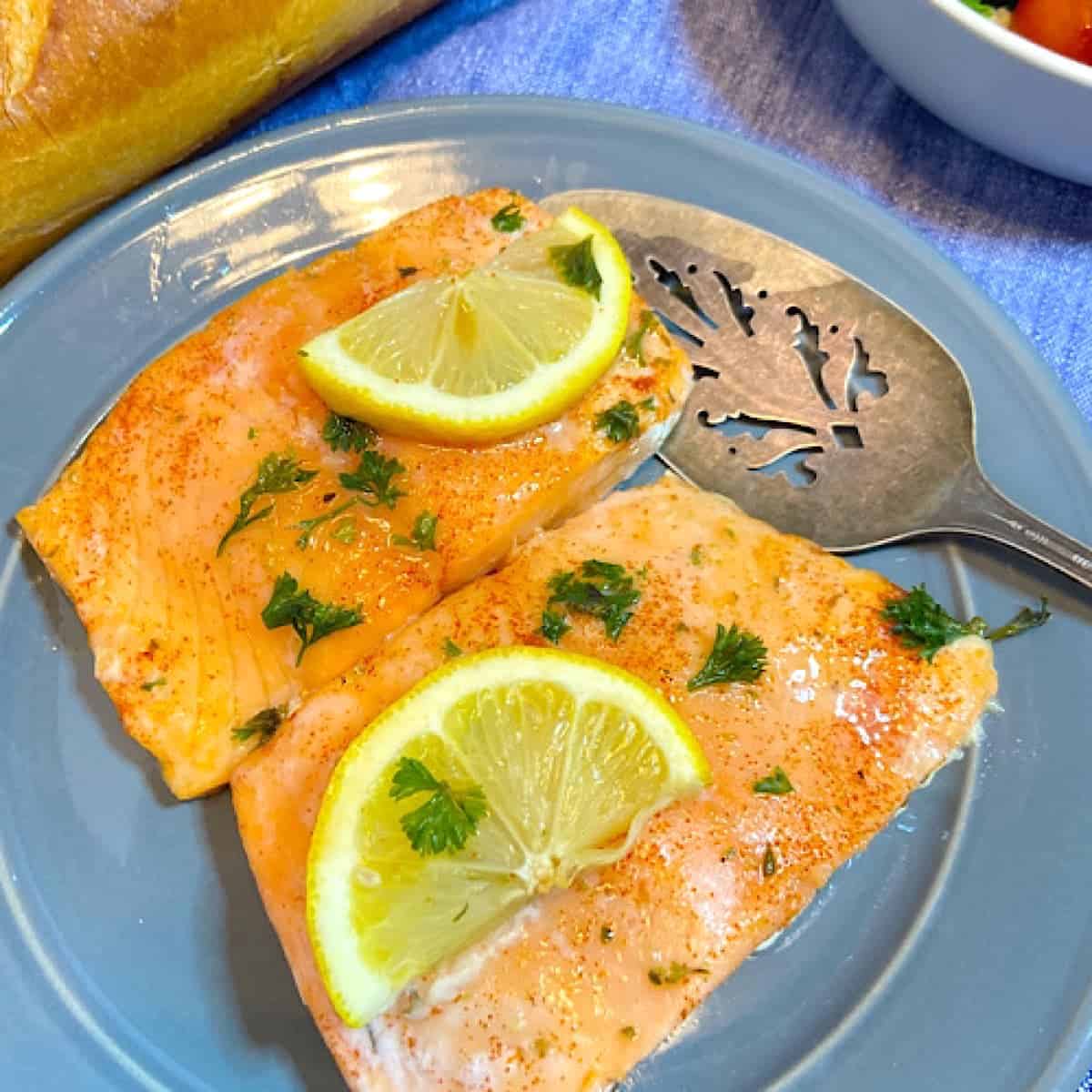 We try to include fish twice each week at our house. One of our favorite fish is salmon. This basic recipe is quick and easy. We usually have the ingredients on hand.
I sometimes mix up the spices depending on what I have on hand. It always comes out moist and full of light flavors.
Ingredients for Oven-Baked Salmon
This recipe contains just a few simple ingredients you likely have in your pantry.
Salmon filets. You can purchase fresh at your local fishmonger or grocery store. We buy a large bag of salmon filets at the big box store. We get 2 meals out of these bags.
Lemon. fresh lemons, sliced.
Sauce. honey, white wine, extra virgin olive oil.
Spices. Parika, oregano, parsley.
How to Prepare Salmon
If using fresh salmon, set out for 15 minutes. If using frozen salmon, defrost according to the package directions.
Preheat oven to 350F.
Place a large piece of foil in a 13 x 9-inch baking dish. Large enough so that you can fold and crimp over salmon. Spray foil with cooking spray.
Slice lemon in thin slices and place in the bottom of the baking dish.
Lay salmon over lemon slices.
Mix honey, white wine, olive oil, and oregano. Drizzle and divide evenly over salmon filets.
Sprinkle with paprika and parsley.
Bake in 350F oven for 20-25 minutes until the internal temperature of salmon reaches 140 degrees. Salmon will continue to cook as it sits.
When done salmon will flake easily and maybe slightly pink in the middle. I use a temperature probe #ad like this one to make sure I don't overcook the salmon.
What to Serve With Oven Baked Salmon
Serve Salmon with a leafy green salad dressed with a healthy Homemade Ranch Dressing.
Other side dishes that pair well with salmon include:
Stuffed Yellow Squash & Zucchini Boats - vegetable and herb stuffed squash.
Easy Tomato & Cucumber Salad - garden fresh tomatoes, cucumber, and onion with a tangy dressing.
Healthy Wild Rice - colorful vegetable and fruit-filled rice side dish.
---
July 2021 Update: Added helpful tips and added updated images.