This post may contain affiliate links. This means I may make a small commission at no additional cost to you when you make a purchase. Find out more in the Disclosure Policy
Stuffed Yellow Squash and Zucchini Boats are a healthy side dish full of tangy tomato and onion flavors. Colorful enough to add interest to your meal. Low calorie, low carb, and vegetarian recipe.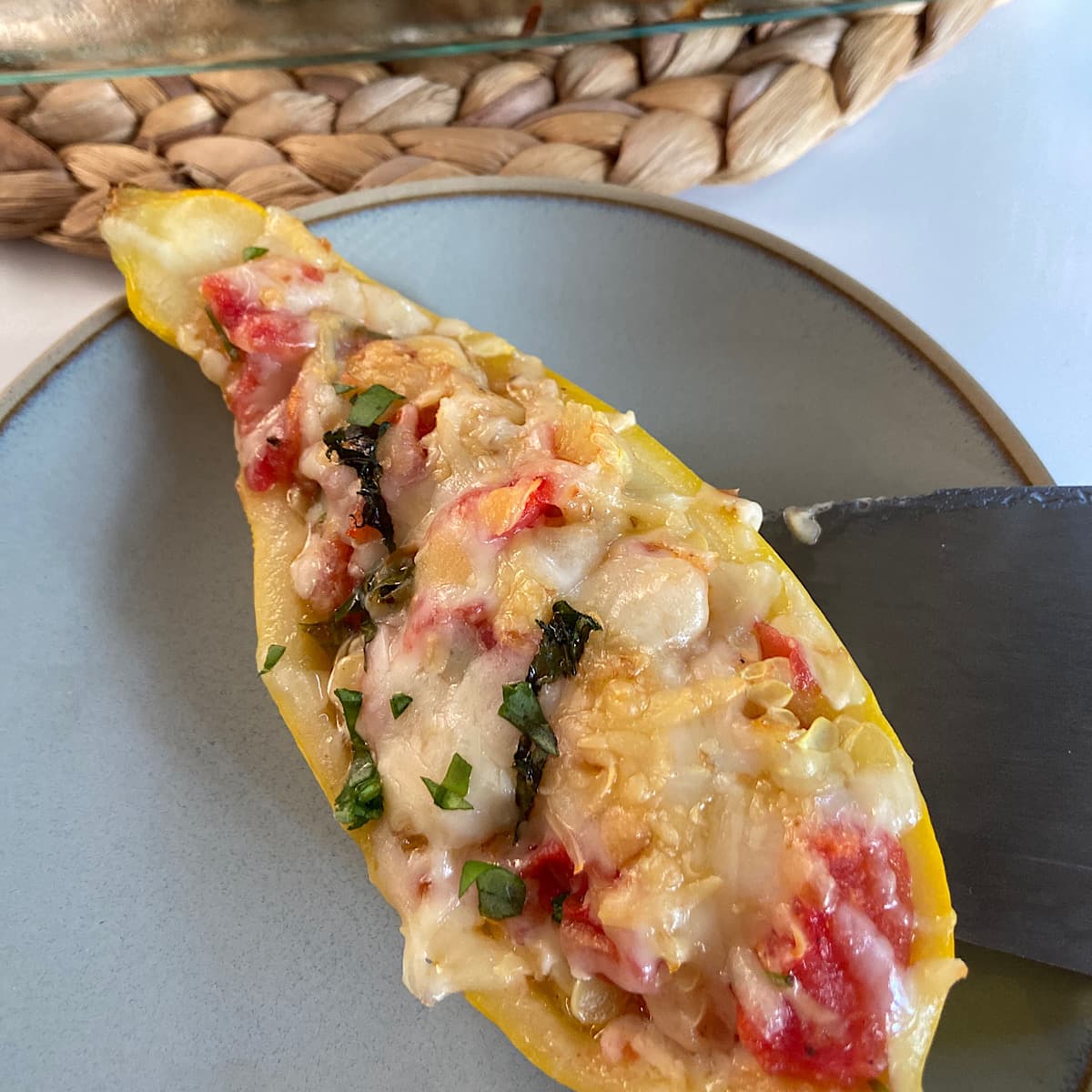 This simple squash boat recipe is full of color and mouth-watering flavors.
Squash and zucchini are abundant vegetables and I am often looking for ways to use up the garden bounty.
This recipe fits the bill with flavors that will complement any meal.
Ingredients
Fresh basil, thyme, and parsley
Parmesan cheese, optional
Instructions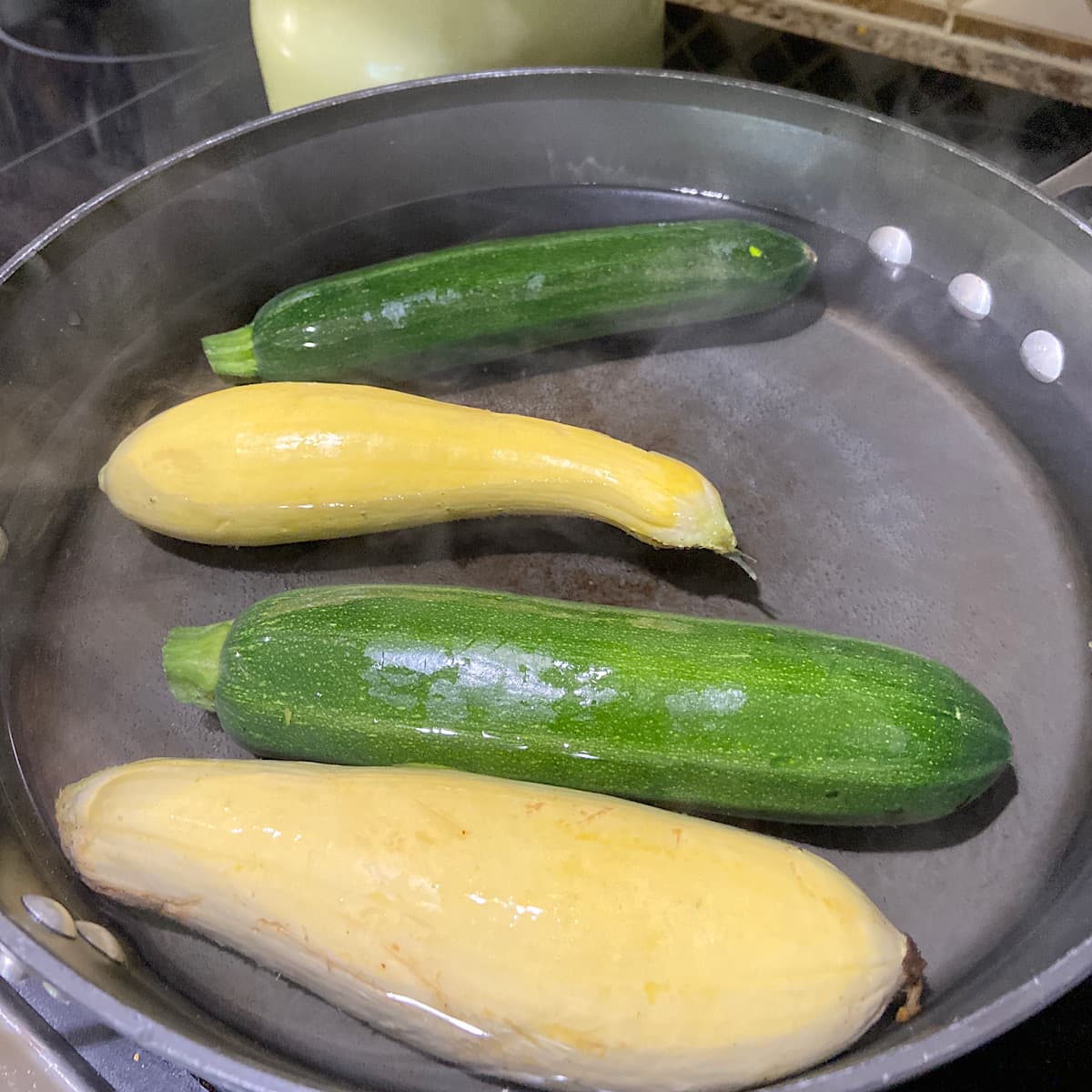 Step 1. Select small-sized yellow squash and zucchini. Scrub well.
Step 2. Heat a large pan of water to a boil over high heat. Gently add yellow squash and zucchini. Cook at a low boil for 5 minutes until they are firm on the outside but fork-tender on the inside. Remove from water and set aside to cool.
Step 3. Peel and chop tomatoes and add to a bowl. Chop green onion and herbs and add to tomatoes. Set aside.
Step 4. When squash is cool, cut each in half longways. You will have 4 zucchini halves and 4 squash halves. Take a knife and cut along the inside edge of 3 yellow squash and 3 zucchini halves. Scoop out pulp with a spoon. Turn halve over and drain on a paper towel. Chop pulp and remaining 4th zucchini and squash halves into bite-sized pieces and add to tomato mixture.
Step 5. Drizzle tomato mixture with olive oil and white wine vinegar. Sprinkle with salt and pepper.
Step 6. Use a slotted spoon to drain excess liquid, and add tomato mixture to squash and zucchini halves.
Step 7. Sprinkle with Parmesan cheese. Bake at 350F for 30 minutes.
I have made these boats with and without the cheese. Both options are flavorful.
Frequently Asked Questions
What is the Difference Between Zucchini and Yellow Squash

Both Zucchini and Yellow Squash are different varieties of Summer squash.

Most zucchini has a green rind or skin. The golden variety skin can be found in deep yellow or orange.

Yellow squash is so named for its yellow color.

Technically a fruit, they are generally cooked in savory dishes.



Do You Have to Peel Summer Squash

Summer squash is harvested prior to maturity when its seeds and rind are soft and eatable. There is no need to peel squash skin. Retaining their eatable rinds adds color to recipes.
What to Serve with Yellow Squash and Zucchini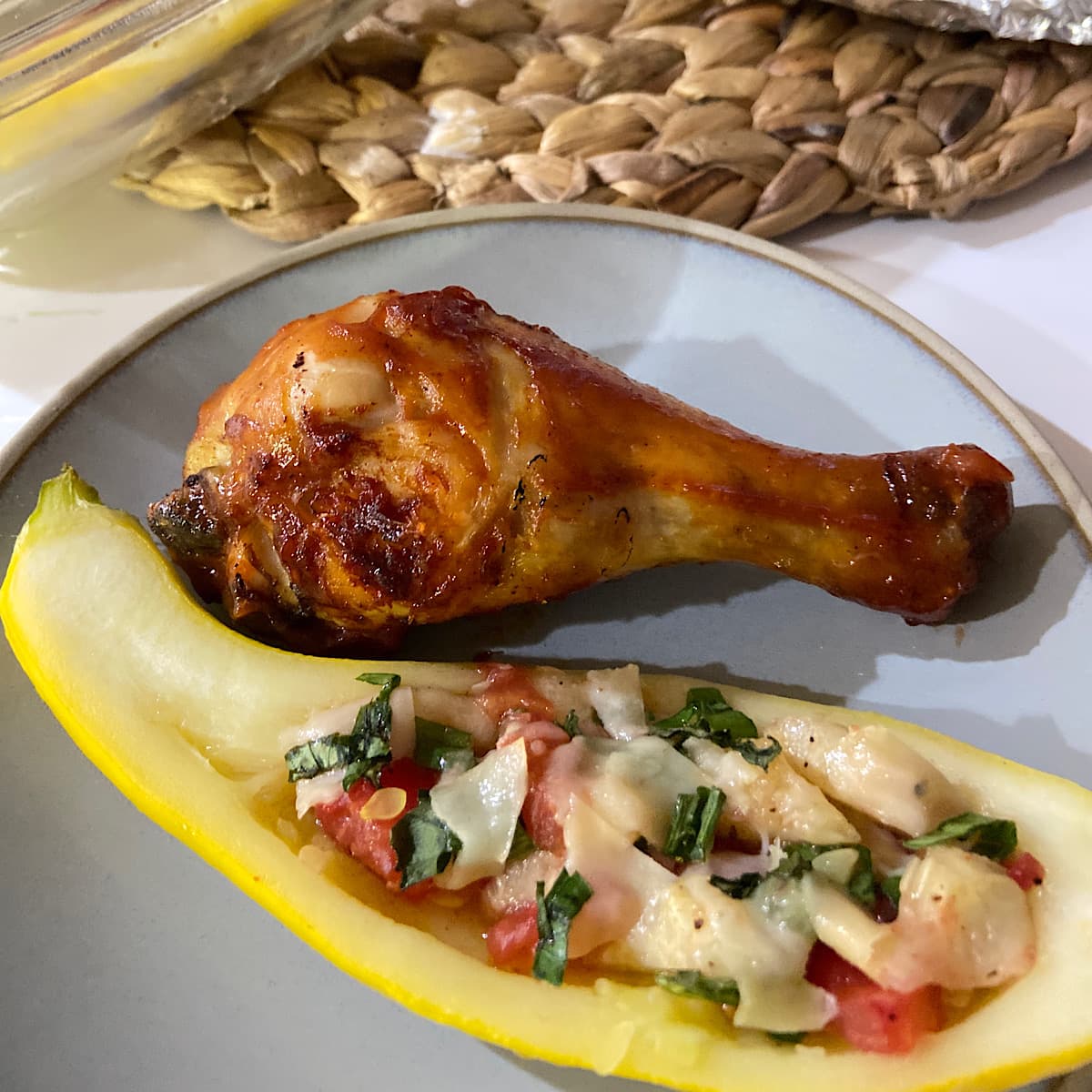 This low carbohydrate, low-calorie yellow squash boat side dish is full of slightly sweet tomato, onion, and tangy flavors. Serve it with grilled chicken, or salmon.
Check out my other Side Dish Recipes.
Other Healthy Side Dish Recipes
---
May 2022 Update: Minor updates to post.