This post may contain affiliate links. This means I may make a small commission at no additional cost to you when you make a purchase. Find out more in the Disclosure Policy
This Savory Sauteed Apples Recipe is a quick and simple side dish full of tender apple flavor. A recipe with just 6 ingredients that is ready and on the table in less than 30 minutes.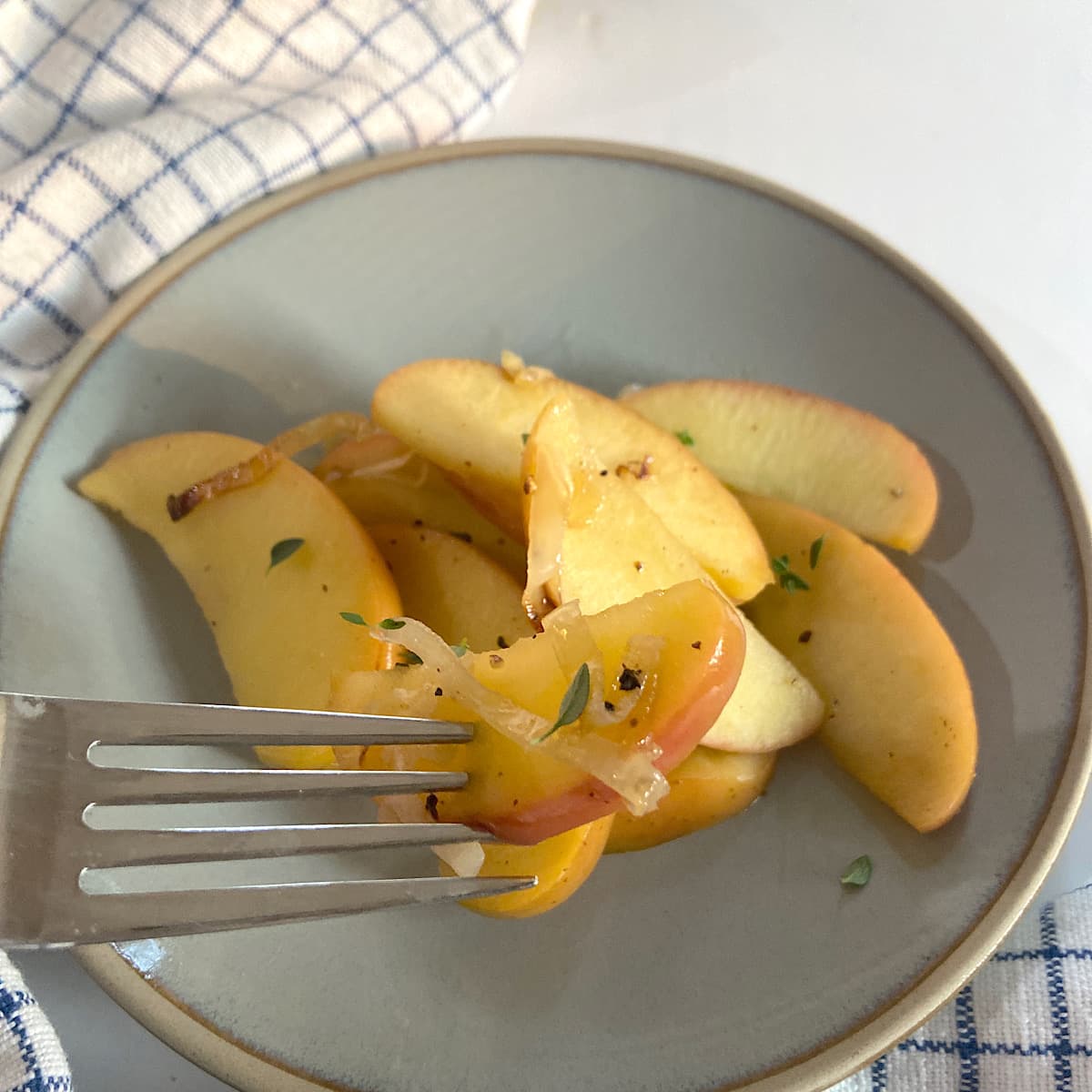 I grew up with grandparents who had fruit trees in their yard. Apples, peaches, and apricot trees. This fruit was a regular part of our diet.
Recipes were simple like this sauteed leek and apple recipe. Full of apple and mild onion flavors, it is a perfect side dish for chicken or pork.
Ingredients
Just a few ingredients make a tasty sauteed apple side dish.
Instructions
Step 1. Heat olive oil in a frying pan over medium-high heat.
Step 2. Wash and clean leek. Slice the white portion of the leek into thin layers. Add to the frying pan. Stir and cook for 3-5 minutes until leeks start to brown.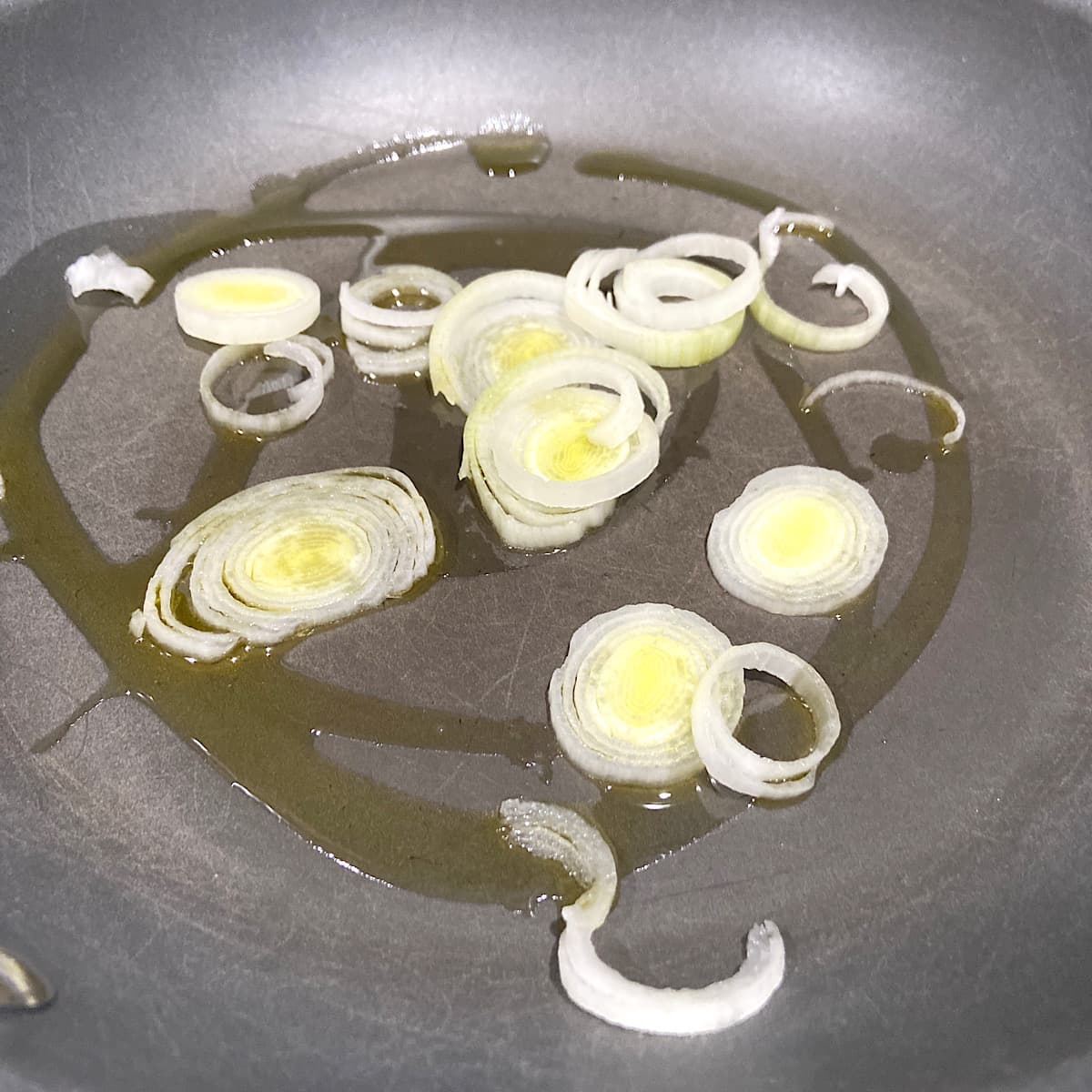 Step 3. Slice apples into thin slices. You can peel if you like, but I like the additional chew of the peel.
Step 4. Add apples to the frying pan. Sprinkle with chopped fresh thyme. Season with a pinch of salt and pepper. Stir and cook for 3-5 minutes.
Step 5. Decrease the heat to low, and cover the pan with a lid. Allow apple to cook for 5-10 minutes until fork-tender. Stir occasionally. Pull the pan partially off the burner if the pan gets too hot.
Step 6. Add additional fresh thyme and serve warm.
Frequently Asked Questions
Which Apples Are Best to Cook

Select apples that are firm and fresh. You can use a tart apple like a Granny Smith or a Red or Yellow Delicious. Really any apple variety will work in this recipe.
How to Prepare Leeks

Leeks are part of the allium family of root vegetables related to onions, garlic, and shallots. Leeks have a mild onion flavor.

While leeks have a white base and green top similar to green onions, only the lower white part of the plant is eatable.

To prepare leeks, start by cutting off the bottom roots. Slice the outer layer and peel away from the leek. You may see dirt coated onto the leek. Wash this off. As you peel additional layers you may see a similar layer of soil. This will be washed off after you slice the leek.

Thinly slice the white end of the leek. You can use it until the green top, which is tough and fibrous.

Place sliced leek in a colander and rinse under running water. Dry on paper towels.
Saute, and add to soups, and other cooked and roasted recipes.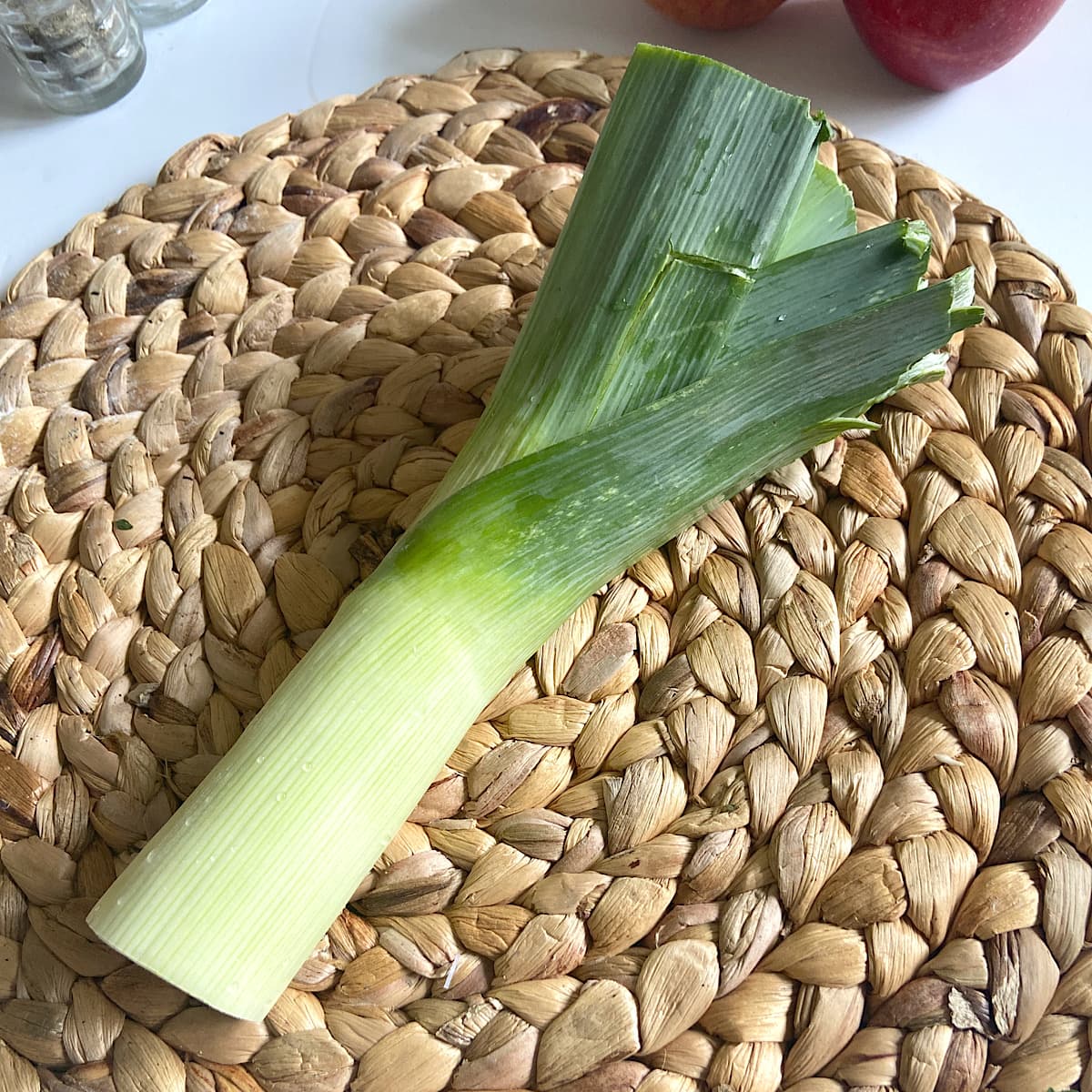 What to Serve with Apples and Leeks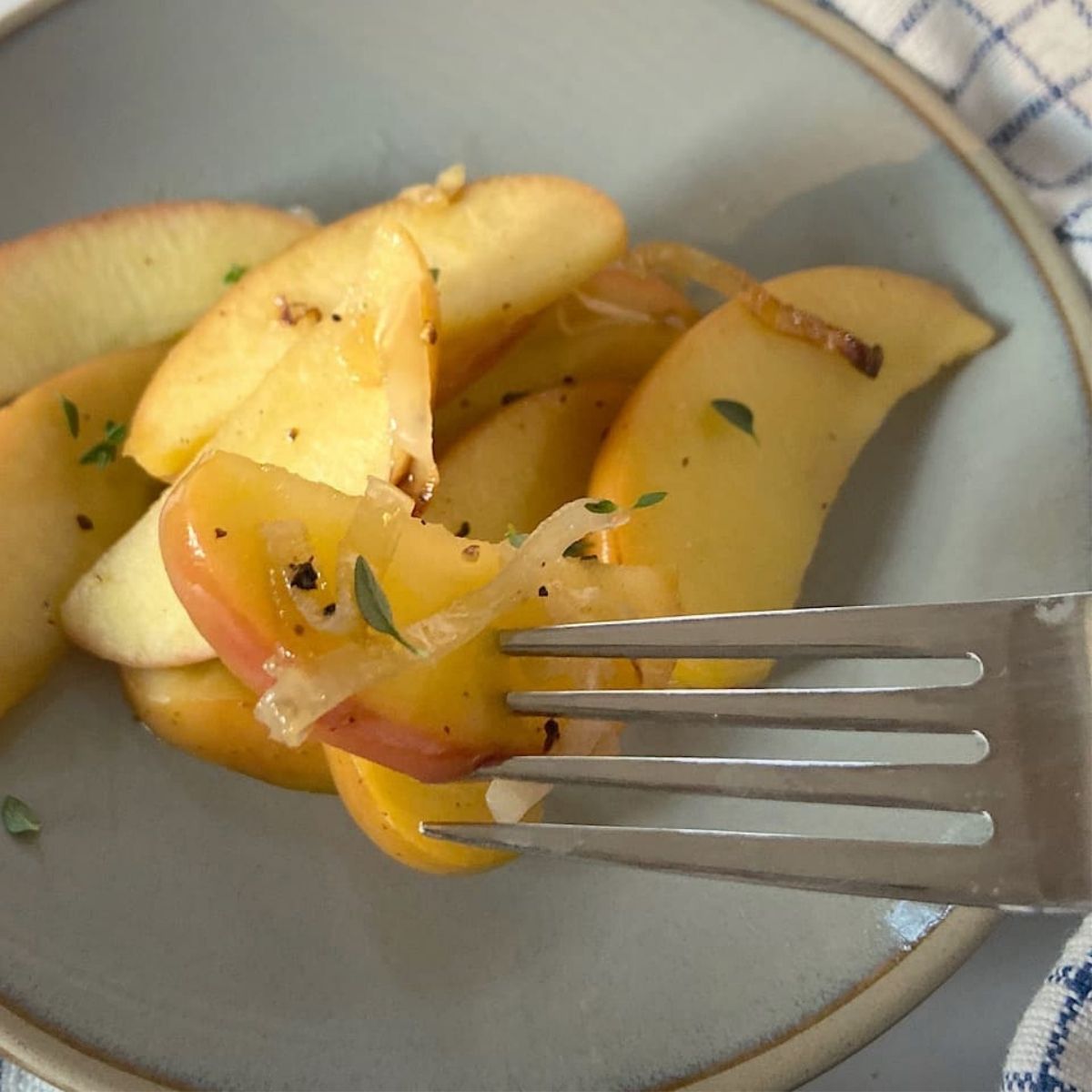 This savory sauteed apples recipe is perfect for chicken or pork. You might enjoy it with one of the following recipes.
Oven Roasted Chicken - a healthy whole chicken recipe. A few simple ingredients produce chicken that is moist and tender.
Bacon-Wrapped Chicken Breast - simple grilled bacon-wrapped chicken with a spice rub.
See more tasty sides in my Side Dish Recipes.
Other Tasty Salad Recipes for You
---
May 2022 Update: Added Instructions, Frequently Asked Questions, and Other Recipe sections.