This post may contain affiliate links. This means I may make a small commission at no additional cost to you when you make a purchase. Find out more in the Disclosure Policy
Healthy vegetable pasta salad is a creamy and flavorful pasta salad. It's filled with crunchy vegetables. A lemony-dill-avocado mayonnaise dressing blends all the flavors into a delicious bite.
This is a creamy vegetable pasta salad packed with vegetables and flavor. Avocado mayonnaise includes healthy monounsaturated and polyunsaturated oils. Increasing these fats in your diet may help improve cardiac health
Replacing saturated fats in your diet can help lower your LDL or bad cholesterol and your triglycerides.1
Ingredients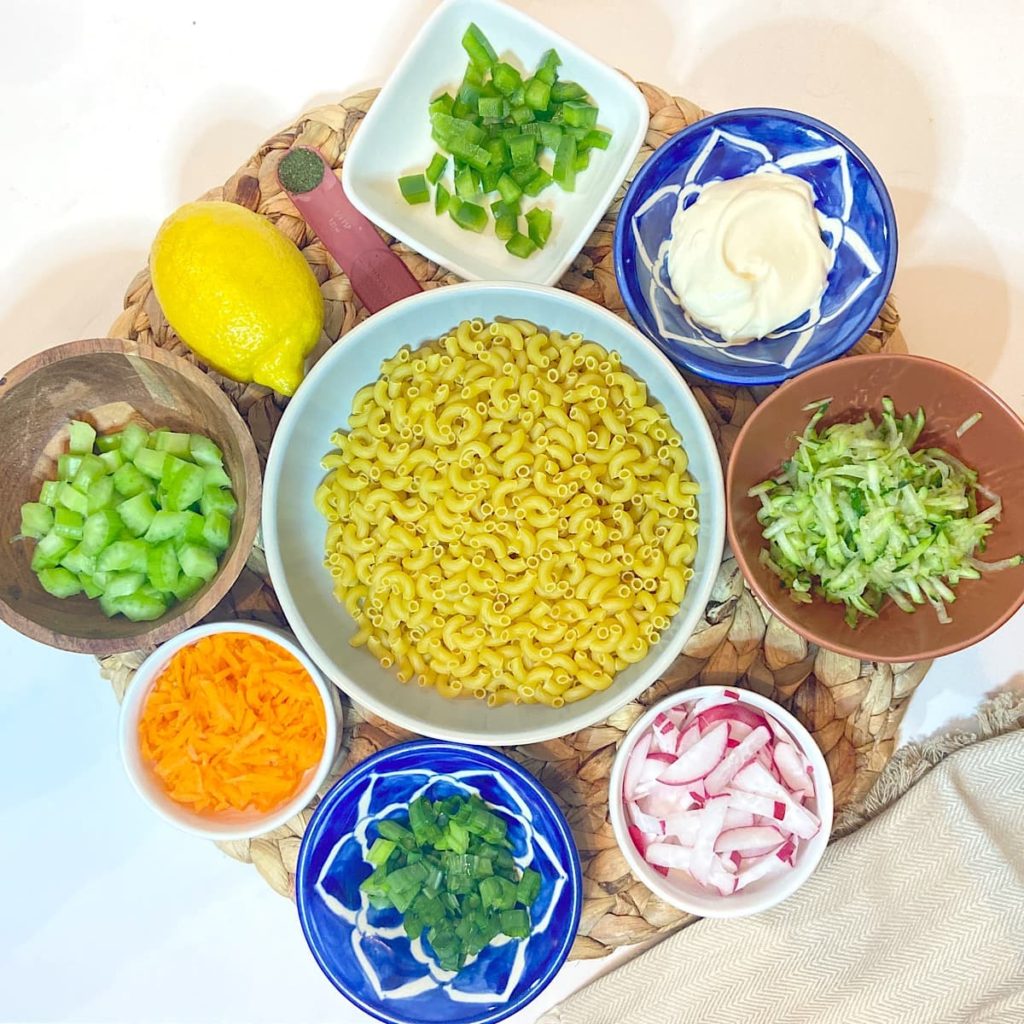 This tasty salad includes elbow pasta along with a variety of fresh vegetables including:
A light flavorful dressing includes avocado mayonnaise, low-fat Greek yogurt, white wine vinegar, lemon juice, dill weed, and salt.
Substitutions
I regularly switch up the vegetables in this dish depending on what I have on hand. For example, you can substitute chopped English cucumber for the zucchini.
No avocado mayonnaise? You can use regular or low-fat options.
I love white wine vinegar in my recipes. It adds a light tangy bite. You can substitute white vinegar or even apple cider vinegar
Finally, if you are watching your sodium, you can skip the salt. This salad is flavorful without the added sodium.
Preparation
Step 1. Prepare pasta according to the package directions. Remove pasta from boiling water and run under cold water. Drain and set aside.
Step 2. Next prepare vegetables:
shred zucchini and carrot,
chop celery, green onion, bell pepper, and
thinly slice and julienne radishes.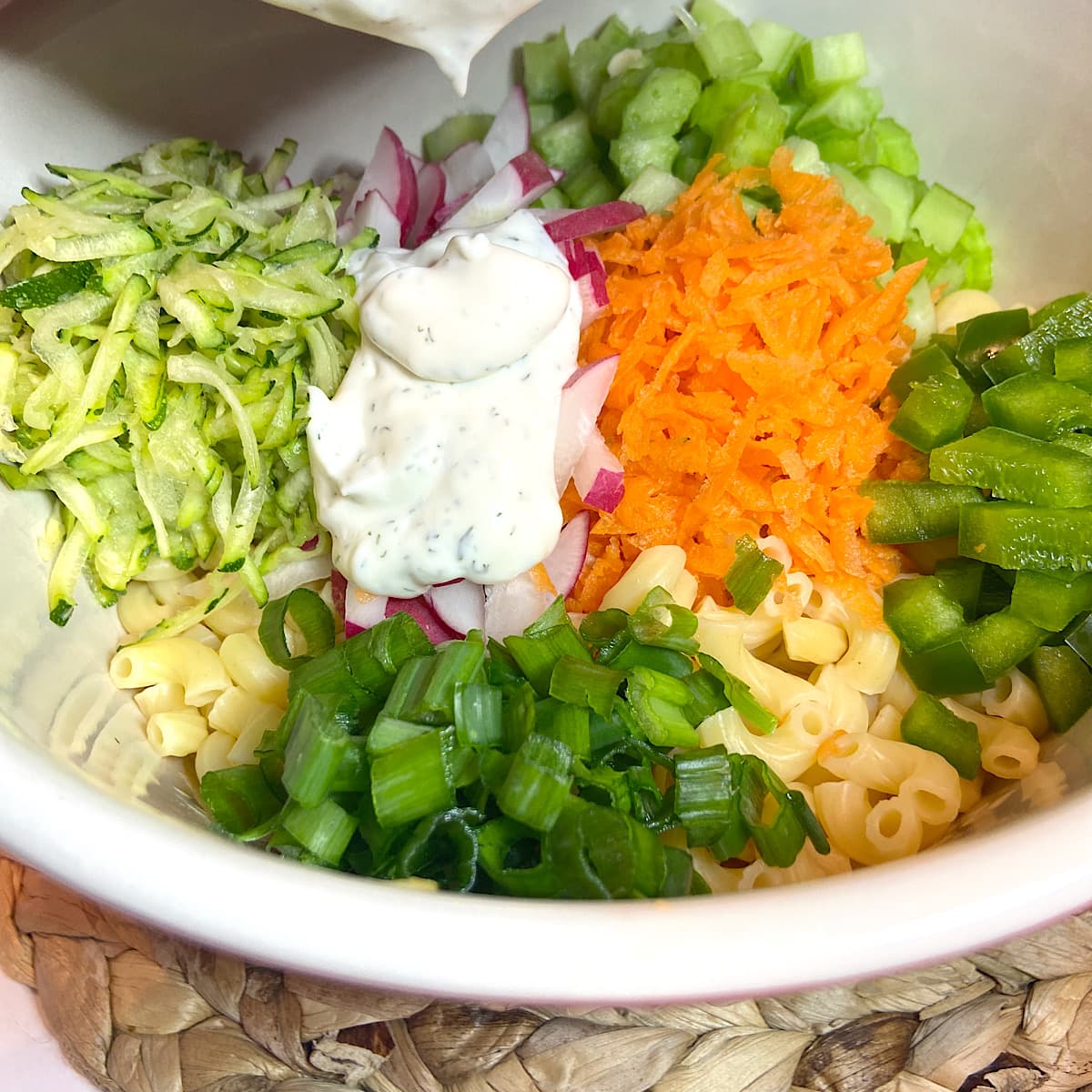 Step 3. Combine avocado mayonnaise, Greek yogurt, white wine vinegar, lemon juice, salt, and dried dill until well combined.
Step 4. Mix pasta and vegetables in a large bowl. Add dressing and toss to coat. Cover and refrigerate for at least 3 hours. Stir before serving.
What to Serve With Pasta Salad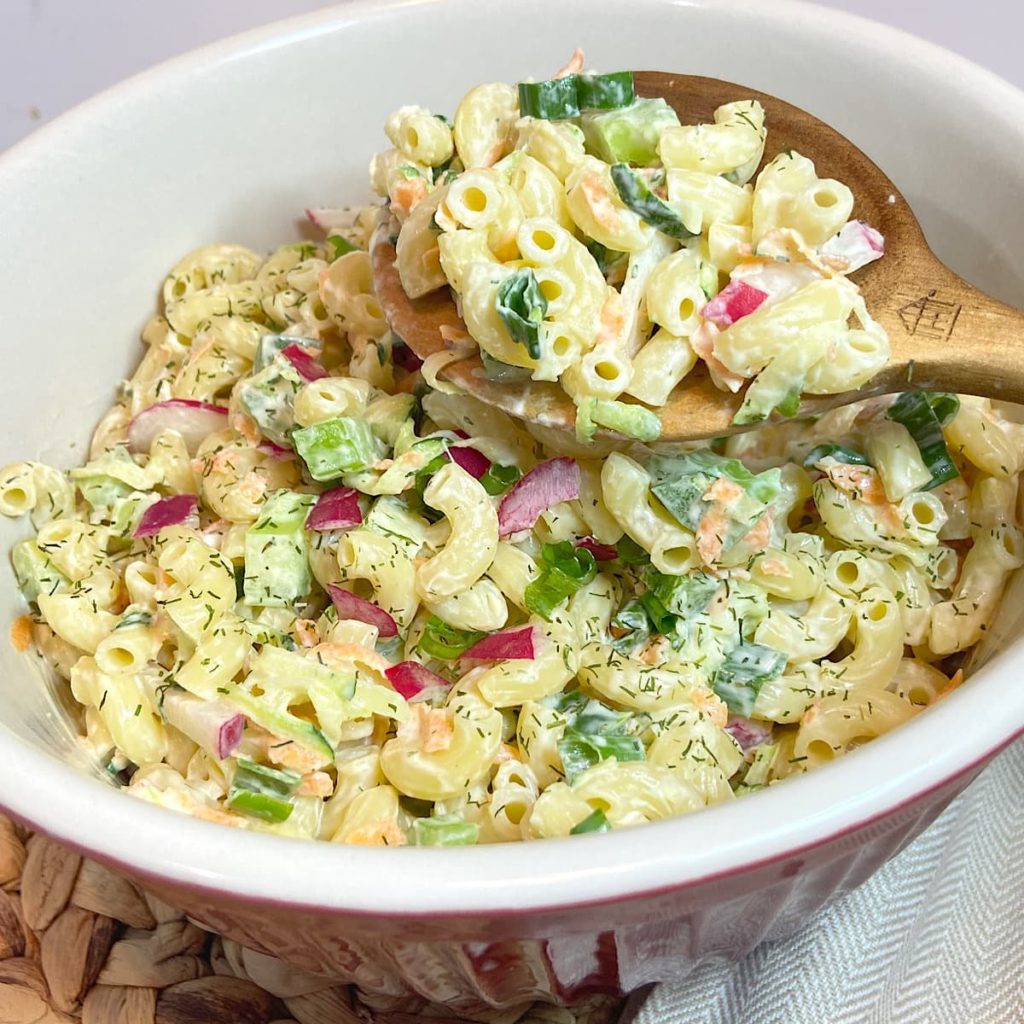 This healthy side dish recipe is perfect for any beef, poultry, or pork entre.
You might enjoy it with Grilled Chicken Kabobs, or Chicken Sauté with Apple and Onions.
Other Healthy Side Dishes for You
---
March 2022 Updated: Refined recipe post.