This post may contain affiliate links. This means I may make a small commission at no additional cost to you when you make a purchase. Find out more in the Disclosure Policy
Healthy Ambrosia Salad is packed full of pineapple, mandarin oranges, and chopped apples. Coated with a creamy layer of Greek yogurt and whipped topping, you will love the flavors in a healthy take on this traditional fruit salad.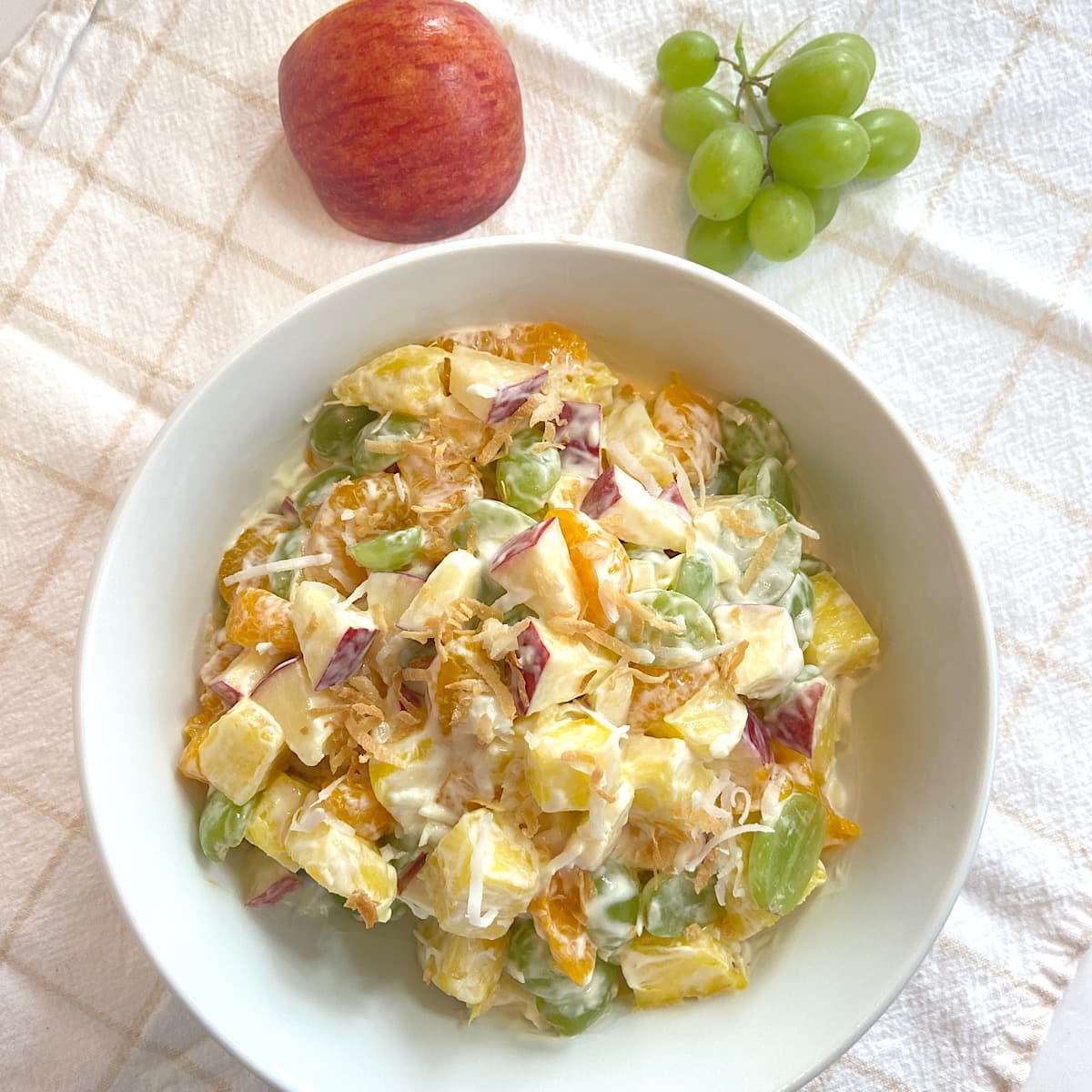 I grew up eating Ambrosia fruit salad at Sunday dinners, holidays, and church potlucks. This version is similar to the traditional version but made with healthier ingredients. But, it is so tasty you won't notice the difference.
Ingredients
This healthy Ambrosia salad recipe includes the traditional pineapple, mandarin oranges, and shredded coconut. To mix things up I included green grapes and chopped red apples.
A light cream sauce coats the fruit with Greek yogurt, avocado mayonnaise, and fat-free whipped topping. Lemon and orange juices complement the fruit and also help keep the apple from browning. Salt helps bring out the flavors.
Instructions
This is a quick and simple dish.
Step 1. First, start by chopping your pineapple and slicing the grapes in half. Roughly chop apple without peeling it into 1/4-1/2 inch pieces. Place in a glass bowl and set aside.
Step 2. Next, combine the Greek yogurt, mayonnaise, and fat-free whipped topping. Whisk in orange juice and salt. Combine the fruit with the dressing and lightly toss to coat the fruit.
Step 3. Place in a glass dish, cover, and refrigerate for 1 hour. To serve sprinkle with toasted coconut.
What to Serve with Ambrosia Salad
This healthy ambrosia salad with apple recipe is the perfect side dish for Sunday dinner, a holiday brunch, or really any time of year.
You might enjoy this recipe with Bacon Wrapped Chicken Breasts or Easy Oven Baked Salmon.
Looking for more fruit salads for your meal? Check out this colorful Lemonade Fruit Salad by Big Bear's Wife.
Other Dessert Recipes for You
---
October 2022 Update: minor post and image updates.