This post may contain affiliate links. This means I may make a small commission at no additional cost to you when you make a purchase. Find out more in the Disclosure Policy
Moist Coconut Refrigerator Cake is a quick and simple make-ahead recipe. Moist and tender, it is full of coconut flavor. When you are short on time but need a cake that makes an impression for a special event, this is the cake for you.
This 4-day refrigerator coconut cake came from my grandmother's recipe file. It was on a tiny, browned newspaper clipping, labeled Home Economics Extension Adviser; Recipe of the Week.
I remember this cake from childhood church socials. Events where the fold-out tables were pulled out and filled with plate after plate of the most delicious side dishes, and desserts.
This is a great recipe when you need a dessert for a special holiday. Make ahead and free up time for everything else on your to-do list.
Ingredients
Because this cake uses a white cake mix, it is easy to pull together. While the cake mix shows instructions for both 9-inch and 8-inch cake pans, I suggest using the 8-inch pans for this recipe so you end up with thicker layers.
The cake mix is prepared with water, olive oil, and 3 large egg whites.
For the frosting, you only need 4 simple ingredients, powdered sugar, Cool Whip, sour cream, and shredded coconut. That's it.
You will be amazed at the great flavor this frosting has. It's a great alternative to heavy, super-sweet buttercream cake frostings.
Instructions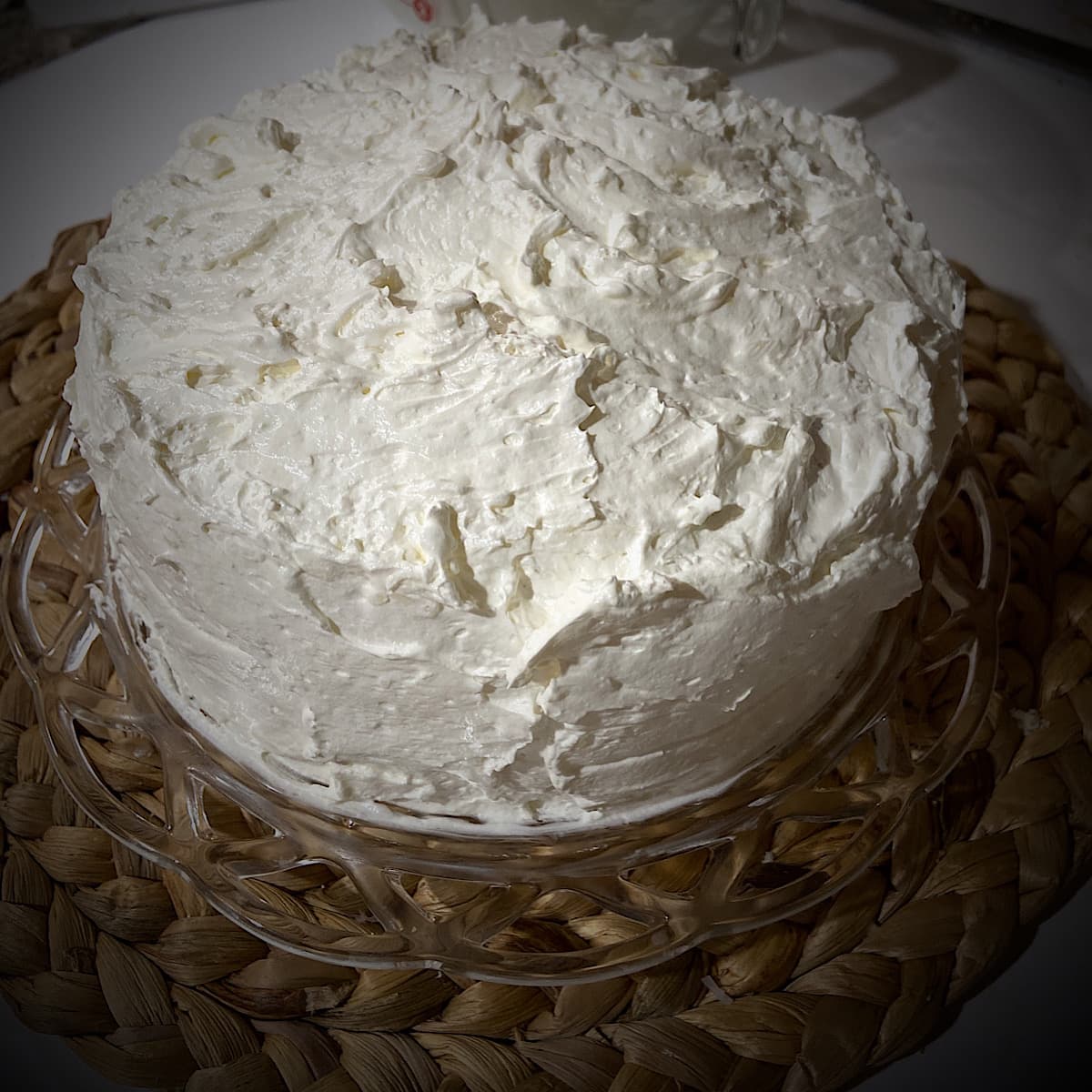 You may think that 4-days is a long time to make ahead a refrigerated coconut cake. But that is key in making this moist cake. Don't have a full 4 days? Then three days will work, too.
Baking Cake
Step 1. Preheating the oven to 350F.
Step 2. Grease two 8-inch baking pans. Add a round layer of parchment paper to the bottom of each pan. Set them aside.
Step 3. Add cake mix to the mixing bowl. Add water, oil, and egg whites. Mix until well combined.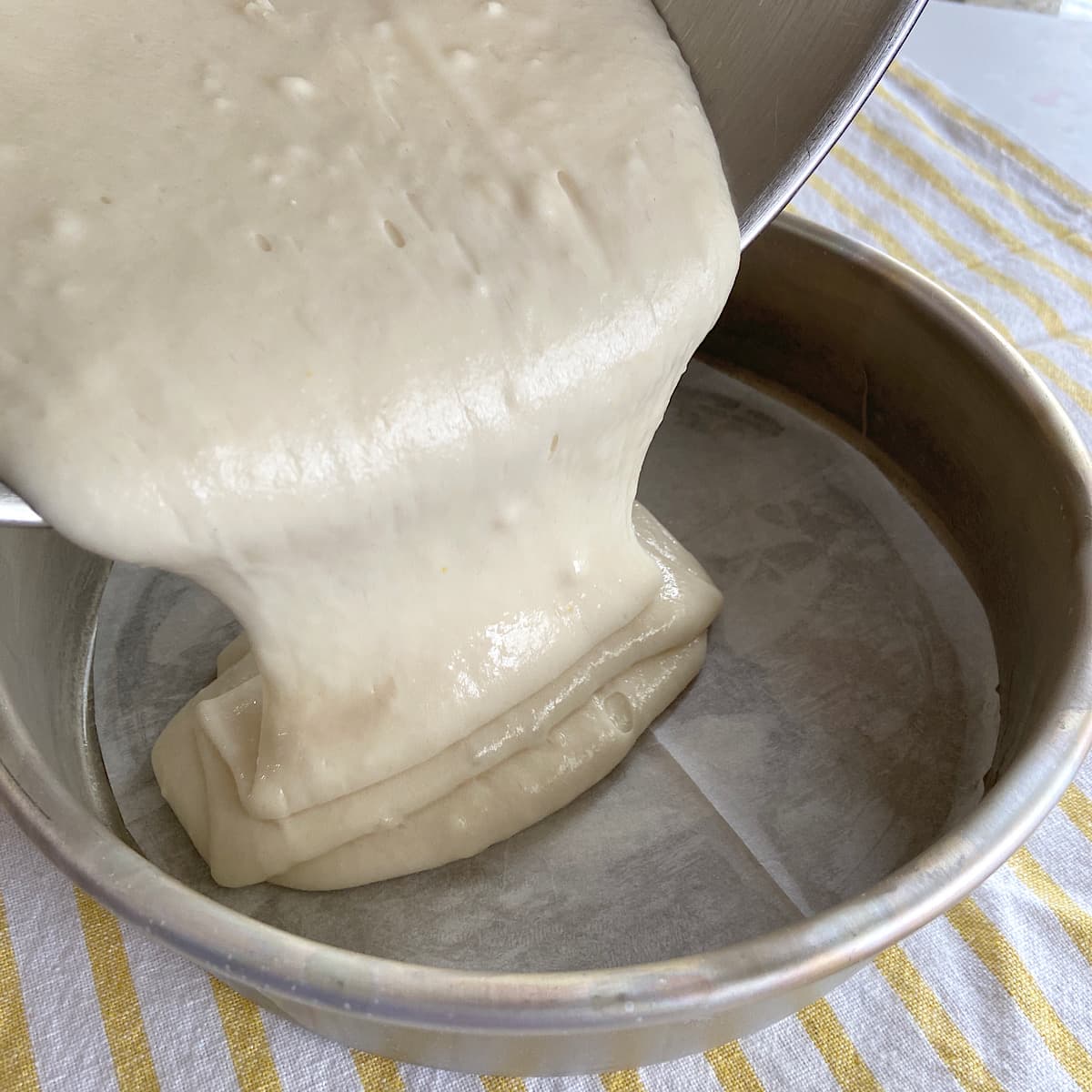 Step 4. Divide the batter between the two prepared cake pans. Place on the bottom rack of the oven for 20 minutes. Bake until a toothpick inserted in the center comes out clean and the cake starts to pull away from the sides of the pan.
Step 5. Run a knife around the edge of the pans to loosen the cakes. Place a sheet of parchment paper over the top of the cake pan, invert the pan and then place the cake layers on a wire rack and cool.
Step 6. When completely cool, cut each layer in half with a serrated knife so you have 4 layers.
Frosting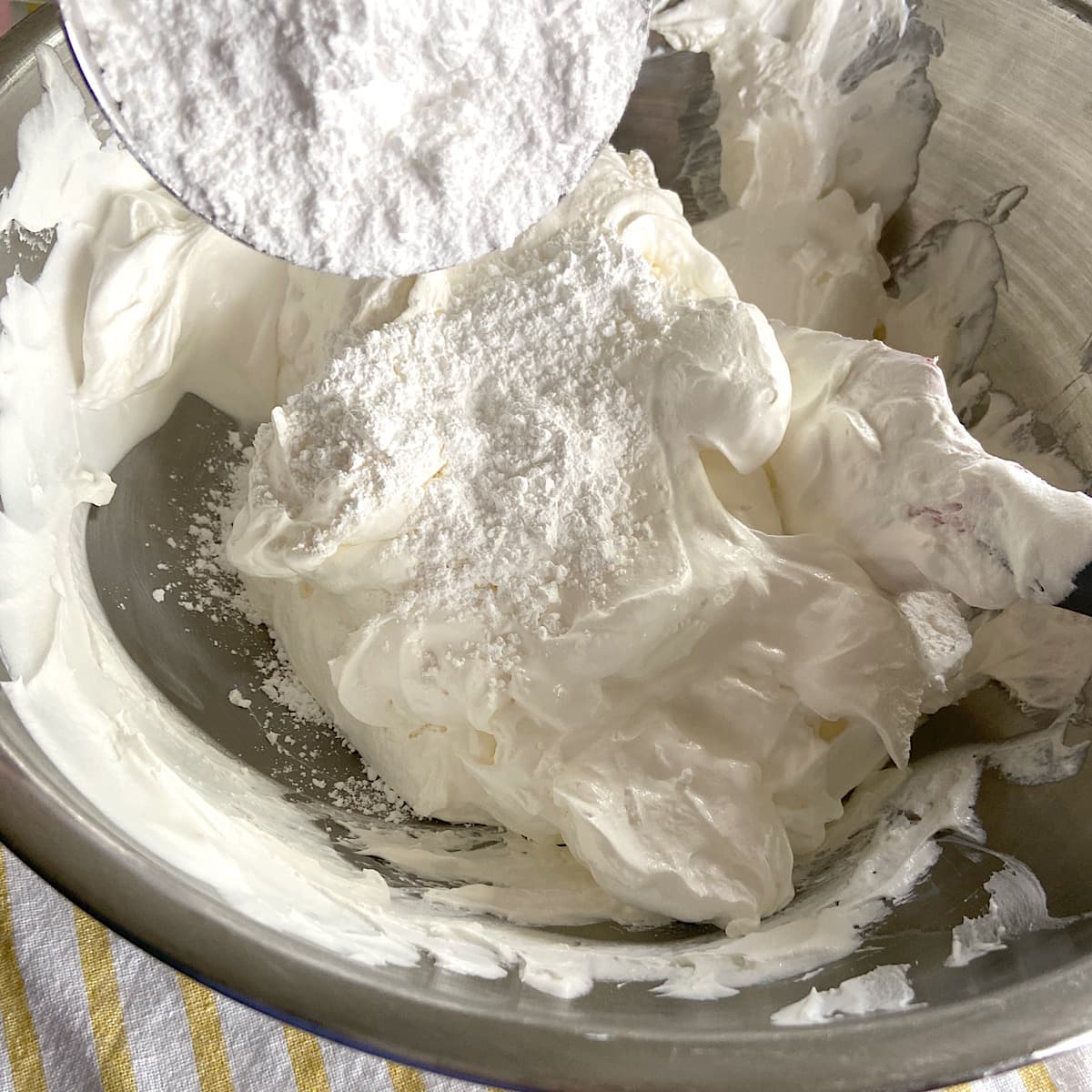 Step 7. While the cake is baking, mix Cool Whip and sour cream, and gently blend in powdered sugar. Add shredded coconut and mix until combined. Set aside.
Assembling Cake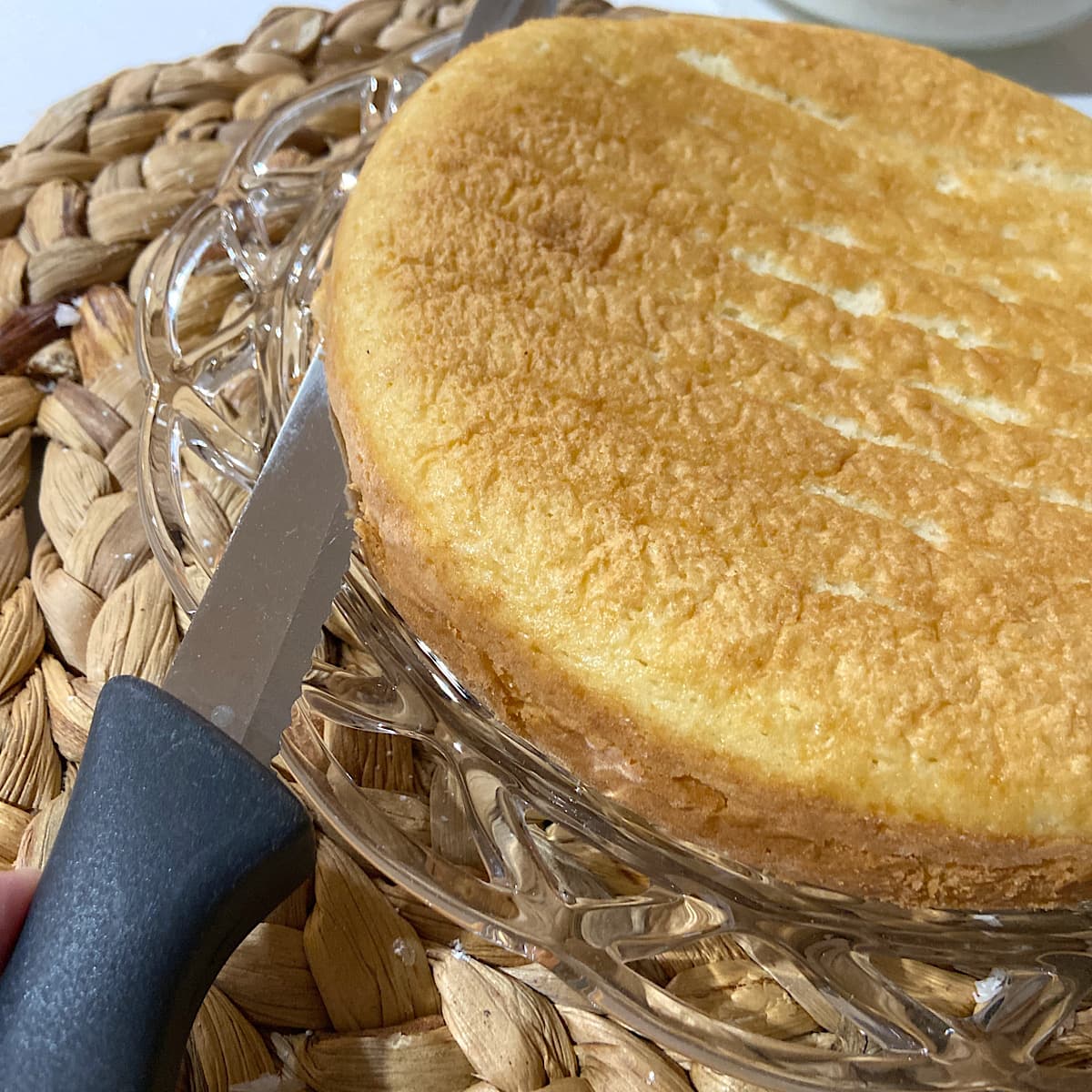 Step 8. Place the bottom layer on the cake plate. Add frosting. Continue to add cake layers and frost. Add frosting to the sides and top of the cake.
As you can see from my pictures, the inside layers don't have to be perfect. The outside icing seals everything together into a beautiful cake.
Sprinkle with shredded coconut.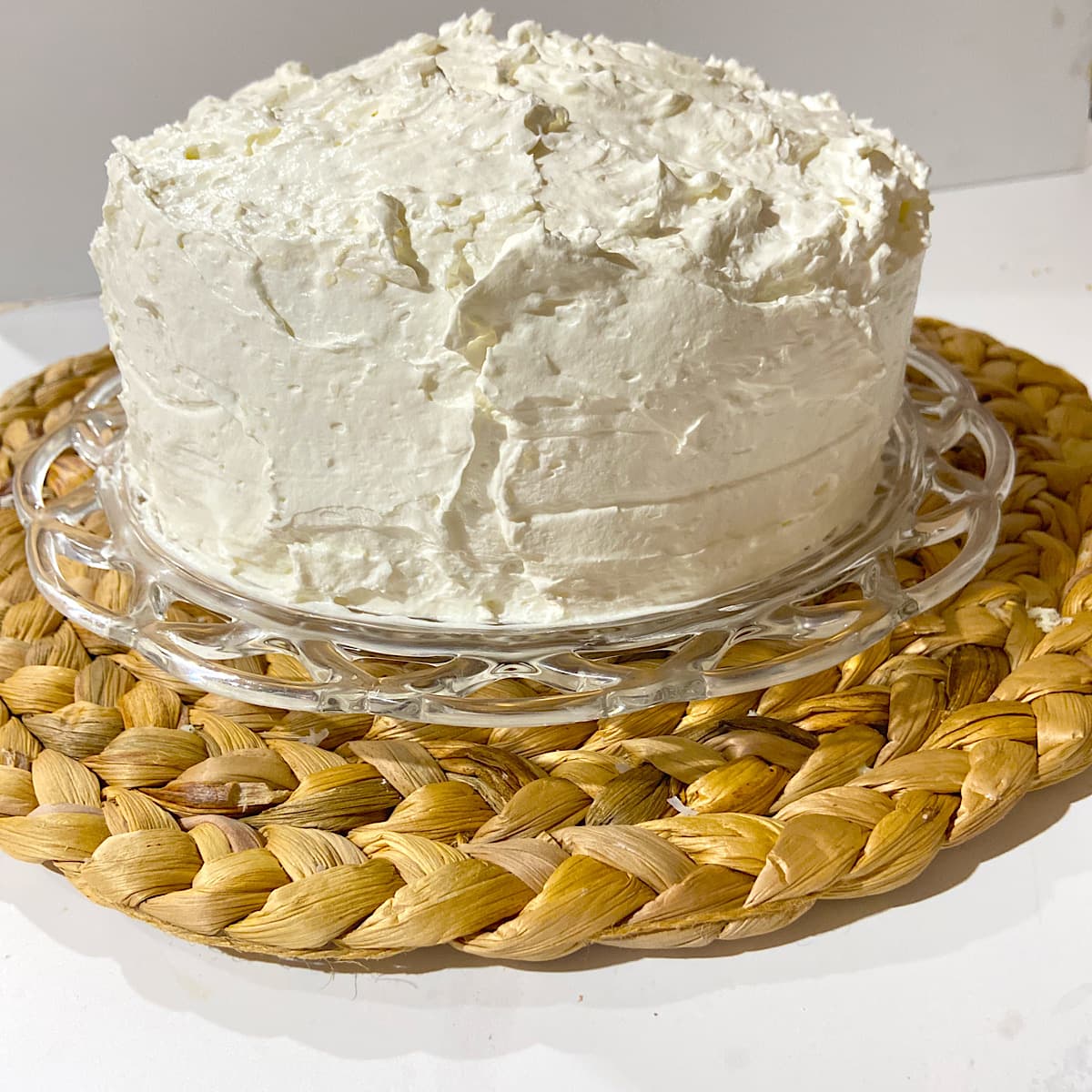 Wrap the coconut cake with plastic wrap and refrigerate for 4 days, three days in a pinch. Serve and enjoy.
Frequently Asked Questions
How to Store Refrigerator Cake
This cake can be stored in the refrigerator for up to 3-4 more days for the best texture and consistency. Cover and tightly seal.
What to Serve with Coconut Refrigerator Cake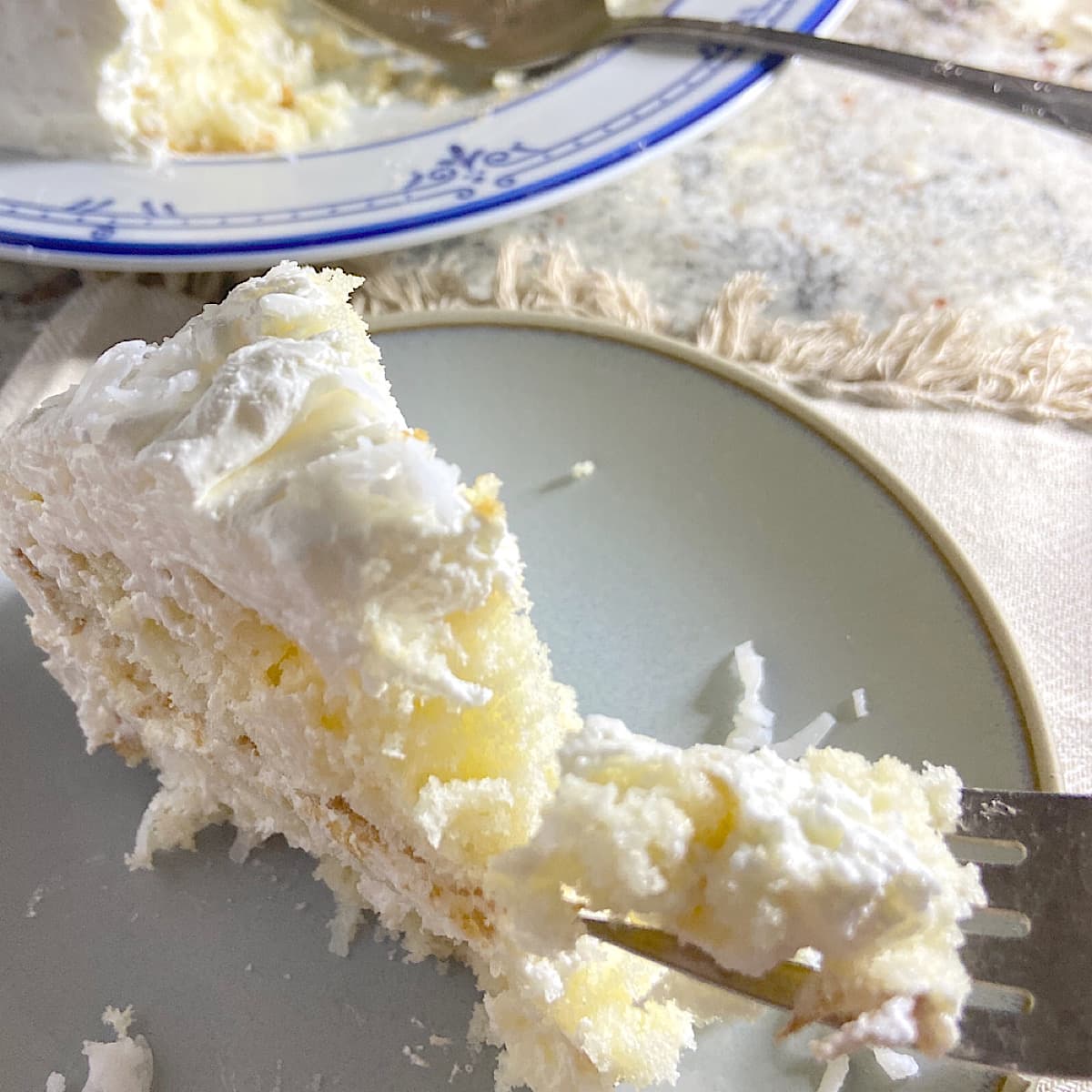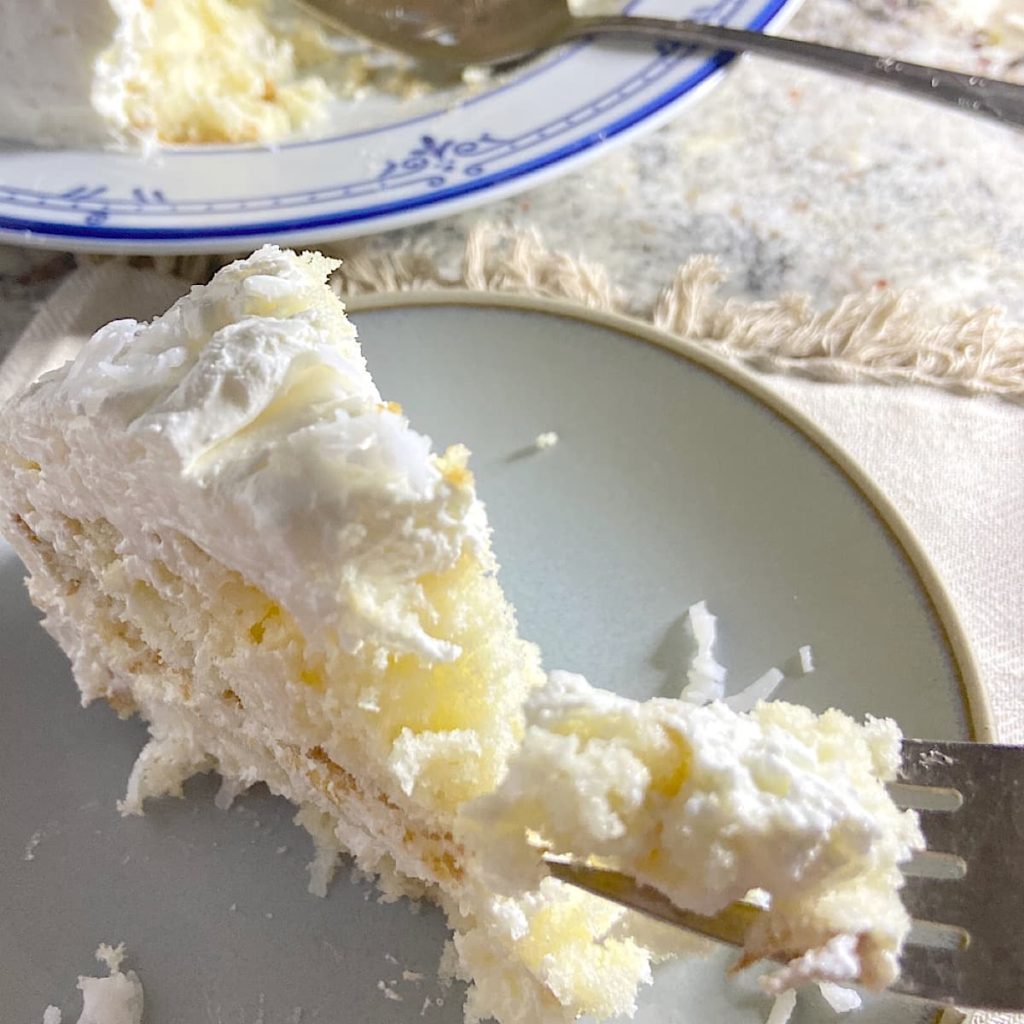 This is a special occasion cake. Perfect for a holiday dinner or birthday celebration. It's a cake you will want to enjoy with coffee and friends.
Looking for more tasty treats? Check out my Dessert Recipes page or Mealplan Mondays on the Southern Plate.
Other Tasty Dessert Recipes for You
---
October 2022 Update: Minor updates to recipe post.