This post may contain affiliate links. This means I may make a small commission at no additional cost to you when you make a purchase. Find out more in the Disclosure Policy
Mediterranean Deviled Eggs are packed with the Mediterranean flavors of anchovy and caper. Deviled eggs make a wonderful appetizer or healthy snack. Serve with a leafy green salad to make a light lunch.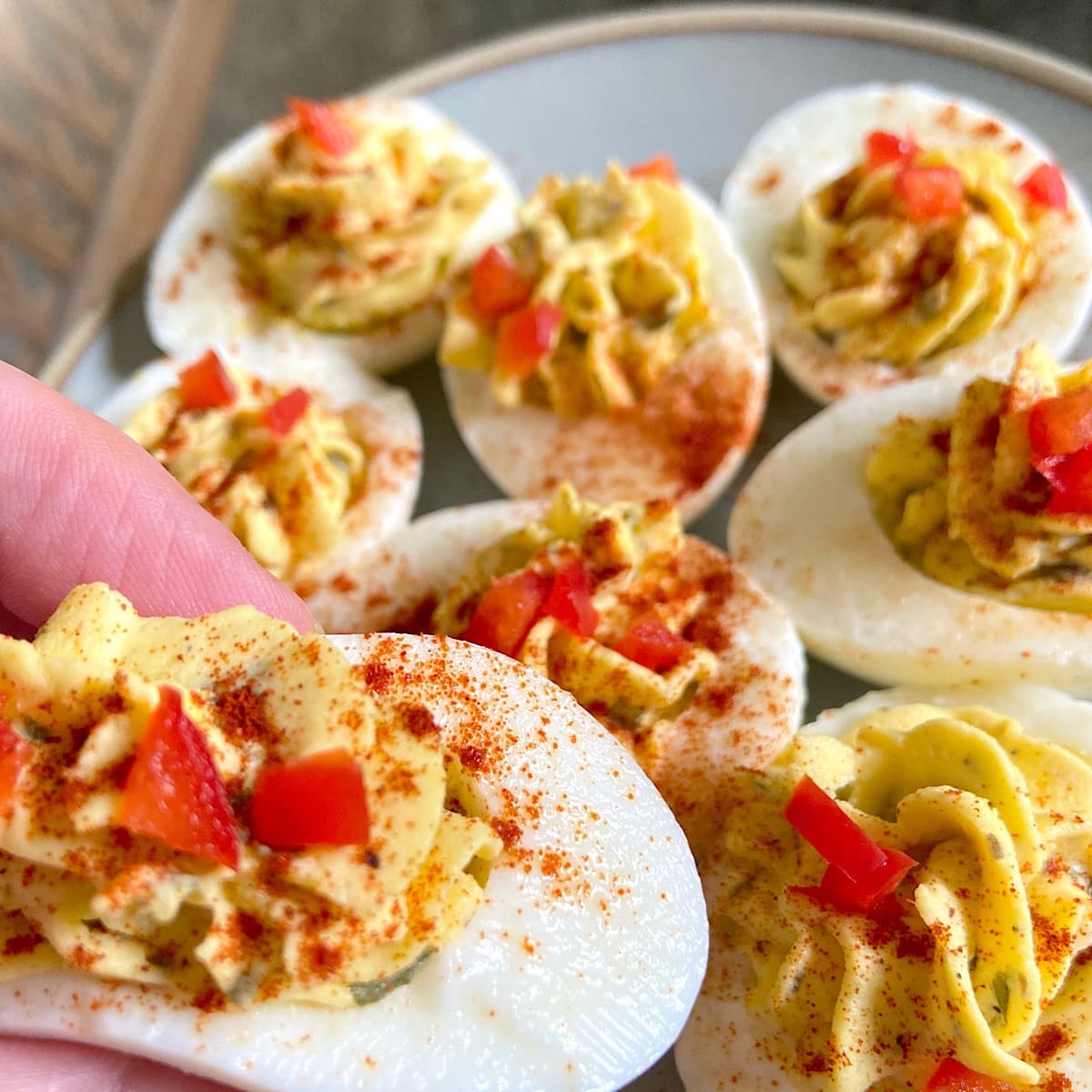 I grew up making traditional deviled eggs for Sunday dinner. Our family's recipe is heavy with mayonnaise and sweet pickles.
I decided to adapt the recipe to include healthier ingredients and flavors.
Ingredients in Mediterranean Deviled Eggs
All you need to make these deviled eggs are the following ingredients.
Instructions
Prepare Eggs
Step 1. Add water to a large pan or dutch oven. Add 1 teaspoon of salt to the water. Add eggs in a single layer so that there is space between the eggs. Cover eggs with about 1 inch of water. Bring water to a boil. Cover the pan and reduce the temperature to a simmer. Set a timer for 12-15 minutes and let the eggs simmer. Pull the pan off the burner if you need to so eggs simmer rather than boil.
Tip: adding salt to water will help release the shell when peeling the egg.
Step 2. After 12-15 minutes, place eggs in ice water in a large bowl. It's important to quickly cool the eggs after cooking to prevent a green ring from forming on the hardened yellow of the egg.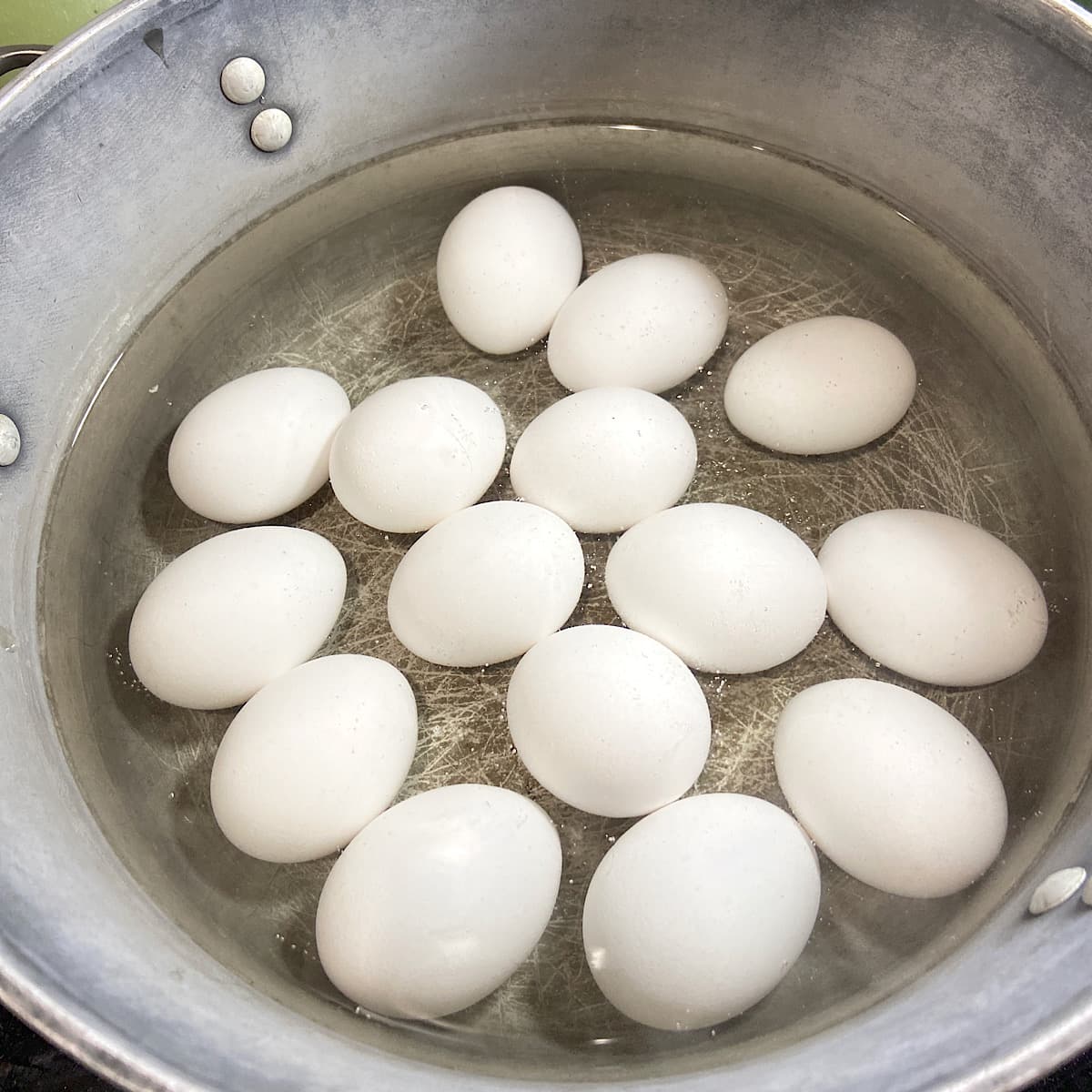 Step 3. Remove eggs when cool. Tap egg on the counter to gently release and remove the egg shell. Cut egg in half long ways. Remove center yellow and place in a bowl. Rinse and pat dry egg white and place on a deviled egg plate.
Prepare Egg Filling
Step 4. Break up and mash egg yellow into crumbled pieces in a small bowl.
Step 5. Whisk yogurt, olive oil, and lemon juice together and add to the mashed egg. Add remaining anchovy paste, chopped capers, parsley, ground black pepper, and cayenne pepper to the mashed egg. Mix until the mashed egg forms a thick creamy mixture. Whisk to remove large lumps.
Step 6. Make a tiny snip in a corner of a zip lock bag with scissors. Add a large pastry tip to the snipped corner. Force the tip into the corner. Fill the bag with egg mixture. Close the bag.
Step 6. Squeeze the egg mixture through the tip and into the egg half to form a ruffled filling. Decorate eggs with a sprinkle of paprika, chopped capers, or finely chopped pepper.
Step 7. Cover and refrigerate until ready to serve.
Frequently Asked Questions
How to Store Deviled Eggs
Deviled eggs should be stored in a covered container in the refrigerator for up to 2 days.

For the best quality, make and serve the same day. For convenience, you can make the recipe up to 24 hours in advance.

While it isn't necessary to use a deviled egg plate, the plate makes it easy to present the deviled eggs in a neat fashion. I like this one with a top for easy storage.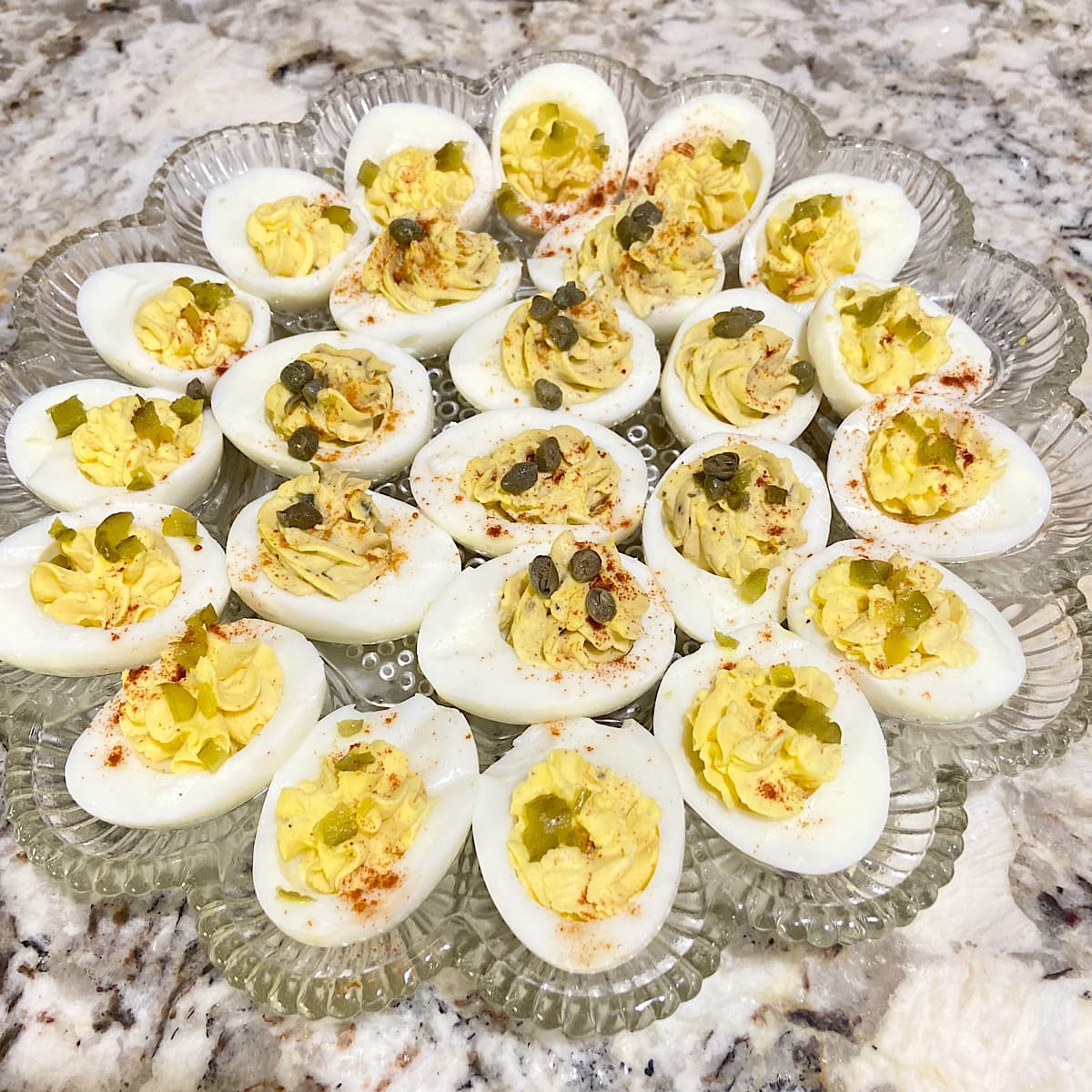 What to Serve with Deviled Eggs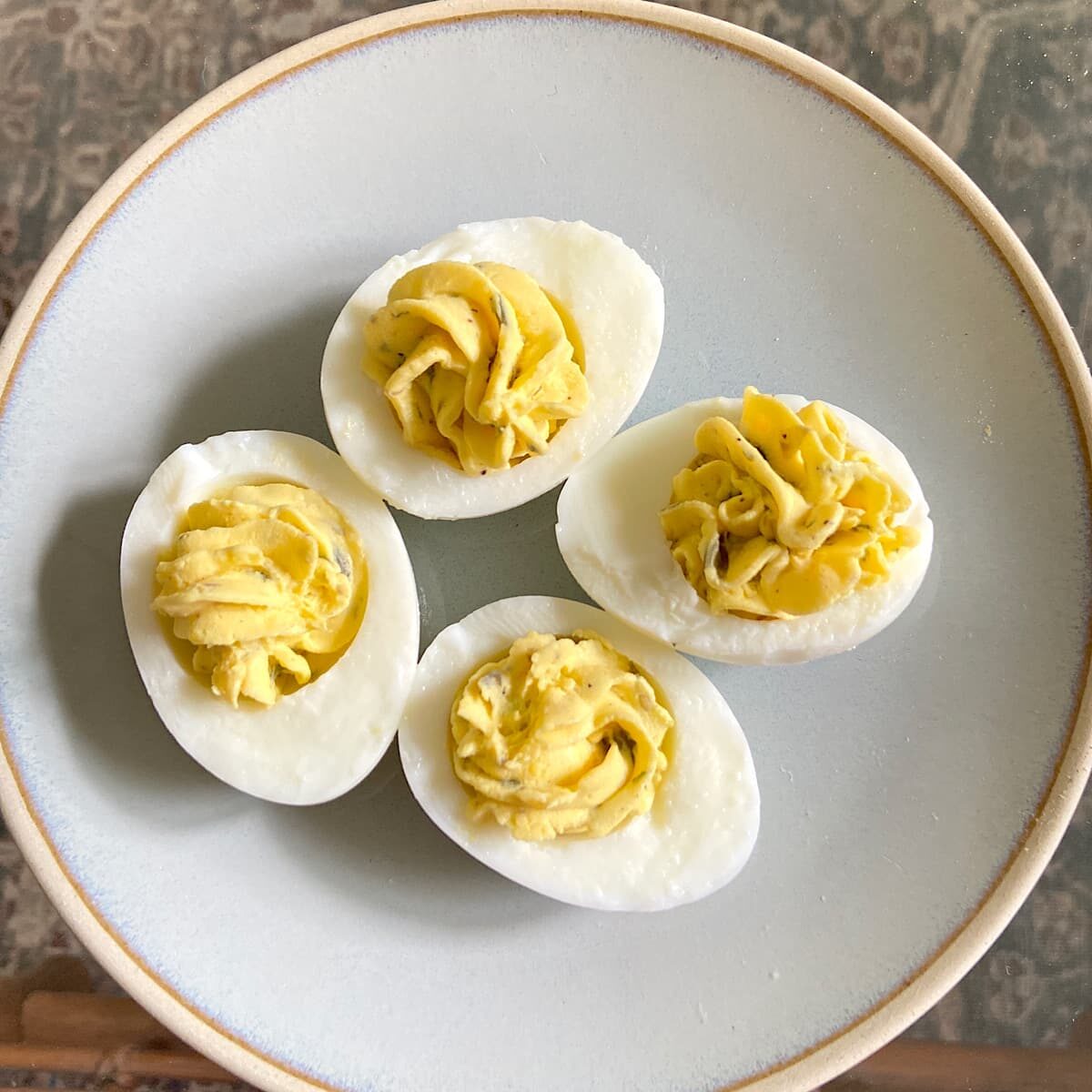 Mediterranean Deviled Eggs make a wonderful appetizer or side dish to serve with your meals. It is a low carbohydrate food with rich anchovy and caper flavors.
Looking for more Appetizer recipes?
More Healthy Appetizer Recipes for You
---
September 2022 Update: Update to images and post. Added Ingredient, Instructions, Frequently Asked Questions, What to Serve with Deviled Eggs, and Other Healthy Appetizer Recipe sections.