This post may contain affiliate links. This means I may make a small commission at no additional cost to you when you make a purchase. Find out more in the Disclosure Policy
Tangy Bell Pepper Salad is full of crisp bell pepper flavors with sweet and tangy vinegar and oil dressing. Flavor with chopped onion and fresh herbs for additional flavor and you have a mouthwatering garnish for your burger or brat.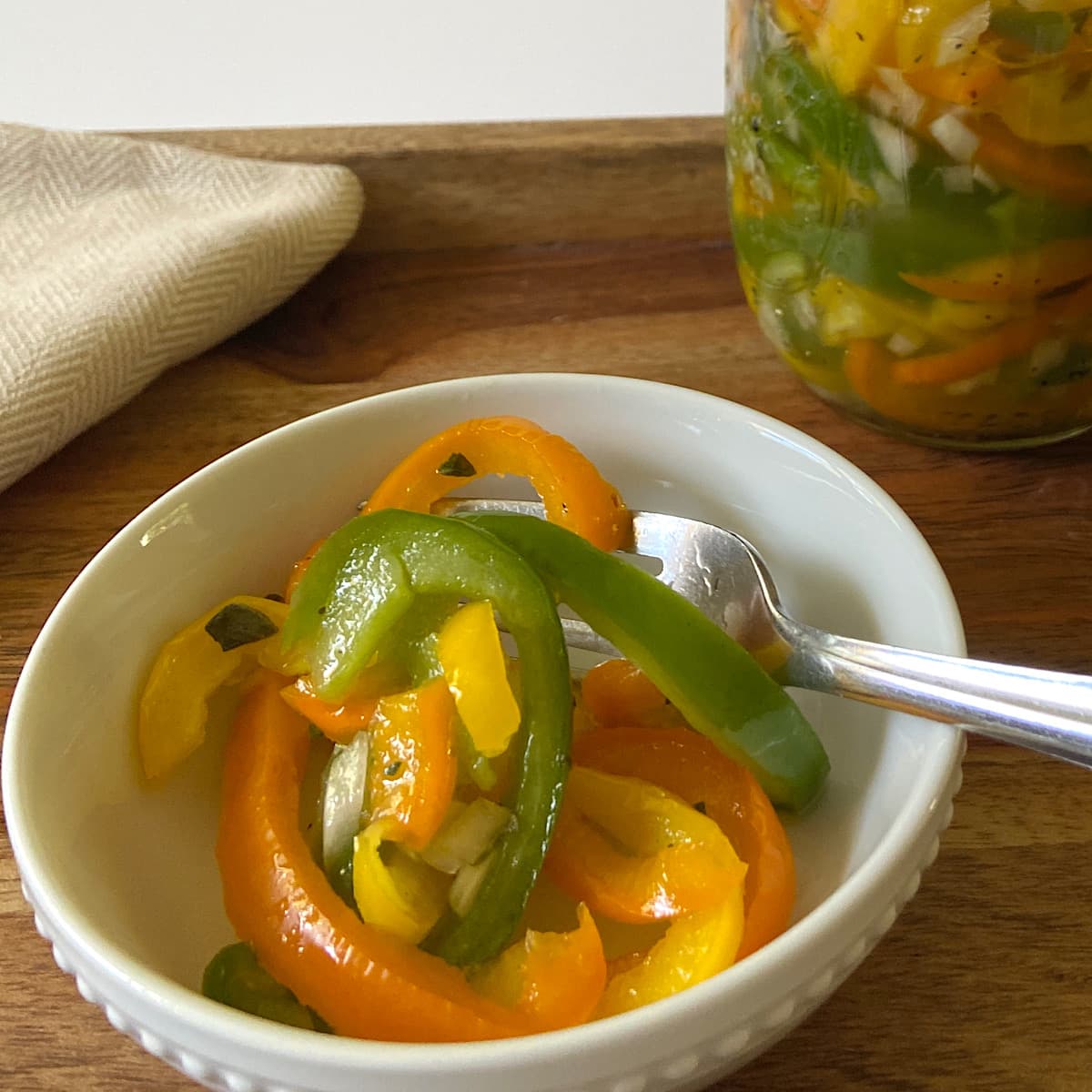 I love a sweet and sour salad as an accent to my meals. This simple salad is made with just a few ingredients but produces a big flavor for your meal.
Ingredients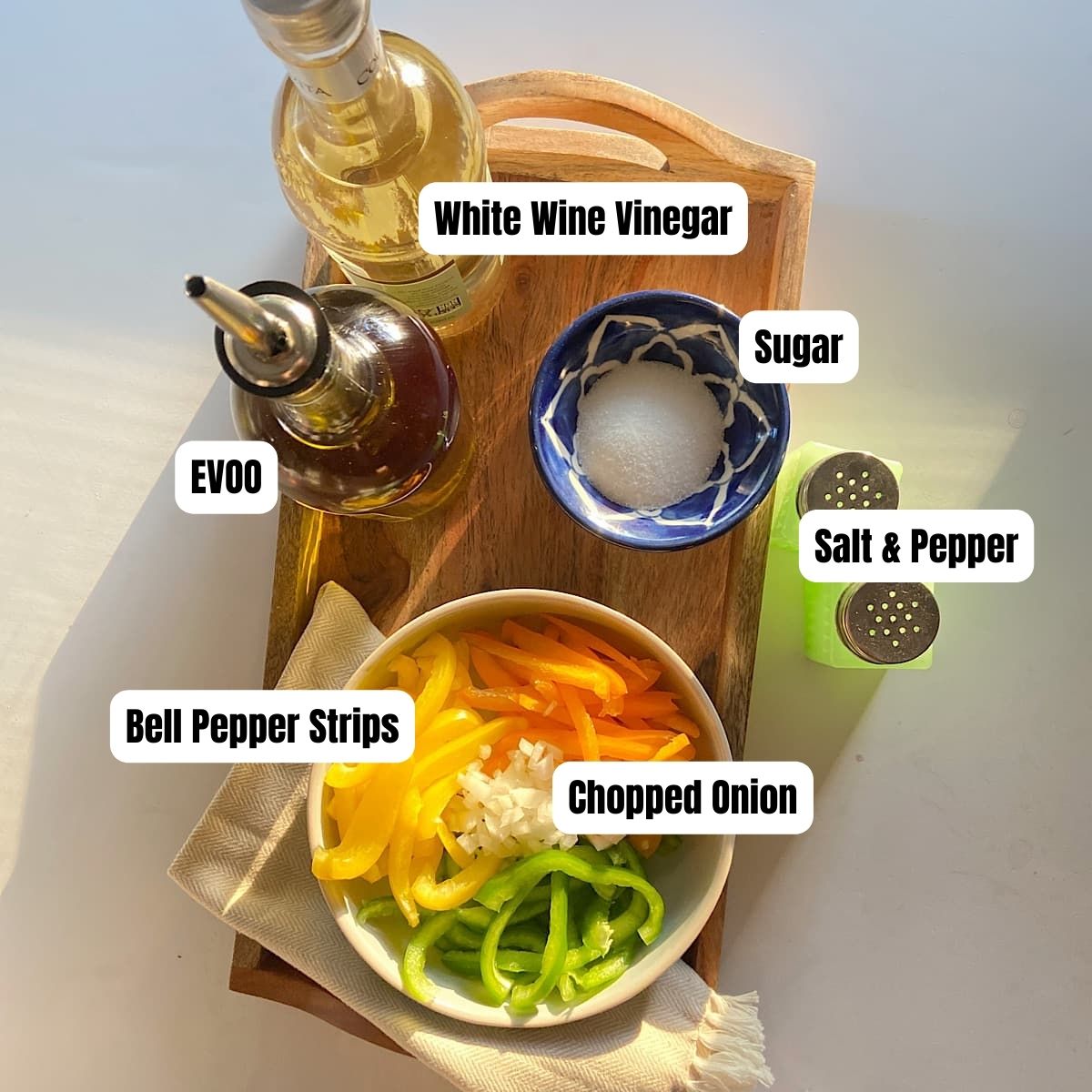 Instructions
Step 1. Rinse peppers under water. Use a knife to cut around the stem and down side of the pepper to access the inner pepper cavity. I use a Bird's Beak knife to make this super easy. Remove white seeds and white strips inside the pepper and discard. Cut peppers into thin 1/2-1 inch strips or 1-inch squares. Add to a covered dish.
Step 2. Cut one-quarter of a small onion into fine pieces. Will measure approximately 1/4 cup chopped. Add to dish with peppers.
Step 3. In a separate glass bowl, whisk vinegar into oil. Add sugar and continue to whisk until the mixture turns a creamy color and sugar is dissolved. Add salt and pepper and chopped fresh herbs.
Step 4. Pour dressing over peppers and onions. Stir and toss until the peppers are coated.
Step 5. Seal bowl and refrigerate for 8 hours. Serve with a slotted spoon.
Frequently Asked Questions
How to Prepare Bell Peppers
Rinse pepper with water. Use a sharp knife to cut around the stem of the pepper and down the sides to access the inner cavity of the pepper. Remove seeds and when fibrous tissue. Rinse with water to remove stray seeds.

I use a bird's beak knifeS to make this an easy job.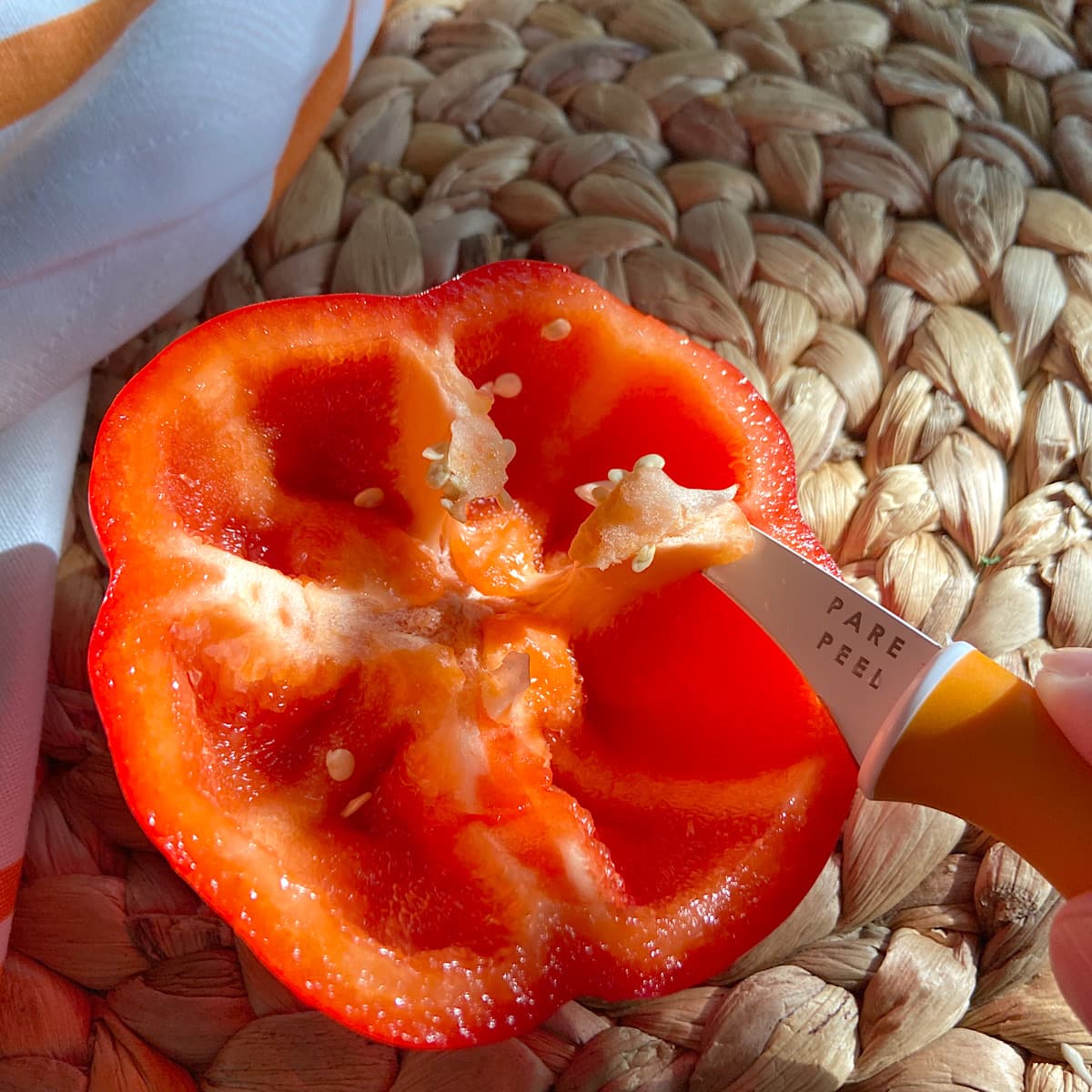 How to Store Bell Pepper Salad

Store this flavorful salad in an airtight, covered container for 5-7 days.
What to Serve with Bell Pepper Salad
The tasty sweet pepper salad is great alongside grilled entrees, roasts, and as a topping on burgers, and brats. For more, check out my other Salad Recipes.
Other Tasty Salad Recipe for You
---