This post may contain affiliate links. This means I may make a small commission at no additional cost to you when you make a purchase. Find out more in the Disclosure Policy
Light and refreshing Cherry Lemonade Mocktail recipe is a fun drink to serve during the hot days of Summer. Made with frozen juice concentrates and club soda, you can whip up this refreshment in a flash when guests pop in for a visit.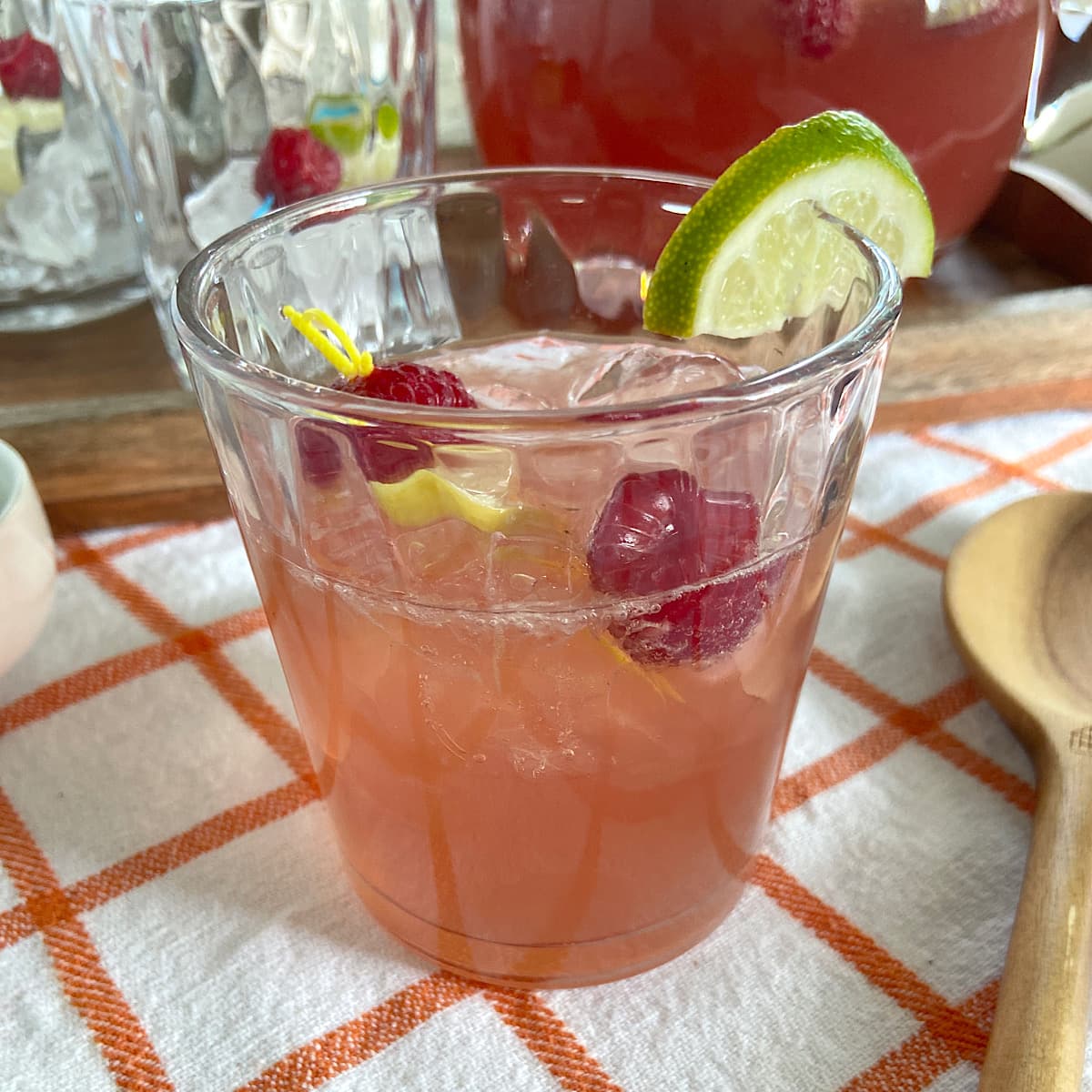 I love making cocktails. This mocktail pitcher recipe is a fun way to include guests who prefer an alcohol-free refreshment.
Make sure to include a pick #ad with sliced lemons, limes, and fruit or maraschino cherry to make it special.
Ingredients
Instructions
Step 1. Set frozen lemonade and apple cherry concentrates out 15 minutes prior to preparing the mocktail.
Step 2. Add an entire can of lemonade and cherry apple concentrates to the pitcher. Stir to combine.
Step 3. Add 2 cups of water and 32 ounces of club soda to the pitcher. Mix well. Add sliced lemons, limes, and a handful of raspberries to the pitcher.
Step 4. Add crushed ice and a pick loaded with a slice of lemon or lime and raspberry. Pour the glass half with the apple cherry lemonade mocktail mixture. Top off with additional club soda. Stir to combine. Enjoy.
Frequently Asked Questions
How to Serve as a Cocktail
To serve as a cocktail, simply substitute the water for 2 cups of dry white wine, such as sauvignon blanc.
What Are Other Mocktail Variations
Sometimes when I plan to pick up frozen juice for this drink at the grocery store, they are out of the apple cherry concentrate. No worries, I have made this recipe with frozen cranberry juice or with limeade. This recipe is easy to make substitutions.
Tasty Appetizer Recipes for You
---
October 2022 Update: Minor post updates.