This post may contain affiliate links. This means I may make a small commission at no additional cost to you when you make a purchase. Find out more in the Disclosure Policy
Colorful Buffalo Chicken Pinwheels are filled with spicy chicken, cheese, crisp lettuce and bell peppers, low-fat cream cheese, and Everything Hummus. These flavors meld into a healthy and filling sandwich.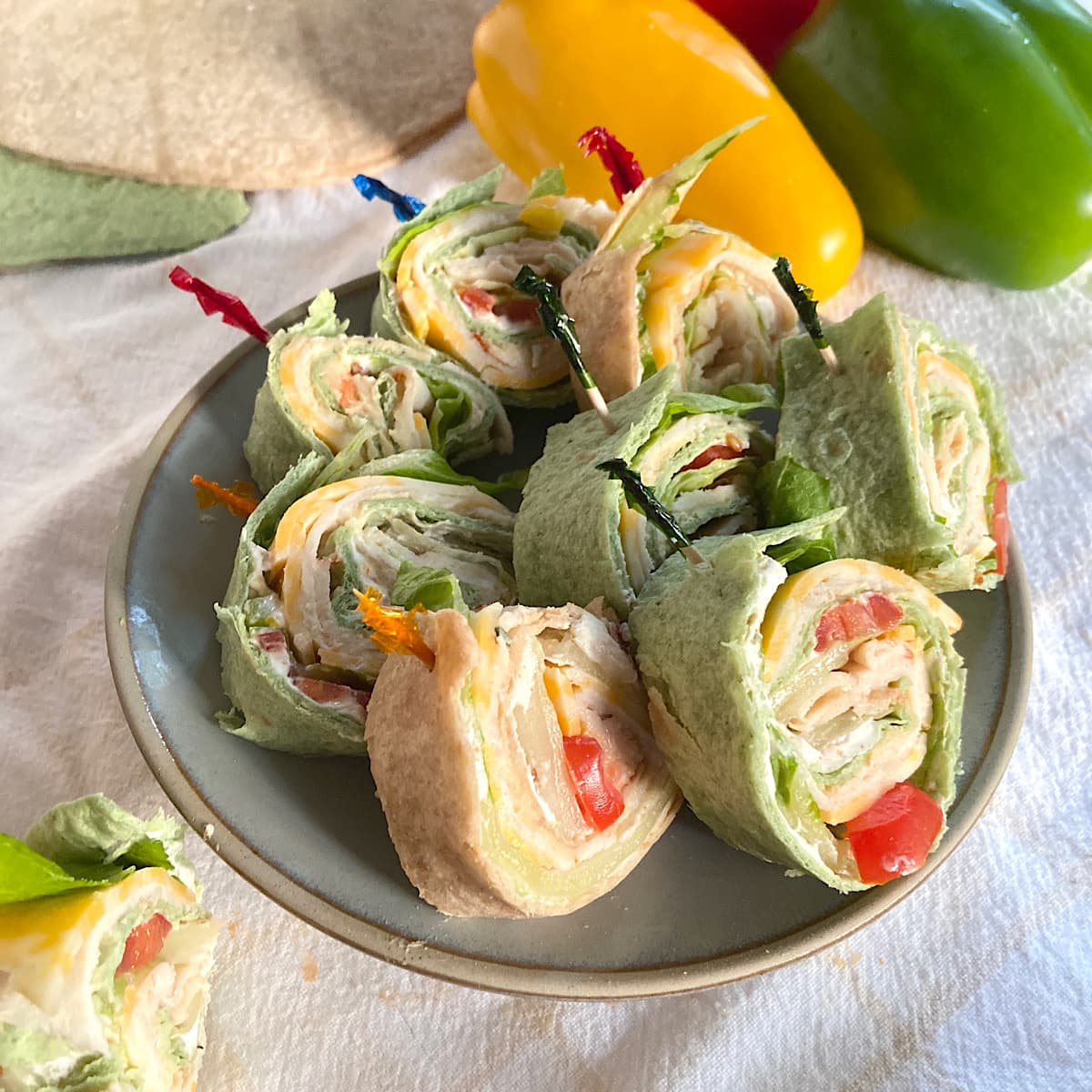 Ingredients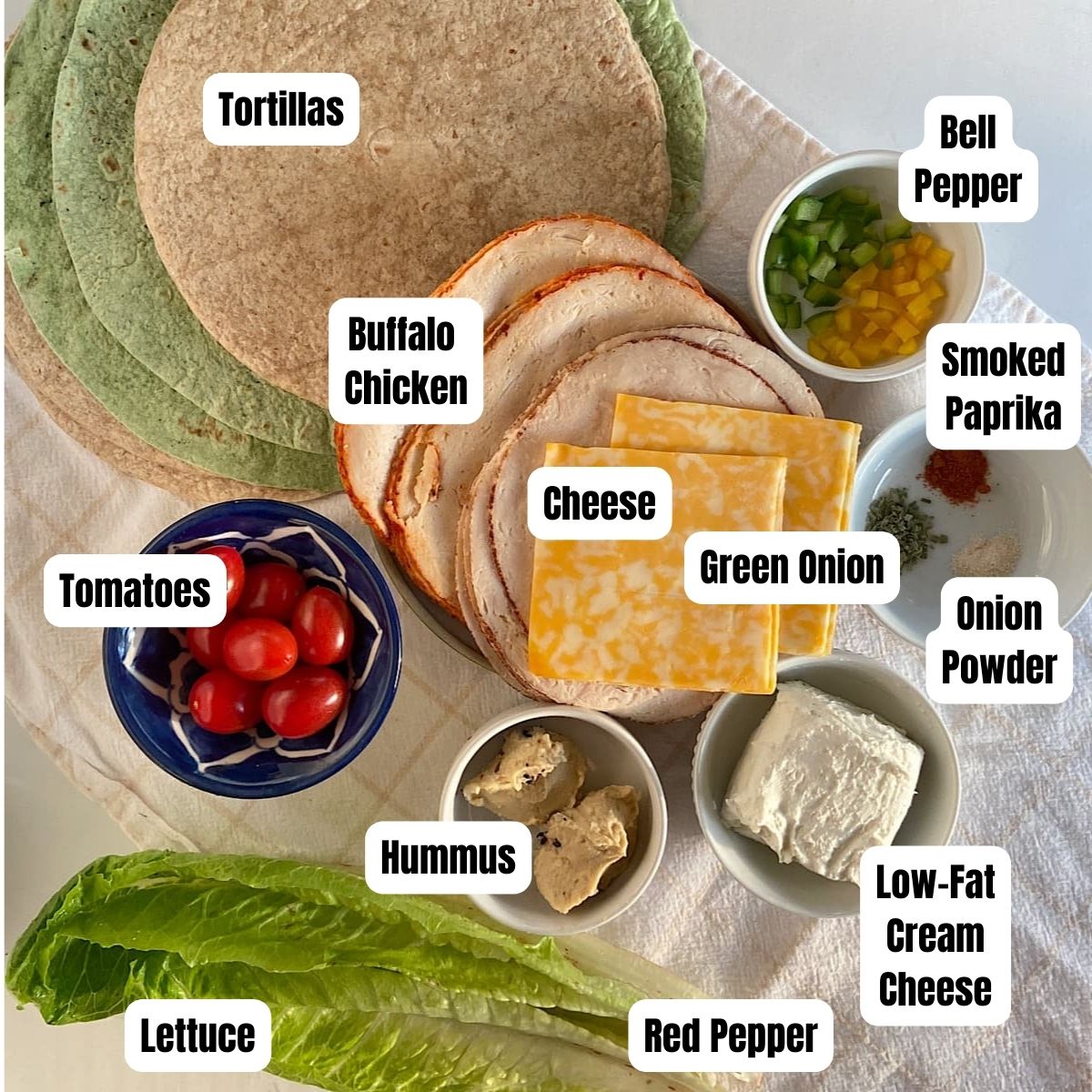 Substitutions
These pinwheel sandwich snacks come together quick. I love using Buffalo chicken for the flavor, but you can substitute turkey, ham, or roast beef.
Colby-jack was my cheese of choice in these wraps, but feel free to substitute swiss, , Smoked Gouda, or mild American.
I love Romain for it's crisp crunch. Romain is a sturdy lettuce leaf. Remember to remove the hard inner stem. This will make the pinwheels easier to roll. You can substitute iceberg lettuce or bib varieties.
For cream cheese I picked Low-fat. I really don't notice a difference and when I can I substitute a healthier ingredient that doesn't impact the flavor or quality of the recipe.
Any flavor of hummus will work in this recipe. For spices, I loving adding smoked paprika to recipes for the extra flavor, but any variety will do. I also added chopped green onion and onion powder. Tortillas are a bland base and they need the extra punch of flavor.
Instructions
Step 1. Set low-fat cream cheese out to come to room temperature. Chop bell pepper into fine pieces.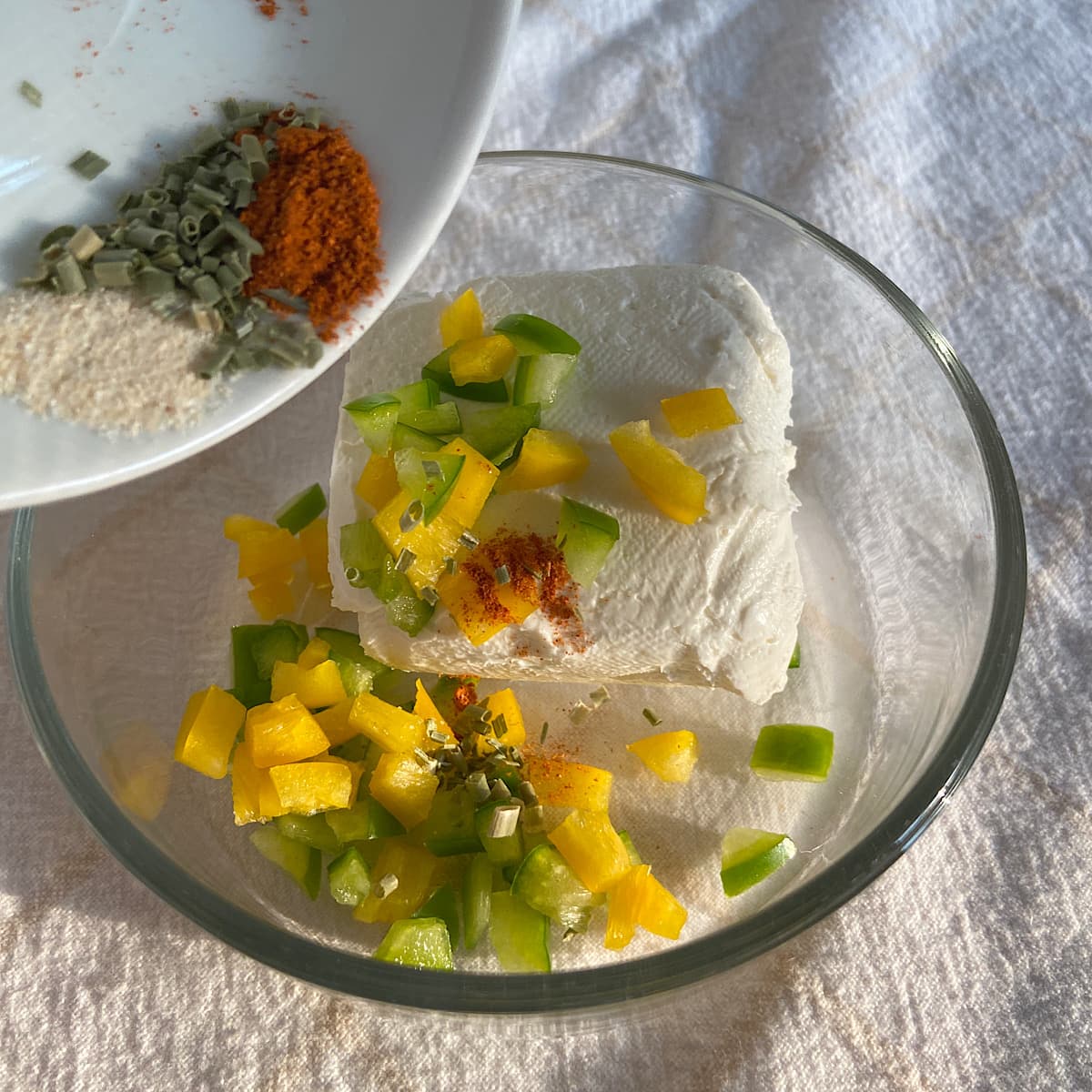 Step 2. Add cream cheese, bell pepper, green onion, smoked paprika, cayenne pepper, and onion powder to a bowl. Mix until well combined.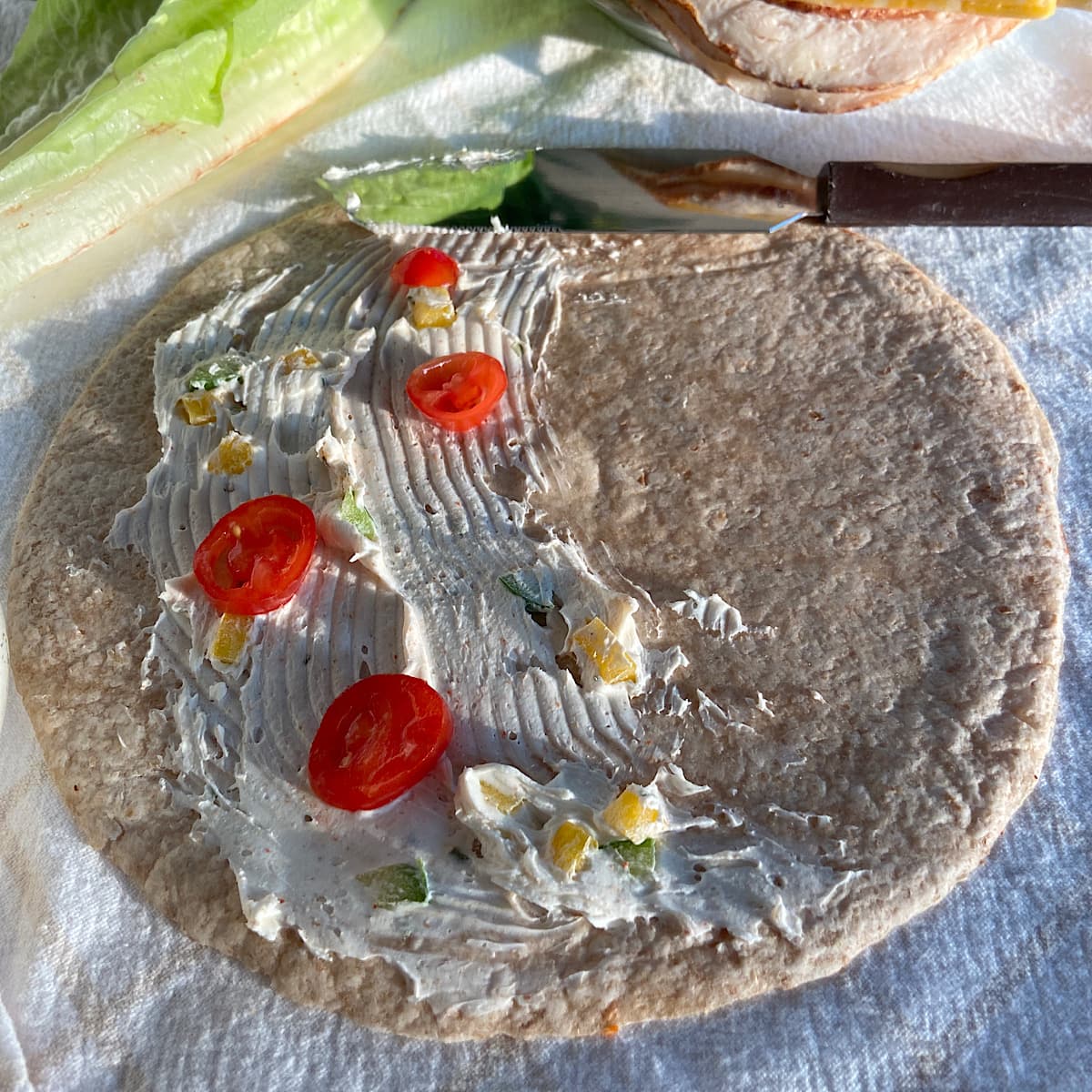 Step 3. Take 1 tablespoon of cream cheese mixture and spread over the tortilla. Sprinkle tomato evenly over low-fat cream cheese mixture.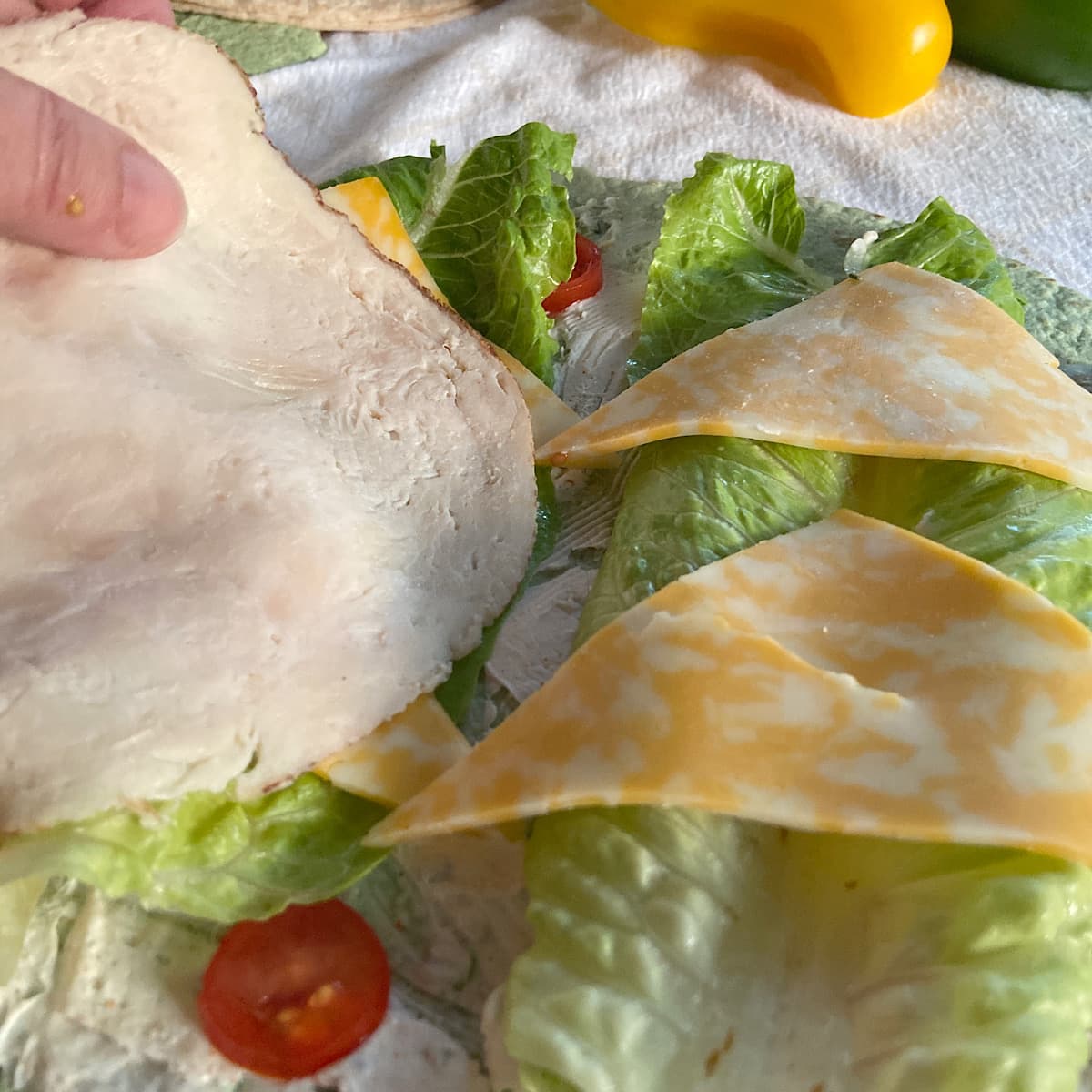 Step 4. Remove hard stem from lettuce. This will make tortilla roll-up easier. Place lettuce leaves over cream cheese and tomatoes. Layer with cheese and then slices of buffalo chicken.
Step 5. Spread a tablespoon of hummus over slices of buffalo chicken.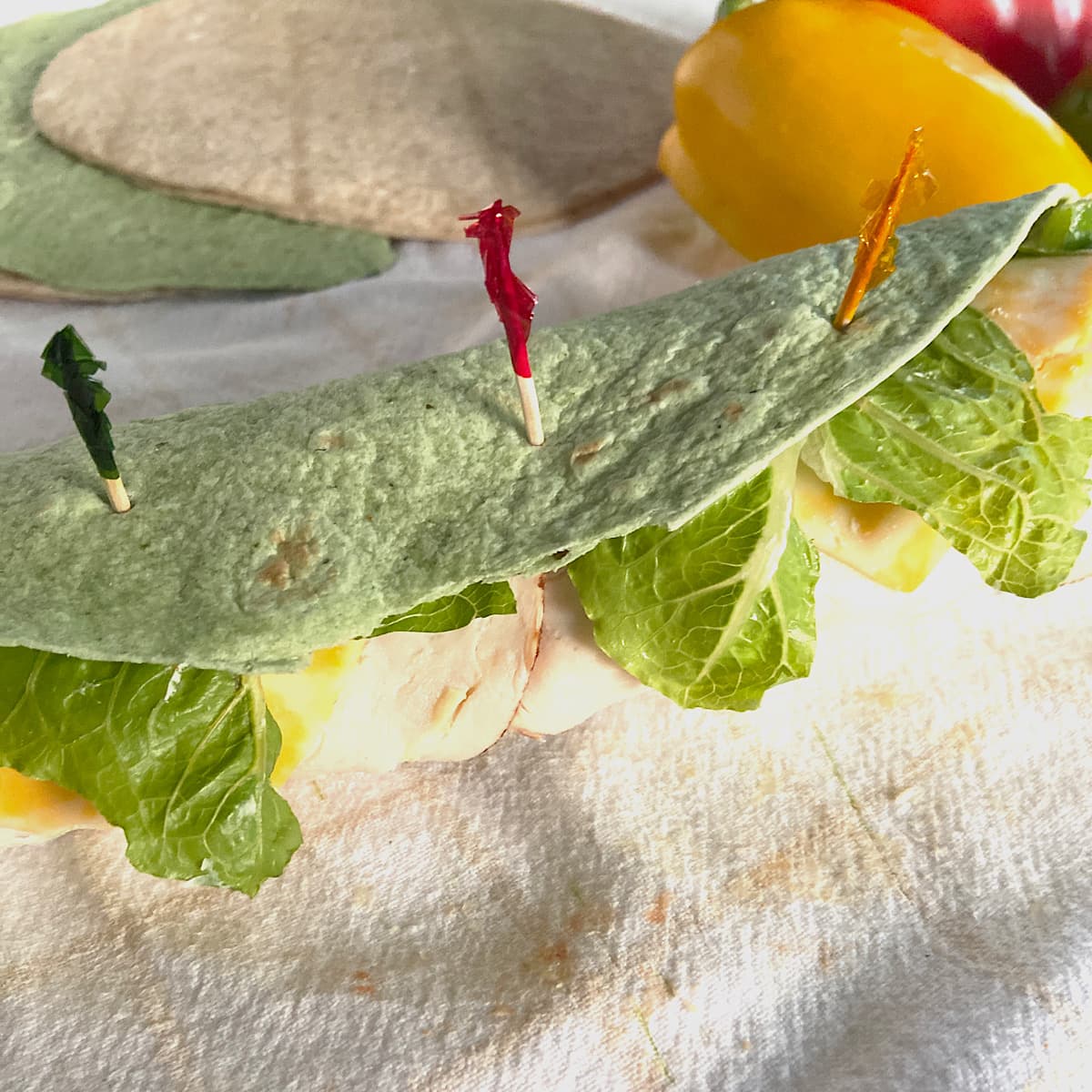 Step 6. Tightly roll tortilla from one side to the other securing with picks. Use a serrated bread knife to slice the roll into 1/2-3/4-inch pinwheels. Secure with a pick, refrigerate for one hour, and serve.
Frequently Asked Questions
What to Substitute for Tortillas When Eating Low Carb

Tortillas are generally a high carbohydrate food you can't enjoy on a low-carb diet. Now there are varieties that are high in fiber and only have 3 net carbohydrates per tortilla. It's an easy substitute for regular tortillas. Try a low-carb tortilla #ad version today.


What to Serve With Pinwheels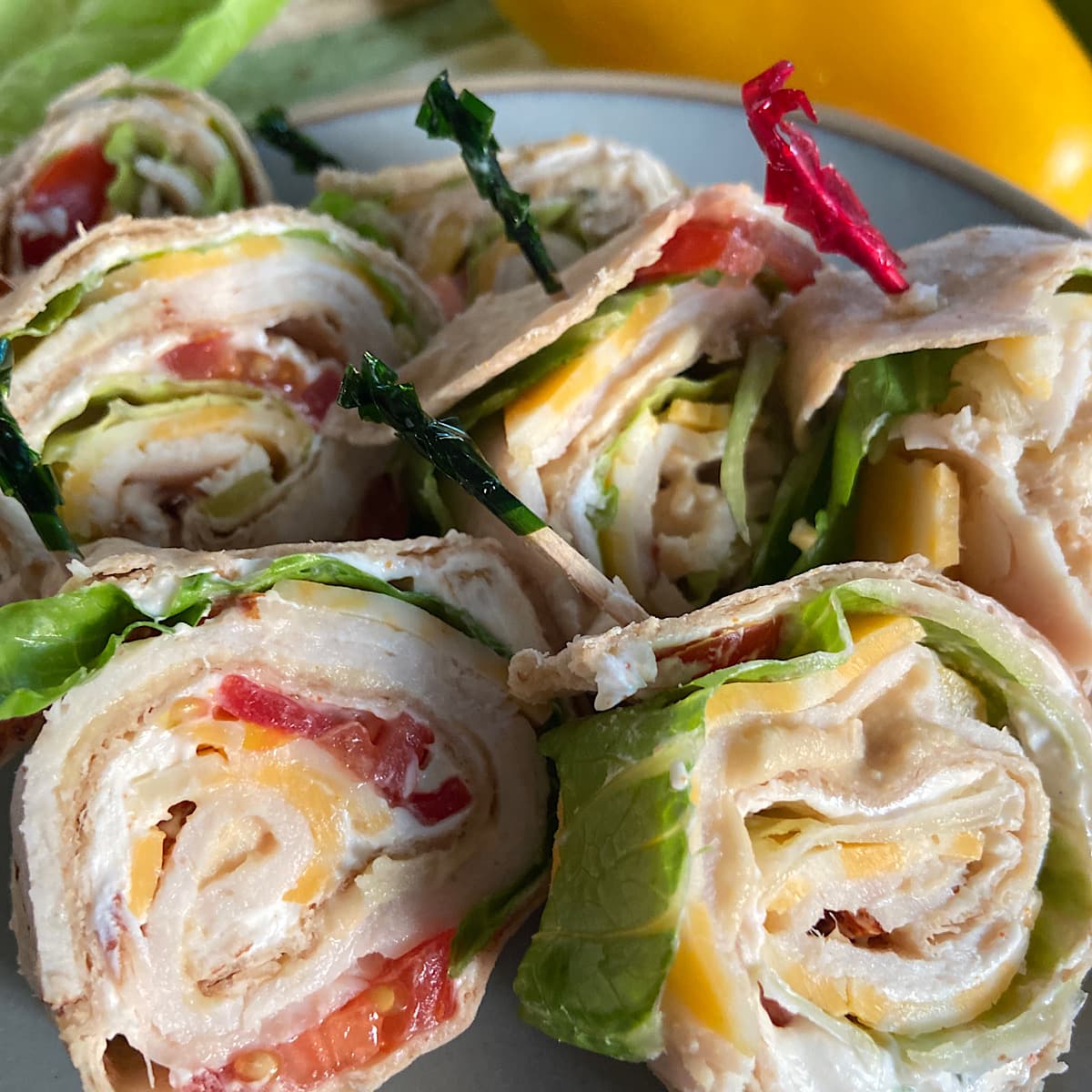 Healthy Buffalo Chicken and Cream Cheese Pinwheels make a tasty and filling appetizer, or a light sandwich to accompany a lunch salad. Add them to your kid's lunch box and check out their smiles when they try them. They will ask for them every week.
Try more Healthy Appetizer Recipes.
Other Healthy Recipes for You
---