This post may contain affiliate links. This means I may make a small commission at no additional cost to you when you make a purchase. Find out more in the Disclosure Policy
You will love this simple and quick side dish of crispy sweet bell peppers and onion. Season with salt and pepper and chopped fresh herbs and you will have a flavorful side dish in less than 30 minutes.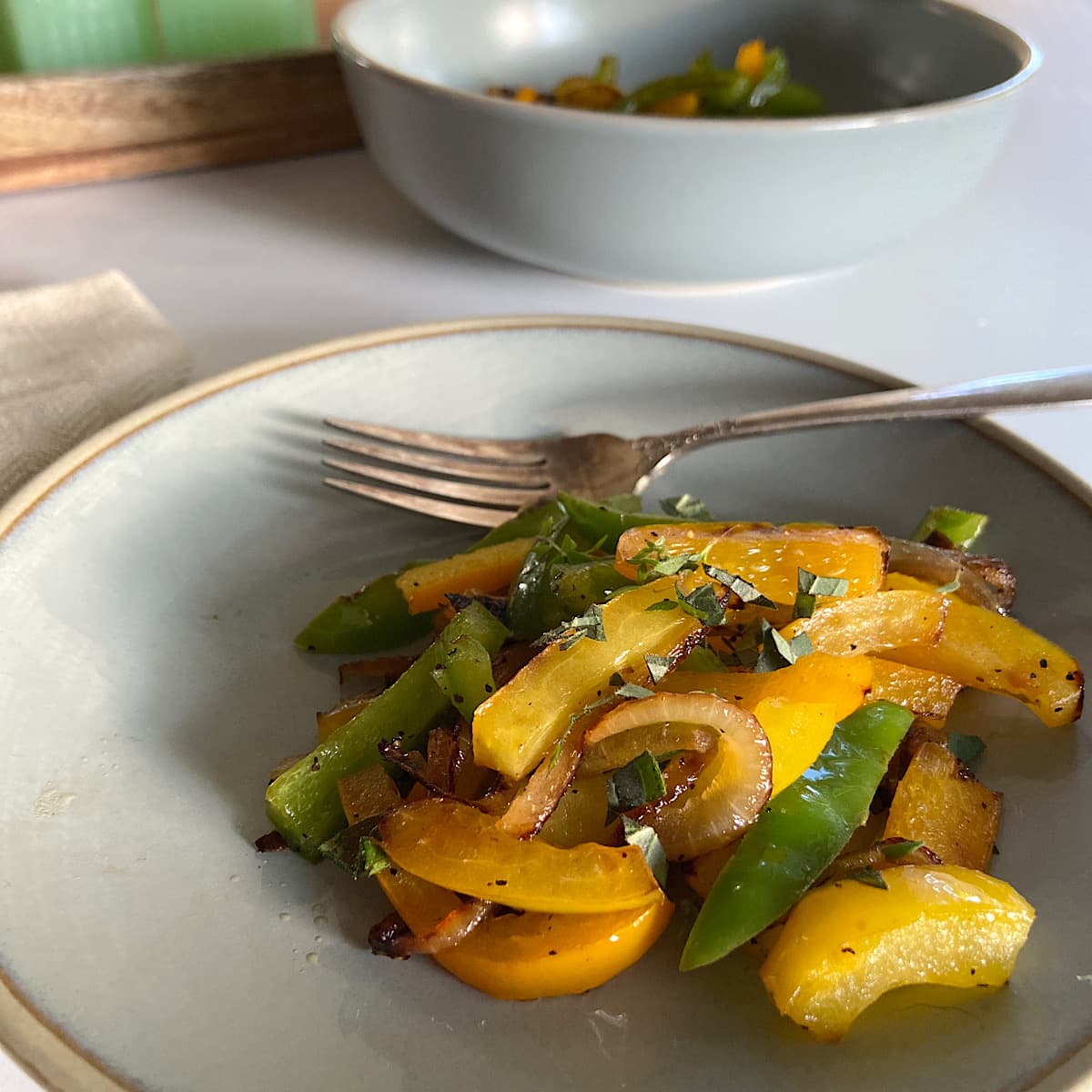 I use peppers in many recipes, but usually, they are included for their awesome flavor, but did you ever consider serving sauteed peppers and onions as a side dish?
This recipe is so easy. It's perfect for a busy weeknight when you need a quick side dish.
Ingredients
Instructions
Step 1. Rinse and cut peppers into 1-inch strips. Thinly slice the onion into strips. Set aside.
Step 2. Heat olive oil in a frying pan over medium heat.
Step 3. Add onion and cook and stir for a couple of minutes until you see light browning and the onions soften.
Step 4. Add peppers. Cook and stir for 5 minutes until the peppers are just fork tender but are still slightly crisp. Add salt, pepper, and chopped thyme and oregano.
Frequently Asked Questions
Are Bell Peppers Healthy

According to USDA 1, large red bell pepper is mostly comprised of water. It includes a total of 43 calories and 6.5 net carbohydrates.

Peppers are a great source of antioxidants, which are substances from the foods we eat that help slow aging and protect against diseases.

How to Prepare Bell Peppers for Cooking

Start by rinsing peppers under water. Use a sharp knife to cut into the pepper cavity. You will see that peppers are mostly hollow. Use the knife to cut around the stem of the pepper and then slice down the side of the pepper so you can access the seeds and white internal fibrous sections. Gently trip the white material and remove with seeds. Rinse the inside to help remove seeds.
What to Serve with Sauteed Peppers
Tender crisp and full of pepper and onion flavor, sauteed sweet pepper can stand alone as a side dish next to a burger, roast, or chicken entree. It is a low-calorie, low-carbohydrate vegetable that is full of flavor to complement any meal.
Looking for more? Check out my other Side Dish Recipes.
Other Healthy Side Dish Recipes for You
---