This post may contain affiliate links. This means I may make a small commission at no additional cost to you when you make a purchase. Find out more in the Disclosure Policy
Light and delicious Cinnamon Roll Coffee Cake has swirls of cinnamon sugar throughout the cake. Topped with a crumb topping and light powdered sugar icing, it is a flavorful combination of cake and cinnamon roll.
This is a fairly simple recipe that eliminates cutting the cinnamon log into rolls. It produces a light cake that is full of cinnamon flavor, which will make your family want another slice and more of this Cinnamon Roll Coffee Cake.
Ingredients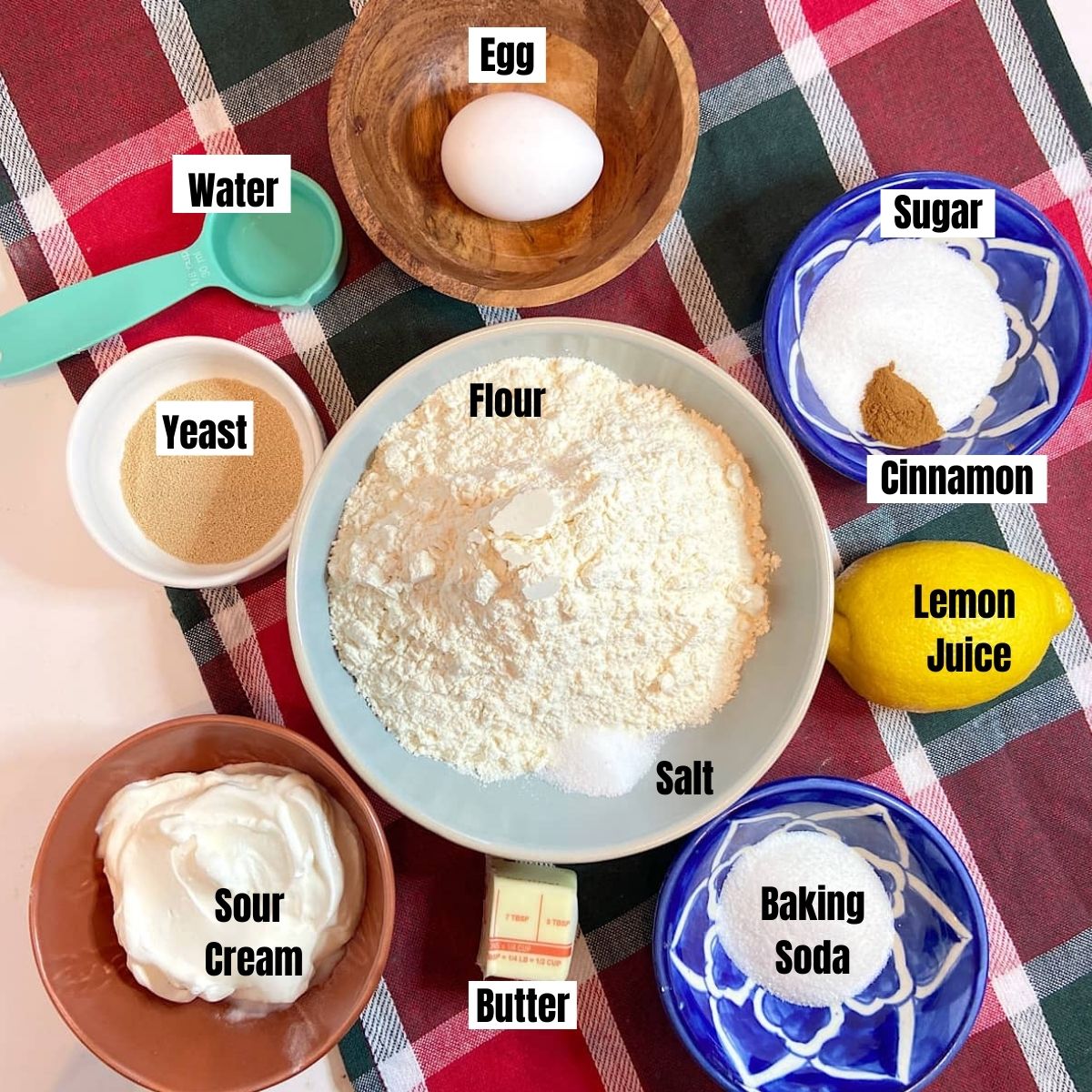 Almost all ingredients in this cake will come right from your pantry or fridge.
Dough
butter
sugar
egg
sour cream
baking soda
all-purpose flour
salt
yeast
water
lemon juice
Cinnamon Sugar Filling
Streusel Crumb Topping
all-purpose flour
brown sugar
cinnamon
shortening
Icing
powdered sugar
half and half
vanilla
salt
Instructions
1. Proofing Yeast
If using regular dry yeast, you have to proof before adding to your recipe.
Below you see the dry yeast on the right and once it is added to warm water and sugar it will start to "bloom" and become foamy like the picture on the right. This will take 10-15 minutes.
If you have instant yeast, feel free to skip this step. There is no need to proof instant yeast and you can just add it with the rest of your ingredients.
2. Mix Dough
Don't miss is mixing the baking soda with the sour cream. This will make the sour cream light and fluffy.
Cream the butter, sugar, and then the egg together first, and then add other liquid ingredients including the sour cream.
Add the remaining ingredients to the mixing bowl and mix with a paddle. Once the dough forms a rough ball, then switch to a dough hook.
Knead dough on a low setting for 7-10 minutes until it forms more of a smooth dough and starts to climb the dough hook.
Tip: This is a wet dough. You can add 1-2 additional tablespoons of flour and use flour to dust your hands and that is Ok. Resist the urge too much additional flour.
3. Allow Time for Dough to Rise
Drizzle olive oil in a bowl and take a paper towel and wipe the bottom and sides of the bowl so it is evenly covered with oil.
Add dough to a large bowl and cover with a piece of plastic wrap. Spray the wrap with cooking spray before putting it on top of the bowl.
Set the bowl in a warm place and cover with a towel.
Tip: I place it in my microwave and turn on the light underneath which warms the inside of the microwave.
This wet dough is slow to rise. Put your timer on for 90 minutes. Clean up your kitchen and before you know it your dough will be ready. Look for it to become puffy and approximately double in size.
4. Prepare the Filling
Remove dough from the bowl and place on a lightly floured counter. I like to use a silicone mat like this one #ad. It makes working with dough and pie crusts so easy.
Flour hands pat the dough into a rough rectangle. I aim for roughly a 12 inch long by 6-inch rectangle. Spread melted butter on the dough and sprinkle with cinnamon-sugar mixture.
From the long side, start to roll up dough. Remember this is a sticky dough so you may need to flour or lightly oil your fingers. Roll as tight as possible. Once the roll is made, pull the opposite long side and press into dough.
Attach ends of dough and form a ring. Spray bundt pan lightly with cooking spray. Transfer dough to the pan.
5. Form the Cake and Add Crumb Topping
Mix flour, brown sugar, cinnamon, and shortening in a bowl until it forms a crumb and holds together when you press in your hand.
Sprinkle with crumb topping. Cover with plastic wrap and allow to rise for 1 hour. You may need up to 90 minutes if your kitchen is cool.
Preheat oven to 350F.
Once the dough has risen and doubled in size, you are ready to bake the cake. Bake at 350F for 20 minutes. The internal temperature of the cake should reach 200F.
I use a temperature probe like this one to make sure I don't overbake my baked goods.
6. Drizzle Cinnamon Roll Coffee Cake with Icing
When the cake reaches 200F, run a knife around the outside edge of the pan. Take a rack and gently turn the cake onto the rack and then back onto a serving plate.
Mix powdered sugar with cream, vanilla, and a pinch of salt. Drizzle the cake with icing.
Frequently Asked Questions
What is Proofing Yeast

Proofing active yeast is a simple process of adding dry yeast to warm water, 110-120F, with a tablespoon of sugar.

Active yeast will start to foam and bubble also known as blooming. This step is done to prove that your yeast is active for your recipe and will do its thing.

Yeast that is no longer active will not have any activity ruining your baked good.

Yeast is a live organism, but over time it will lose its activity and if you are looking for a light and fluffy baked good, this step helps you know you will have the desired result.
What Can I Substitute for Sour Cream

Plain, unsweetened yogurt or Greek yogurt can be substituted for sour cream in a one-to-one quantity.
Other Breakfast Recipes
Cinnamon Roll Coffee Cake is a light cake with swirls of cinnamon sugar filling, a crumb topping, and powdered sugar icing. Perfect for a weekend, or a Holiday Brunch.
Looking for a recipe with apple or pumpkin? try my Moist & Healthy Pumpkin Cake or Streusel-Topped Apple Muffins.
For more Cinnamon Roll Recipes, check out this list pulled together by Krystal over at Sunny Sweet Days.
Other Tasty Dessert Recipes for You
---