This post may contain affiliate links. This means I may make a small commission at no additional cost to you when you make a purchase. Find out more in the Disclosure Policy
Moist baked Mediterranean Salmon is flavored with a Mediterranean Spice Rub that flavors with a unique savory flavor. You will have a delicious salmon meal ready in just about 30 minutes.
You might also like my recipe for Easy Oven Baked Salmon.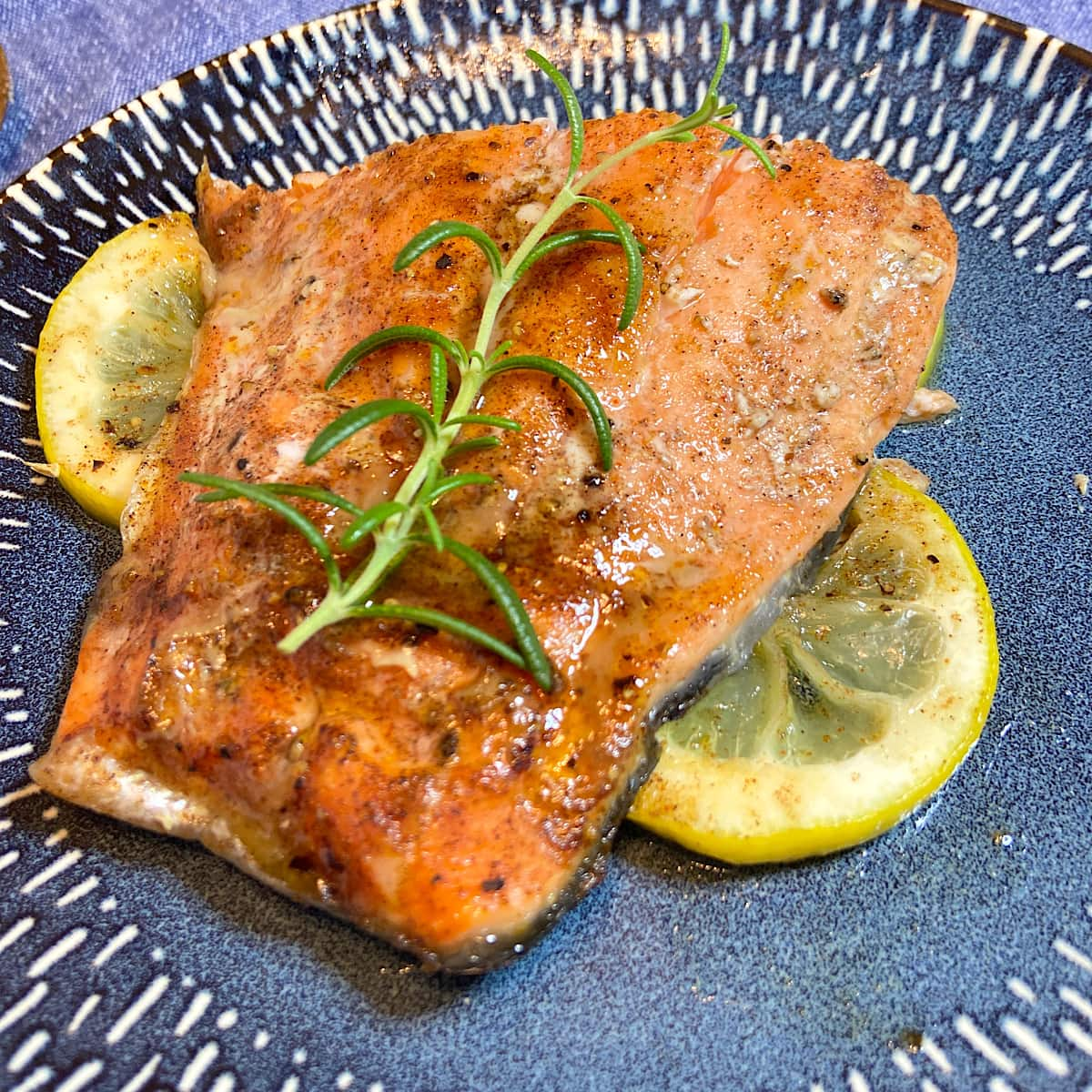 Salmon is one of my favorite fish dishes. I love that you can change the flavor of the salmon by applying Mediterranean seasonings. I like to make a rub of commonly used Mediterranean spices, along with a bit of brown sugar. This mixture creates a flavorful and healthy meal.
Read more about the health benefits and uses of spices and herbs in my post on Mediterranean Spices.
Ingredients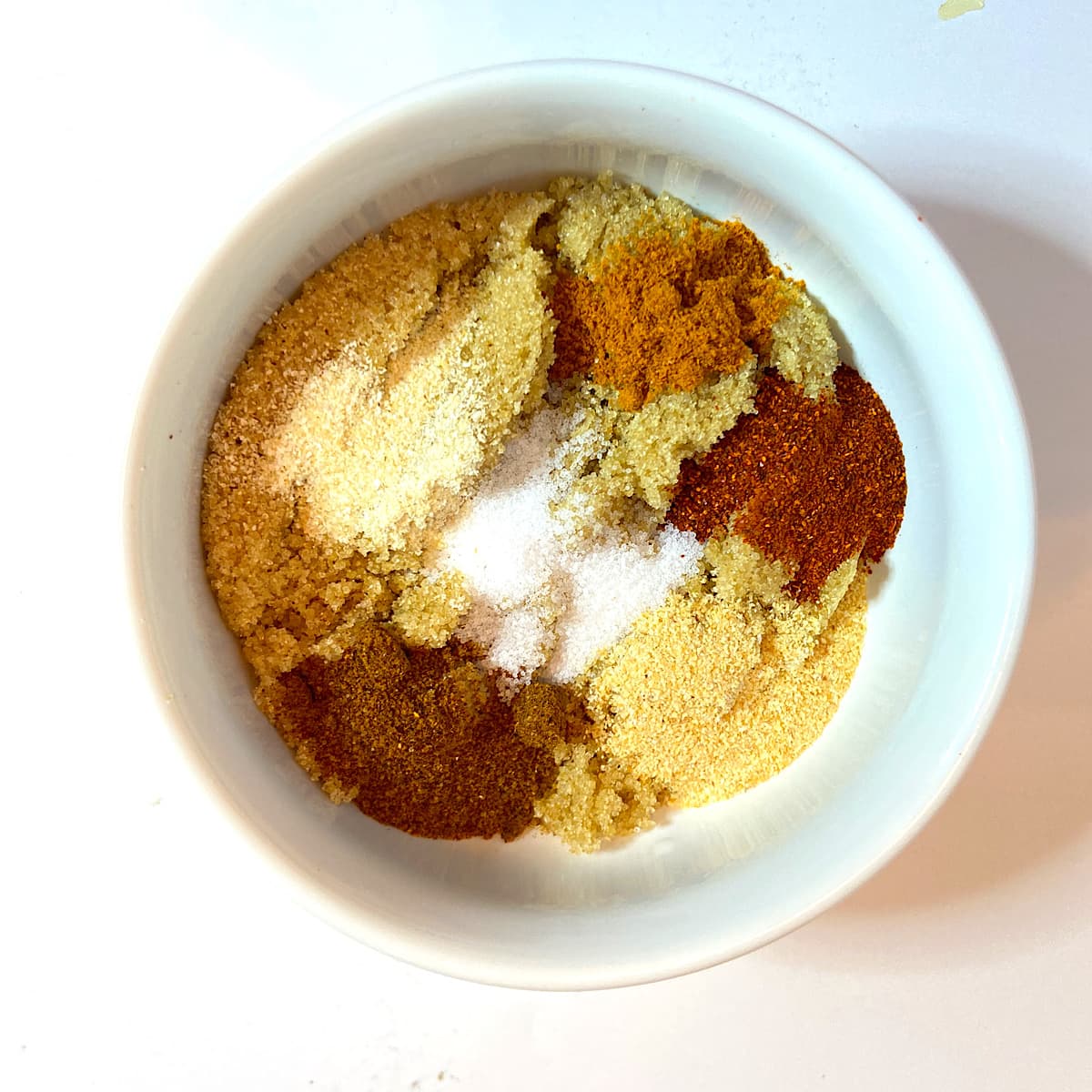 Freshly caught salmon from the grocery seafood counter or fishmonger makes the most tender, flavorful salmon. In a pinch, you can also use frozen salmon fillets. Allow thawing prior to baking salmon.
Lemon slices subtle fresh flavor to the salmon and olive oil flavors and helps the Mediterranean seasonings adhere to the filets.
The Mediterranean Rub for salmon includes:
paprika
allspice
cardamom
cordiander
brown sugar
salt and pepper
Start with a light sprinkle of the spices. Adjust your application to your taste.
Instructions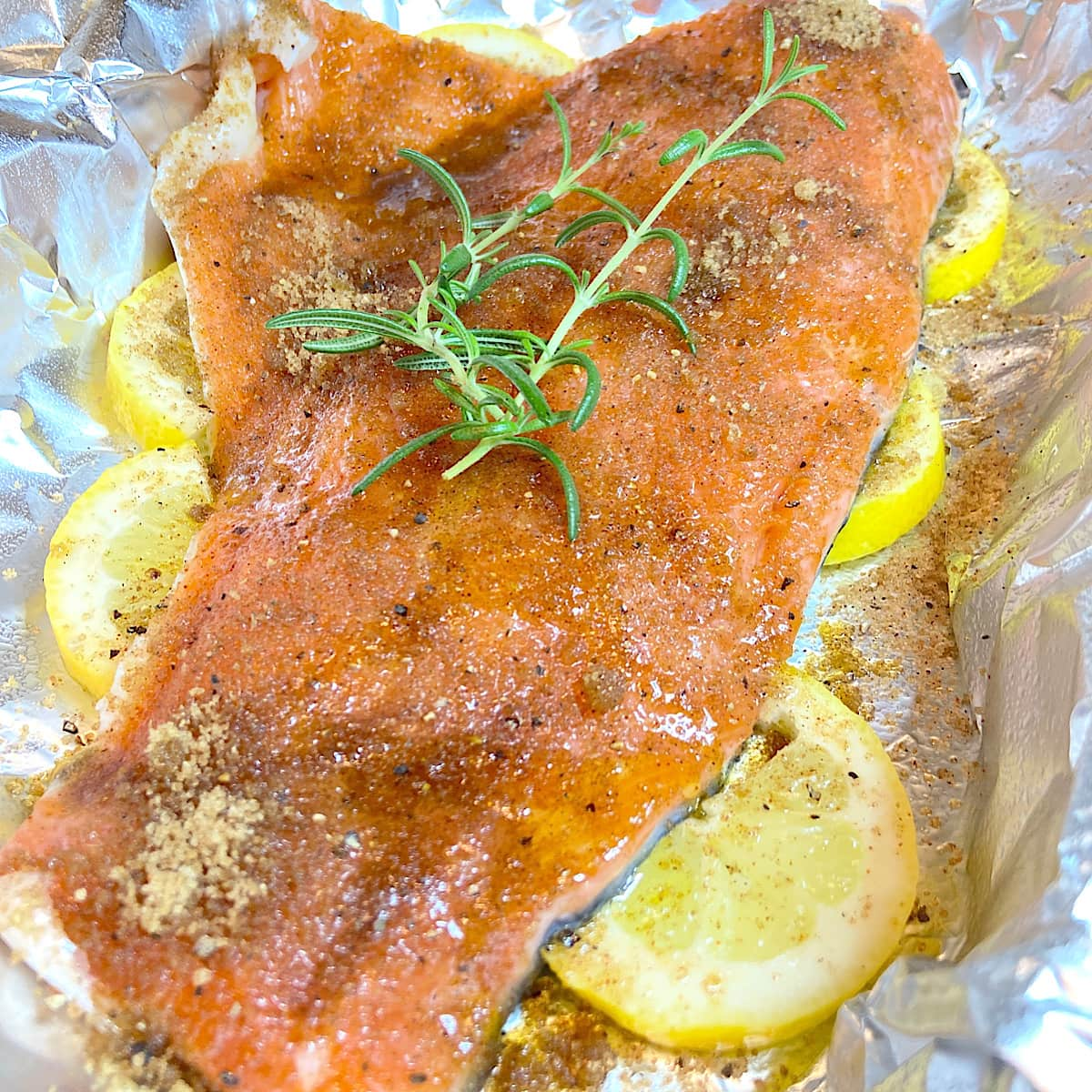 Step 1. Preheat oven to 350F.
Step 2. Place a large piece of foil in the pan. Spray foil with cooking spray. Thinly slice the lemon and layer in the bottom of the pan on foil. Lay salmon filets on lemon slices.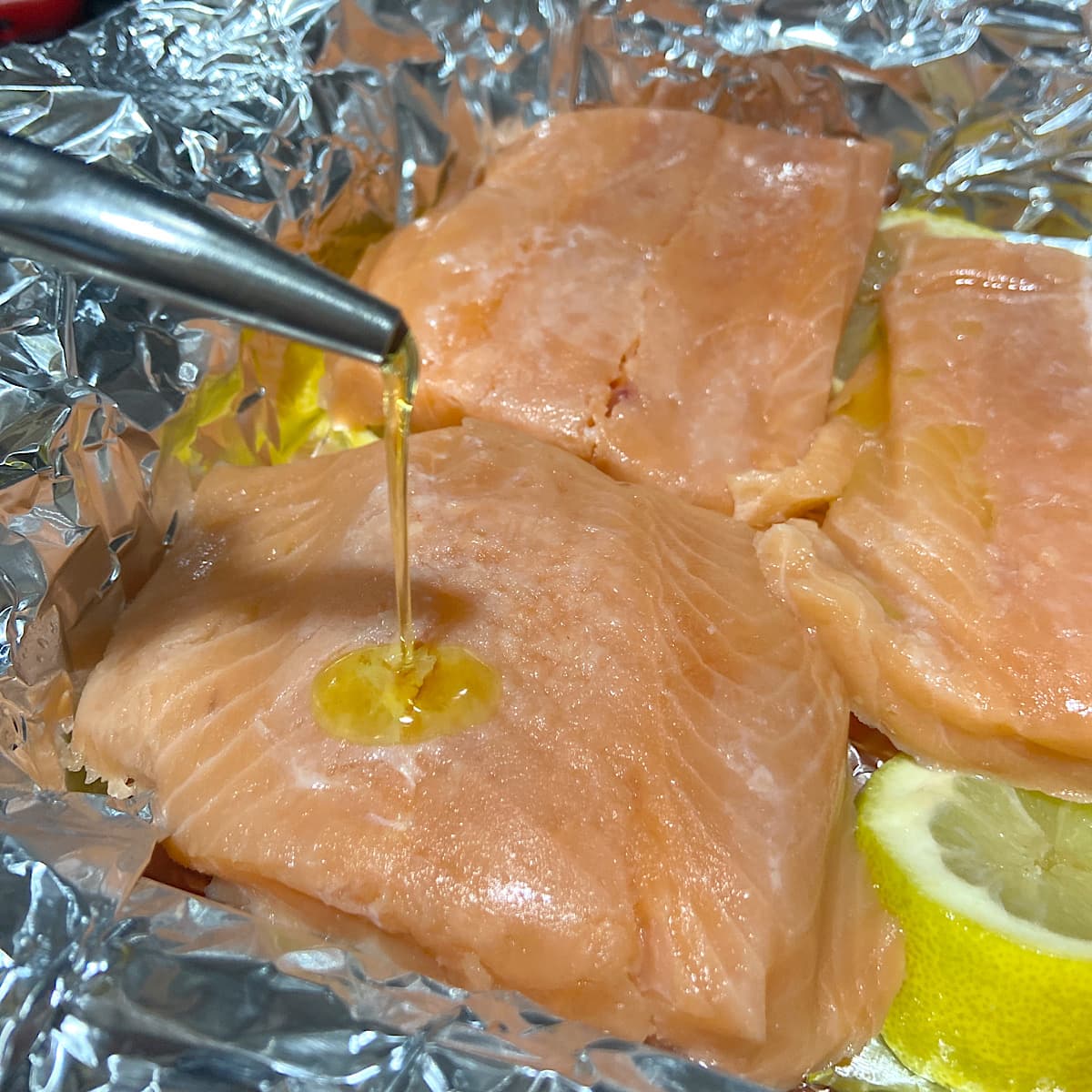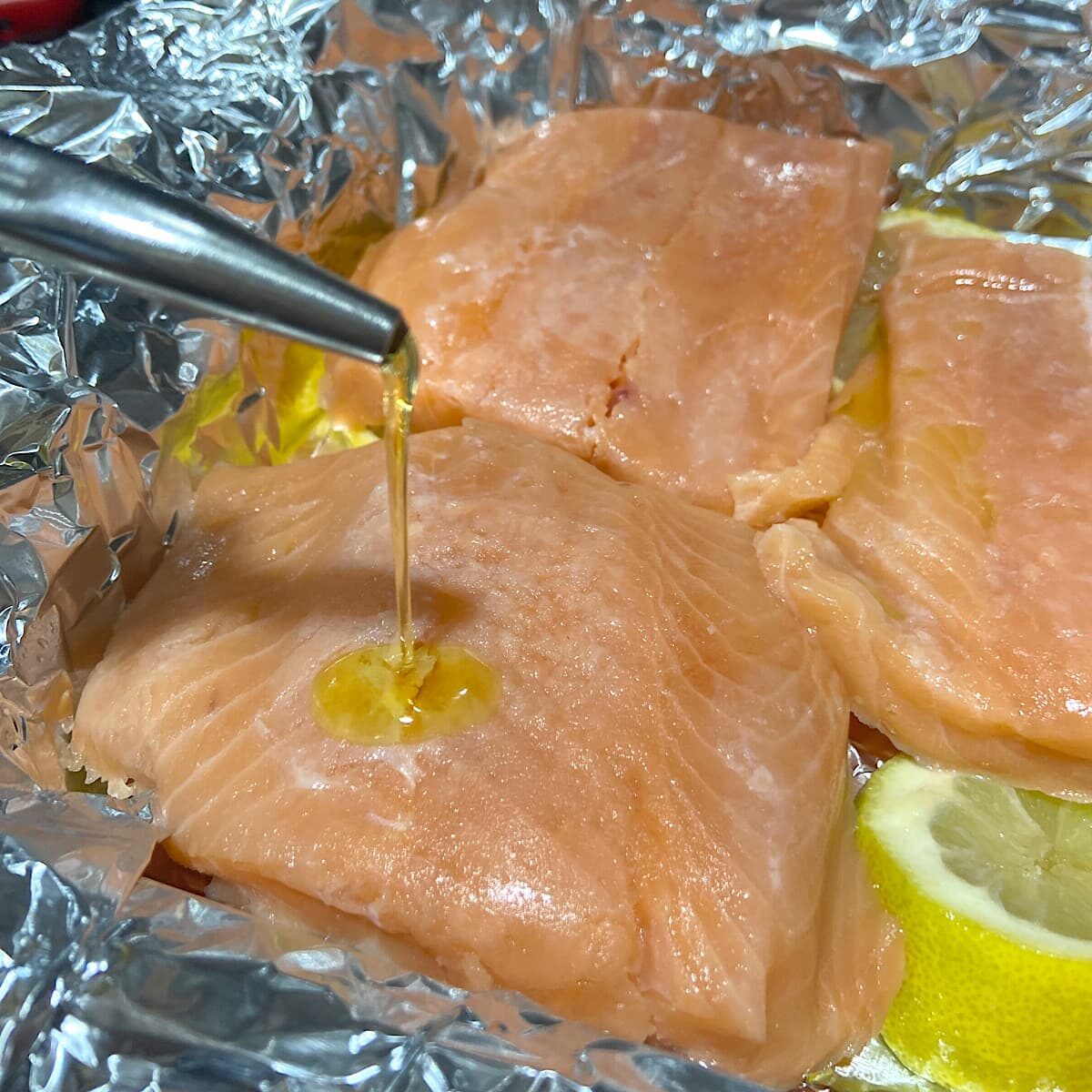 Step 3. Drizzle extra virgin olive oil onto the salmon and rub evenly over the salmon. Combine spices and sprinkle lightly with Mediterranean rub. Start with a light application of spices.
Step 4. Close and seal foil over salmon. Place baking dish on the bottom rack of the Bake at 350F for 20-25 minutes until the inner temperature reaches 140-145F.
Success Tip: Check the temperature of your salmon to make sure it is cooked but not overcooked. Ideally, it is recommended to cook salmon to 145F, but I like cooking to 140 F. It will continue to cook when you remove it from the oven.
I use a temperature probe (ad#) like this one to make sure I get it just right.
Frequently Asked Questions
Can You Prepare Mediterranean Salmon On the Grill

Yes. This recipe can be prepared on the grill. Follow the recipe instructions up until you seal prepared salmon fillets in foil. Heat grill on high on side of grill and place salmon foil packet on the non-heated side of the grill.

Check salmon temperature after 15 minutes of cook time. Leave a portion of foil open and continue to grill until internal temperature is 140F.
What to Serve With Salmon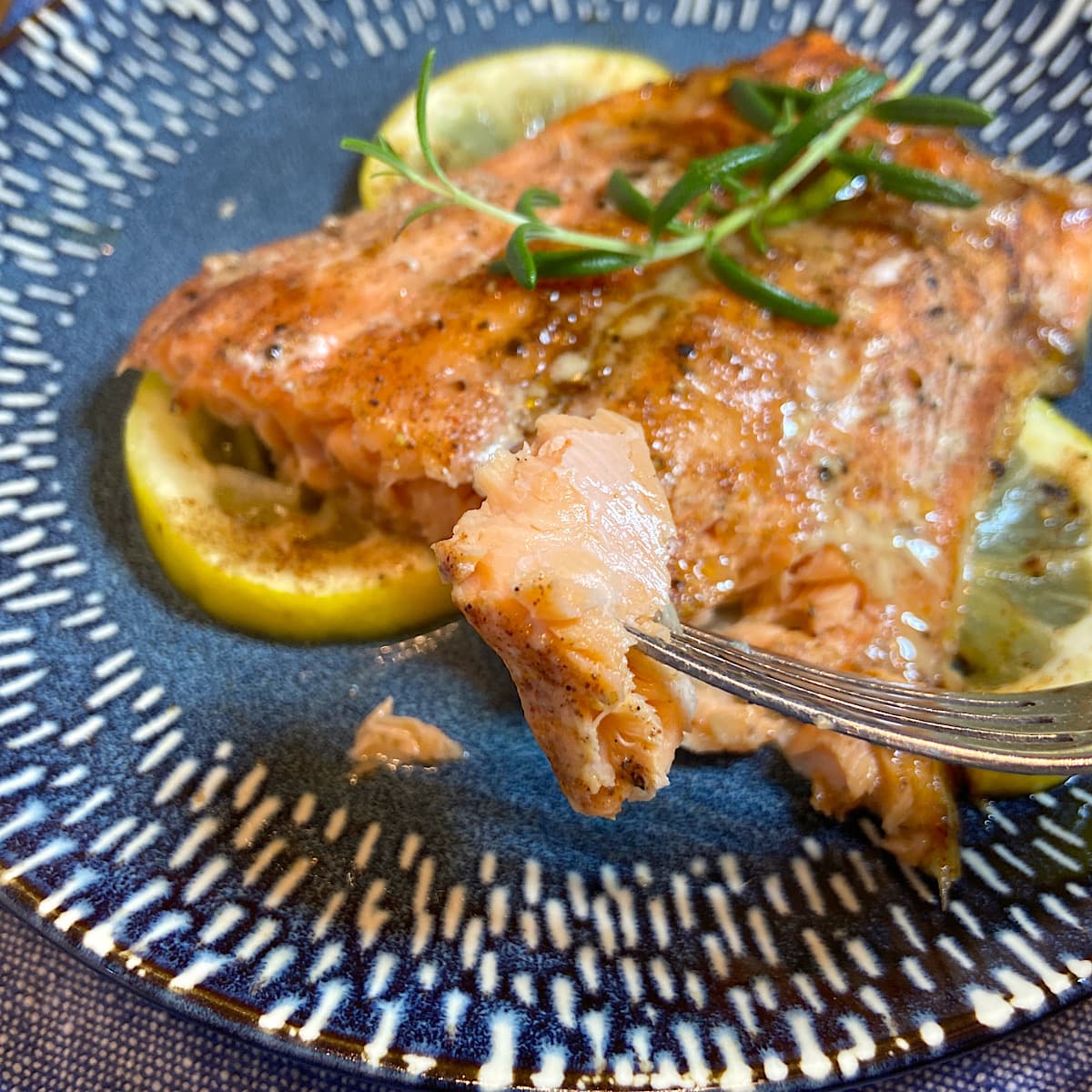 This Mediterranean Salmon recipe is wonderful with a fresh green salad, dressed with olive oil and balsamic vinegar. Also, include a side of Healthy Wild Rice.
You might also like a flavorful year-round Vegetable Couscous Pasta Salad in place of rice.
Another salad alternative might be an Apple Pecan Salad with a Raspberry Vinegarette.
Not sure about the Mediterranean Spice Rub? Take a peek at my recipe for Easy Oven Baked Salmon.
Other Healthy Dinner Recipes for You
---
March 2022 Update: Minor updates to post and recipe card. Process shots added.