This post may contain affiliate links. This means I may make a small commission at no additional cost to you when you make a purchase. Find out more in the Disclosure Policy
The Mediterranean Diet consists of foods from countries that surround the Mediterranean Sea. These countries vary in culture, but also vary in the way they prepare their meals. One key difference is the Mediterranean spices and herbs used to flavor recipes.

Beyond the food you eat on the Mediterranean Diet, spices and herbs are important pieces of the overall health benefits of the diet.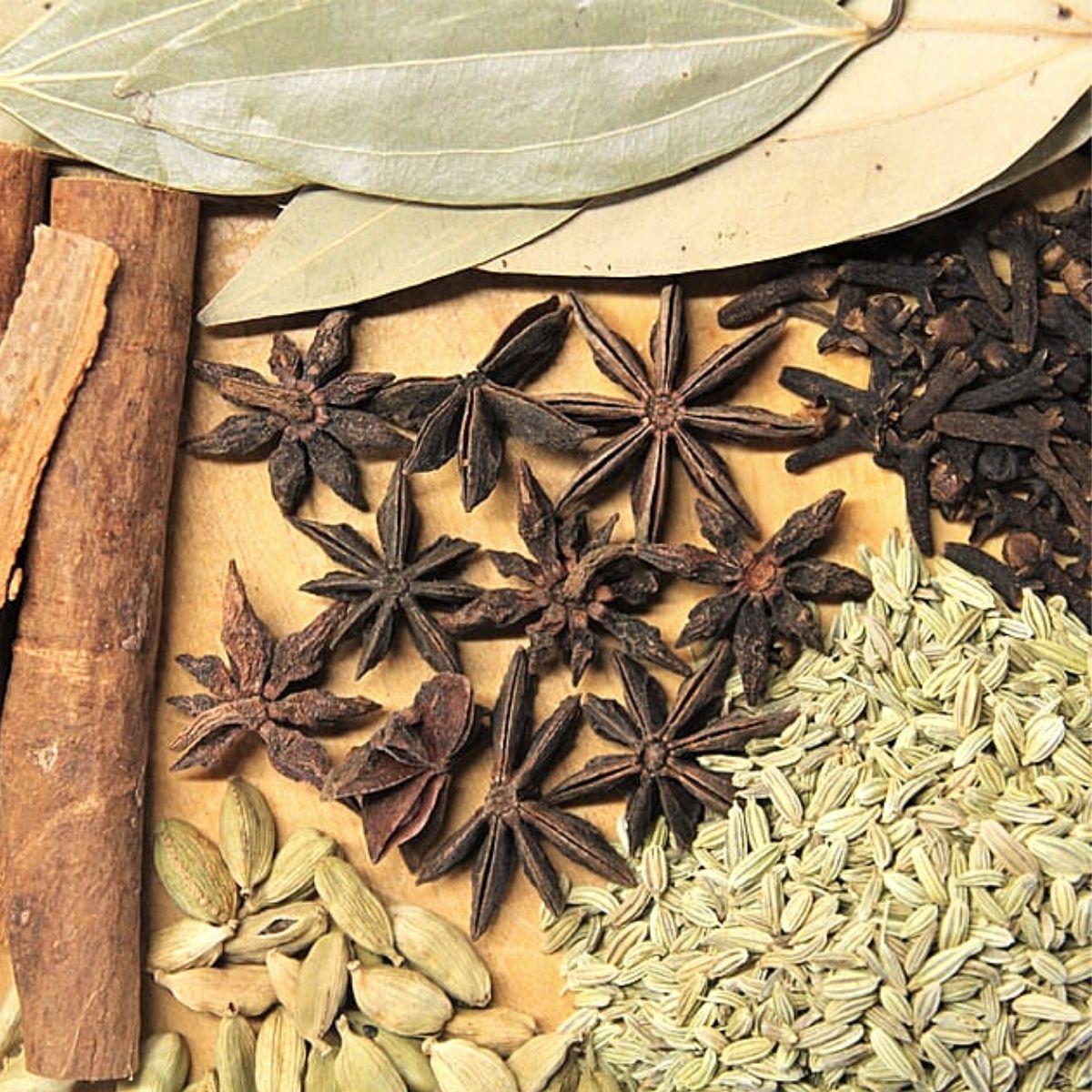 Take the time to learn the health benefits of the various Mediterranean spices and you will be well on your way to achieving a healthy diet.
Besides adding flavor to your recipes, spices and herbs also add many healthful benefits.
Regularly including flavorings in your recipes and meals may help with:
help lower bad cholesterol.
Other benefits may include decreasing your risk of cancer, lowering blood pressure, and improving your mood.
Of course, these potential health benefits are a result of the regular use of Mediterranean herbs and spices in your meals.

Frequently Asked Questions
What is the Difference Between a Spice and a Herb

Herbs are the leaves of plants. Examples include basil, chervil, dill, oregano, and thyme.

Spices are harvested from the non-leafy parts of the plant such as seeds, berries, roots, bark, etc. Examples include capers, cinnamon, and turmeric.

For more on the differences between herbs and spices read, Herbs vs Spices | A Debate.
How to Store and Extend the Life of Fresh Herbs

Herbs are leaves of tender plants that will quickly lose their quality if not stored correctly. You can extend their use up to one week by:

1. Wrap the stems in wet paper towels, take care to keep the leaves dry, and refrigerate in a closed zip lock bag.

2. place stems only in a glass of water, and cover the dry leaves with a zip-lock bag or plastic wrap, and store in the refrigerator.
How to Substitute Dried Herbs for Fresh

Dried spices and herbs are concentrated forms of fresh. To substitute dried for fresh decrease the amount of fresh called for in the recipe to 1/3. For example, one teaspoon of dried is roughly equivalent to 1 tablespoon of chopped fresh herb or spice.
What is a Ristra

A ristra is a hand-woven bunch of garlic, peppers, or onions. It is a decorative way to store or dry vegetables for later use in recipes.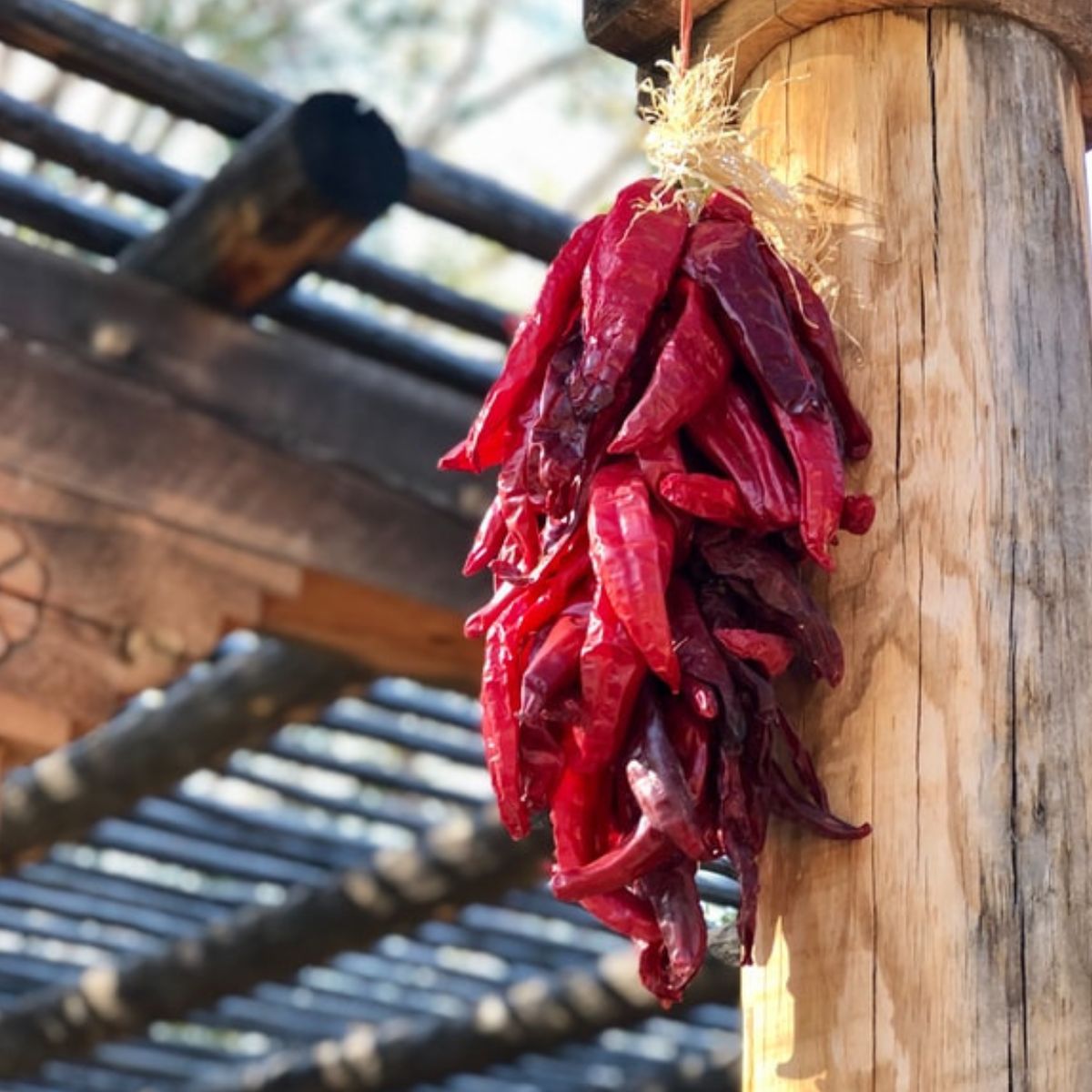 Healthy Herb and Spice Tips
Rosemary, lavender, oregano, and thyme are perennials, which means if you plant them in your garden, they will grow in the same spot and return season after season without replanting.
Harvest herbs in the morning and before the plant start to flower.
Most herbs are added at the end of cooking to release their full flavor by quick heating. One exception is bay leaves that are simmered in soups.
Use herbs in recipes based on how strong a flavor they will impart to the dish. Tender herbs like parsley and chives can be used in abundance, while strong-flavored herbs like rosemary, oregano, thyme, sage, and cilantro should be used sparingly.
Store dried spices and herbs in a cool, dark place. Take a sniff when you open a spice to ensure there is an immediate aroma. If not, it is time to replace the spice. In general, ground spices will last at least 6 months and longer when stored correctly. Whole spices and herbs such as whole cloves, nutmeg, and cinnamon sticks will keep for 1 to 2 years.
You will recognize some of these spices and herbs as they have worked their way into mainstream diets and recipes. Others you may be less familiar with.
Mediterranean Spices and Herbs
Typical spices and herbs used in Mediterranean Diet include Basil, Bay Leaf, Black Pepper, Capers, Caraway Seeds, Cardamom, Chervil, Cinnamon, Cloves, Corriander, Cumin, Dill, Ginger, Nutmeg, Oregano, Paprika, Parsley, Rosemary, Saffron, Sumac, Thyme, Turmeric.
Learn more about these spices and how they are used below.
Uses and Benefits of Spices and Herbs
Basil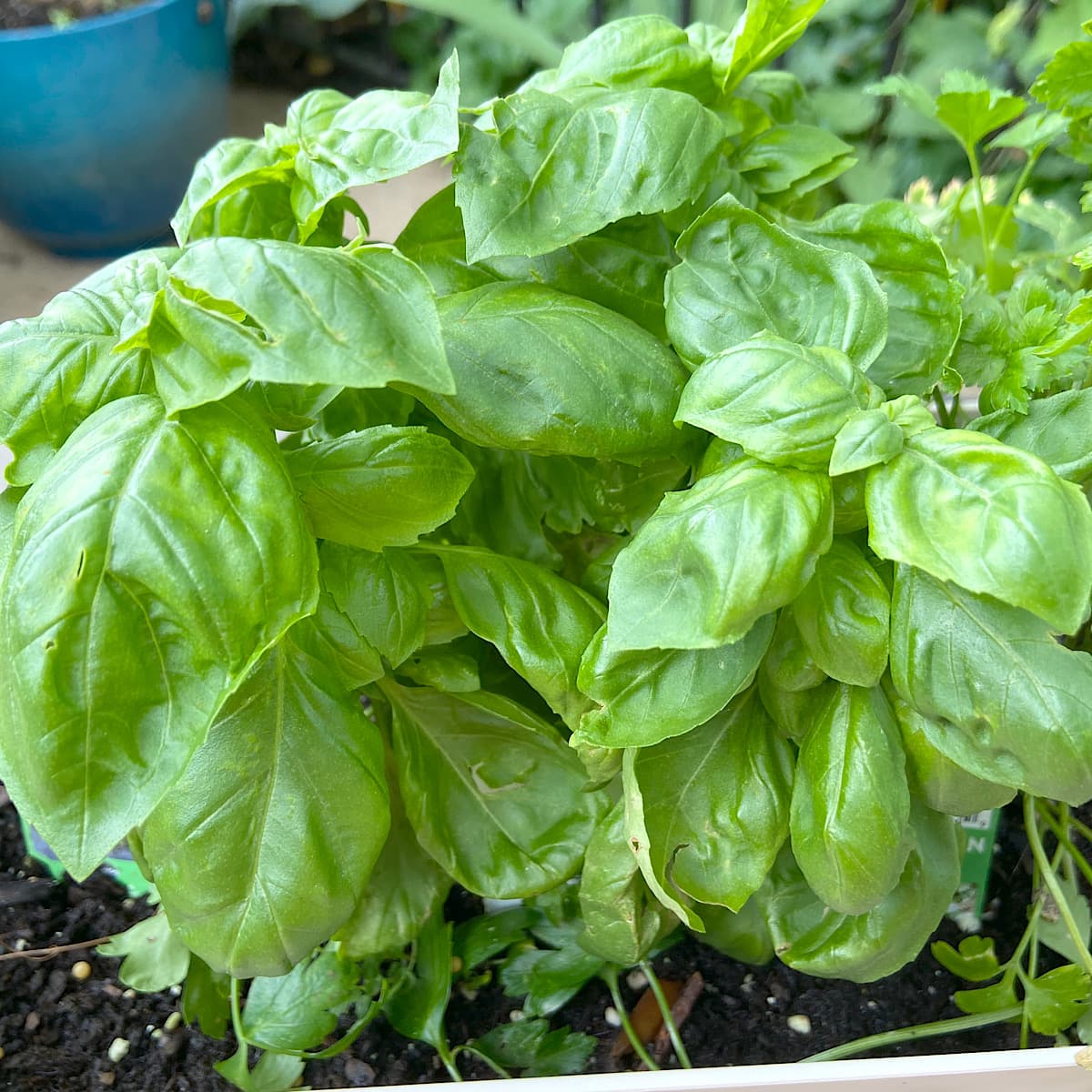 Tender-leafed basil is a herb that grows best outdoors in warm climates such as the Mediterranean. It adds a minty, clove-like aroma to recipes.
The Health benefits of including basil in your diet include helping your body manage inflammation, anxiety, depression, and age-related memory loss.
Use: It is a common ingredient in Italian recipes such as pesto and marinara sauce but also compliments fresh tomatoes. Use in soups, roasts, and salad dressings.
Substitute: oregano or thyme
Bay Leaf
Native to the Mediterranean area, Bay Leaf brings an aromatic, woodsy flavor to a dish. They are a rich source of vitamins A, C, Iron, Potassium, Calcium, and Magnesium.
Used as a home remedy to help with:
migraine when brewed in a tea 1
topically, as an essential oil, to help sore muscles and joints 2
Use: fresh or dried whole leaves to simmer and flavor soups, stews, pasta sauces, and braises.  Leaves should be removed prior to consuming the dish.

Black Pepper
Black Pepper is ground from dried peppercorn berries and is rich in vitamins and minerals. Freshly ground peppercorns in a pepper mill#ad will provide the most flavor because ground pepper quickly loses its potency. Buy whole peppercorns and store them in a dry, cool cabinet for up to 6 months. It contains large amounts of a compound called piperine.
Piperine has been studied and found to calm the body's immune response. In addition, it is an antioxidant, may help with inflammation, and has anti-ulcer properties. 3
Use: sprinkle on fresh fruit such as melon, strawberry, or pineapples. Flavoring in soup stock, sauces, marinades, and stews. It is used to flavor all kinds of meat from burgers, poultry, fish, and anything you want to roast.
Substitute: white pepper may be substituted for black, but it has a milder flavor.
Capers
Capers are pickled flower buds from the Capparis spinosa bush that is native to the Mediterranean. The flower buds are dried and later brined to produce the caper flavor used in recipes.
Capers are rich in calcium, magnesium, fiber, and vitamin C. This herb has anti-inflammatory properties and may help control diabetes.
Use: chicken dishes, salads, and roasted vegetables.

Caraway Seeds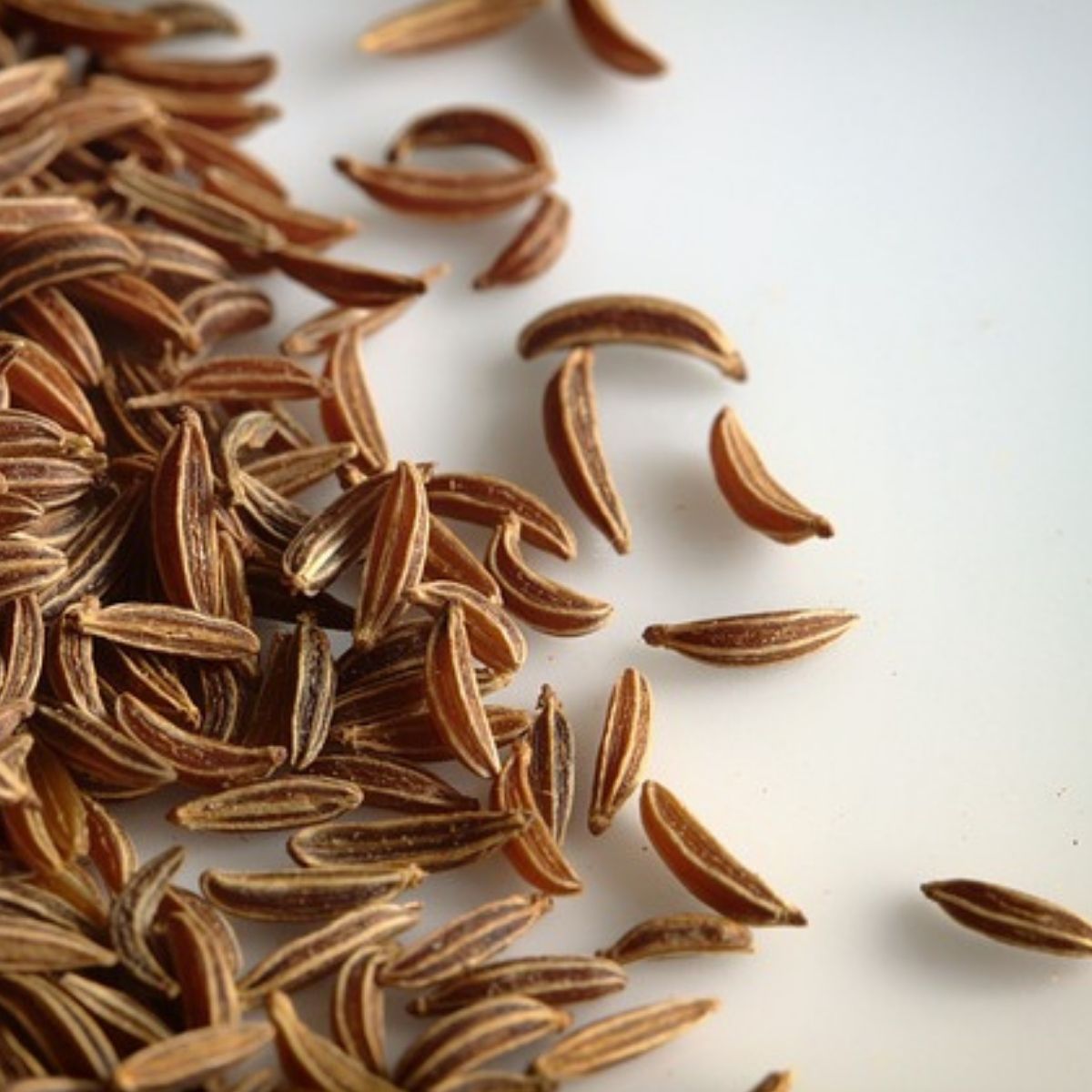 This spice is the fruit of a biennial plant similar to carrots grown in Europe, Asia, and Northern Africa.
It helps the digestive system by stimulating gastric juices and improves overall appetite. Lastly, Caraway seeds help improve the circulation of blood.

Use: Salads, soups, stews, baked goods, and bread,

Cardamom
Cardamom in your diet may provide a variety of health benefits. It may help decrease inflammation in the body.3 It also acts as a diuretic and so may help lower blood pressure.

Cardamom contains cancer-fighting compounds, helps support complexion, and helps with skin allergies and ulcers. It has antibacterial effects so it may help prevent cavities.

Cardamom also helps improve blood sugar levels. Using cardamom makes food have amazing flavor with all of these added health benefits.
Available in both green and black varieties, it is a relative of ginger. When added to a recipe, it provides a spicy-sweet flavor with peppery ginger tones.
You can purchase ground cardamom or use the whole pod which is about the size of cranberry in cooking. Its use in recipes provides a pungent aroma and a sweet, spicy flavor.
Use: season meats and vegetables.
Substitute: ground ginger

Chervil
Often called French parsley, Chervil has an anise flavor with a hint of tarragon. When eaten regularly in your diet it may help with fluid retention, coughs, digestion problems, and high blood pressure. 
Have you heard of the classic French Spice mix?#ad Chervil is one of the key spices along with chives, parsley, and tarragon.

Use: flavor salads, soups, and sauces.
Substitute: parsley and tarragon mix.

Cinnamon
Harvested from the inner bark of a tropical evergreen tree, the bark is dried to produce cinnamon quills. It is available in a lighter-colored form called Ceylon which imparts a milder flavor. The typical cinnamon we all think of is cassia cinnamon which is the spicey, reddish-brown variety.
Cinnamon is loaded with antioxidants. It can help fight inflammation and infection. It also helps lower cholesterol and calms the immune system.3 Cinnamon may improve sensitivity to insulin and help reduce blood sugar levels. 4

Use: flavor meats, bread, and baked goods. Also a component of the spice blend Garam Masala.
Substitute: decrease to 1/4 of the amount of cinnamon called for in a recipe with nutmeg or allspice.
Cloves
The aromatic clove is the dried and unopened flower bud of Indonesia's tropical clove tree.
Cloves are full of antioxidants and contain compounds that help with inflammation and may help with diabetes and depression.
Use: ground or whole to flavor roasts baked foods and hot beverages.
Substitute: ground allspice, cinnamon, or nutmeg

Coriander
Including Coriander in your recipes adds a nice bright lemony-sage flavor to the dish. It has multiple benefits. Coriander is a wonderful source of dietary fiber, magnesium, iron, and manganese as well. Coriander may help lower bad cholesterol (LDL)

Use: add to curry dishes and as a spice rub for fish and chicken.

Cumin
An ancient spice, cumin originated in the Mediterranean. A key ingredient in curry powder and chili powder, cumin adds an earthy, slightly bitter flavor to Southwestern and Indian recipes.
Cumin can be used both as a whole seed or ground and has a nutty flavor. It is included in many spice blends.
It's reserved primarily for savory recipes. Cumin, an antioxidant, has many health benefits including being a good source of iron and may improve blood sugar control. In addition, it may help with digestion, support cholesterol levels, and improve sleep.

Use: salads, soups, meat, fish, vegetables, and sauces.
Substitute: chili powder
Dill
The herb may lower inflammation and can help fight infection. It is a good source of calcium, manganese, and iron. It may help lower cholesterol, and aid digestion.
Used to brine dill pickles, dill seed has a strong flavor that intensifies when heated. You can also use chopped dill as a salt substitute when you are trying to cut back.
Use: potatoes, soup, salad, sauces, and fish.
Substitute: fennel leaves or tarragon

Fennel
Another Mediterranean native is the fennel plant. While the stalks and bulbs are used in cooking as a vegetable, the seeds are used for flavoring. Fennel seeds have an anise or licorice flavor.
It is a nutritious plant that is often used to help support digestion.
Use: meats, sausage, and soups.
Substitute: anise or caraway seeds
Ginger
Ginger is a root spice with a sweet-hot flavor that is commonly used to flavor oriental dishes.
With many health benefits, ginger has been studied for its anti-inflammatory effects in rheumatoid arthritis 5. It is also known to help calm the digestive tract by easing nausea and vomiting, gas, and diarrhea 6
Use: savory dishes, soups, teas, and even desserts.
Substitute: ground allspice, cinnamon, nutmeg or mace
Nutmeg
Nutmeg seeds are the fruit of the nutmeg tree. Sold whole or ground, it is a common slightly sweet and spicy flavoring in custards and creamed spinach.
Nutmeg is used in many sweet as well as savory dishes. It has anti-inflammatory properties, acts as an antioxidant, and also has antibacterial properties. Lastly, including it in your diet may help boost libido.

Use: pies, puddings, custard, cookies, and spice cakes.
Substitute: ground cinnamon, ginger, or mace

Oregano
Oregano is a hardy, perennial herb that comes in many flavor varieties, from peppery to lemony to burn-your-tongue hot. Usually more flavorful when dried than fresh.
Oregano is another herb that's high in antioxidants, and compounds that may help reduce inflammation, and fight bacterial and viral infections. It's used to treat stomach ailments, especially digestive issues.
Use: salads, tomatoes, meat, fish, and vegetables. 
Substitute: marjoram, bail, or rosemary

Paprika
Paprika is the spice that is often sprinkled over your grandma's favorite deviled eggs. It is a slightly sweet and bitter spice.
It is packed full of Vitamin A responsible for visual health, and strengthening of the immune system, and may also have anticancer properties.
Look for Smoked or Sweet Paprika for more flavor. You will find Hungarian paprika which is more pungent and labeled as sweet or hot and Spanish varieties.

Use: stews, soups, pasta, sauces, and marinades.

Parsley
Parsley is a concentrated source of vitamins such as A, C, and K, all of which are plant-based compounds. Its use may help protect against cancer and diabetes and it also improves bone health.

Use: with a peppery flavor use to season sauces, soups, chicken dishes, grilled and baked fish, or just as a garnish.

Rosemary
This bold piney and perfumey-flavored herb contain a compound that may help decrease inflammation and fight infection.3 Rosemary is known to help to alleviate muscle pain, improve memory, boost the immune and circulatory systems, plus promote hair growth.

Use: seasoning in various dishes, such as soups, salads, casseroles, stews also meats like poultry, Lamb, steaks, pork, and fish, especially oily fish. 
Substitute: thyme, tarragon, or savory

Saffron
Grown and harvested primarily in the Mediterranean and India, Safron comes from a flower stigma. It is an expensive spice, due to its limited production and difficult harvest. But, its light fragrant flavor keeps cooks coming back for more.
Sold in slender red threads from the flower, it is typically ground into a powder for use in recipes.
Saffron may improve moods and help treat depressive symptoms. It also may have cancer-fighting properties, reduces appetite to aid in weight loss, and have several other benefits.
Considered one of the most expensive spices, a pinch is really all you need to flavor and color food. While the spice is naturally deep red in color, when mixed with food it turns a golden yellow.

Use: seafood, soups, stews, bread, and cakes.
Sumac
Sumac is a spice that is a burgundy red powder with a somewhat lemony flavor. It is an antioxidant known to soothe stomach upsets and may also help normalize blood pressure.
Use: rub, marinade, and dressing for vegetables, meat, and fish.
Thyme
Thyme imparts a mild minty and lemony flavor to recipes.
Used regularly in the diet it helps boost immunity. It's packed with vitamins C, and A, copper, fiber, iron, and magnesium. It has many health benefits from fighting infections, to lowering cholesterol and blood pressure. Including it in your diet can boost your mood and calm your cough.

Use: egg, bean, vegetable, potato, and rice dishes.
Substitute: basil, marjoram, oregano, or savory

Turmeric
Another root spice can be used in either powdered or root form. It has been used as a dye due to its bright yellow color, as a flavoring in food, and is the primary ingredient in curry powder, and as a supplement for inflammation. The primary active ingredient for health benefits in Turmeric is curcumin. 7 It is packed full of vitamins, nutrients, antioxidants, and fiber.
Use: spice mix for meat or BBQ rub, ingredient for homemade salad dressings or marinades.
---
There are many more spices used in the cooking of Mediterranean meals. These are just a handful of spices and herbs each one has incredible benefits. As we name more you will understand how wonderful this culture is and the meals they make.

When you see these health benefits, the thing to remember is that adding these Mediterranean spices to one dish or eating them for a short period of time will not allow you to reap these health improvements. The key is to include them regularly as part of the Mediterranean Diet.
Mediterranean Spice Mix

Include any of these Mediterranean spices and herbs in your Mediterranean dishes and you will easily elevate their flavor without the need for salt.
Baharat is a blend of spices that typically includes Cinnamon, Allspice, Coriander, Cardamom, Black Pepper, Nutmeg, Ginger, and Cloves. The actual blend may vary by region. It gives a sweet and smokey zip to almost any dish.
It is best to start with small amounts until you are familiar with the spice. For a marinade mix with lemon and olive oil. You can also sprinkle on olive oil for a dip with bread.
Use: meat vegetables, rice, and lentils.

Tabil is a blend of earthy coriander, aromatic garlic flakes, caraway seeds, and spicy chili.
Use: add spice and warmth to meat dishes, and yogurt sauces.
Za'atar is a blend of spices and herbs that adds a savory citrusy flavor to your meals. Za'atar mixes vary from a base of thyme, toasted sesame seeds, and sumac. Additions of marjoram, oregano, and salt are also popular.
Use: Enjoy mixed with olive oil with crusty bread for dipping. Use it as a marinade for tofu or mix the spices into breadcrumbs if you're making breaded veggies. Sprinkle on hummus, and grilled chicken, and mix with feta cheese, tomatoes, and onions.
Learn more about the Mediterranean Diet Guidelines so you can learn how to eat this healthy diet.
How to Grow Your Own Fresh Herbs
If you love cooking with fresh herbs you can easily grow your own. Worried you don't have ideal conditions?
Herbs are forgiving plants and can easily be grown in a window sill planter, or a container where you have limited space on a patio or balcony.
To grow your own herbs, simply fill your container with a planting mix for Herbs and Vegetables. Add a rooted starter herb plant and surround it with soil. Set the container in a spot where it will get 6-8 hours of sun daily or in a sunny window. Water sparingly.
Want fresh herbs year-round? Simply bring your containers indoors to a sunny window or transplant them to indoor containers.
Bring herbs up to your level with an elevated plant stand.
Not sure which herbs to start with? I chose oregano, thyme, basil rosemary, and parsley for my garden. Or order a starter kit of fully rooted herbs.
I am amazed at how quickly the starter plants took off and I love having fresh herbs for my recipes.
When I need fresh herbs I simply take my kitchen scissors and snip the amount I need. I rinse them underwater and dry them with a paper towel. Before chopping, I strip the leaves from the stems and then finely chop them. Chopping before use helps release aromatic oils in the herbs and spices.
So easy and the fresh herbs add bright color to my recipes. Try it!
October 2022 Update: Minor post updates.
---
---
Follow Me on Facebook and Pinterest.
---
---
Medical Disclaimer
This site contains general information about diet, health, fitness, and nutrition. This information should not be used to diagnose, treat, prevent, or cure any disease or condition. Please consult with your physician before using any dietary supplement or before beginning a diet or exercise program.
---
---