This post may contain affiliate links. This means I may make a small commission at no additional cost to you when you make a purchase. Find out more in the Disclosure Policy
Olive oil is a primary fat for the Mediterranean Diet. I use it to saute, bake, and make a simple Mediterranean olive oil salad dressing.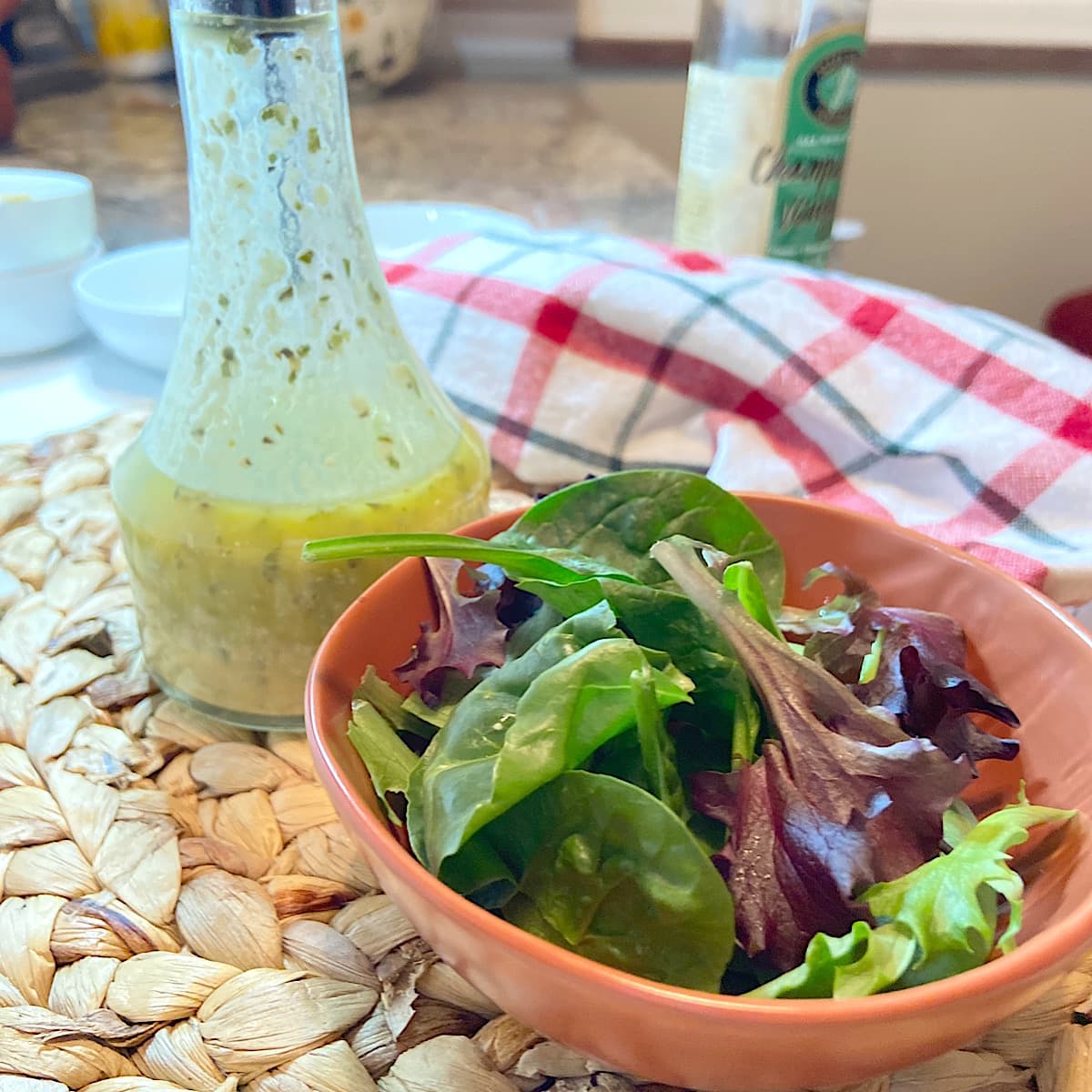 I like cooking from scratch. The major benefit is that you can control what you are eating. I know exactly what is in the recipe and I can limit artificial preservatives, sugars, and salt.
Take a minute and whip up a batch. You will be surprised at the great flavor of homemade dressing.
It's easy to make a Mediterranean dressing for salads or vegetables, or a marinade for chicken, pork, or even salmon. You just need a few minutes and most of the ingredients will be in your pantry.
Ingredients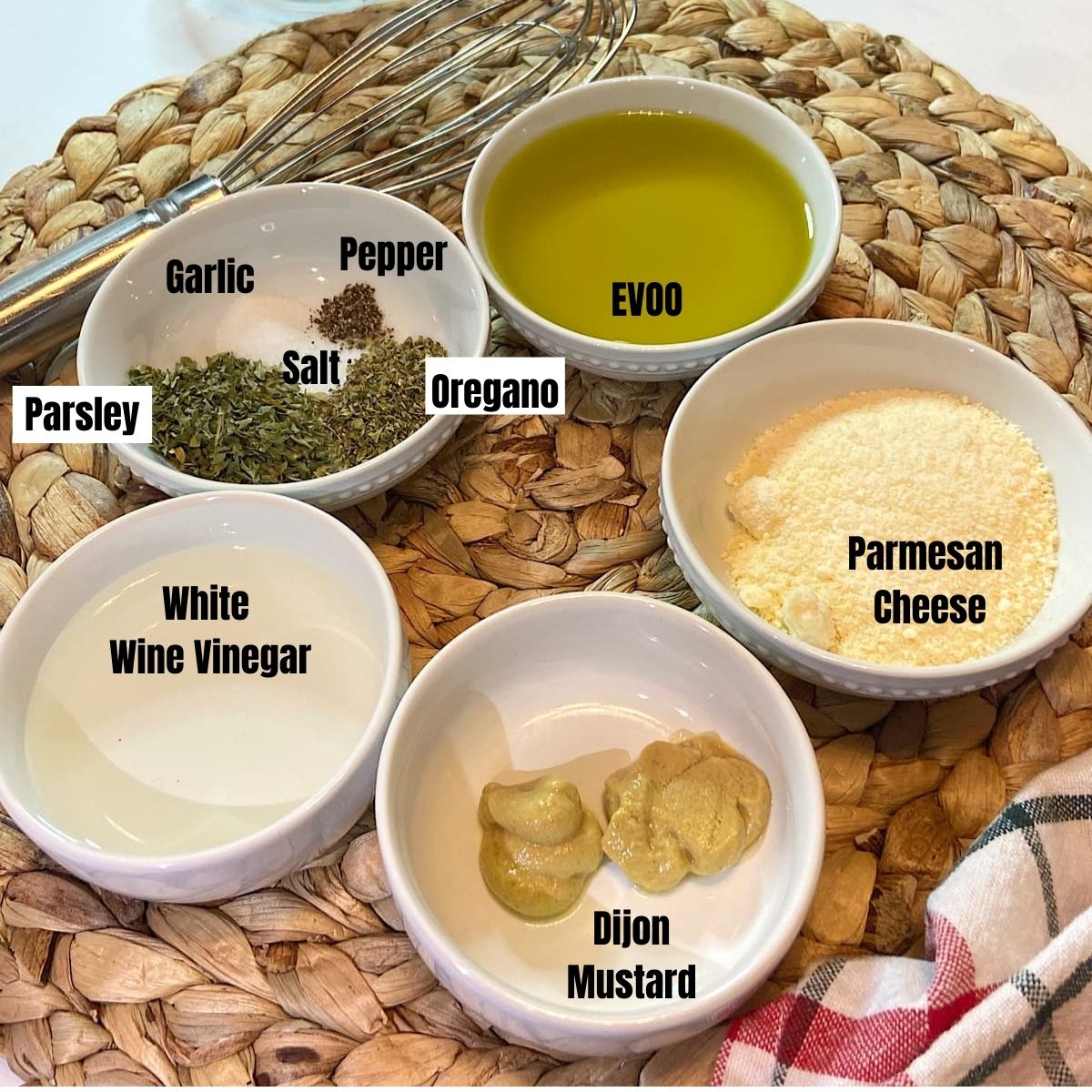 This Mediterranean diet salad dressing uses simple ingredients right from your pantry:
minced garlic, salt, pepper
Instructions
This salad dressing is a vinegarette. Traditional vinaigrettes typically call for three parts oil to one part vinegar. To form the dressing you mix the oil and vinegar together.
Step 1. Start by mixing the garlic, spices, salt, and pepper with the vinegar.
Step 2. Mix the oil into the vinegar mixture. This can be done by:
using a whisk to mix the oil into the vinegar in a bowl,
by shaking the oil and vinegar in a shaker bottle or jar,
by pulsing in a food processor, or
mixing with an emulsion blender.
Step 3. Whisk in the Dijon mustard.
Step 4. Transfer the dressing to a container to store for use later.
Step 5. Drizzle dressing on your salad and lightly toss. Enjoy.
Frequently Asked Questions
What Can I Substitute for White Wine Vinegar

You can substitute regular white vinegar or apple cider vinegar. The final dressing will have a sharper flavor.

For this dressing, I use the base of red or white wine vinegar. Wine vinegar has a smoother flavor than regular white vinegar or apple cider vinegar.

You can also use balsamic vinegar if you are looking for a dressing with a tangy-sweet flavor.

For a dressing alternative, try my recipe for Raspberry Balsamic Dressing.
Why Extra Virgin Olive Oil

Using Extra Virgin Oil Oil is important. There really is a difference between different types of olive oils. Extra virgin olive oil is more expensive but also has more benefits.

To learn more about olive oils, read my post, 4 Key Differences in Olive Oils.
How to Store Homemade Dressing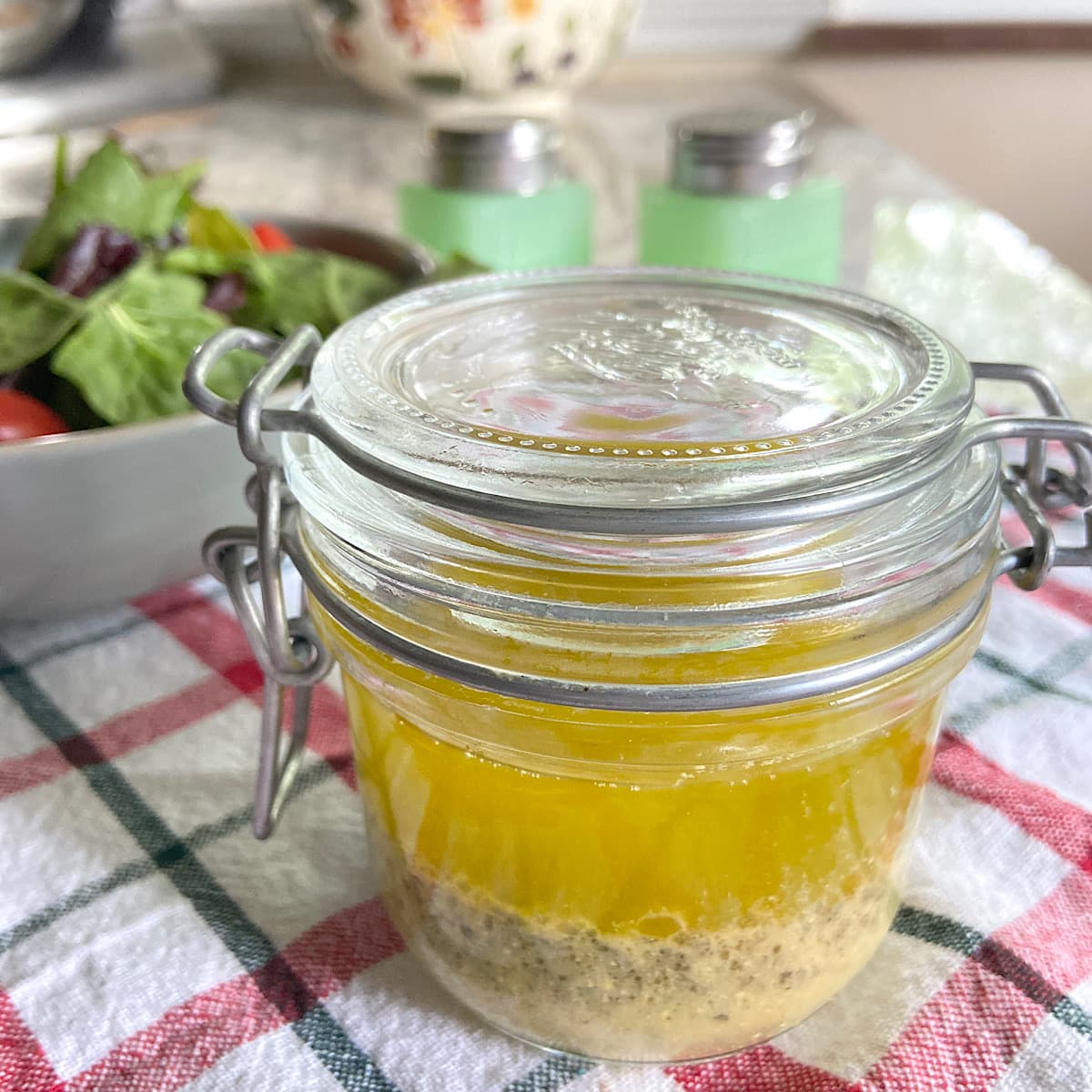 It's a good idea to store this Mediterranean vinaigrette in a sealed container.

Depending on the ingredients you use to make a vinaigrette determine if it needs to be refrigerated.

A basic olive oil and vinegar dressing mixed with salt and pepper can be left in the pantry. When other ingredients are added to this simple mix they may become rancid at room temperature. this makes it necessary to refrigerate the dressing.

When in doubt store dressing in the refrigerator. It will keep up to one to two weeks when refrigerated.


How to Use Dressing After Refrigeration

While olive oil is a liquid at room temperature, storing this dressing in the refrigerator may cause it to solidify.

No worries. Just set out for 15 minutes or more prior to servings. Shake well to emulsify and enjoy.

Once this dressing sits for a while the olive oil will separate from the other ingredients. Give the jar or container a shake to resuspend.
How to Use Olive Oil Salad Dressing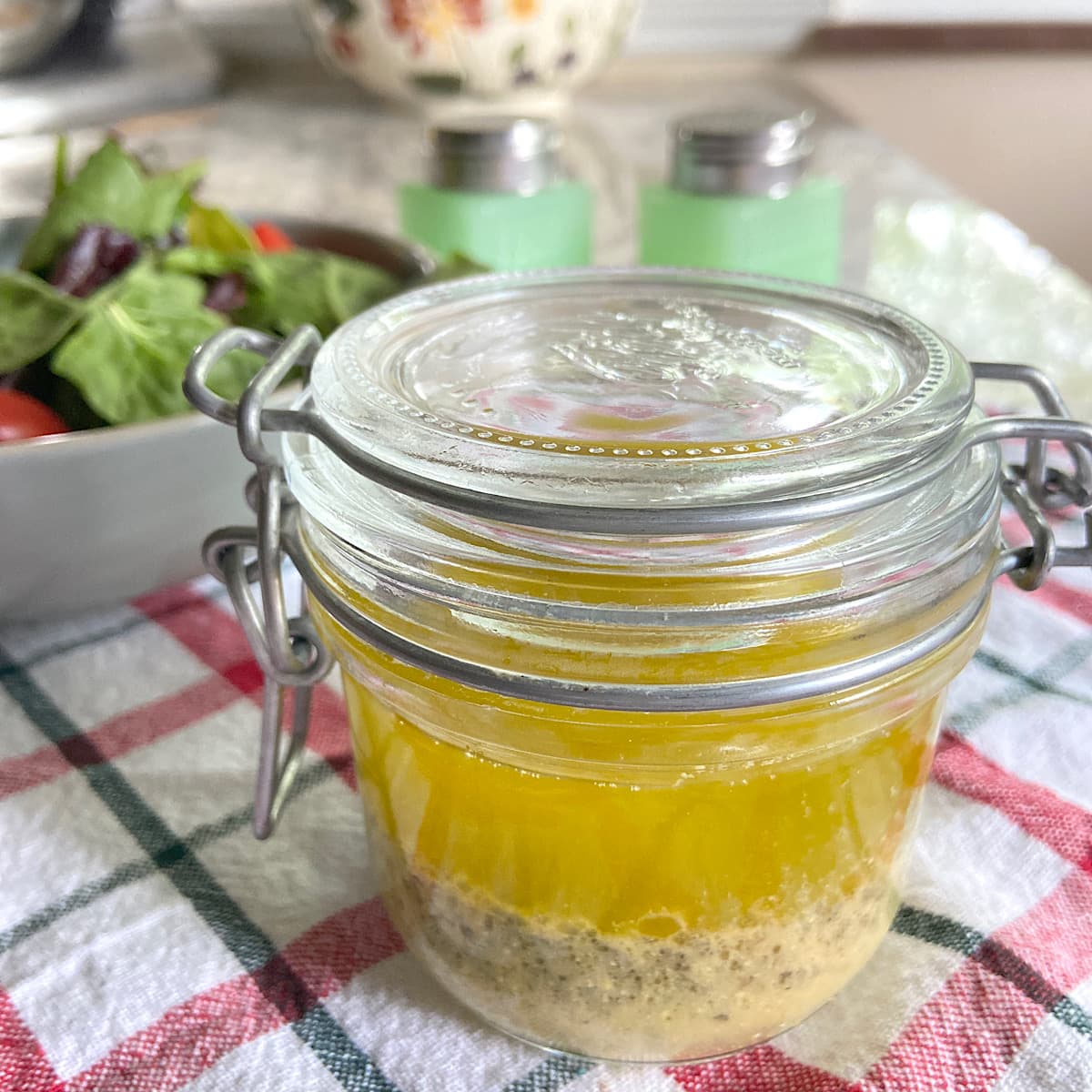 This versatile olive oil and vinegar dressing can be used to coat a salad of greens and vegetables. You can also use it as a marinade for chicken, fish, or even beef.
Other Healthy Salads for You
---
October 2022 Update: Updated post and images.