This post may contain affiliate links. This means I may make a small commission at no additional cost to you when you make a purchase. Find out more in the Disclosure Policy
This homemade Chocolate Chip Cookie Ice Cream Cake is a simple and perfect recipe to make with kids for a special occasion or birthday.
Made with ingredients we all love, it is full of chocolate and vanilla flavors with a crunchy, fudgy cookie crust.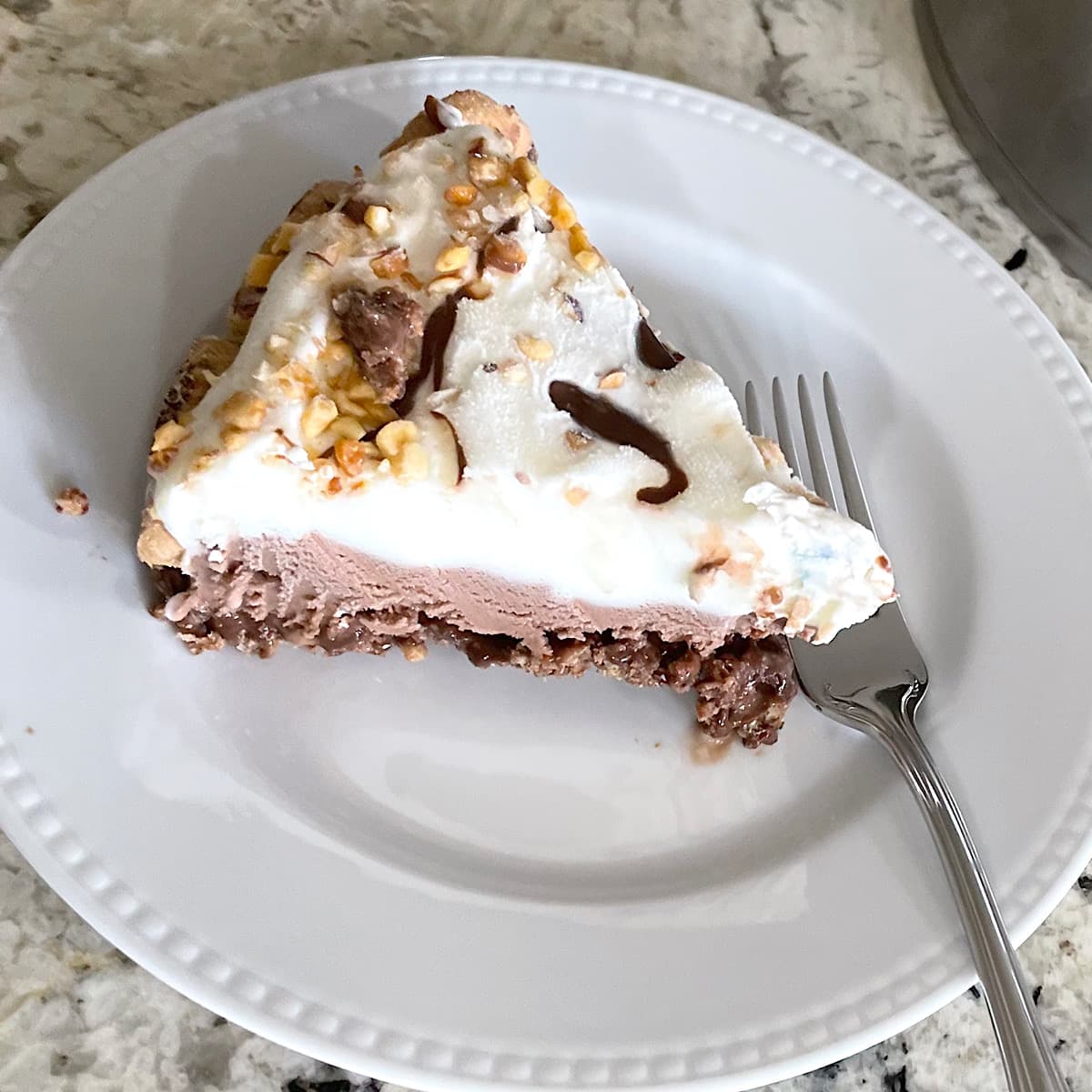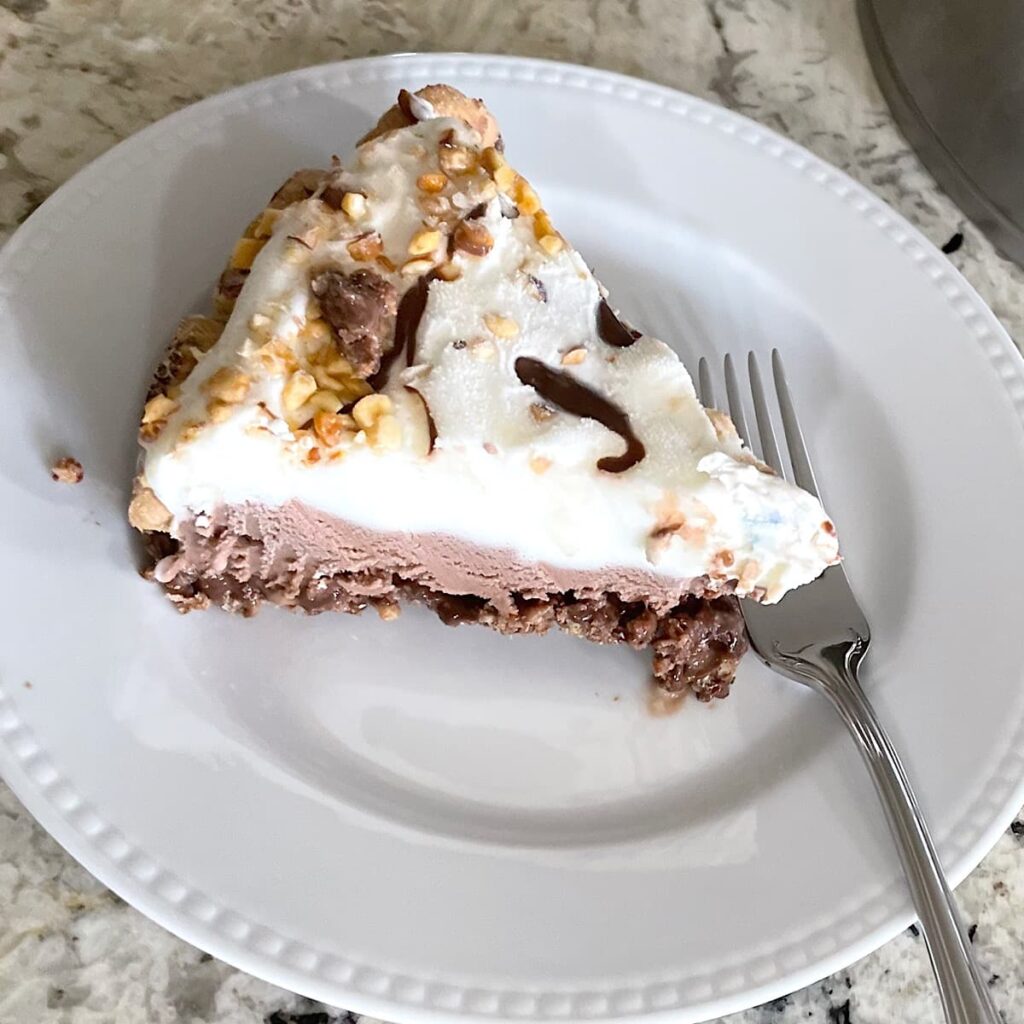 This ice cream cake is one of my mom's specialties. She makes it for her grandkid's birthdays and it is always a hit and gone in a flash.
She adapted her version from a recipe titled Cookie Ice Cream Cake found in a Taste of Home Dessert Cookbook that she picked up years ago.
There are several steps to building the cake, but the recipe is simple enough to make with young kids. This cake can be made up to a week in advance which will help free up time prior to your special event.
Perfect for a birthday or other special occasion.
Ingredients for Ice Cream Cookie Cake
miniature chocolate chip cookies
How to Make Chocolate Chip Cookie Ice Cream Cake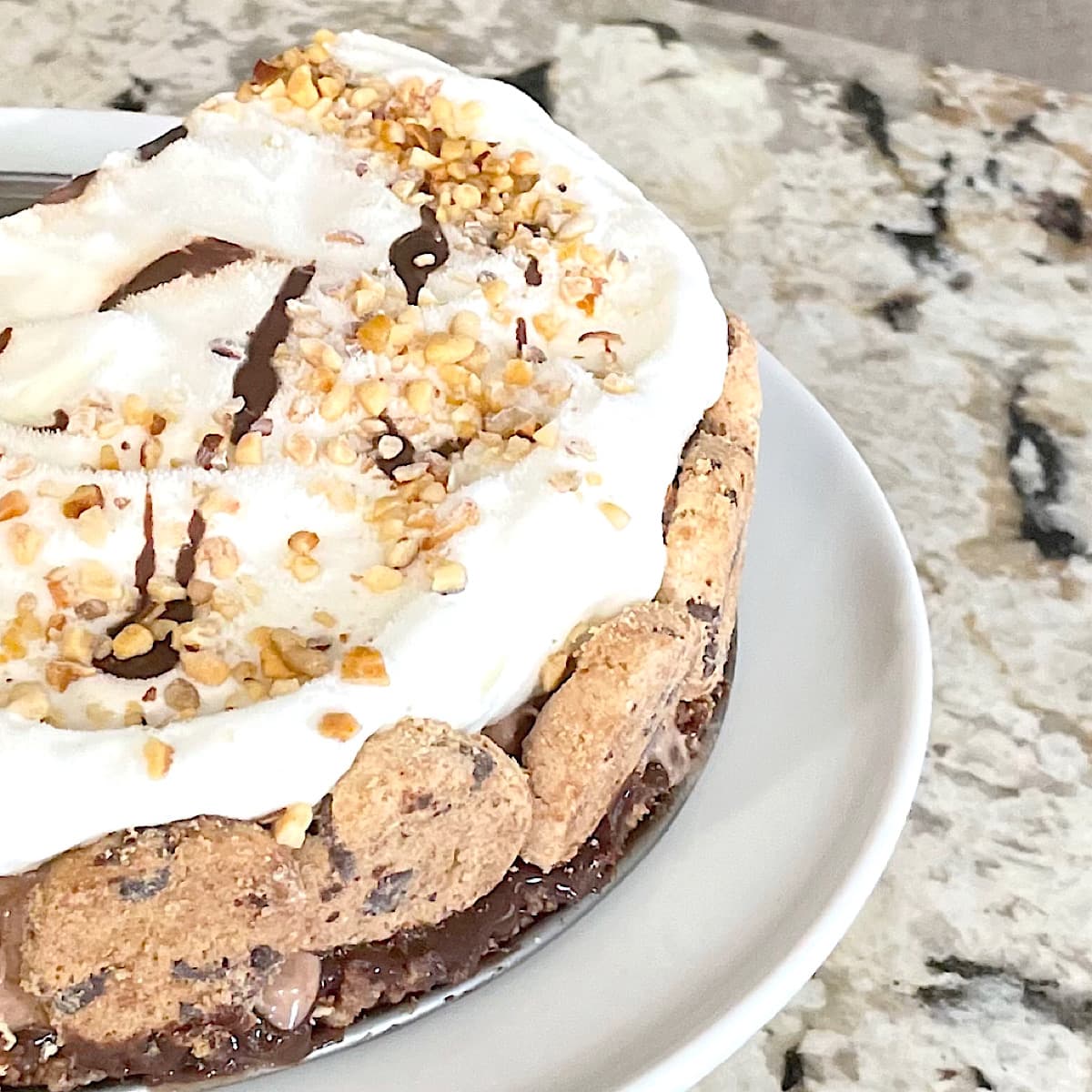 There are several steps to put this recipe together, but when followed in order, it is a simple recipe that produces a big visual impact.
For this recipe, I used Famous Amos Mini Chocolate Chip cookies. They have a good crunchy texture, but you can substitute an alternative cookie that you have on hand.
Take 25 cookies and place them in a zip lock bag. Close the bag and crush with a rolling pin until you have fairly large crumbs.
Mix crumbs with melted butter. Press crumbs into the bottom of a springform pan.
Place pan in the freezer for 15 minutes.
Heat fudge topping in a glass cup for 15-30 seconds until pourable. Mix fudge with a spoon and spread over cookie crust. Spread evenly to the edge of the pan.
Place remaining cookies on end, side by side on edge of pan to create a cookie crust.
Place pan in the freezer for 15 minutes.
Remove chocolate ice cream from the freezer to soften.
Stir ice cream and spread evenly over cookie crust to edge of the pan.
Place pan in the freezer for 30 minutes.
After 15 minutes set out vanilla ice cream to soften.
Stir and spread vanilla ice cream over the chocolate layer to the edge of the pan.
Heat remaining hot fudge sauce in the microwave until pourable. Drizzle lightly over vanilla ice cream.
Sprinkle chopped nuts around the outside border of the ice cream.
Return to the freezer for at least 30 minutes until the ice cream has hardened.
How to Store an Ice Cream Cookie Cake
My mom has made this cake up to a week in advance.
Store in springform pan. Wrap the pan in cling wrap and then wrap securely in foil.
Leftover cake can be stored in the freezer for up to 2 months.
What to Serve with Chocolate Chip Cookie Ice Cream Cake
This Ice Cream Cake can be a stand-alone dessert for any special occasion. For additional chocolatey flavor, serve with a spoonful of hot fudge sauce.
Another moist and flavorful cake that would work well with Ice Cream Cake is Coconut Refrigerator Cake. This moist and flavorful cake is another make-ahead cake that will free up time as you prepare for your special occasion.
Looking for more dessert recipes? Take a look at Meal Plan Mondays by Southern Plate Big Bear's Wife for a variety of new recipes every Monday.
Other Tasty Dessert Recipes for You
---