This post may contain affiliate links. This means I may make a small commission at no additional cost to you when you make a purchase. Find out more in the Disclosure Policy
These mouth-watering Cherry Cream Cheese Bars are made with a pecan-shortbread-like crust, a creamy cheesecake layer, and an almondy cherry topping with a coconut-pecan crumb. Cut into single-serving bars, these tasty treats are perfect for that potluck or large family gathering.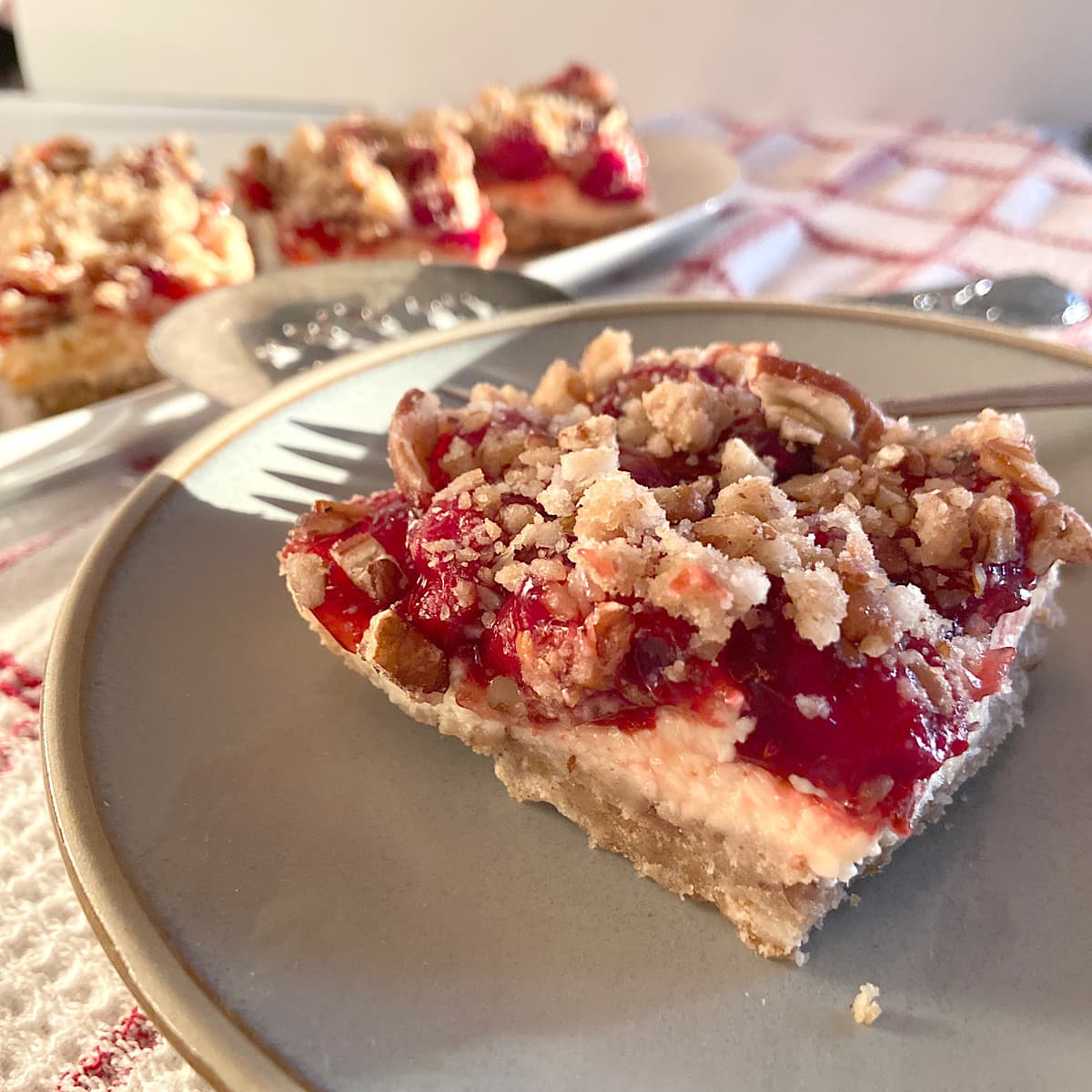 Someone in my family makes these Cherry Cream Cheese Dessert Bars for almost every family gathering. Made especially at Christmas, it is a recipe that is easy to make that will please a wide variety of taste buds.
Ingredients
Instructions
Step 1. Preheat the oven to 350F. Set cream cheese and eggs on the counter to come to room temperature. Use a food chopper #ad to chop half of the nuts finely for use in the crust and the remainder pulse several times for a larger chopped nut for the topping. Set aside.
Step 2. Mix flour and brown sugar in a bowl. Using a pastry blender or fork, cut in the shortening until it forms large crumbs and there is no remaining flour or brown sugar. Add in finely chopped nuts and coconut. Mix well. Reserve 1/2 cup of crust for topping and set aside.
Step 3. Use the remaining shortening from the measuring cup to lightly grease the 9 x 13 baking dish. Sprinkle crust mixture over the baking dish and press with a hand to compact and form a crust. Bake on the bottom rack of the oven for 15 minutes until the crust just starts to brown.
Step 4. In a large mixing bowl, using a hand mixer, beat cream cheese and sugar until well blended. Add eggs, one at a time, and beat until blended. Add vanilla and continue to beat with a mixer until the cream cheese mixture is smooth. Spread evenly over hot crust. Return the baking dish to the oven and bake for 15 minutes.
Step 5. Mix almond extract into the cherry filling. Spread evenly over the cream cheese layer. Add chopped nuts to the reserved crust crumbs. Sprinkle over the top of cherry filling pressing in your hand to form large crumbs. Bake on the bottom rack of the oven for 15 minutes.
Step 6. Remove pan from oven. Cool to room temperature. Cover and store in the refrigerator until ready to serve. Cut into bars and enjoy.
Frequently Asked Questions
How to Store Dessert Bars

These dessert bars include a cream cheese layer so should be stored covered in the refrigerator for up to 7 days.
Can This Recipe be Split

This is an easy recipe to split. Just halve the ingredients for the crust and filling and use a 9 x 9 pan. You can use the whole can of cherry pie filling or use half and discard the remainder.
How to Make a Thicker Cream Cheese Layer

This dessert bar has a thin layer of cream cheese. If you prefer more cream cheese flavor, use 3 packages (8 ounces) of cream cheese, 1 cup of sugar, 3 eggs, and 3 teaspoons of vanilla for the filling. Keep the crust ingredients the same. This will thicken the cream cheese layer.
How to Serve Dessert Bars
Cherry cheesecake bars with a shortbread crust are a perfect dessert for a potluck or large family gathering.
I make Cherry Cream Cheese Dessert Bars as a special treat for Valentine's. Day. They are stored in the refrigerator and served cold or at room temperature. Perfect with a cup of coffee or tea.
Other Family Favorite Dessert Recipes for You
---