This post may contain affiliate links. This means I may make a small commission at no additional cost to you when you make a purchase. Find out more in the Disclosure Policy
Easy Pistachio Pudding Dessert bars are filled with a crunchy pecan shortbread crust with layers of creamy cheese and pistachio almond pudding. You will probably want another slice and more of these delicious pistachio dessert bars.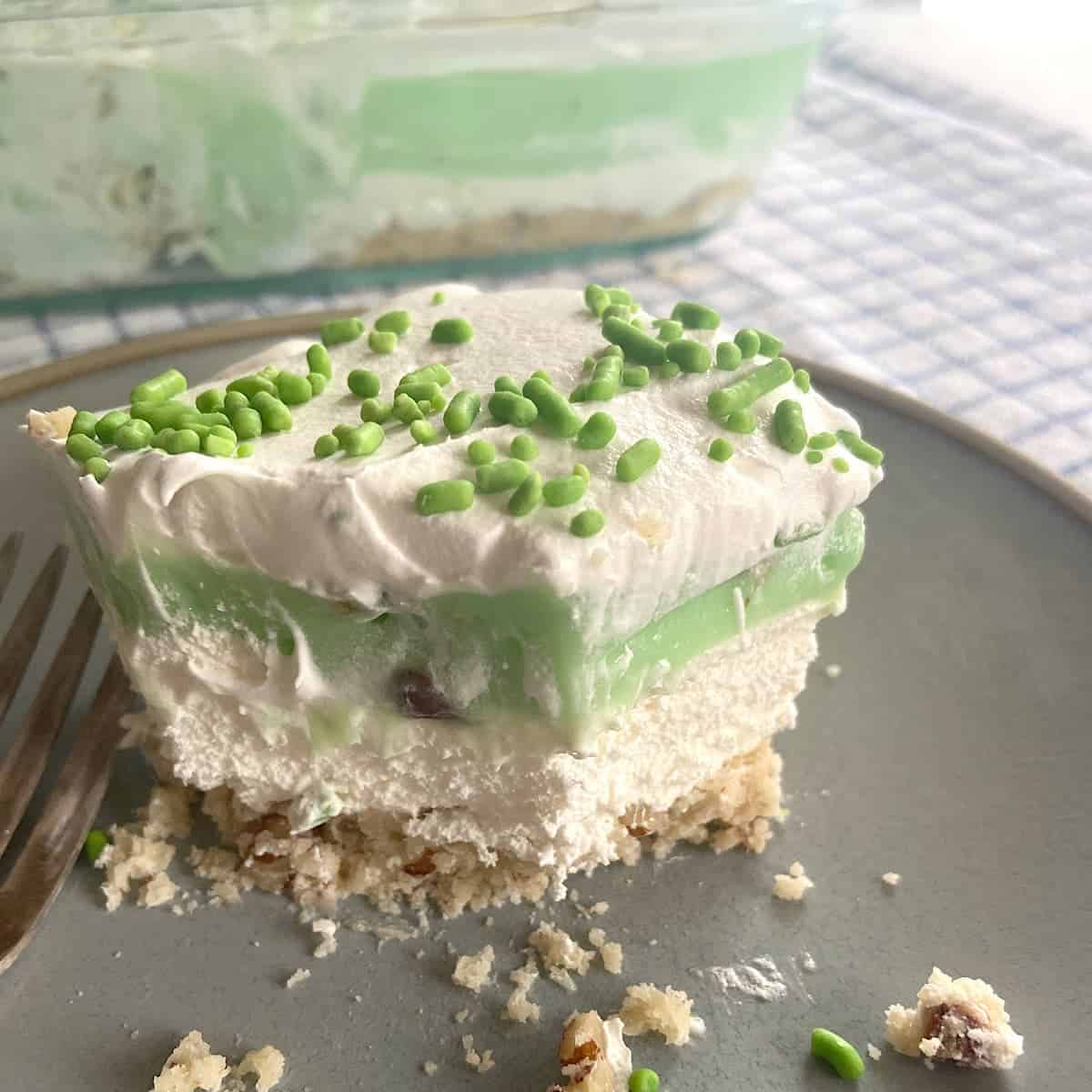 The kelly green color of the pistachio pudding makes these bars a perfect dessert for St Patrick's Day. I make these pistachio pudding bars every year. My family loves this dessert.
This is a layered dessert where you made the crust and then layer on the luscious cream cheese and pudding layers.
My original recipe made a 13 x 9-inch recipe with 15 servings. While my family loves this dessert, it was just too much for our family.
This recipe makes a smaller recipe with just 9 servings.
Ingredients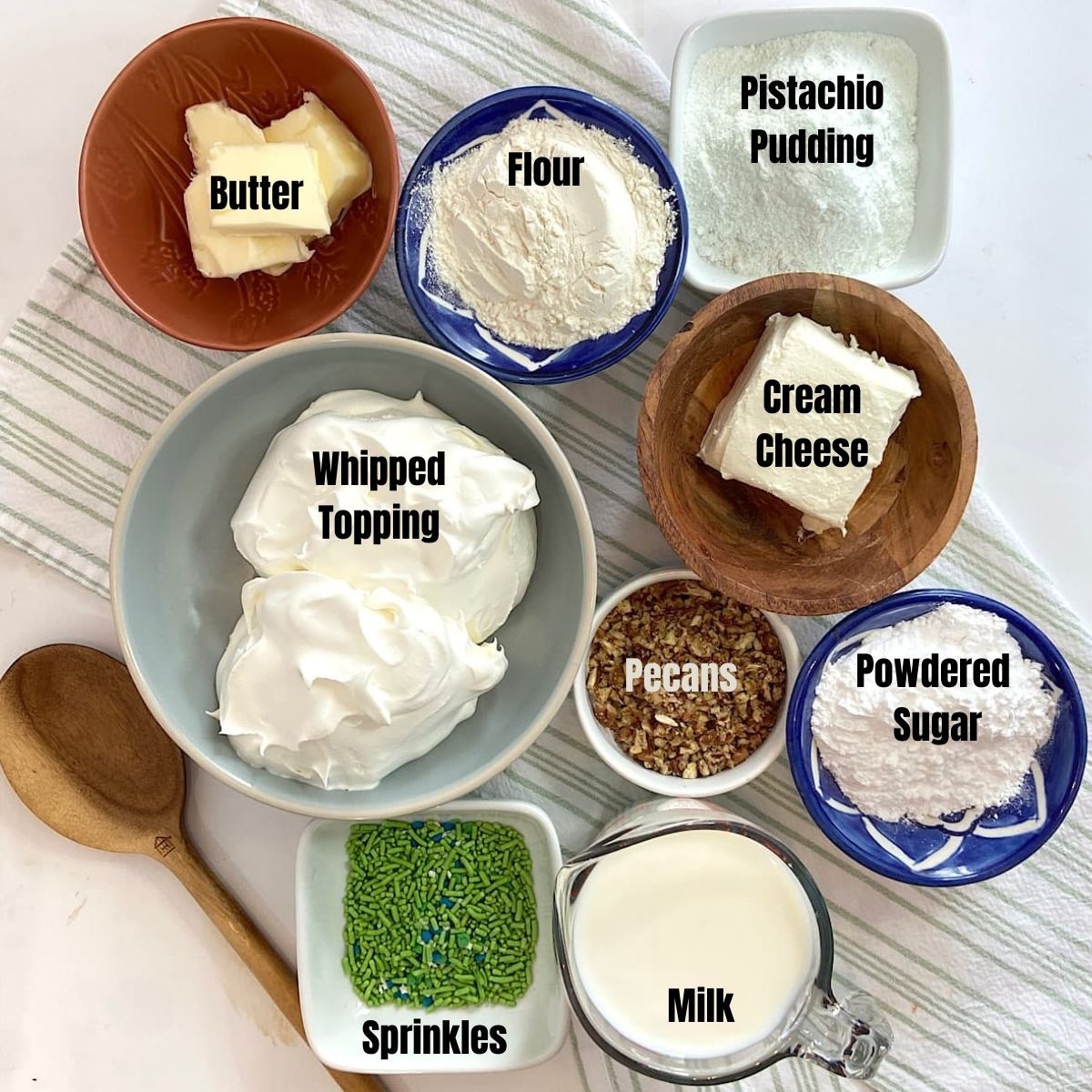 The shortbread crust for this dessert is formed from a mixture of flour, butter, and pecans.
This recipe's flavor starts with a layer of instant pistachio pudding mixed with milk. I am not generally a big fan of instant pudding, but in this recipe, it works. The pistachio almond flavor carries the dessert.
The crust is a simple shortbread crust made with all-purpose flour, chopped pecans, and butter.
Cream cheese mixed with powdered sugar and whipped topping form a sweet cheese layer.
Finally, whipped topping completes the layers.
Instructions
Prior to starting this recipe, set out the cream cheese, whipped topping, and butter. Allow ingredients to come to room temperature for about 30 minutes. Preheat oven to 350F.
Crust
Step 1. Cut butter into the flour with a pastry blender. Add in finely chopped nuts.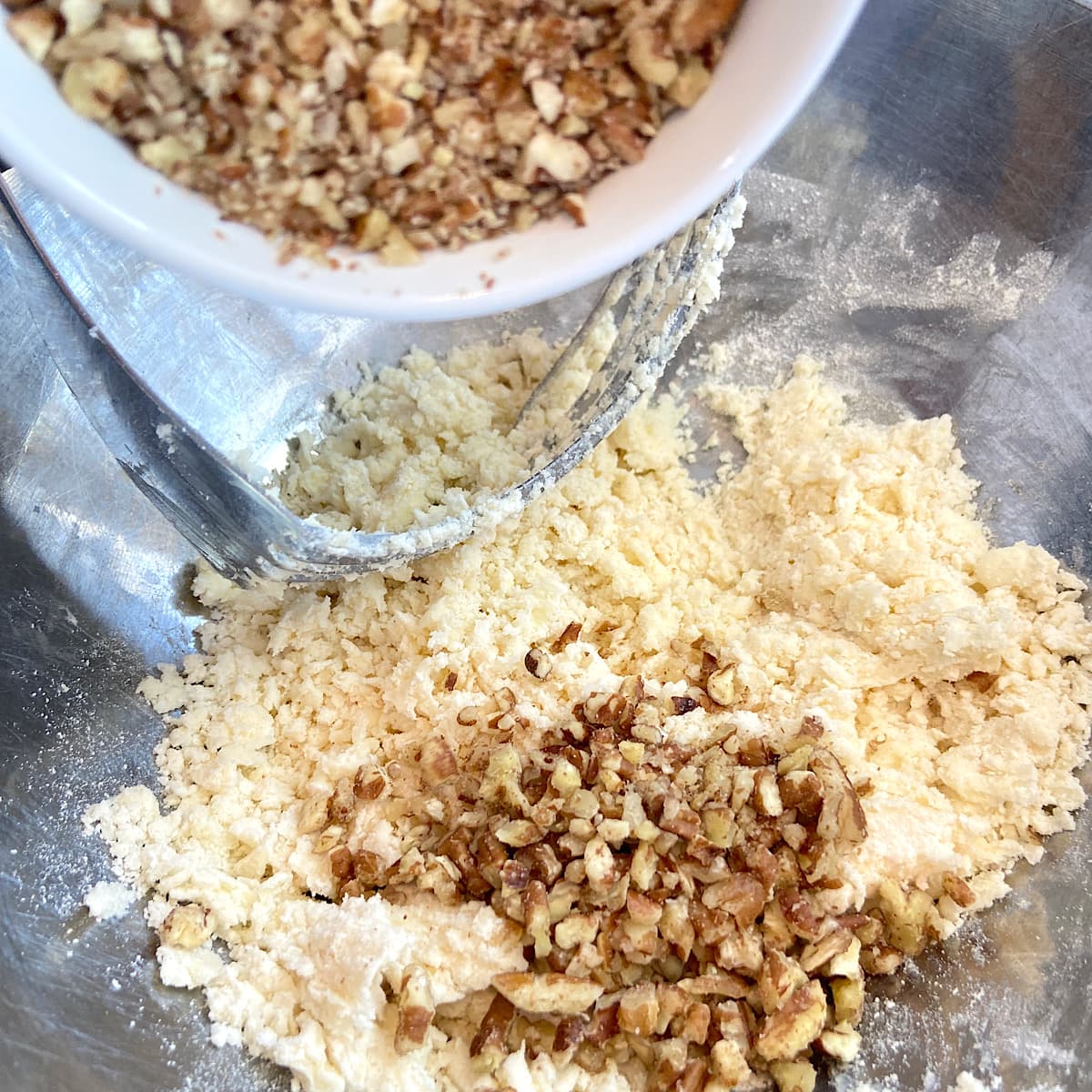 You can buy small bags of finely chopped nuts, or you can process whole are large piece pecans in a food processor. My KitchenAid chopper has the job done with 4-5 pulses. I love the red color. It is so cute.
Step 2. Sprinkle crust mixture evenly over the bottom of the baking pan. Press firmly against the bottom of the pan to form a crust. Place on the bottom rack of the oven and bake at 350F for 15 minutes.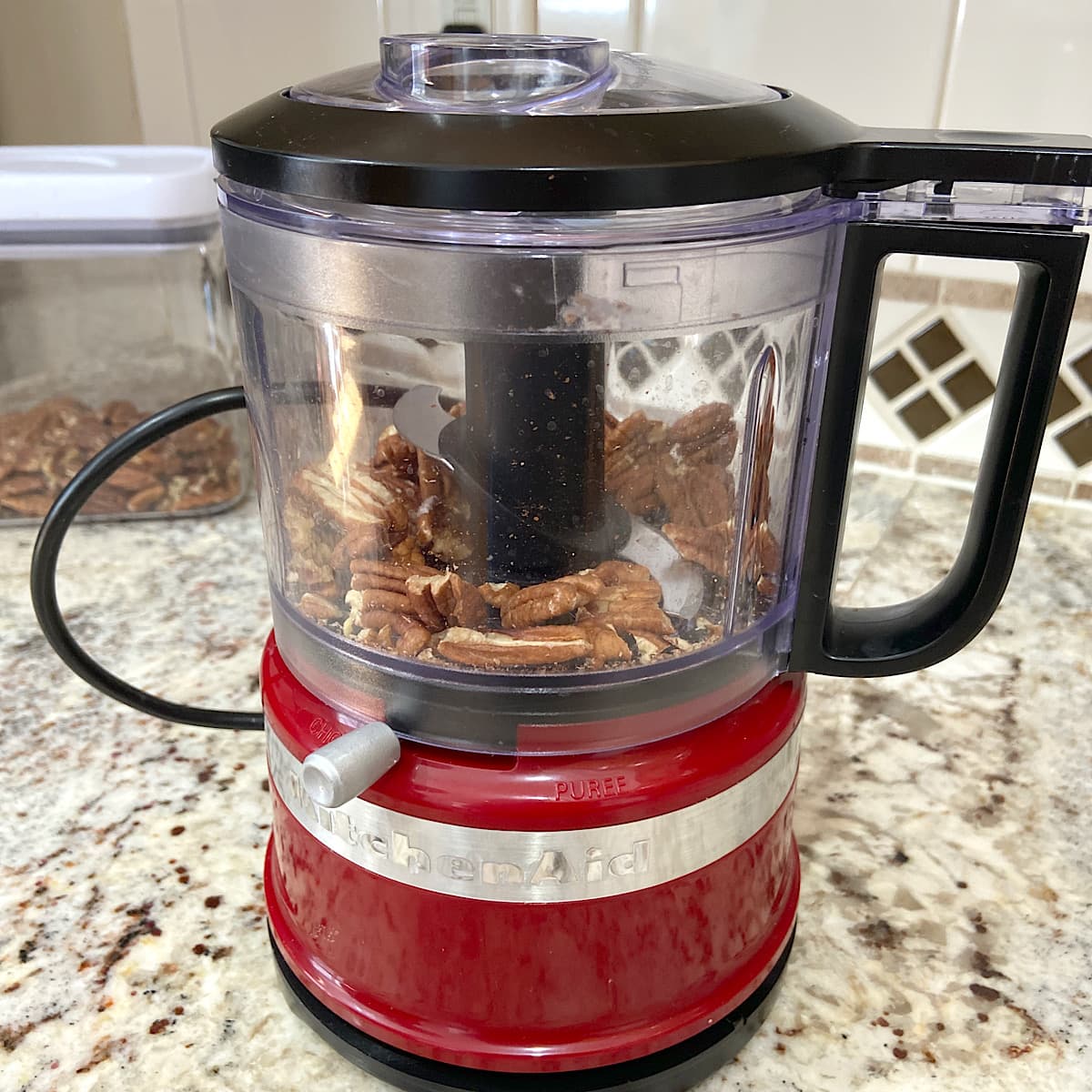 Remove crust from the oven and set aside to cool. This will take approximately 30 minutes. When your crust is no longer warm you can start to make the dessert layers.
Cheese Layer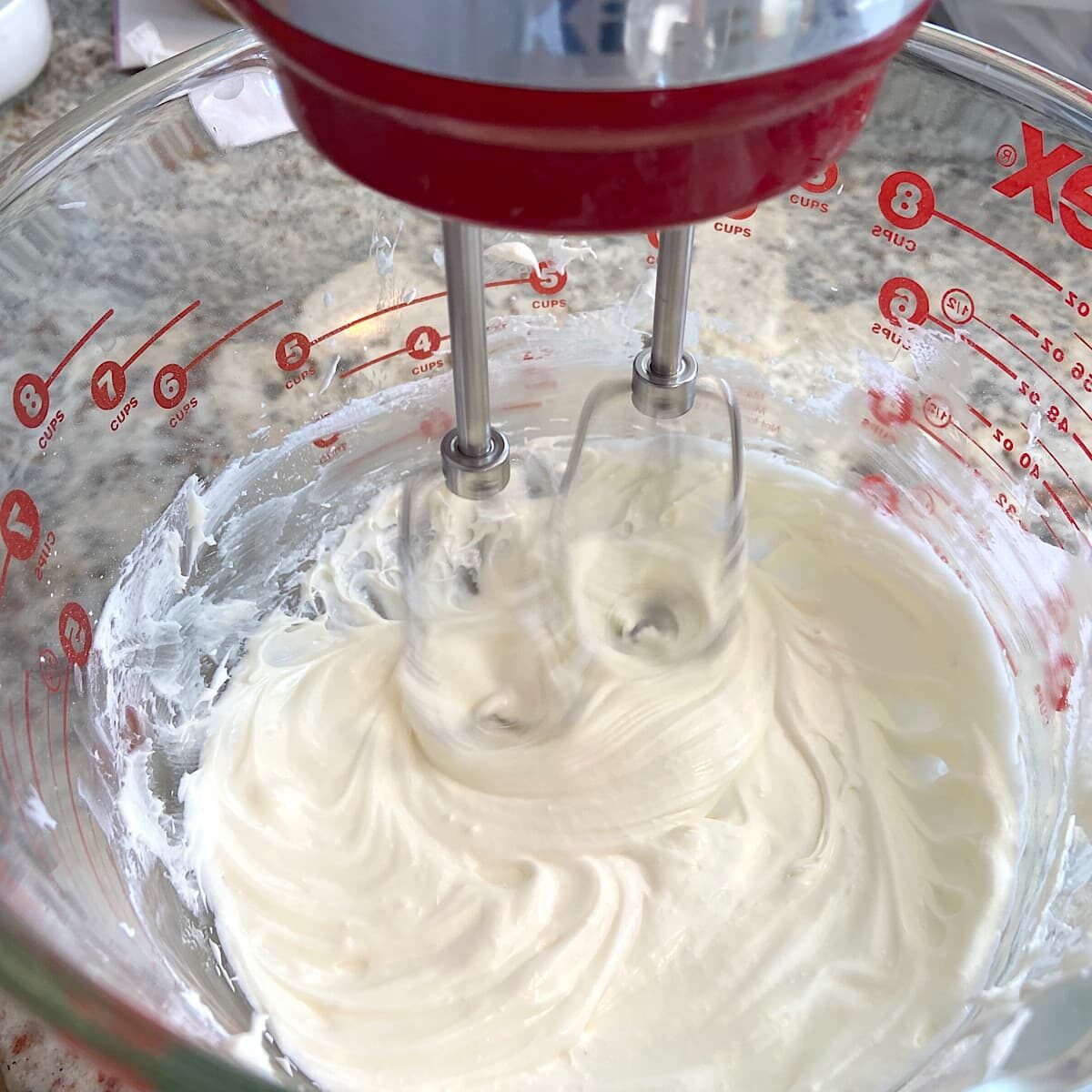 Step 3. In a mixing bowl cream the powdered sugar into the cream cheese. Add whipped topping and mix until it forms a thick cream. This should not be too stiff. It should easily spread. If it is too stiff then add an extra tablespoon of whipped topping.
Gently spread the cream cheese layer over the crust using the back of a metal spoon. The crust may try to lift if the cheese mixture is too stiff. Continue to lightly spread the cheese mixture to the edge of the pan to seal the layer.
Pudding Layer
Step 4. Pour the pudding mix into a mixing bowl. Add half the milk and blend on low. Then add the remainder of the milk and mix on medium until the pudding starts to thicken.
Pour over the cheese layer and spread evenly to the edge of the pan. Set in the refrigerator for 10 minutes to allow the pudding layer to set.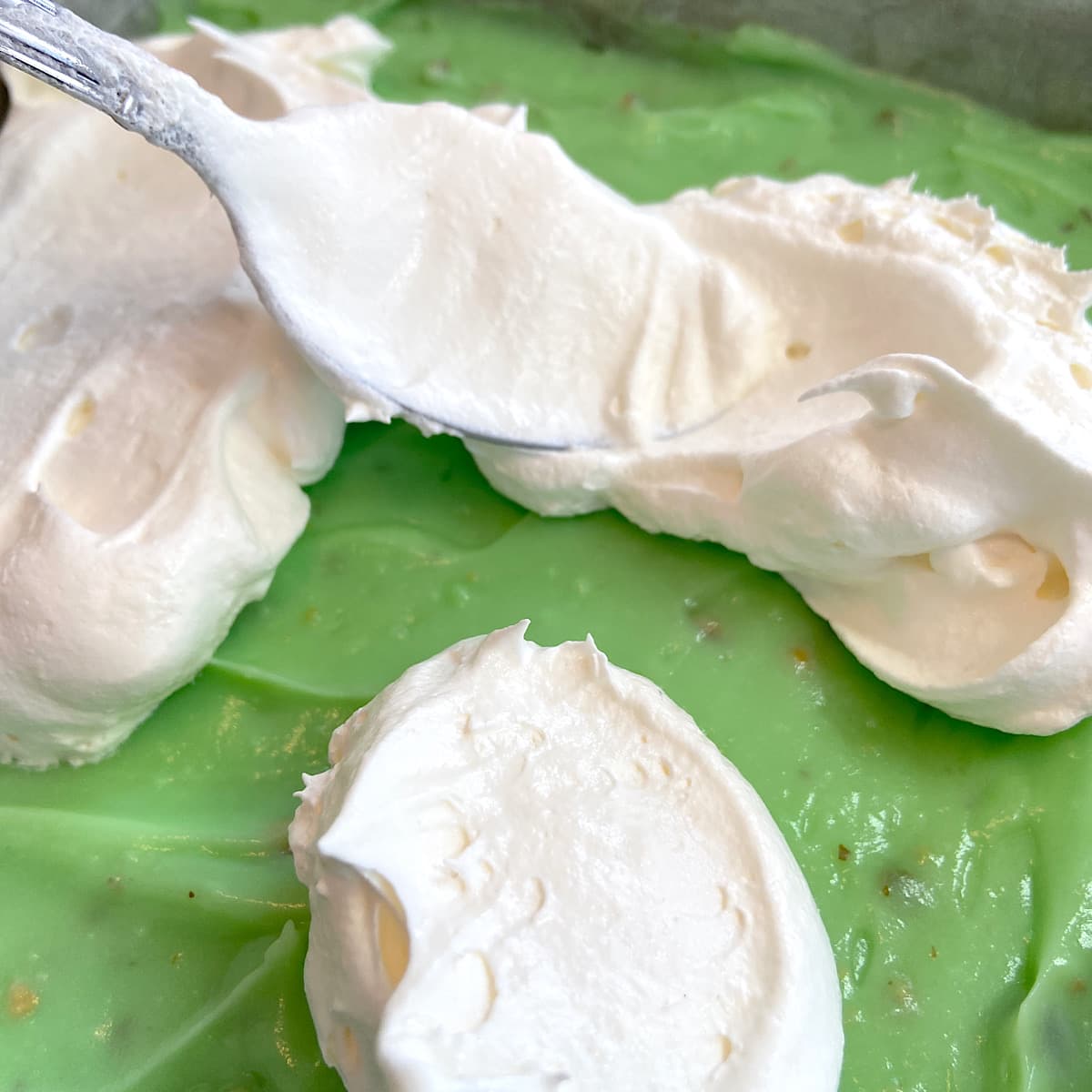 Step 5. Finish the layers with a coating of whipped topping. Spread evenly over the pudding to the sides of the pan to seal the dessert.
Step 6. If desired garnish with sprinkles or chopped pecans.
Step 7. Cover and refrigerate until completely cool and set. Cut and enjoy
Frequently Asked Questions
How to Store Pudding Dessert Bars

Pistachio pudding dessert bars should be stored in an airtight container in the refrigerator until served. For the best consistency, store them for up to 3-4 days in the refrigerator, if they last that long at your house.
Other Special Occasion Desserts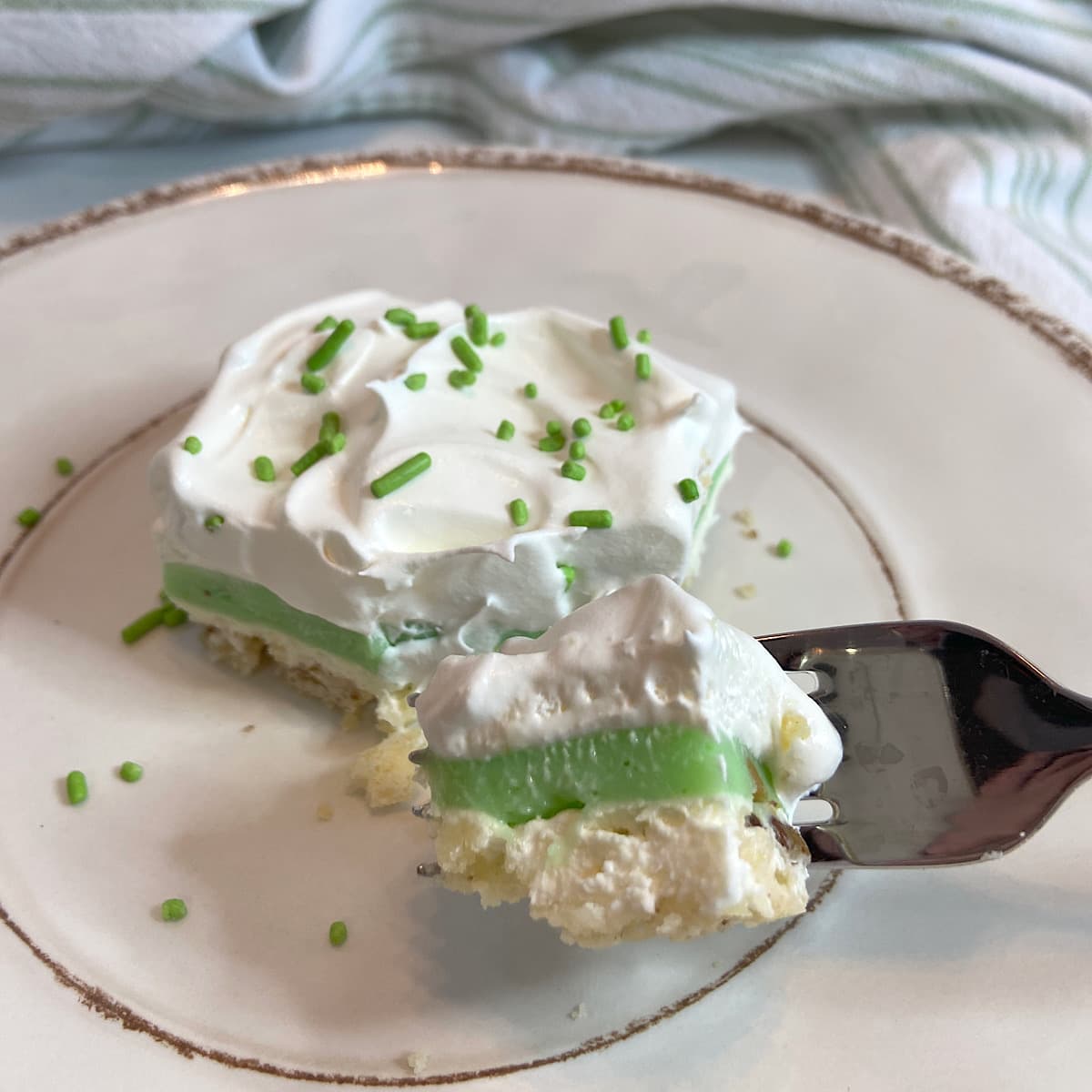 Pistachio Dessert Bars are one of my favorite special occasion desserts. Check out my Dessert Recipes for a variety of mouth-watering options. From healthy Whole Wheat Muffins to flakey pies.
Looking for more tasty desserts to serve on St Patrick's Day or any day? Check out the Best Delicious St Patrick's Day Desserts over at Smart Party Planning.
Other Dessert Recipes for You
---