This post may contain affiliate links. This means I may make a small commission at no additional cost to you when you make a purchase. Find out more in the Disclosure Policy
These Healthy Spice Cookies are full of spice flavors and made with healthier ingredients. Take a break and enjoy a cookie with a cup of coffee or tea.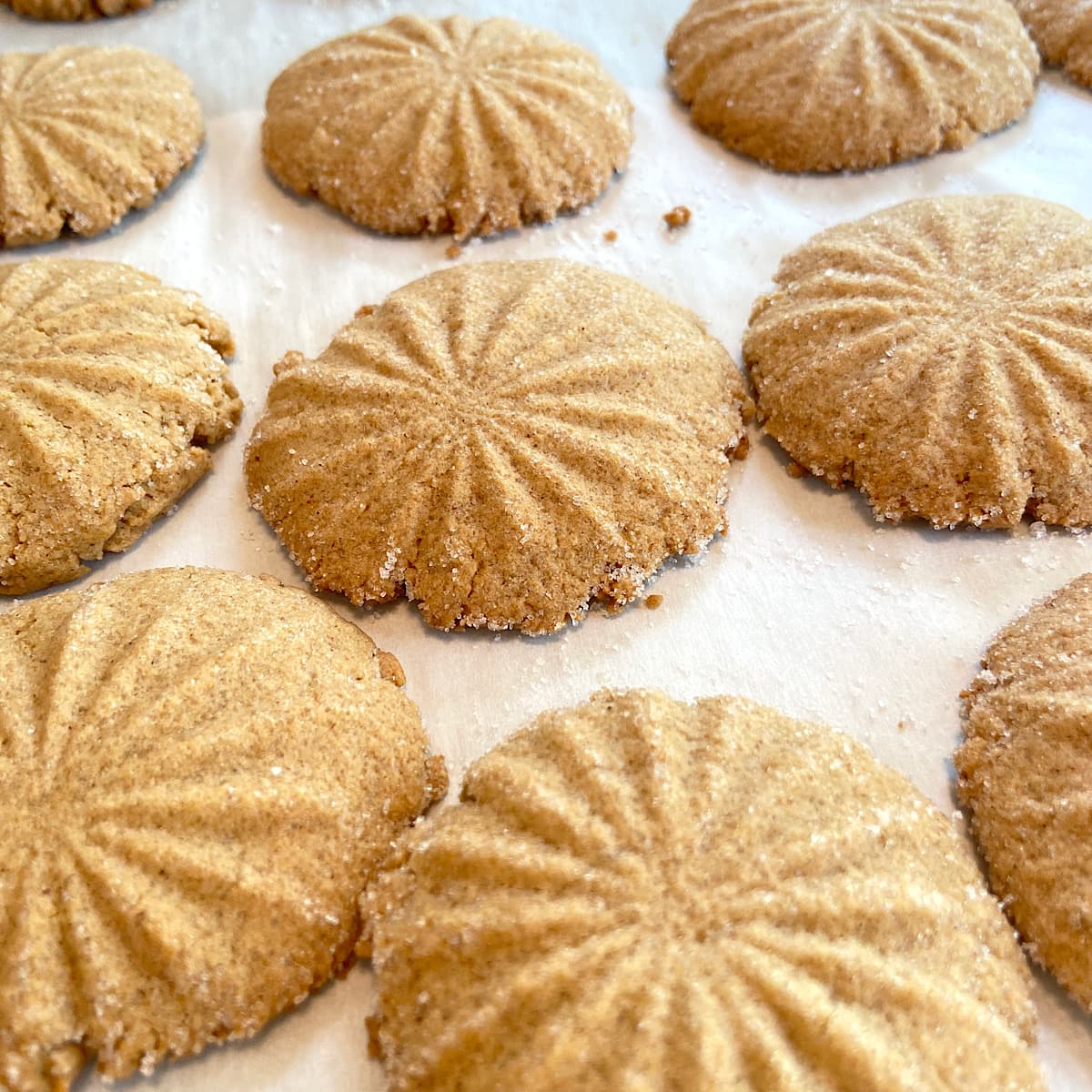 Sometimes you just want a cookie. Spice cookies are one of my favorites.
When trying to eat healthily, you try to avoid most baked goods. These tender cookies are made with healthier ingredients and less sugar so you can enjoy a cookie or two as a snack. They are less sweet than sugar cookies with more of a biscuit texture.
Ingredients
This recipe is made with a mixture of whole wheat pastry flour and all-purpose flour. It includes baking soda as a leavening agent.
In cookies, I prefer the texture of the cookie when the recipe uses a mixture of whole wheat pastry flour and all-purpose flour.
When incorporating more whole wheat flour into cookie recipes, start with using 25% of the flour. Whole wheat flour including the lighter whole wheat pastry flour has a different flavor and texture than all-purpose flour. As you get used to baking cookies with whole wheat pastry flour, try using more in the recipe.
Spices include allspice, cinnamon, cloves, and ginger.
Extra virgin olive oil is the fat in the recipe.
Brown sugar and honey sweeten the cookies.
Press cookies with a cup coated with table sugar.
Milk and egg add liquid to the cookie.
Instructions
Step 1. Preheat oven to 350F. Add parchment paper to a baking tray and set aside.
Step 2. Lightly measure a cup of whole wheat pastry flour and 1 1/2 cups of all-purpose flour and shift into a bowl.
Step 3. Whisk egg and combine with milk and then olive oil. Add egg mixture to mixing bowl with flour. Mix to combine. The dough will be stiff.
Step 4. Use a round tablespoon measure and add balls of dough to a baking sheet.
Step 5. Take a fork or a cup with a design on the bottom and press the cookie balls flat. I coated the bottom of a cup with table sugar to prevent the dough from sticking.
Step 6. Bake for 8-9 minutes until the cookies are lightly browned around the edges.
Frequently Asked Questions
How to Store Cookies

Store baked cookies in a air-tight container for up to 5 days. Freeze in a air-tight container for up to 3 months.
What to Serve with Simple Spice Cookies
Serve a spice cookie with a hot cup of coffee or tea.
You might enjoy these healthier dessert recipes.
Healthy Carrot Cake - enjoy a lighter version of this favorite springtime dessert.
Easy Ambrosia Salad - quick recipe fruit available anytime of year.
Other Dessert Recipes for You
---
October 2022 Update: Added Instruction and Other Healthy Dessert Sections. Minor updates to post.