This post may contain affiliate links. This means I may make a small commission at no additional cost to you when you make a purchase. Find out more in the Disclosure Policy
This Healthy Carrot Cake is moist and flavorful. Made with healthier ingredients, it is a dessert you can enjoy for Easter brunch or any day of the year.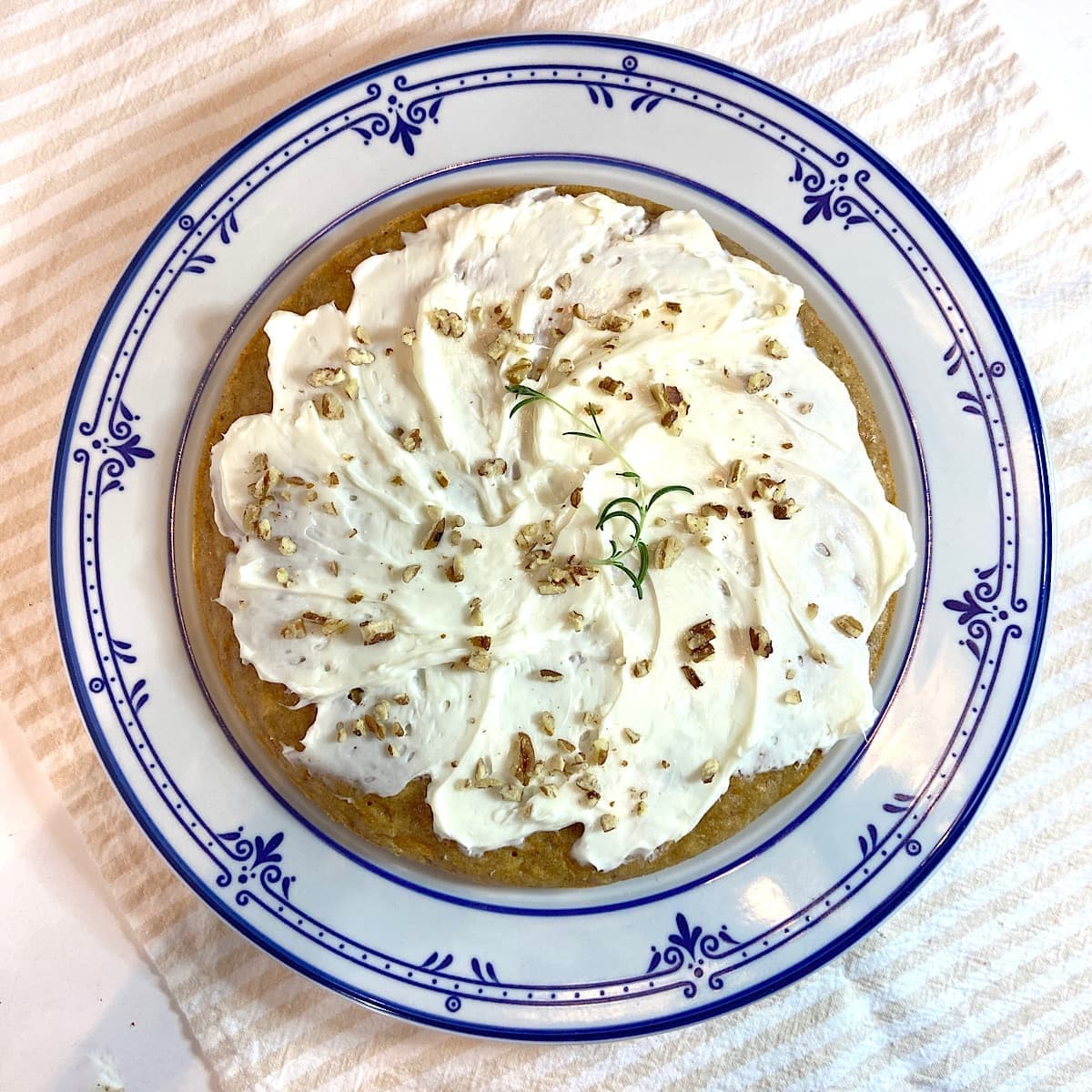 Traditional carrot cake is truly a decadent dessert. It is moist and super sweet. A favorite cake for many.
But, a traditional carrot cake also comes with up to 650 calories per slice. Plus added fats and sugars.
This is a big chunk of your daily nutrition, especially when you are trying to eat healthily.
So, I set out to make a healthy carrot cake version. One where the flavor allows me to enjoy one of my favorite cakes, but without as much guilt. A cake with fewer calories, sugar, and fat.
Ingredients
This cake uses a mixture of all-purpose flour and whole wheat pastry flour. This mixture gives a more traditional crumb to the cake but also increases the amount of fiber in the recipe that can help manage blood sugar levels.
Baking powder is included as a leavening agent. It helps increase the volume and lighten the texture of the cake.
Besides the flavors of shredded carrots and coconut, cinnamon, allspice, and vanilla help create a tasty bite.
An egg and sugar add structure and volume to the cake.
Avocado-oil mayonnaise is used as a butter substitute to help lower the amount of saturated fat in the cake.
Milk adds moisture to the cake and helps activate the baking soda.
A sprinkle of chopped pecans add a final garnish.
Instructions
This quick carrot cake recipe makes a one-layer cake. Baked in an 8-inch round cake pan, it will serve 8 people.
Step 1. Set out eggs, milk, and cream cheese. Allow them to come to room temperature. Preheat the oven to 350 o F. Spray your baking pan with nonstick oven spray.
Step 2. Mix dry ingredients, including flours, baking powder, cinnamon, and allspice. Whisk together until well blended.
Step 3. In a separate bowl, with a mixer blend the brown sugar and the mayonnaise. Add egg and mix all until blended. Add in the dry ingredients. Stir by hand or mix until just blended. Lastly, add the carrot and coconut. Add pecans.
Step 4. Pour batter into your prepared baking pan. Spread batter evenly to the sides of the pan. Place the pan on the lower rack of the oven. This cake bakes quick. Depending on the size of your pan, start checking for doneness, at 15 minutes. When a toothpick is inserted in the center comes out clean. Remove pan from oven.
Step 5. Run a knife around the edge of the pan to help loosen the cake from the pan. Take a rack and place it over the top of the baking pan and invert the pan. The cake should easily exit the pan. Flip the cake right side up and allow it to completely cool,
Step 6. Prepare the frosting. Blend the Neufchatel cheese with a mixer. Add half the powdered sugar and mix. Then add the remaining powdered sugar and mix until completely blended. Add a teaspoon or two of milk to thin icing to spreading consistency.
Step 7. Spread a thin layer of icing on the cake. Garnish with chopped nuts.
Other Healthy Desserts for YOU
This Healthy Carrot Cake is ready in less than an hour and is made from healthier ingredients. It is perfect for a holiday brunch or any day of the year.
You might enjoy these other healthy desserts.
Healthy Blueberry Muffins - tender and flavorful bursting with blueberry flavor.
Easy Apple Cake - moist and tender, full of apple and Fall spice flavor.
Oatmeal Chip Cookies with Pecans - a cookie made with whole wheat pastry flour that is crispy on the outside and tender on the inside.
---
March 2022 Update: Minor updates to the recipe post.