This post may contain affiliate links. This means I may make a small commission at no additional cost to you when you make a purchase. Find out more in the Disclosure Policy
Are you looking for a cookie recipe that is healthier and includes whole grains, whole wheat, and olive oil? While they have nutritious ingredients, these Whole Wheat Cookies with Oats Chips and Pecan cookies are crisp on the outside and tender on the inside. They calm the craving for something sweet.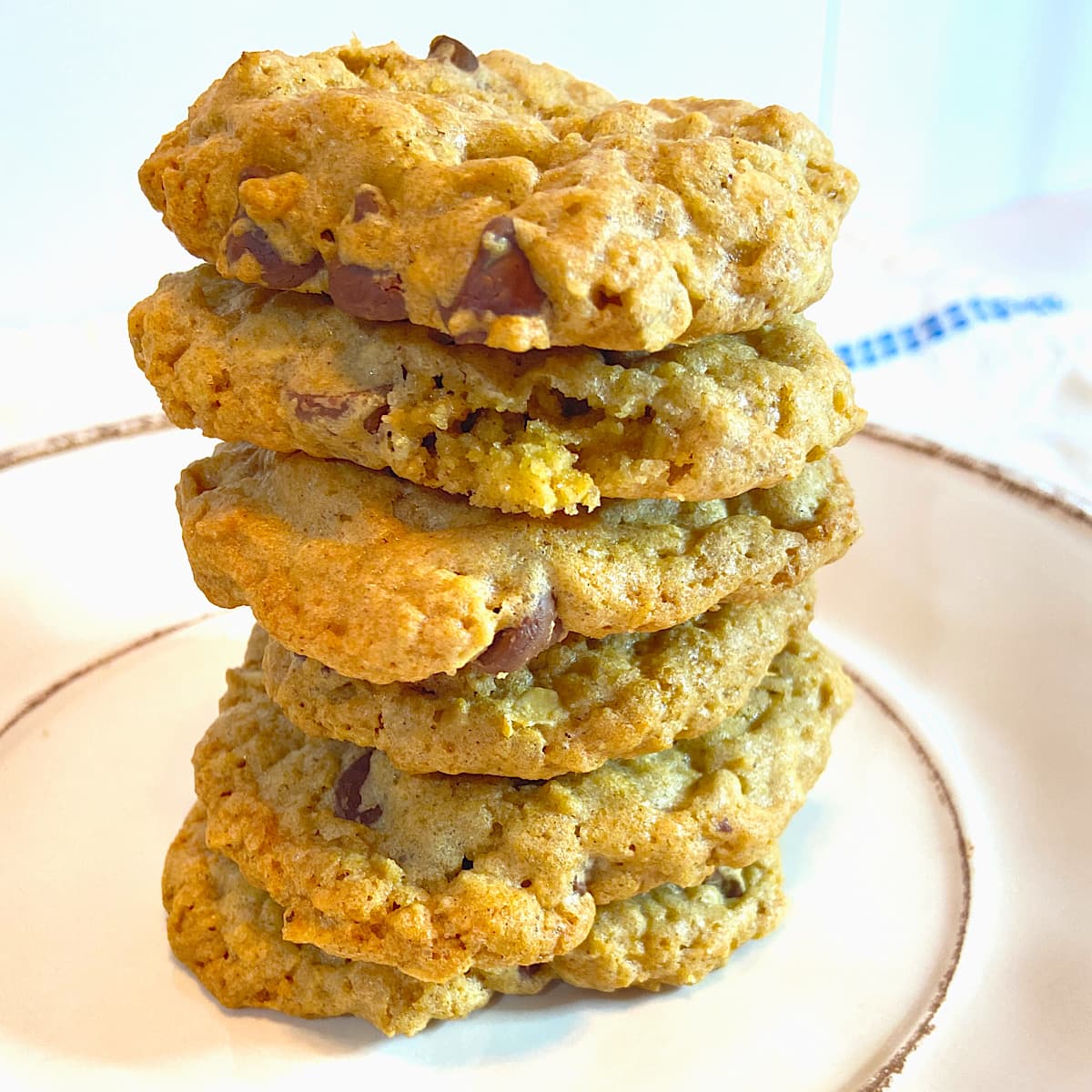 We started the Mediterranean Diet when looking for a healthier way to eat. It has been studied and shown to improve the risk of chronic diseases when followed and combined with exercise and stress management.
Learning about the diet takes a bit of time. The diet focuses on whole grains, extra virgin olive oil, and other healthy plant-based foods.
Sweets are limited on the diet, except for special occasions. But, sometimes you just need a treat.
Finding recipes that incorporate ingredients allowed when following the Mediterranean diet is important. This Mediterranean diet cookie recipe substitutes olive oil for butter, whole wheat pastry flour for all-purpose flour, and includes whole-grain oatmeal and nuts.
I embellished these Mediterranean Diet oatmeal cookies by adding both white chocolate chips, butterscotch chips, and pecans, but they would be good with chopped apricots or golden raisins too.
Ingredients
One of the key ingredients in this Mediterranean cookie recipe is whole wheat pastry flour #ad. This flour has a lighter color and a finer texture that is closer to all-purpose flour.
whole wheat pastry flour
baking powder, salt
cinnamon
olive oil
brown sugar
sugar
eggs
vanilla
old-fashioned oats
white chocolate chips
butterscotch chips
pecans chopped
Instructions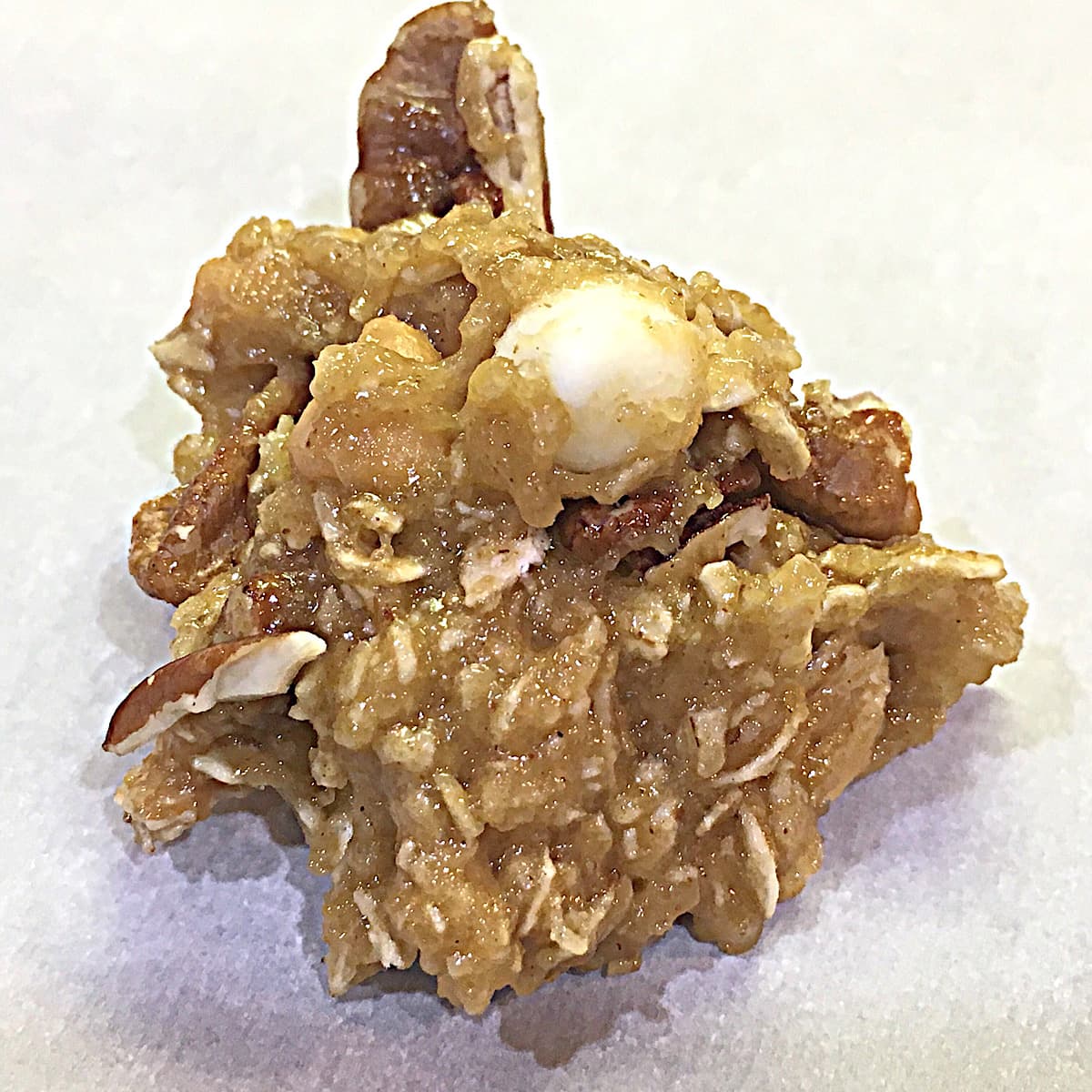 Step 1. Preheat the oven to 350F.
Step 2. Mix dry ingredients including flour, baking soda, salt, and cinnamon in a bowl.
Step 3. Combine olive oil, brown sugar, sugar, eggs, and vanilla in a separate large bowl.
Step 4. Add dry ingredients to creamed ingredients. Stir until well combined.
Step 5. Mix in oatmeal, chips, and nuts. The dough will appear wet.
Step 6. Spoon onto the baking sheet lined with parchment paper.
Step 7. Bake for 8-9 minutes.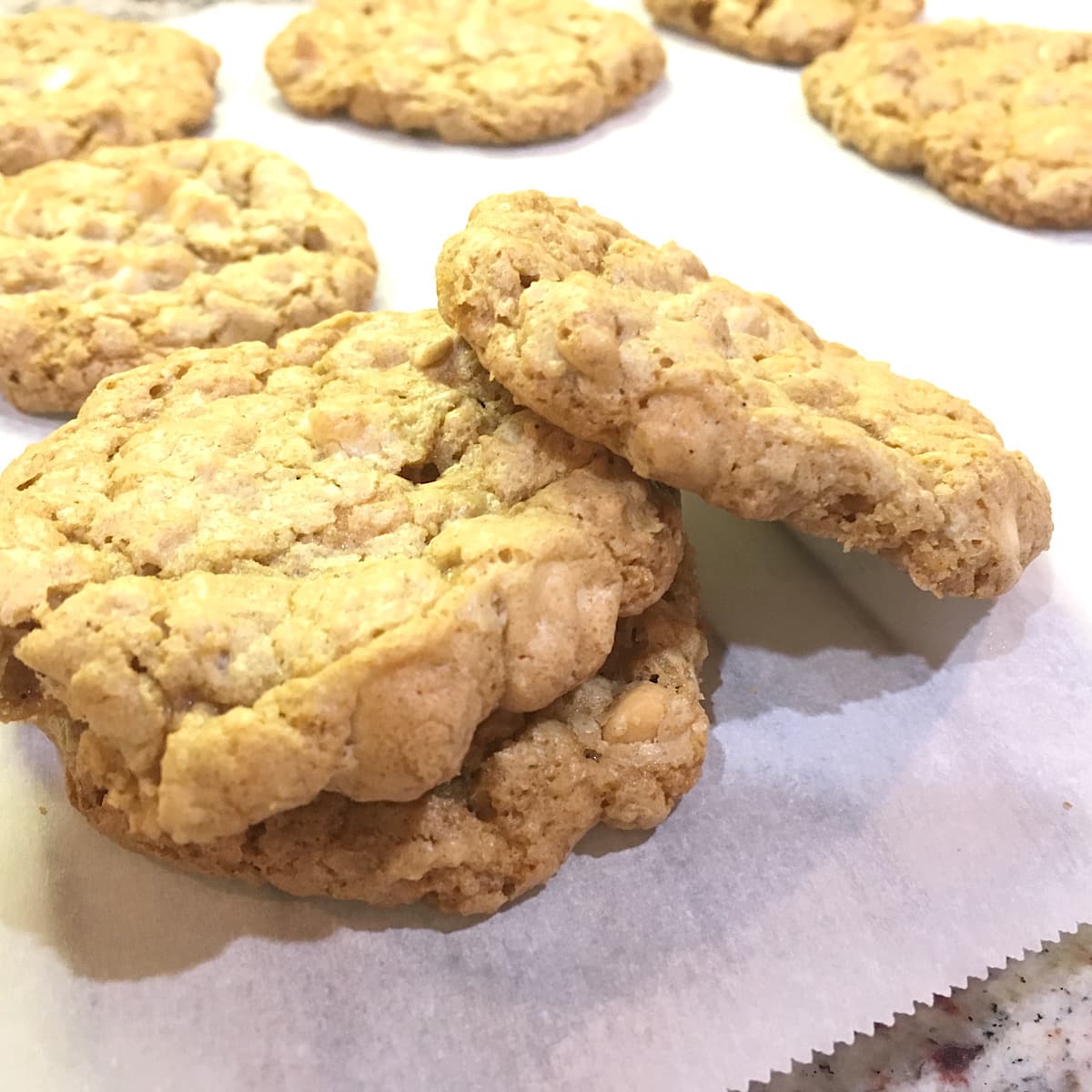 Step 8. Cool on a wire rack.
Frequently Asked Questions
Substitution for Whole Wheat Pastry Flour

Whole wheat pastry flour can be substituted with White Whole Wheat Flour. Alternatively, regular Whole Wheat Flour can be used.

If you use All-Purpose flour, increase the amount of flour to 1 1/2 cups.


What Can I Substitute for the Flavored Chips

Chips are optional in this Mediterranean diet cookie recipe. I have also made this recipe with chopped dried apricots or golden raisins.
How to Store Cookies
These cookies don't last long at my house.

Store in an airtight container for up to 3-4 days. Freeze in a ziplock bag for up to 3 months.
Other Healthy Dessert Recipes
Looking for more healthy recipes? Try one of these.
Healthy Peach Crisp Recipe - juicy and tender peaches with a crunchy oat crumb topping.
Easy Carrot Cake - moist and flavorful carrot cake made with fewer calories, sugar, and fat.
Tender and Healthy Blueberry Muffins - fluffy with a tender crumb and full of blueberry flavor.
---
October 2022 Update: Minor post updates.
---
---
Medical Disclaimer
This site contains general information about diet, health, fitness, and nutrition. This information should not be used to diagnose, treat, prevent, or cure any disease or condition. Please consult with your physician before using any dietary supplement or before beginning a diet or exercise program.
---
---