This post may contain affiliate links. This means I may make a small commission at no additional cost to you when you make a purchase. Find out more in the Disclosure Policy
Tender and healthy blueberry muffins are full of blueberry flavor. Made with healthier ingredients it is a recipe you will love serving your family.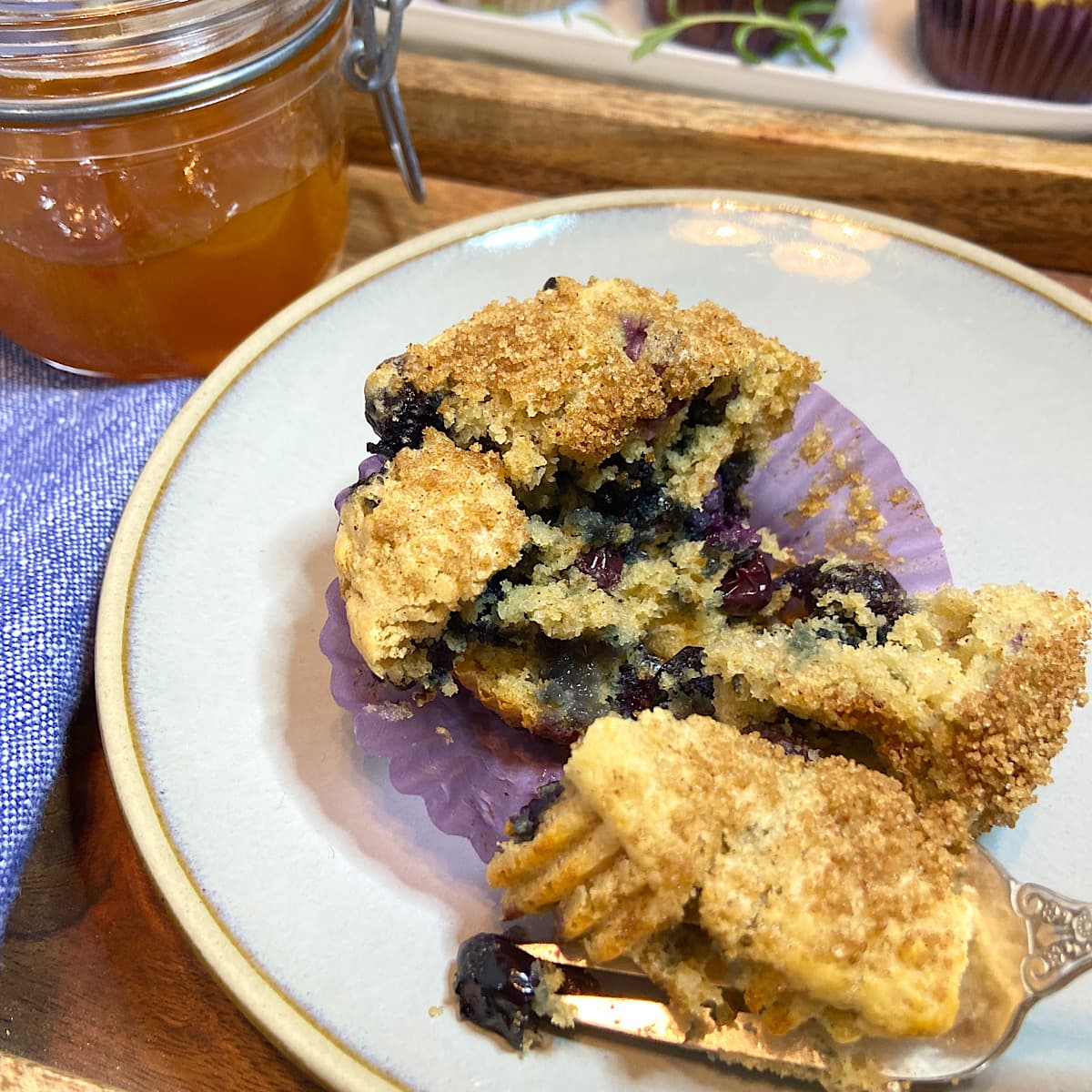 I am always looking for a good muffin. One that is fluffy with a tender crumb and full of delicious fruit flavor.
These blueberry muffins fill the bill. Made with a mixture of whole wheat pastry flour, olive oil, and blueberries. They are bursting full of good flavors.
The other great thing about these muffins is that they are lower in sugar, but they are still plenty sweet. In fact, my youngest son commented that these are his favorite muffins.
Ingredients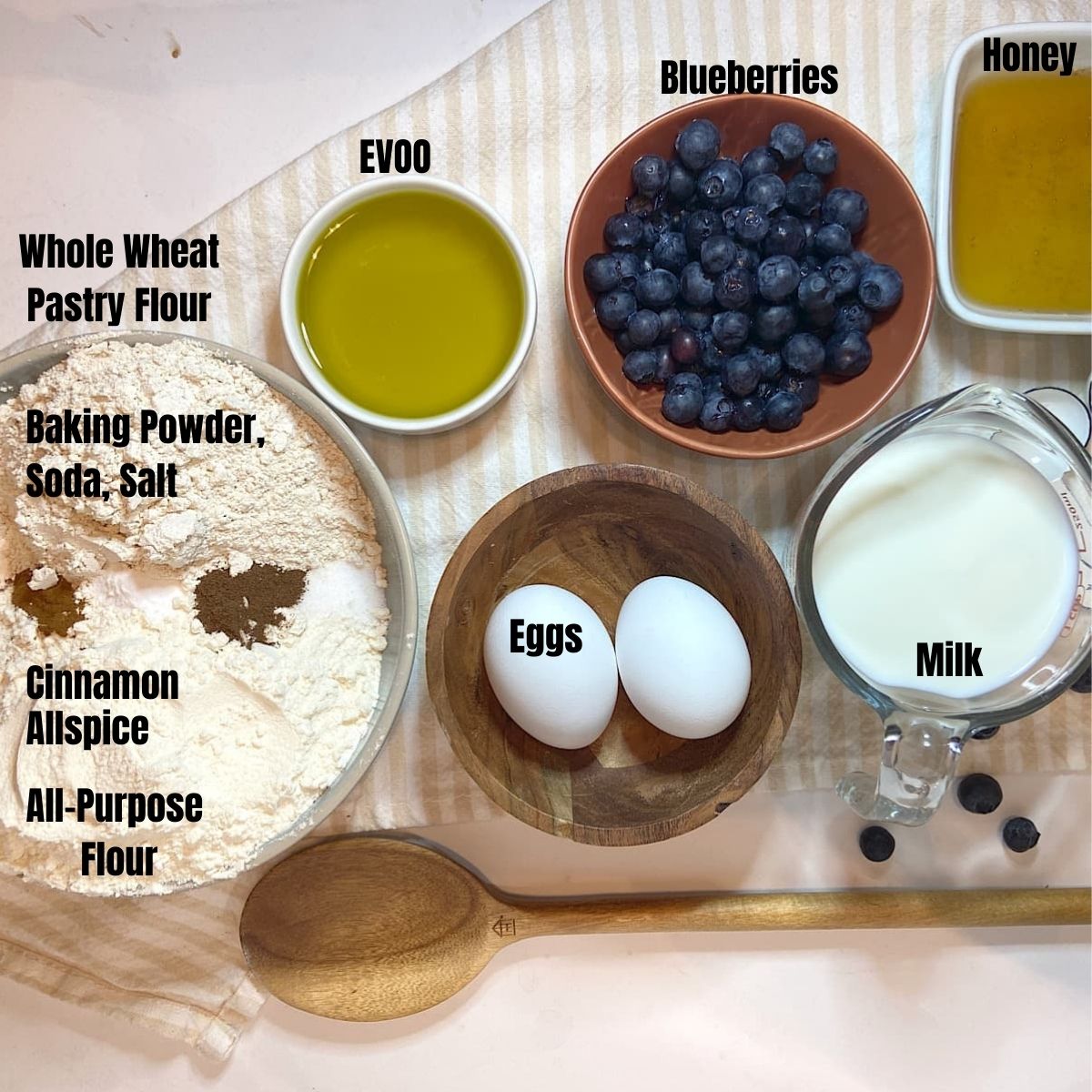 These muffins start with a 50/50 mixture of whole wheat pastry flour and all-purpose flour. Whole wheat pastry flour is made from White Spring Wheat. It has all the health benefits and fiber of whole wheat flour, but it has a lighter color, a finer texture, and a milder flavor that makes it perfect for baked goods.
Baking powder, baking soda, and salt. Baking soda and baking powder are leavening agents that help baked products rise and have a tender crumb. They react with acids in the recipe and form a reaction, that produces gas bubbles that help batter rise as it bakes. They also help balance and create an alkaline balance of ingredients.
This helps create weakened gluten and a tender bite to baked goods. BobsRedMill has a good explanation of these ingredients.
Allspice and cinnamon finish the dry ingredients and add flavor to the muffin.
The wet ingredient in this recipe includes eggs, olive oil, and milk. Remember to set your eggs and milk out to come to room temperature before mixing together and adding to the dry ingredients.
Honey is included for sweetness, while blueberries add additional sweetness and flavor.
Preparation
Preheat oven to 350F. Set eggs and milk out.
Place muffin liners in pan. Lighty spray each with cooking spray.
Combine flours, baking powder, soda, salt, cinnamon, and allspice in a bowl.
Next, in a second bowl, whisk eggs, and combine with milk, and olive oil. Stir in honey.
Add egg mixture to bowl with flour mixture and stir to combine.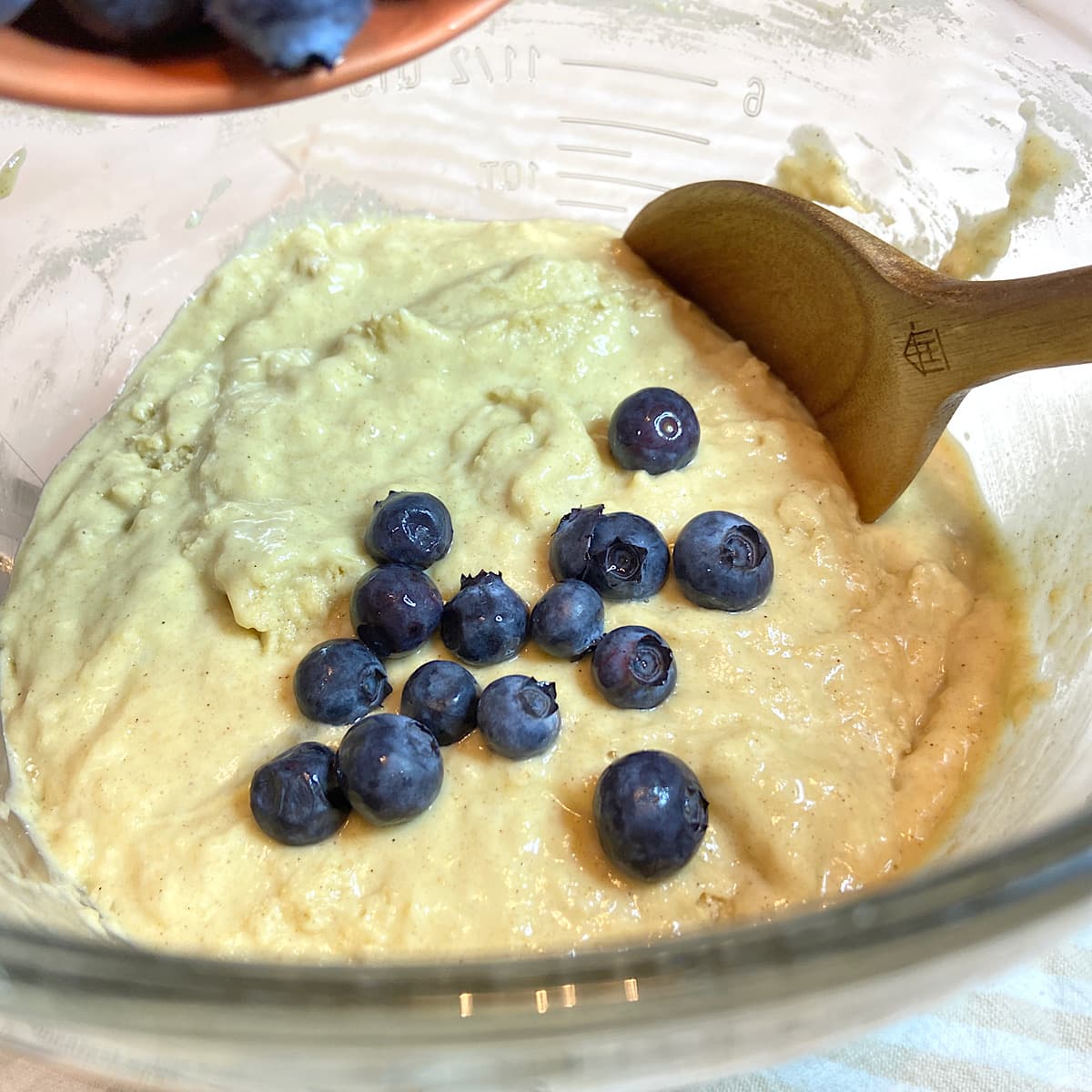 Gently fold in blueberries.
Use a 1/3 cup measuring cup to add dough to 18 muffin cups.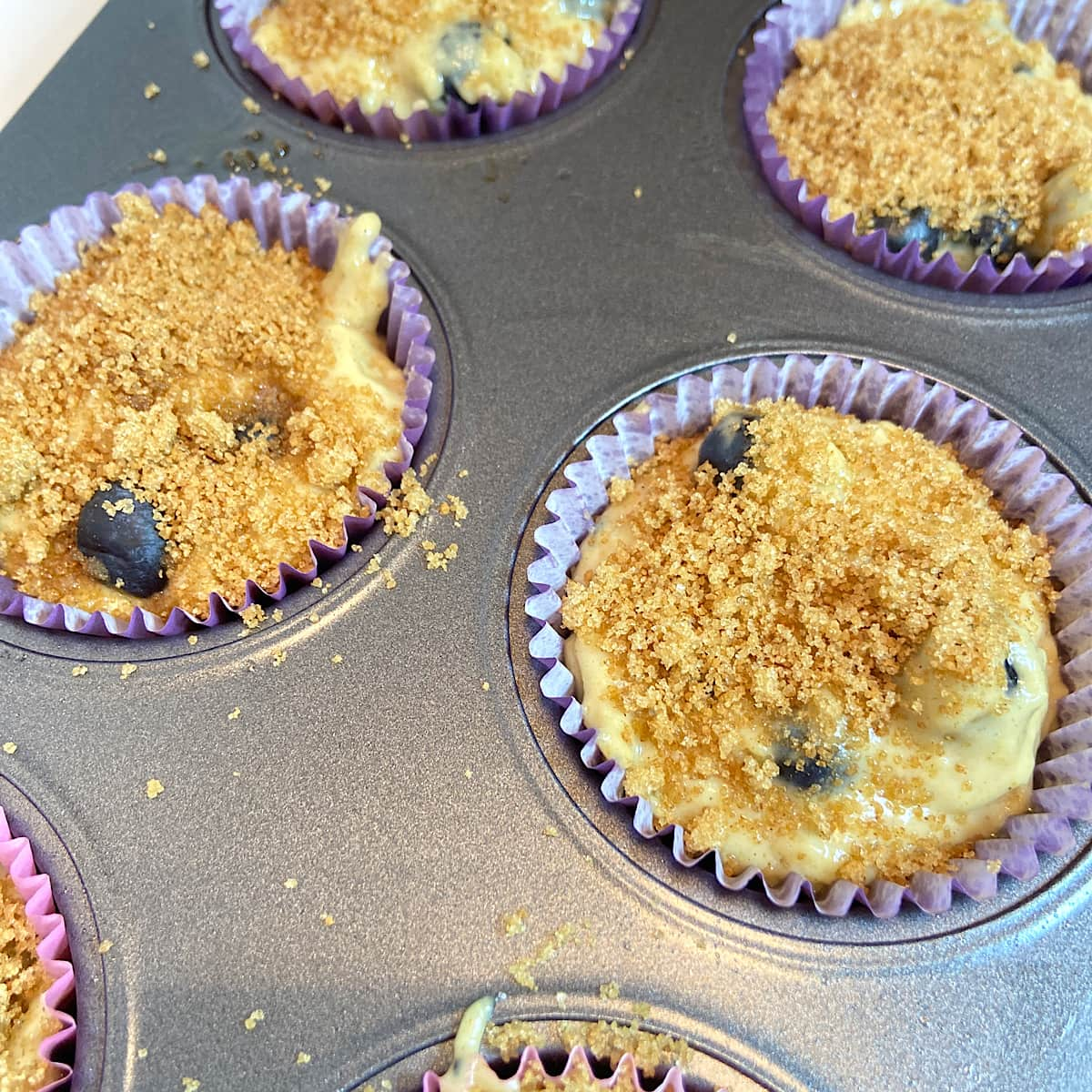 Combine brown sugar and cinnamon. Sprinkle a teaspoon amount on each muffin.
Place muffin tins in oven.
Bake for 10-12 minutes. Check doneness with a toothpick in the center of the muffins.
Let cool on a rack and enjoy.
Since this recipe makes 18 muffins, freeze half the batch for breakfast on busy mornings.
Frequently Asked Questions
How to Store Blueberry Muffins

Store in an airtight container on counter for 2-3 days. Store in refrigerator in an airtight container for up to a week.

For longer storage, freeze in an airtight container for up to 3 months.
How to Reheat Muffins

For room temperature muffins reheat in the microwave for 20 seconds.

For frozen muffins, wrap in a paper towel. Reheat in the microwave for 20 sections. Turn muffin and heat for 10-20 seconds.
More Healthy Breakfast Ideas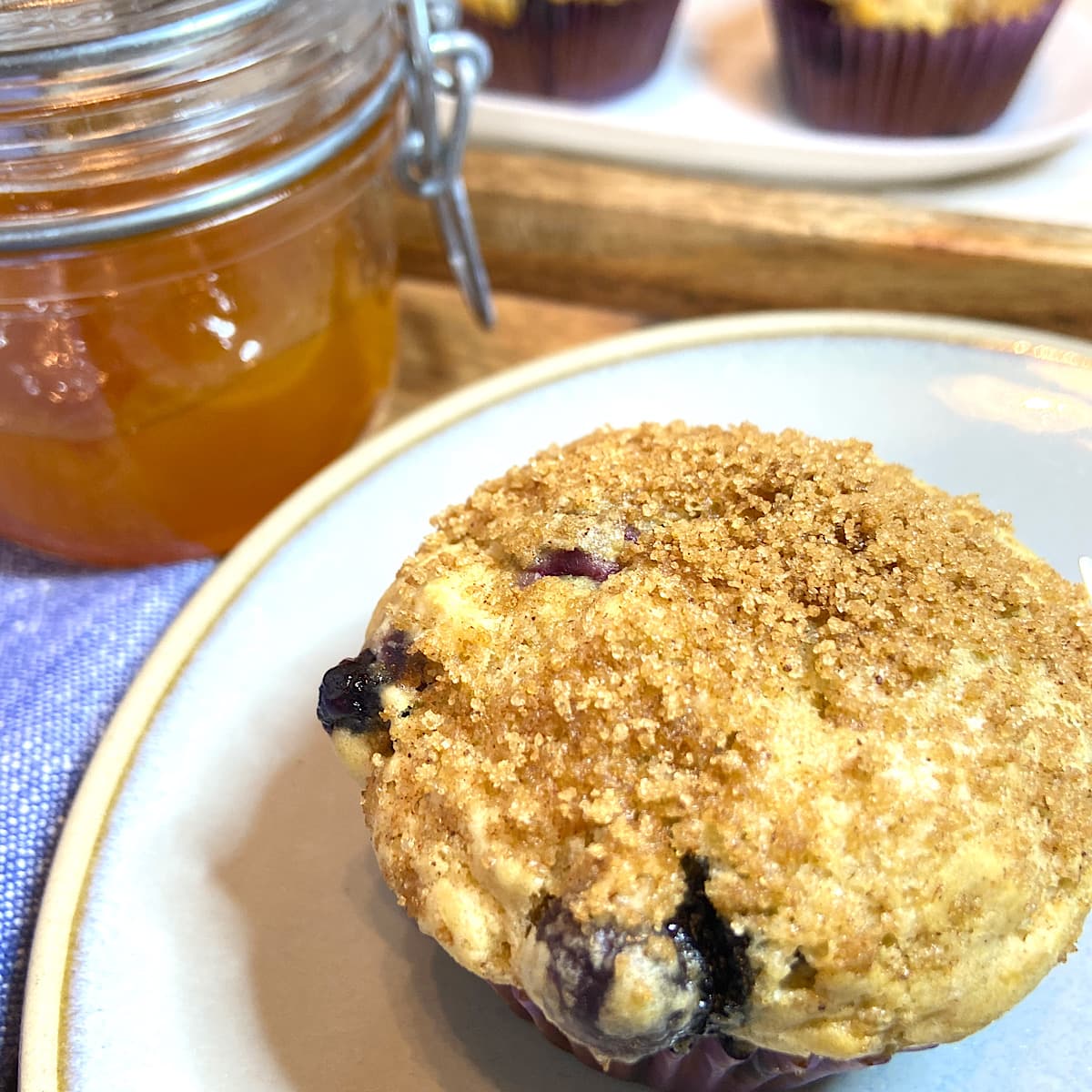 These muffins made a great snack or breakfast on the go. My kids grab one, pop it in the microwave, and munch on it while they are heading to school.
You might also enjoy these other healthy muffin recipes, including Streusel-Topped Apple Muffins, or Apricot Oat Muffins.
---