This post may contain affiliate links. This means I may make a small commission at no additional cost to you when you make a purchase. Find out more in the Disclosure Policy
I am always looking for a healthy alternative. This recipe for Healthy Streusel-Topped Apricot Oat Muffins is made with whole wheat flour, olive oil, and greek yogurt and fits the bill.
The basic oat muffin has a nutty flavor. Adding the dried apricots adds a bit of a sweet bite.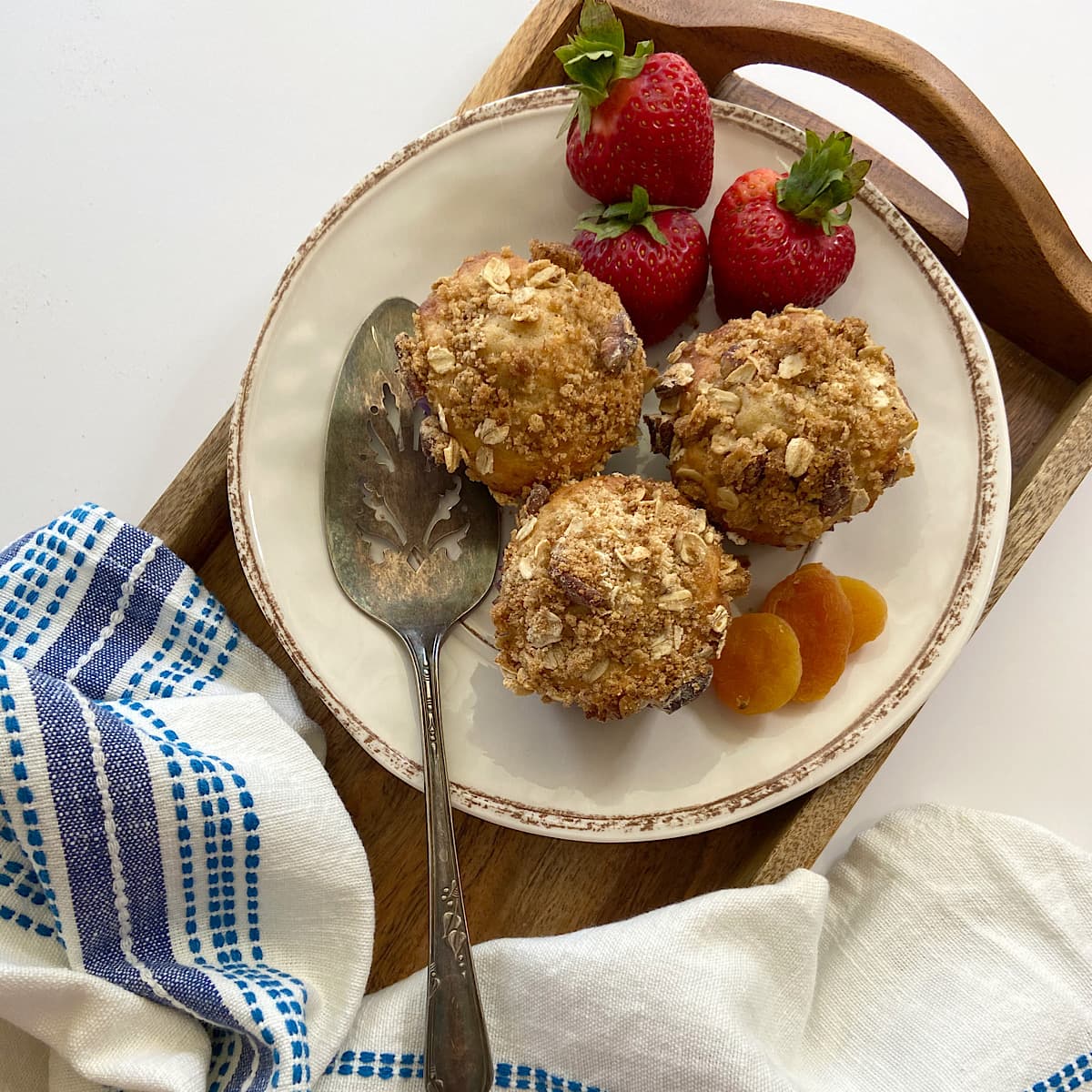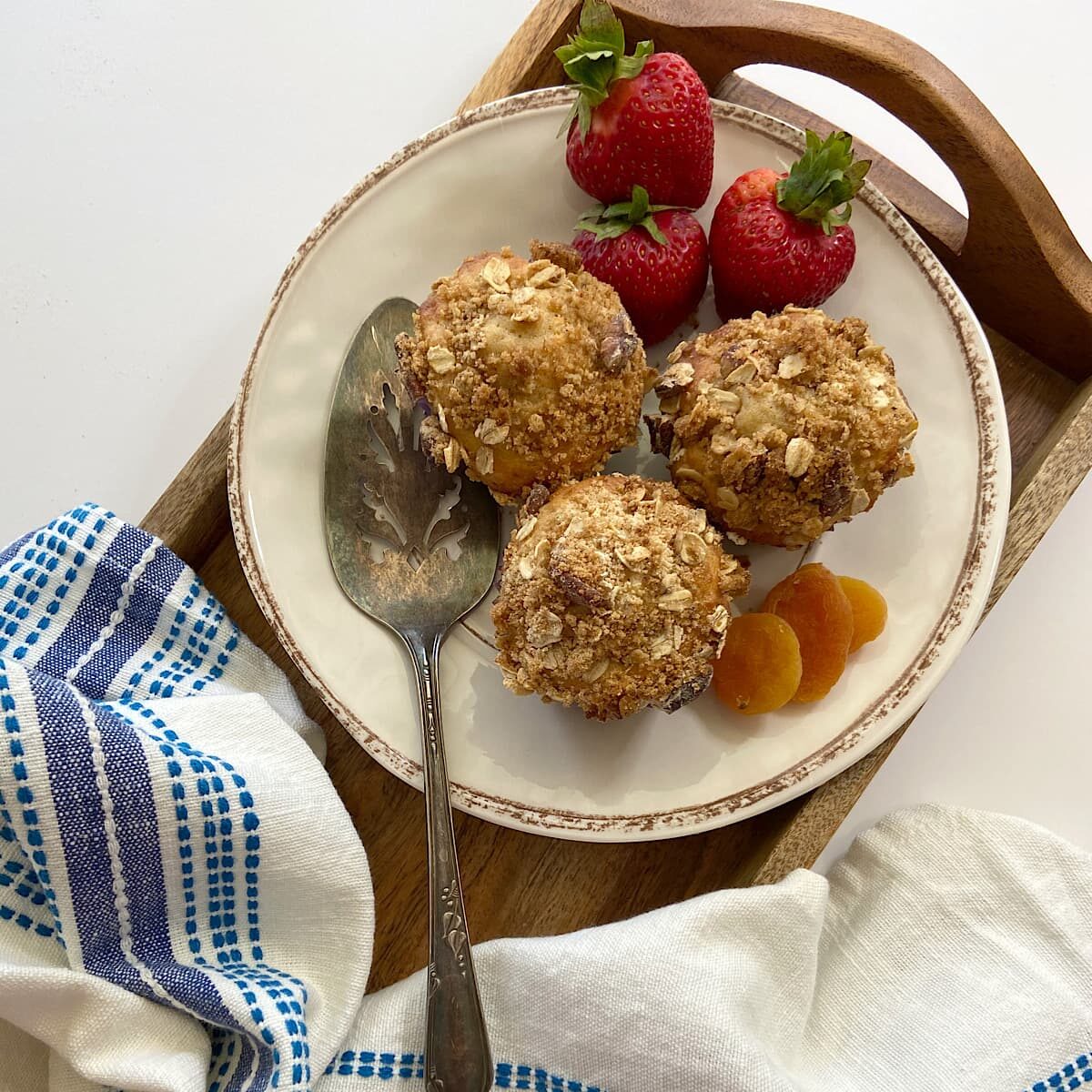 Ingredients
Muffins:
Streusel-Topping:
Preparation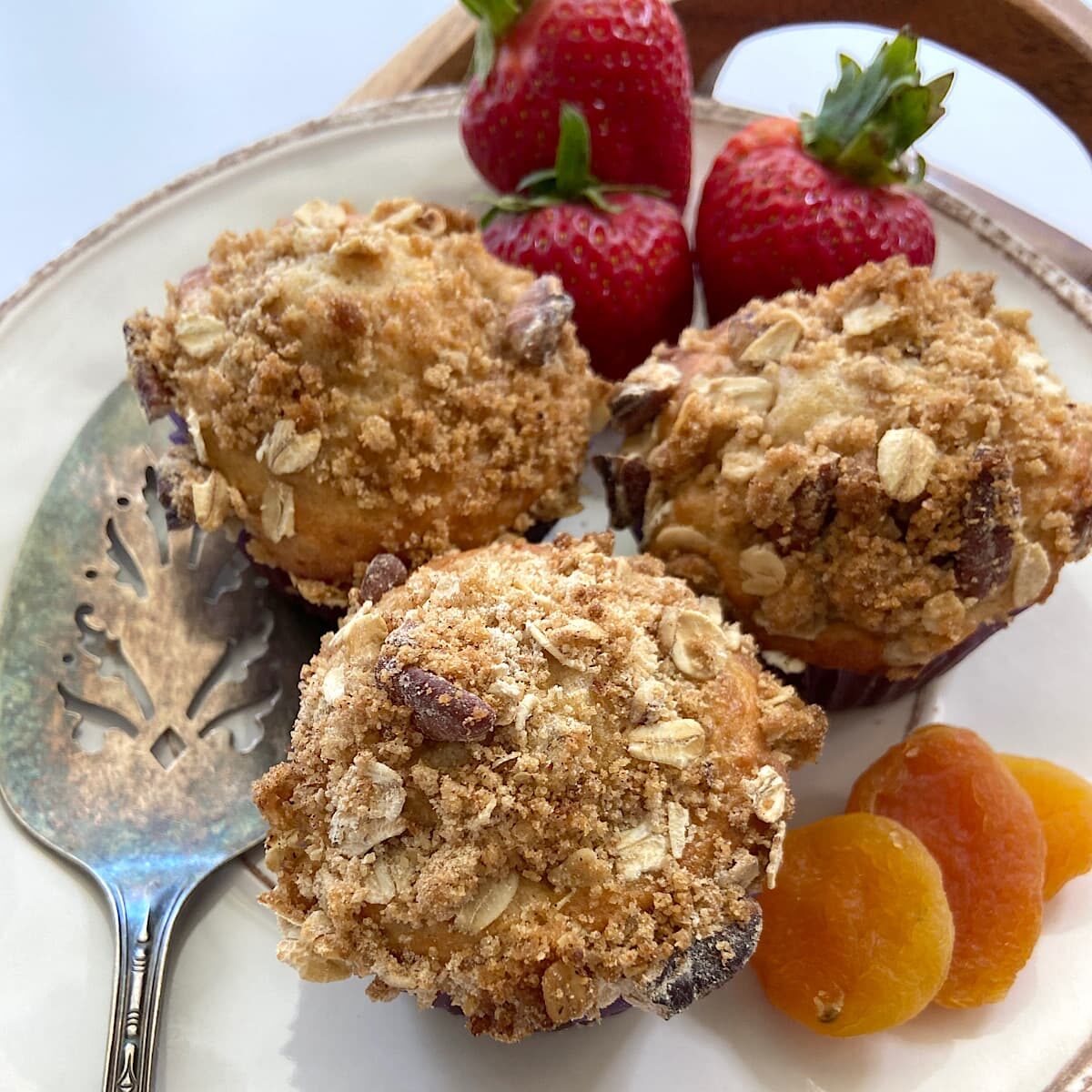 These muffins mix up and bake quickly.
Start by preheating the oven to 350F.
Add muffin liners to muffin tin and spray each lightly with cooking spray.
Mix flours and baking powder in a bowl and set aside.
Whisk eggs in a bowl, add milk, EVOO, vanilla, and Greek yogurt. Mix well after each addition.
Substituting low-fat Greek yogurt, and a milk alternative with olive oil helps lower the saturated fat in the muffins.
Add brown sugar to the egg mixture and stir until well combined.
Stir egg mixture into the flour. Next, fold in oats. Mix until just combined.
Using a 1/3 cup measuring spoon fill the muffin liner with a small amount of batter.
Add a few chopped apricots. Add more batter to fill the muffin tin to 3/4 full.
Combine all ingredients for the streusel topping in a separate bowl. Stir until the mixture forms clumps when you squeeze in your hand.
Add approximately 1 tablespoon of topping to each muffin.
Place muffin tin on the bottom rack of the oven. Bake for 15 minutes until a toothpick inserted into the center of the muffin comes out clean.
Frequently Asked Questions
What are the Benefits of Eating Apricots

Dried apricots are a healthy addition to your recipes.

They are considered a low glycemic index food which means they don't impact your blood sugar in an unfriendly way.

They are packed with calcium, vitamin C, and vitamin A.

In addition, apricots contain a large amount of fiber. 1 In fact, a serving of 5 dried apricots contains 4 grams of fiber.2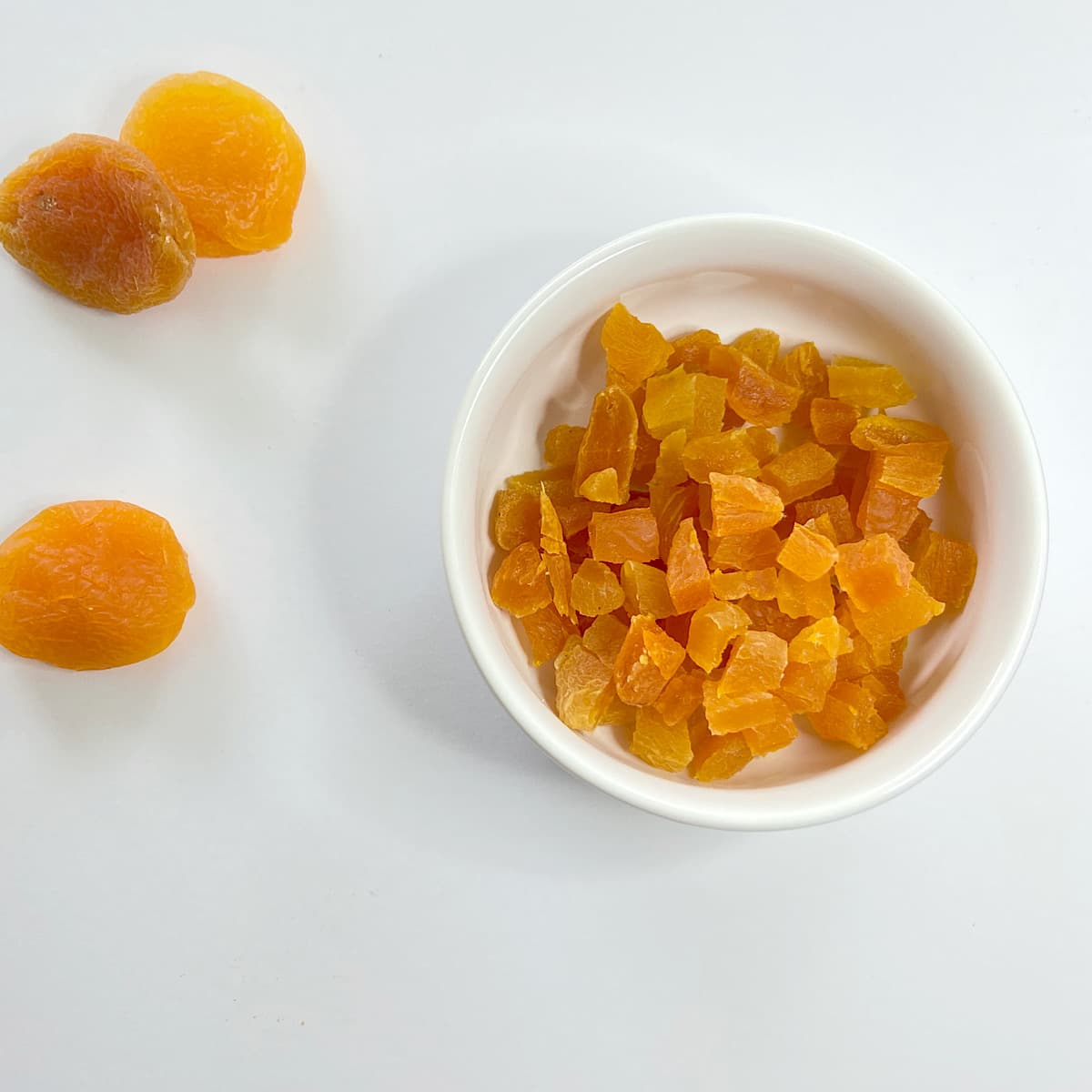 What is Whole Wheat Pastry Flour

Whole Wheat Pastry Flour is a whole grain flour milled from softer Spring white wheat. Compared to regular whole grain flour, it has a finer texture, a lighter color, and a milder flavor.

Its texture is similar to all-purpose flour making it a great alternative in baked recipes.


How to Use Whole Wheat Pastry Flour

Whole Wheat Pastry Flour is a perfect flour for baked goods. Cookies, pie crusts, muffins, etc.

It contains less gluten than other flours, so it is not a good option for yeast-rising baked bread and pastries.

Until you are familiar with whole wheat pastry flour, I suggest replacing up to 50% of the amount of all-purpose flour with it. This ratio of flours keeps the baked goods with a light texture.

As you adapt to the texture and flavor differences you can increase the amount of replacement to your taste.
Healthy Breakfast Ideas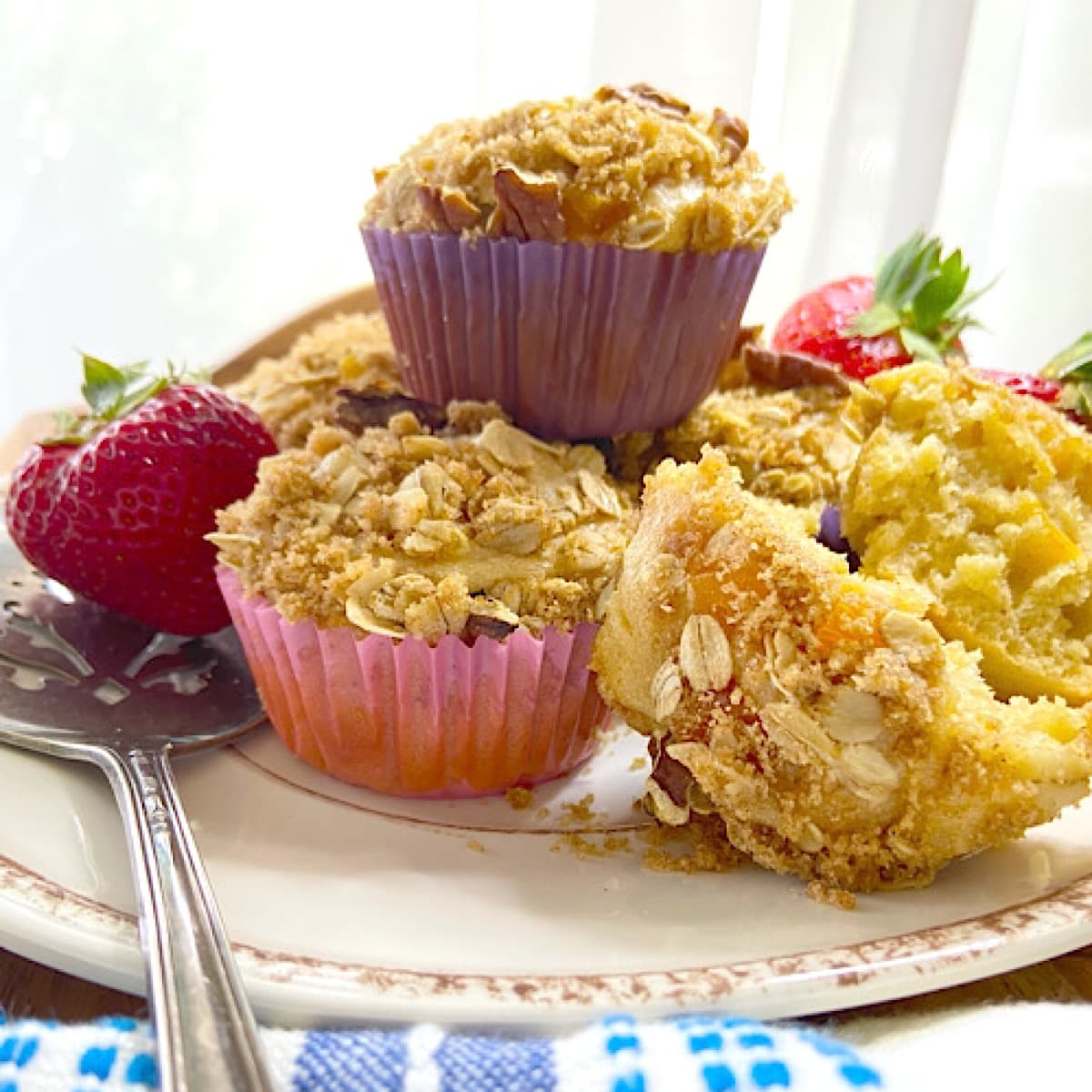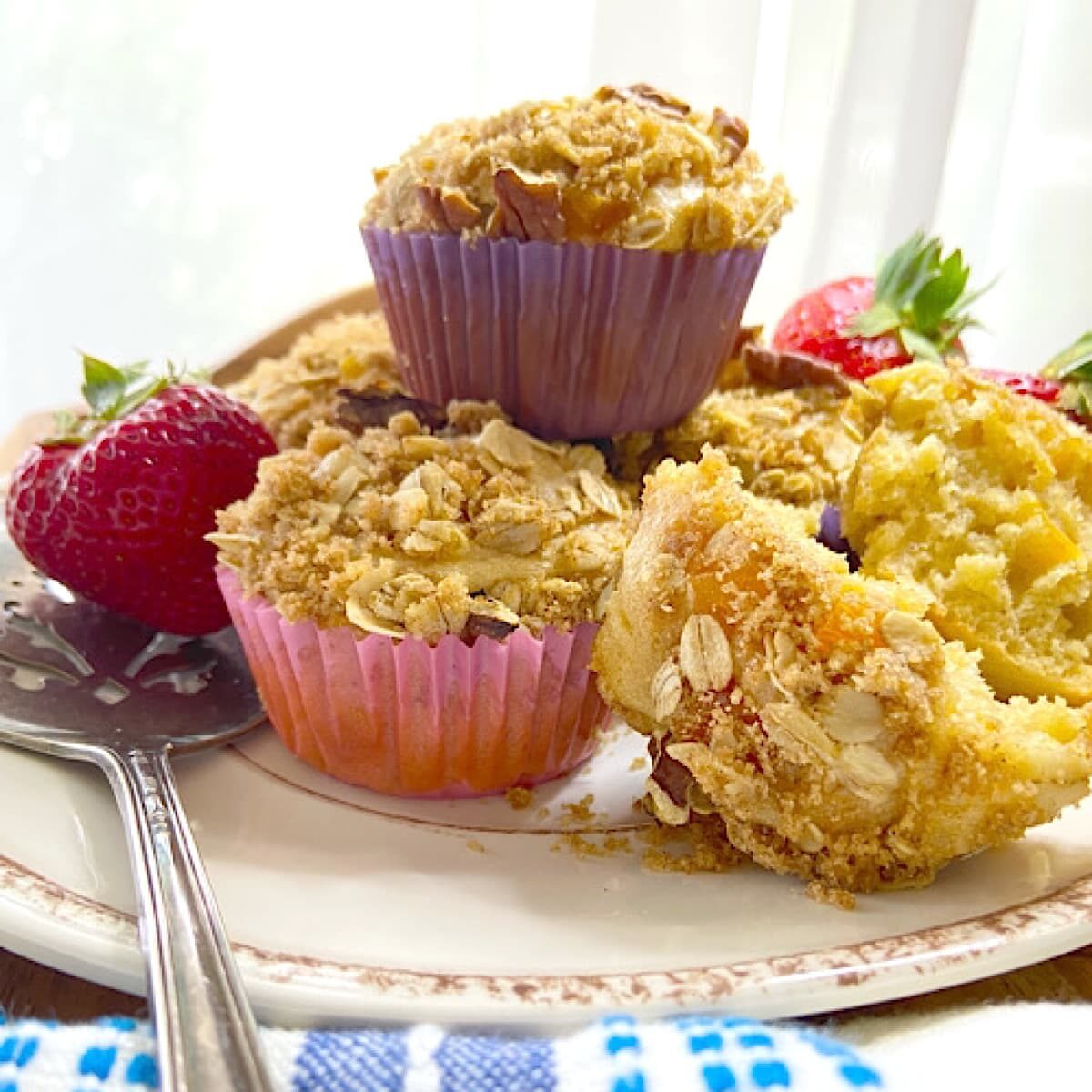 Looking for other healthy breakfast ideas read my post on Mediterranean Breakfast Ideas.
If you are ready for a whole wheat muffin made completely with white whole wheat flour, try my Streusel-Topped Apple Muffins. Tender and moist.
---
August 2021 Update: Organized post with ingredients, preparation, and FAQs. Updated images and recipe card.