This post may contain affiliate links. This means I may make a small commission at no additional cost to you when you make a purchase. Find out more in the Disclosure Policy
Lean ground turkey meatloaf is super tender and moist and flavored with bell pepper, onion, and spices. A sweet and tangy red sauce adds additional flavor to this easy meatloaf recipe.
Moist and flavorful, this tender turkey meatloaf is a rival for all those dinners of our childhood. The added benefit is that ground turkey has lower fat content than found beef and is much easier to digest.
Ground turkey can often be bland. When substituting for ground beef, it is important to add adequate spices to enhance its flavor.
Ingredients
Pepper, parsley, Worchestershire sauce, garlic powder, minced onion, and bell peppers all add to the meatloaf flavor. Eggs, milk, and rolled oats help bind the ground turkey and remaining ingredients together so you can form your loaf.
Add a simple sweet and tangy red sauce for added flavor.
Instructions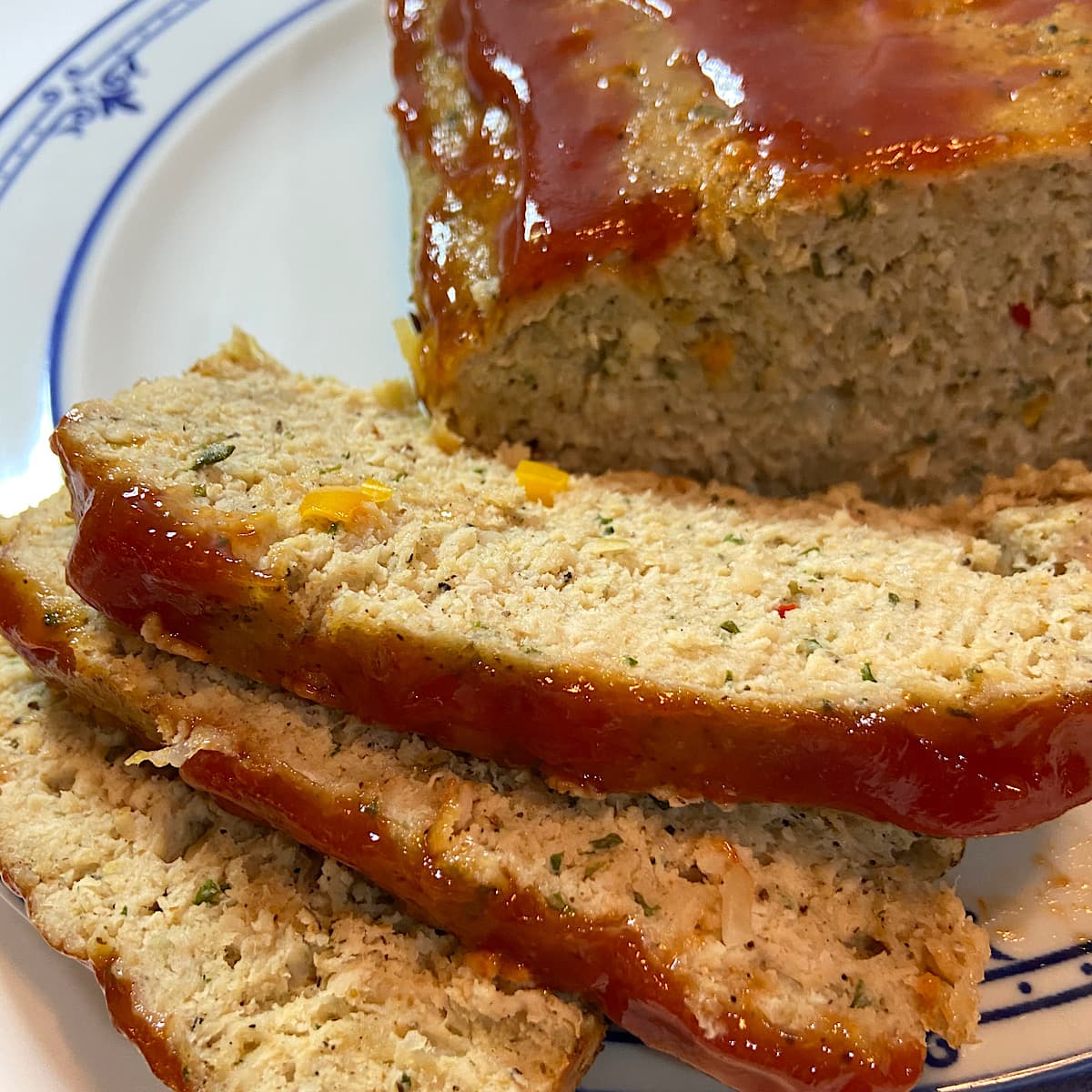 Step 1. Preheat oven to 325F. Spray a loaf pan with cooking spray. Set aside.
Step 2. Add ground turkey, eggs, oats, milk, parsley, paprika, garlic powder, ground pepper, Worcestershire sauce, minced onion, bell pepper to a mixing bowl. Mix on low until all ingredients are equally combined in the turkey.
Step 3. Place loaf pan on the bottom rack of the oven and bake for 55 minutes until the internal temperature of the ground turkey is at a minimum of 165F.
Step 4. Combine sauce ingredients and mix well. Drizzle evenly over meatloaf. Return to the oven and continue to bake for 10 minutes. Remove from oven and slice and serve.
Frequently Asked Questions
What can I Substitute for Rolled Oats in Meatloaf?

Rolled oats are old-fashioned oatmeal that has been lightly processed. If you have old-fashioned oats, you can lightly process them in a food processor for 3-4 pulses.

Another option would be to substitute dried bread crumbs in an equal quantity to the rolled oats. Fresh bread slices can also be used and torn into small pieces. Plan on using one cup.
What to Serve with Turkey Meatloaf
Pair meatloaf with mashed or roasted potatoes and a leafy green salad or green beans and you are set for a satisfying meal.
Other Healthy Dinner Recipes for You
---
Post is updated to include Images, Ingredients, Instructions, What to Serve With, and Other Healthy Dinner RecipesPost sections. Minor update to the recipe card.