This post may contain affiliate links. This means I may make a small commission at no additional cost to you when you make a purchase. Find out more in the Disclosure Policy
This Mediterranean Stuffed Pepper Recipe is full of tender bell pepper flavor, brown rice, and low-fat ground turkey. Onion, olive oil, spices, and feta cheese all combine for a different twist on a traditional recipe.
Ingredients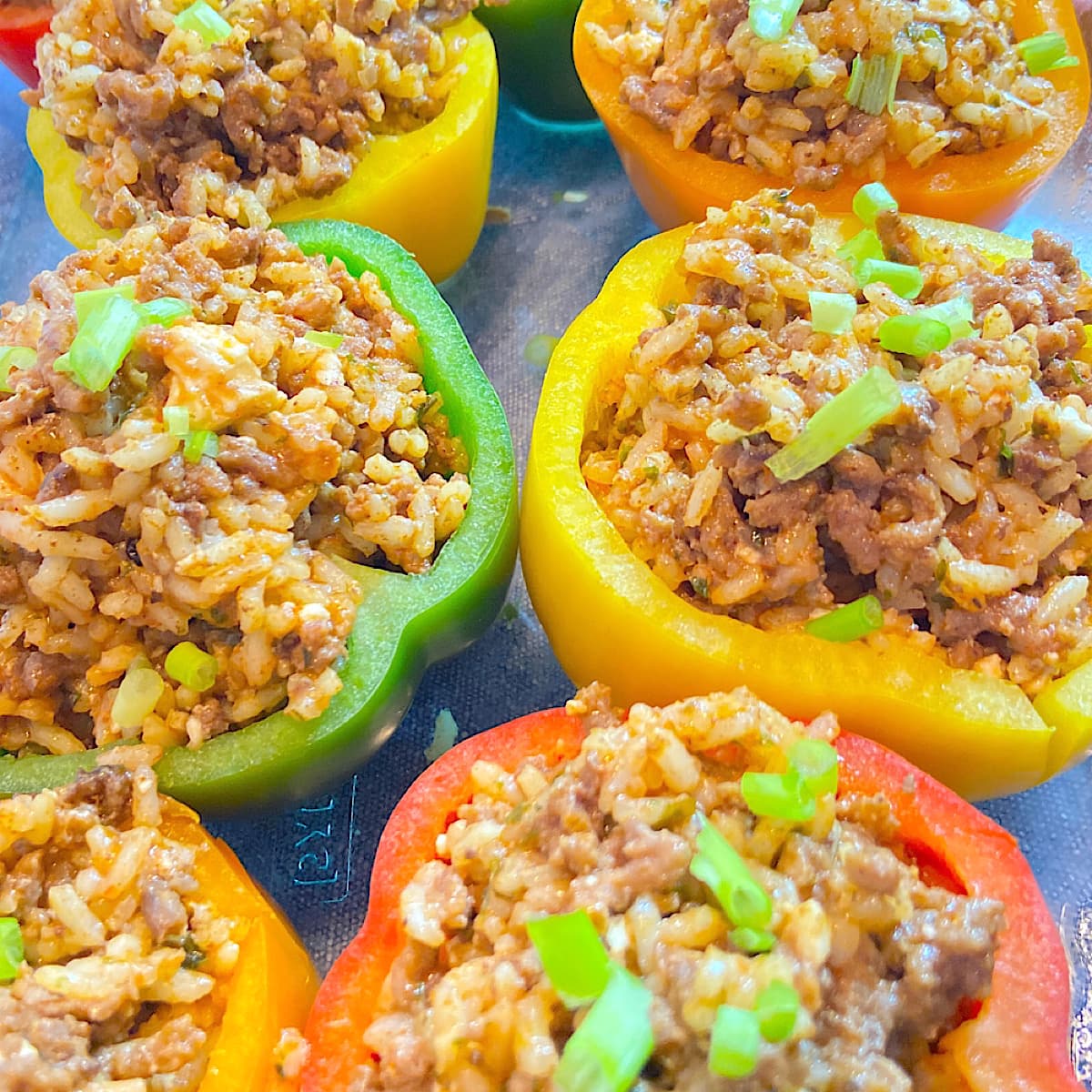 These Mediterranean diet stuffed peppers are worth the time and effort. Hard to eat just one, they are flavorful and filling.
Ingredients
Ingredient Tips
Bell peppers: pick out peppers that are roughly the same size and shape. This will help them all fit in the same pan and cooking will be more uniform.
This recipe uses bell peppers but you can substitute poblano peppers for a mild spicy kick or any others that are large enough to stuff.1
Brown Rice: brown rice takes almost an hour to cook. When you are short on time considered a parboiled rice packet #ad like this one to save time.
Yogurt Sauce Spices: for the yogurt sauce I included a substitute for Tabil spice mix. #ad
Instructions
Step 1. Cook the rice according to the package directions. This may take up to 45 minutes for brown rice. For quicker preparation, use Uncle Ben's Quick Whole Grain Brown Rice in the bag.
Step 2. While the rice is cooking, heat olive oil in a frying pan over medium-high heat.
Step 3. When olive oil is hot, add ground turkey. Sprinkle with half the spice mixture. Don't disturb the turkey for 3-4 minutes. This will allow the turkey to brown. Turn turkey and allow to brown. Sprinkle the remaining spices over the turkey.
Step 4. Add chopped onion to the turkey. Stir and cook until the turkey is no longer pink.
Step 5. Open a can and add undrained tomatoes and half a can of tomato sauce. Stir in rice. Heat through. Stir in feta cheese.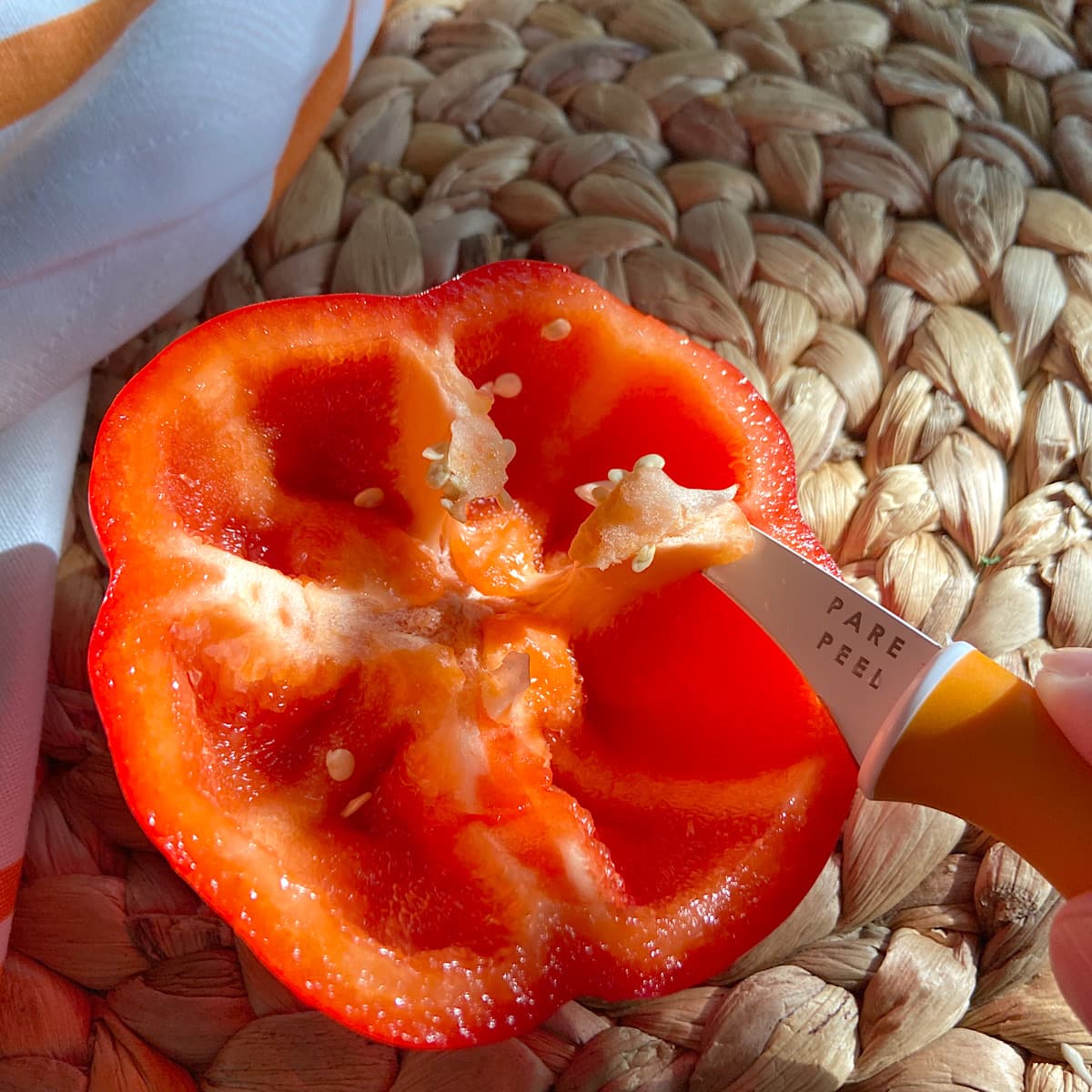 Step 6. Next cut and clean your peppers. You can cut the peppers from stem to bottom or horizontally in half. Either way works.
I use a knife called the Bird's Beak Paring Knife to clean out the inside of the pepper. This knife is sharp and easy to handle. It includes a dual-function cover to keep it sharp and safe. It is perfect for cutting fruits and vegetables.
Step 7. Place peppers in a baking pan. Add water to the baking pan so the peppers steam while they bake.
Step 8. Fill pepper halves with turkey mixture. Cover pan with lid or foil.
Step 9. Preheat oven to 375F.
Step 10. Place the pan of peppers on the bottom rack of the oven.
Step 11. Bake for 1 hour or until the peppers are tender.
Greek Yogurt Sauce
Step 12. While the peppers are baking mix Greek yogurt, tomato sauce, garlic powder, coriander, ground caraway seeds, and cayenne pepper together.
Step 13. Drizzle Greek yogurt sauce over the peppers. Serve and enjoy.
What to Serve With Stuffed Peppers
Pair Mediterranea stuffed pepper recipe with a crisp salad such as my Apple Pecan Salad or a leafy green salad topped with Homemade Ranch Dressing for a completely healthy meal.
Check out other Mediterranean Recipes.
Other Healthy Dinner Recipes
---
October 2022 Update: Minor post updates.