This post may contain affiliate links. This means I may make a small commission at no additional cost to you when you make a purchase. Find out more in the Disclosure Policy
Easy Goulash with ground turkey and egg noodles is a simple dish that is perfect for busy weeknights. A comfort food dish made healthier with lean ground turkey but with all the flavor of a traditional American Goulash recipe. Made with ingredients right from your pantry, you will have dinner on the table in just about 30 minutes.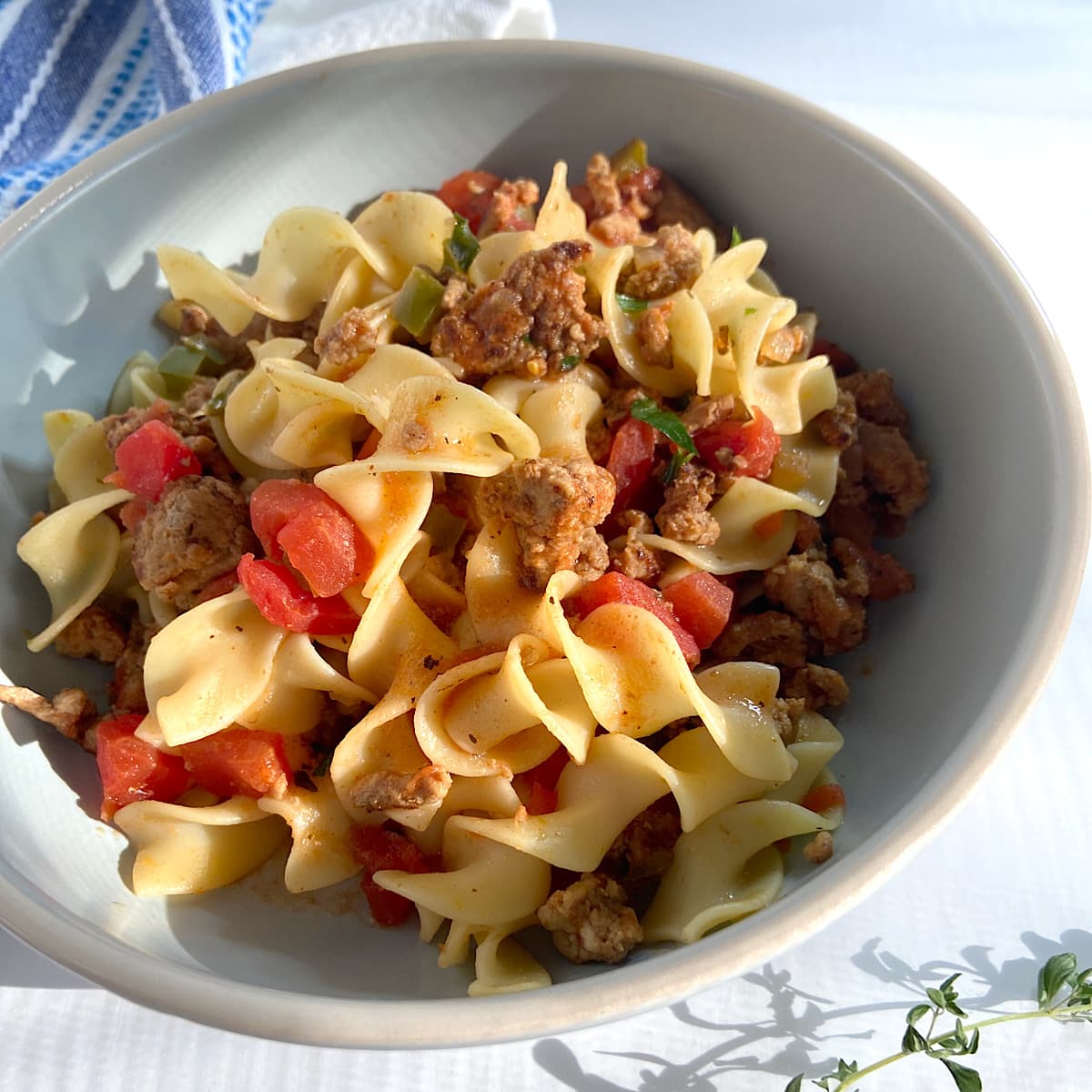 This ground turkey egg noodle recipe is a twist on my mom's versions of Goulash. She always made it with egg noodles and canned tomatoes. She seasoned her recipe with salt and pepper.
For this version, I substituted healthy lean ground turkey for ground beef. I also added basil and paprika for seasoning.
Ingredients
Instructions
Step 1. Fill a stockpot with water and cook egg noodles according to directions.
Step 2. While noodles are cooking, finely chop onion, and garlic. Set aside.
Step 3. Brown the ground turkey with olive oil. Sprinkle ground turkey with paprika and basil. Remove from pan. See tips for browning ground turkey below.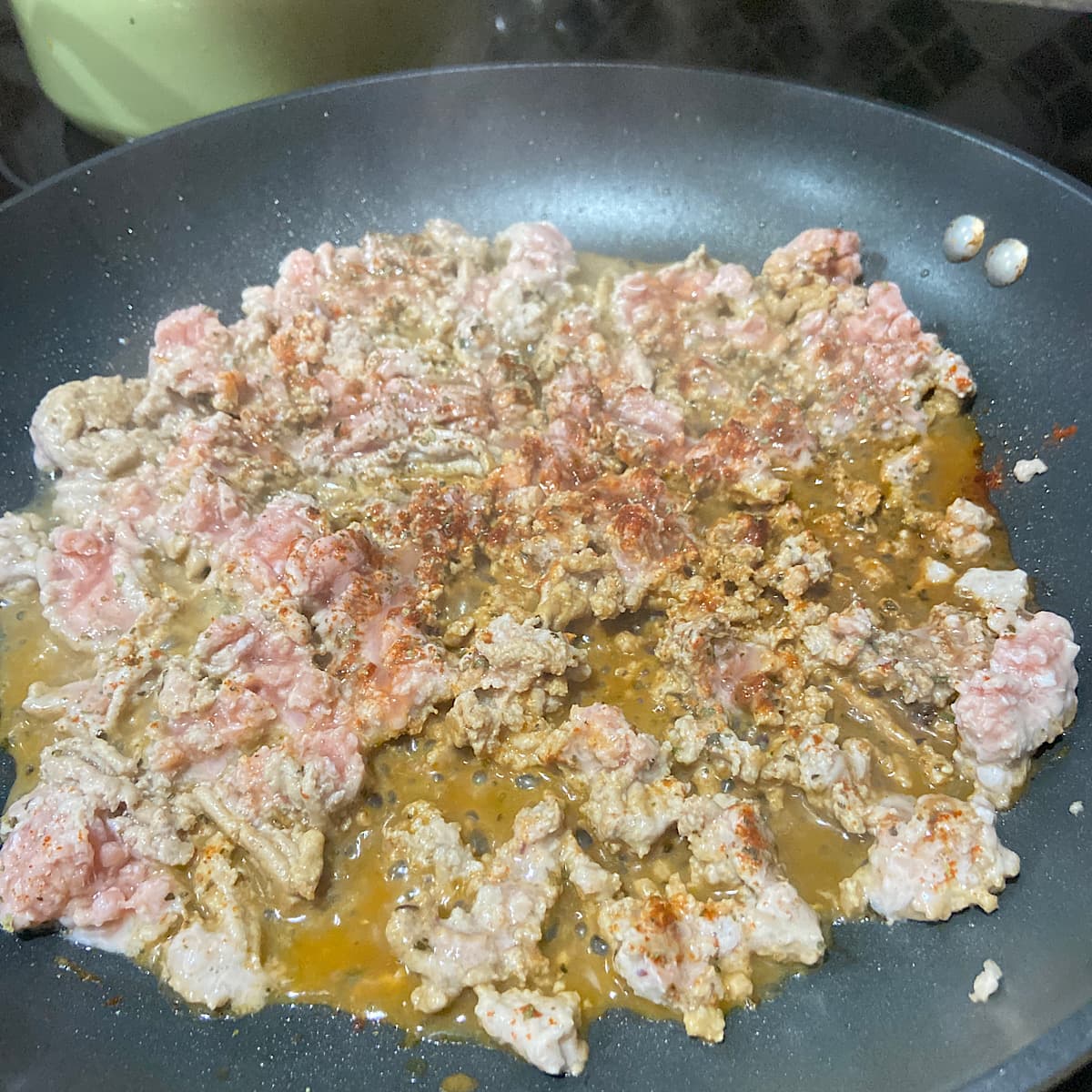 Step 4. Add the remaining olive oil to the frying pan. Stir in onions and garlic. Cook over medium-low heat for 3-4 minutes until onions start to brown. Add minced garlic and stir.
Return browned ground turkey to the frying pan and combine with the onion mixture.
Step 5. Add tomatoes including the juice to the turkey mixture. Stir to combine. For more tomato flavor, add up to two cans of tomatoes undrained.
Step 6. Added cooked noodles to the turkey mixture and combine. If more moisture is needed, add up to 1 1/2 cups of water used to cook noodles.
Step 7. Top with chopped green onion and shaved Parmesan cheese.
Preparation Tip: I have made this dish with one can of tomatoes as well as 2 cans. Two cans will add more tomato juice to the recipe but also more tomatoes.

To add additional moisture, which happens when the noodles soak up the juice from the canned tomatoes, I add some of the noodle-cooking water. Or you can add water from the tap.
FAQs
How to Brown Ground Turkey
Have you ever cooked ground turkey and ended with a light-colored, not very tasty pale result? Here are tips to ensure a ground turkey is browned and flavorful.

First, heat oil in a frying pan over medium-high heat. The oil needs to be hot prior to adding the ground turkey to the pan.

Next, prior to adding ground turkey, blot the meat with a paper towel to absorb excess moisture. This moisture may stop the browning process.
Add ground turkey to the hot frying pan. Spread into a flattened layer with a spatula.

Drizzle Worcestershire sauce over the turkey. Sprinkle paprika, and other seasonings evenly.

Allow turkey to cook undisturbed for 3-4 minutes or until the turkey starts to brown.

Turn the turkey and allow it to brown for 2-3 minutes or until the turkey is no longer pink. Use a spatula to break up larger pieces of turkey.

Your turkey should have brown coloring and resemble ground beef. Remove and set aside.
What to Serve with Goulash
Serve ground turkey and egg noodles recipe with a leafy green salad combined with green pepper, cucumber, pears, and toasted pecans. Add a homemade dressing of Healthy Green Goddess, Homemade Ranch, or Mayfair Dressing.
Look for other Healthy Recipes under Mediterranean Recipes.
Other Healthy Ground Turkey Recipes for You
---
March 2022 Update: Refined blog post.