This post may contain affiliate links. This means I may make a small commission at no additional cost to you when you make a purchase. Find out more in the Disclosure Policy
This Spinach, Tomato, Ham, and Cheese Quiche is a creamy full-flavored egg dish. Two cheese, tomato, spinach, egg, and ham-filled pie pastry is a delicious meal when served with an arugula green salad dressed with just extra virgin olive oil and balsamic vinegar.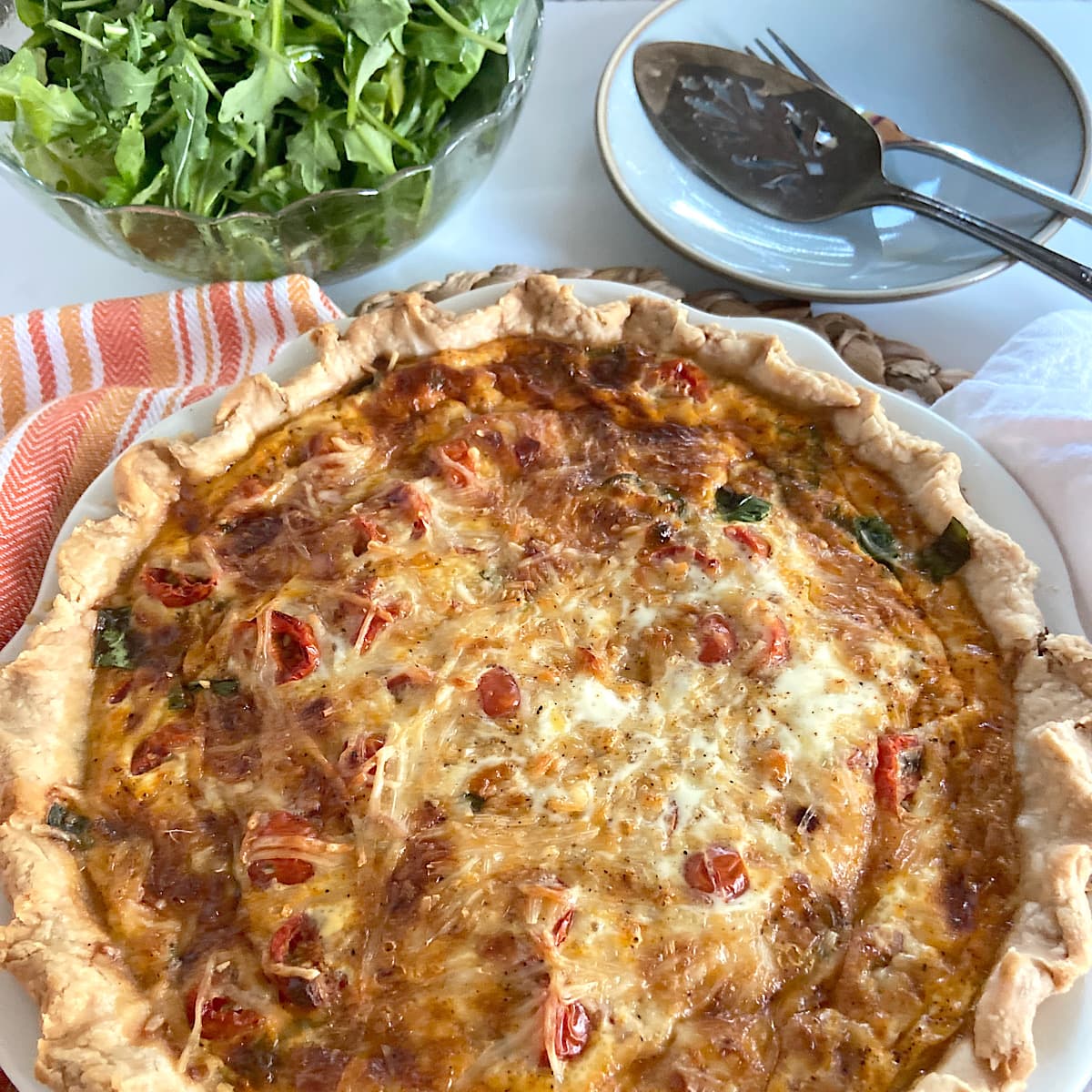 This quiche has a mildly smoky undertone from smoked paprika and smoked gouda cheese.
Really this is an easy dish that you can put together in just about an hour if you have the pie crust made and ready to roll. I like to make mine ahead and store the dough in the refrigerator until it is time to bake.
Ingredients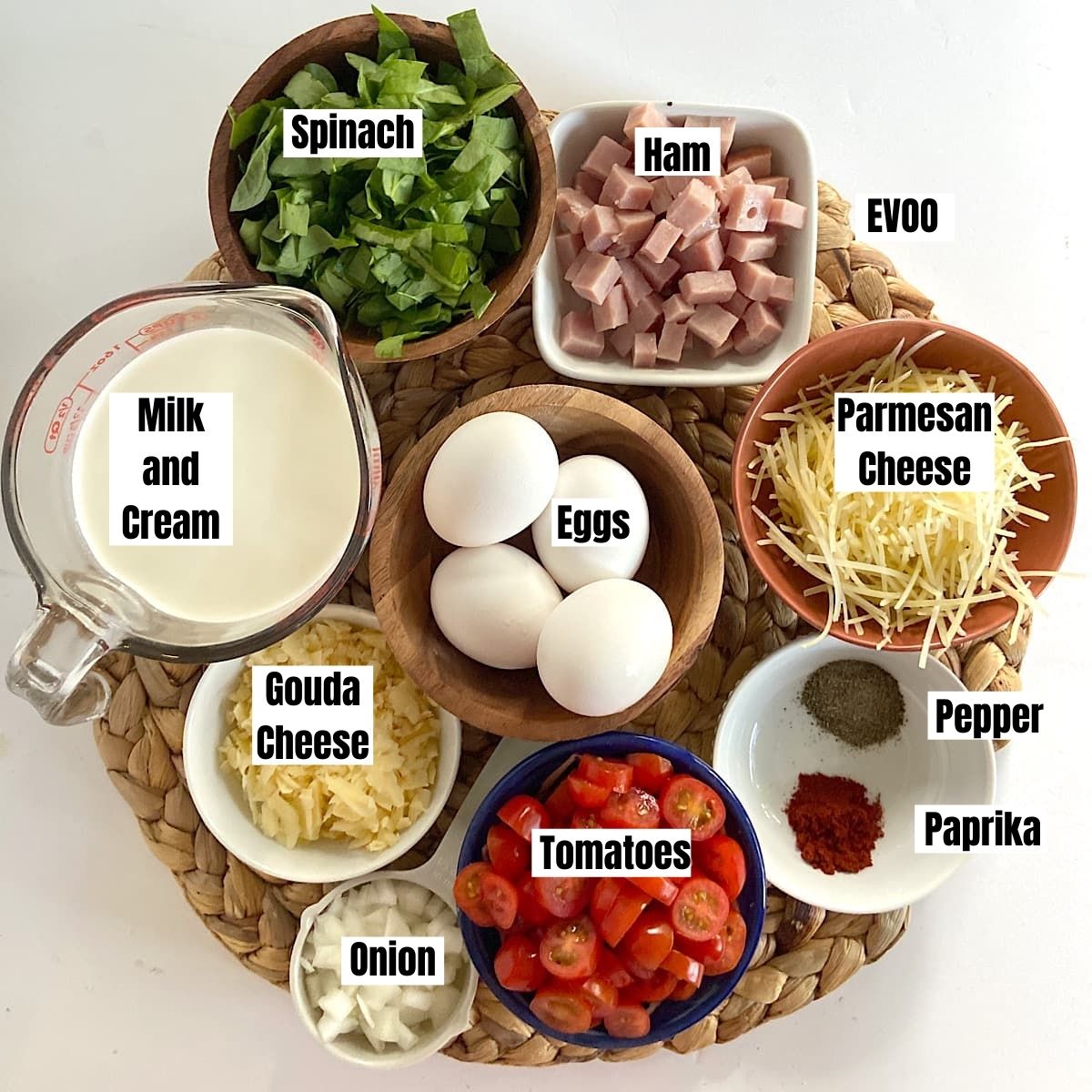 Instructions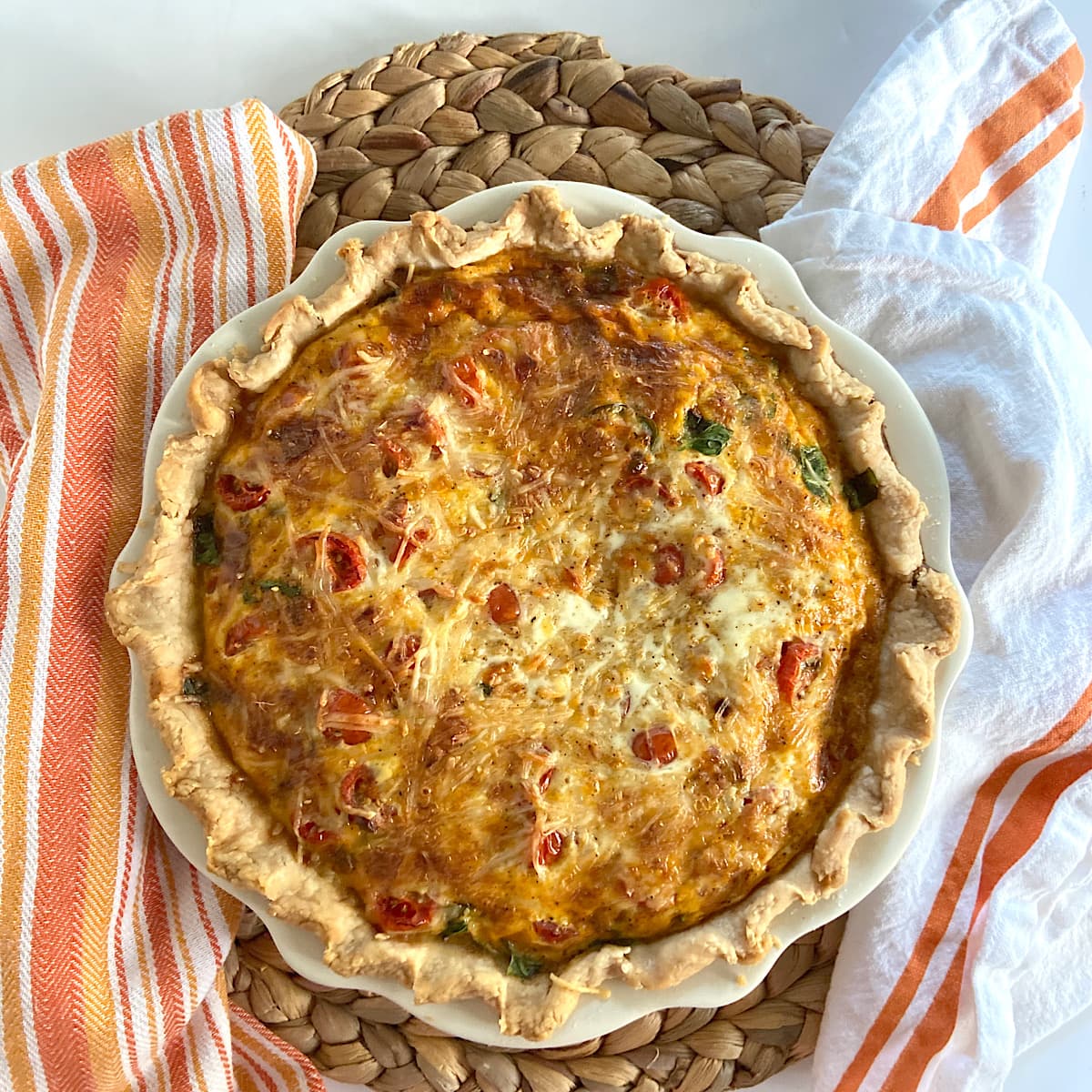 Step 1. Pre-heat oven to 375°F. Prepare a 9-inch pie crust. Add a piece of parchment paper to the bottom of the crust. Add uncooked beans or pie weights to parchment.
Gently spread beans to the bottom edges of the pie pan. Place crust on the bottom rack of the oven and prebake for 15 minutes.
Step 2. While crust is baking, chop ham, spinach, onion, and tomato.
Step 3. Heat olive oil in a frying pan over medium-high heat. Add olive oil and onion. Cook for 2-3 minutes until the onion starts to brown. Add ham and cook for 3-4 minutes.
Step 4. Remove pie crust from the oven. Remove parchment paper and beans and discard.
Step 5. Add ham and onion mixture to the bottom of the warm crust. Next layer the chopped spinach, tomato, and cheeses.
Step 6. In a mixing bowl whisk eggs, milk, half and half, pepper, and paprika.
Step 7. Pour egg mixture over the pie ingredients.
Step 8. Place pie on the bottom rack of the oven and bake for 45 minutes. Check pie for doneness by inserting a knife in the middle of the quiche. The pie is done when the knife comes out clean.
What to Serve with Quiche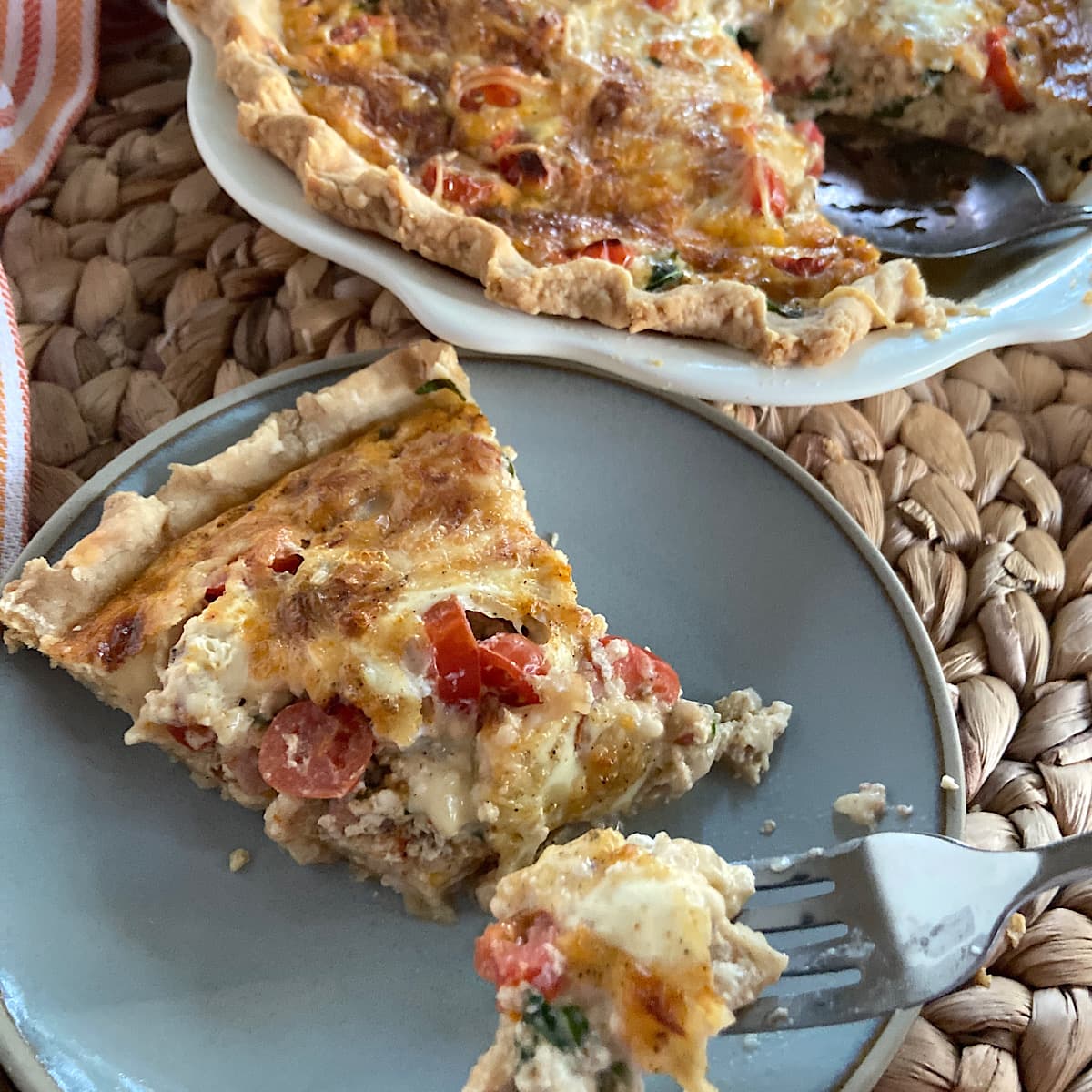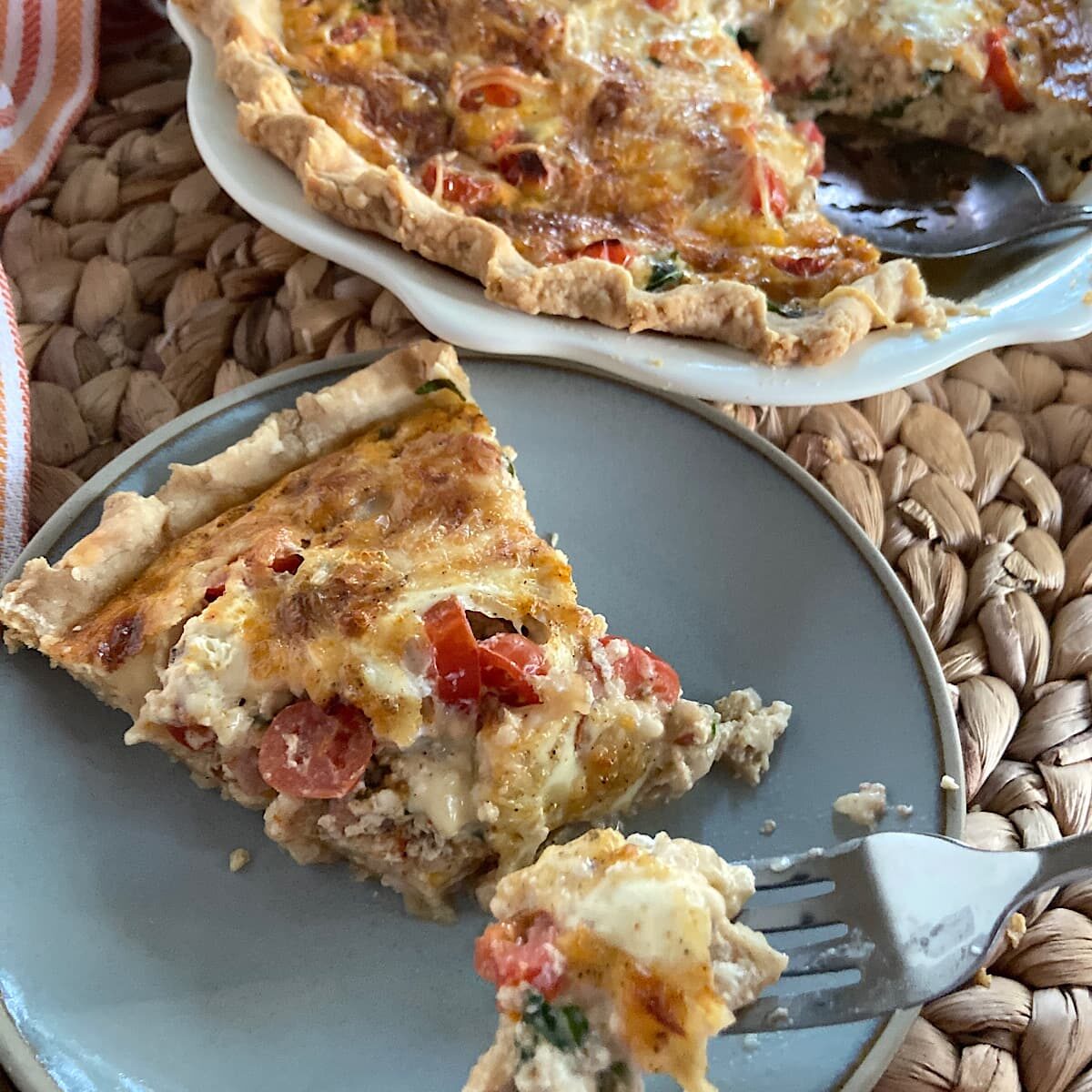 This ham and cheese quiche is a perfect dish to serve for breakfast, brunch, lunch, or even dinner.
Include a salad of mixed greens dressed with extra virgin olive oil and white balsamic vinegar.
Other Egg Recipes for You
---