This post may contain affiliate links. This means I may make a small commission at no additional cost to you when you make a purchase. Find out more in the Disclosure Policy
Try this flavorful and filling Leek, Potato, and Asparagus Frittata for a late Sunday brunch or a light lunch. You will love this recipe made with leeks, fresh asparagus, eggs, potatoes, and feta cheese.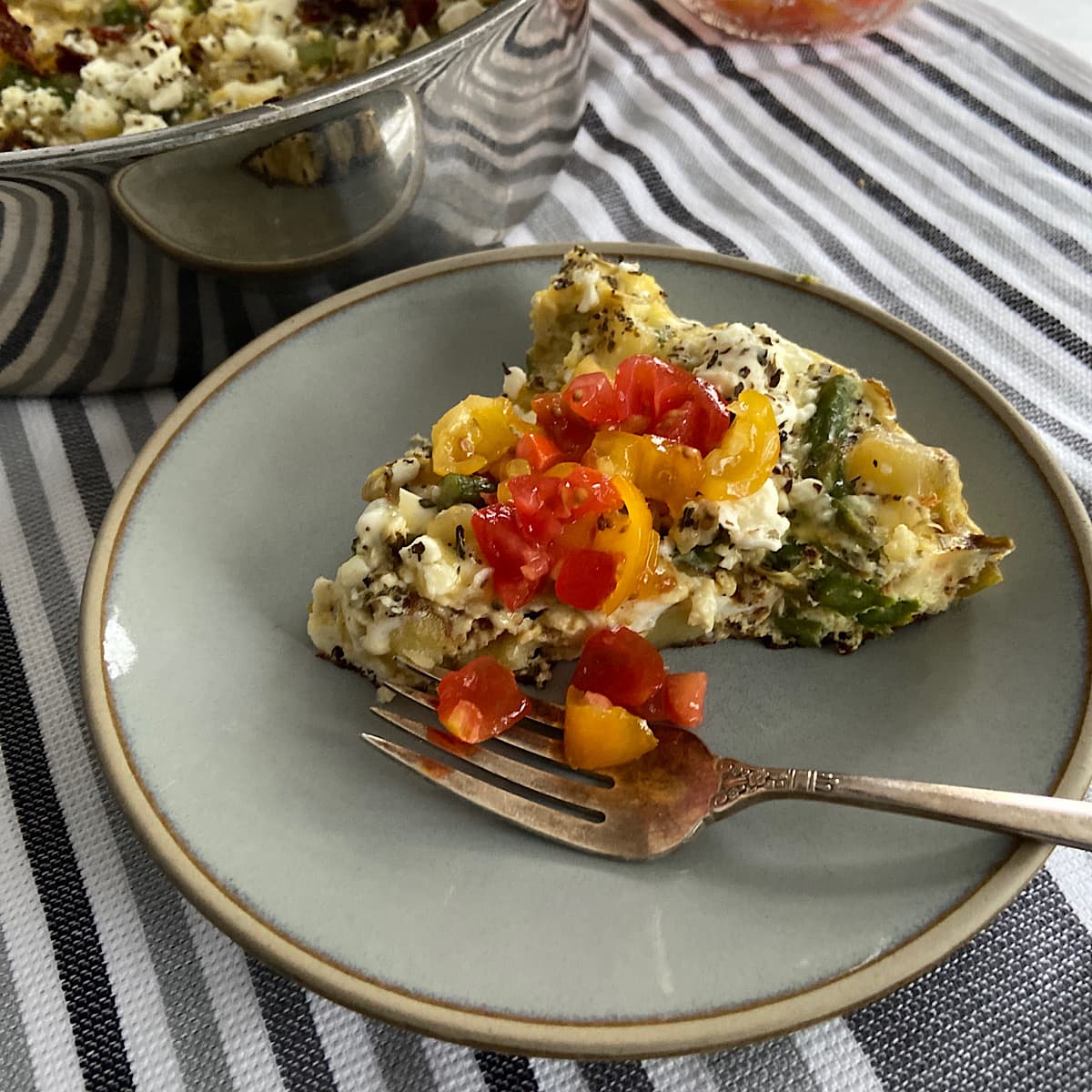 Frittatas are super flexible and you can use a variety of ingredients from vegetables, to ham, sausage, and bacon, to different cheese.
This potato asparagus frittata uses some of my favorite ingredients including leeks, feta cheese, and sundried tomatoes.
Ingredients
The base of a frittata is eggs and milk. You can add a variety of vegetables, but for this recipe, I chose asparagus, potatoes, sun-dried tomatoes, and leeks.
The remainder of the ingredients helps flavor the dish including minced garlic, basil, and rosemary. Season with black pepper and add feta cheese for a salty bite.
Instruction
There are a few steps to preparing this asparagus leek potato frittata and having a partner to help makes it more fun.
For this recipe, you will need an oven-safe frying pan (#ad) or skillet.
Step 1. Use a peeler to remove the outside skin. Trim off the cut end of the stalk. Slice on a diagonal into 1-inch pieces. Set aside.
Step 2. Wash potatoes and peel. Chop into 1/4-inch cubes. I used a golden potato for this recipe since that is what I had in my pantry. You could also use small red potatoes.
Step 3. Bring a pan of water to a boil. Boil cubed potato for 10 minutes. Add Asparagus and cook another 10 minutes or until fork-tender. Strain and drain on paper towels. Set aside.
Step 4. While the asparagus and potatoes are boiling, saute leed and garlic in olive oil for 2-3 minutes. For the onion, I choose a leek. I love the mellow flavor once it is cooked and include it when I am cooking potatoes. A sweet onion would work nicely, too.
Step 5. Add potatoes and asparagus to onions and potatoes and cook for 3 minutes over medium-low heat.
Step 6. Whisk eggs, milk, rosemary, and pepper in a large bowl. Pour over potatoes and asparagus.
As eggs begin to solidify, run a spatula around the edge of the pan to allow the remaining uncooked egg to fill in the gap.
You may need to lower the heat if the edges start to brown, but continue to cook until the eggs are almost all solid.
Step 7. Sprinkle with a mixture of feta cheese, tomato, and basil. Transfer the pan to the oven and broil for 3-5 minutes until the eggs are set. Serve immediately with a spoonful of diced tomatoes.
Frequently Asked Questions
What is the Difference Between a Frittata and a Quiche

A frittata is similar to an omelet. It consists of a base of eggs with little to no dairy.

Rather than folding over in half, the frittata is cooked with an open face. The frittata is cooked over a low temperature on the stovetop and may be finished in the oven to completely set the top.

A quiche is an egg-based custard recipe made with cream and includes a crust. It is baked in the oven rather than on the stovetop.

Both a frittata and a quiche may include added vegetables, protein, and cheese.
How to Store Asparagus

The best way to store asparagus is to refrigerate it upright in approximately 1-inch of water.

If you plan to peel ahead of using, wrap peeled asparagus in damp paper towels, and place it in a zip-lock bag with the air pressed out of the bag. This is necessary because peeled asparagus browns when exposed to air.
How to Store

The Asparagus Frittata can be stored in the refrigerator in a covered container for up to 3 days.
Other Healthy Breakfast Recipes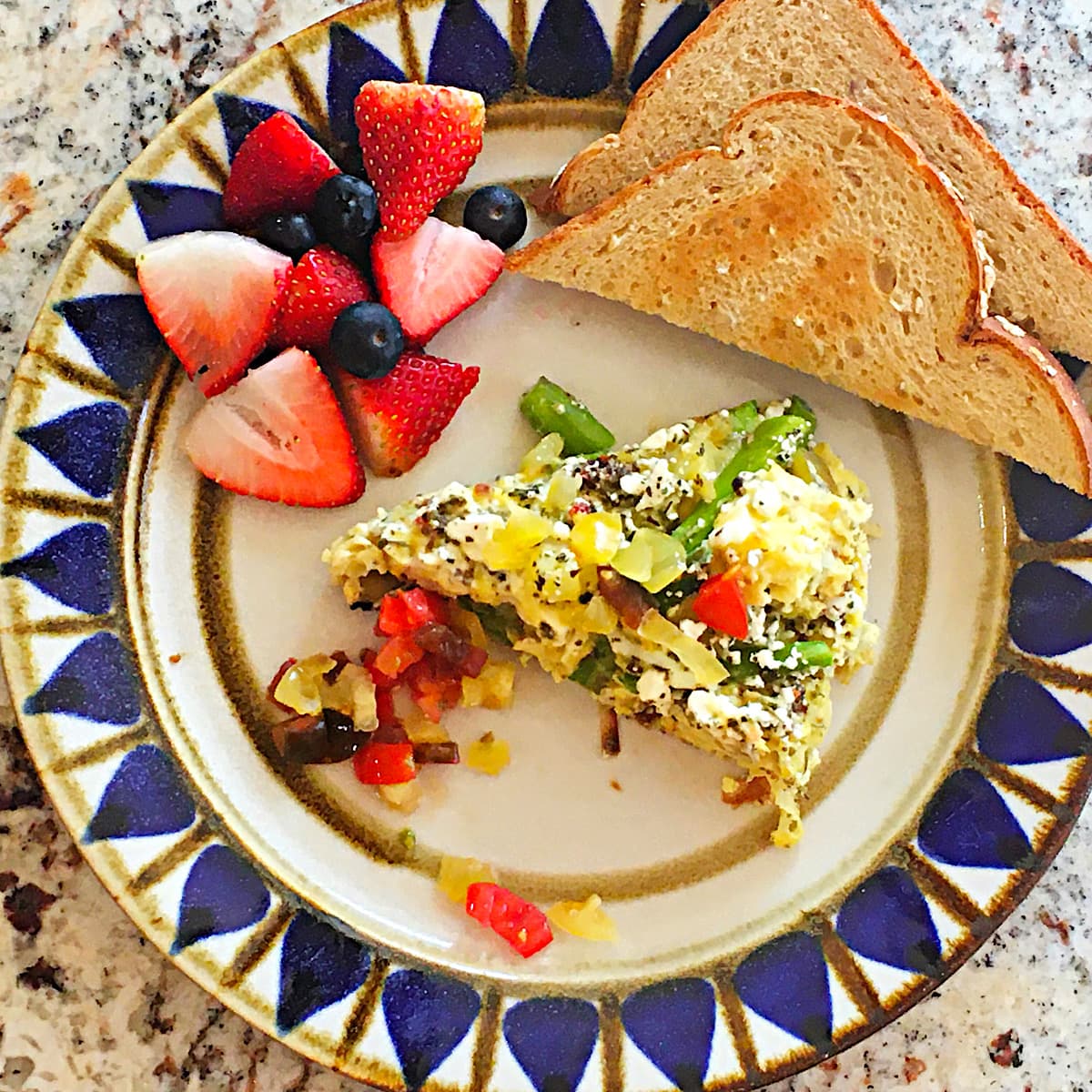 Serve this vegetable frittata with fresh fruit and toast. You could also add a side of bacon or ham.
Find more healthy breakfast recipes in my post the Best Mediterranean Diet Breakfast Recipes. Enjoy.
---
---
February 2022 Update: post updated with new images, and process photos. Minor update to the recipe card.