This post may contain affiliate links. This means I may make a small commission at no additional cost to you when you make a purchase. Find out more in the Disclosure Policy
Filling and full of flavor, this Turkey Sausage Breakfast Burrito recipe is a tasty recipe for brunch or dinner.
Filled with sausage-flavored ground turkey, eggs, potatoes, vegetables, and spices, all wrapped in flour and whole wheat tortillas. Ready and on the table in less than an hour.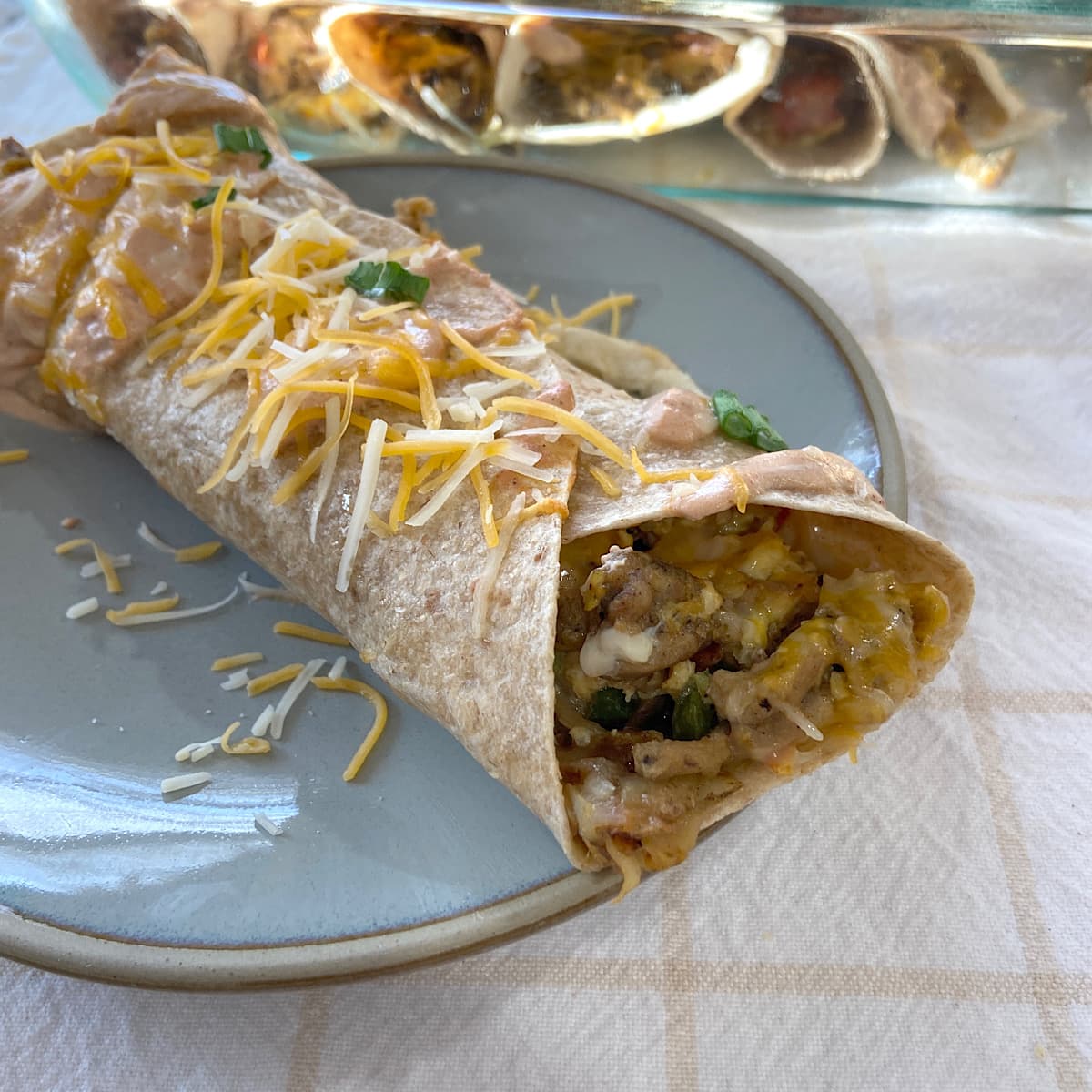 My family loves these healthier ground turkey breakfast burritos. Made with sausage-flavored ground turkey, eggs, vegetables, olive oil, and spices, they are a tasty breakfast wrap.
I use a combination of flour and whole wheat tortillas. Honestly, both are really good.
Ingredients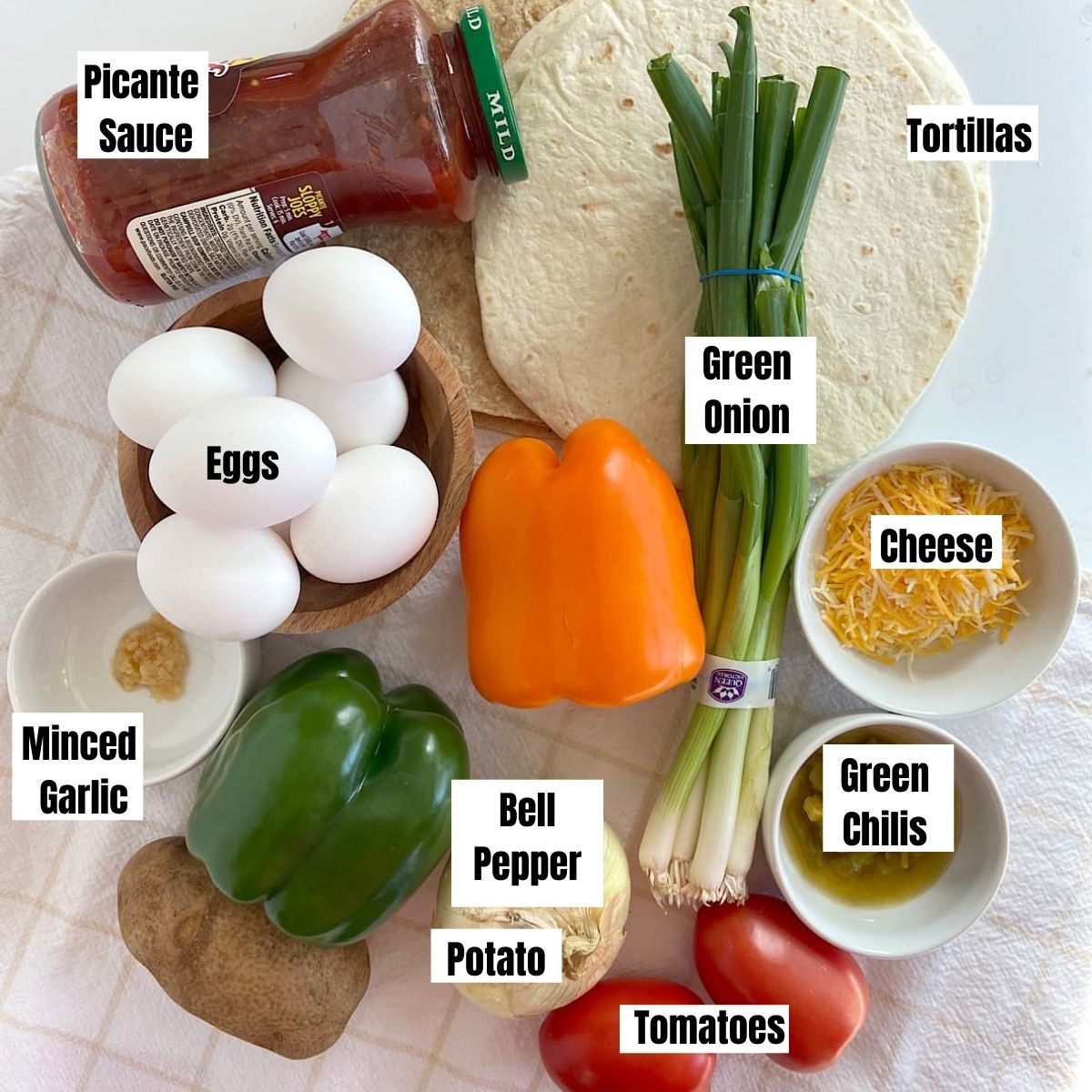 Ingredients for Turkey Sausage Spice Mix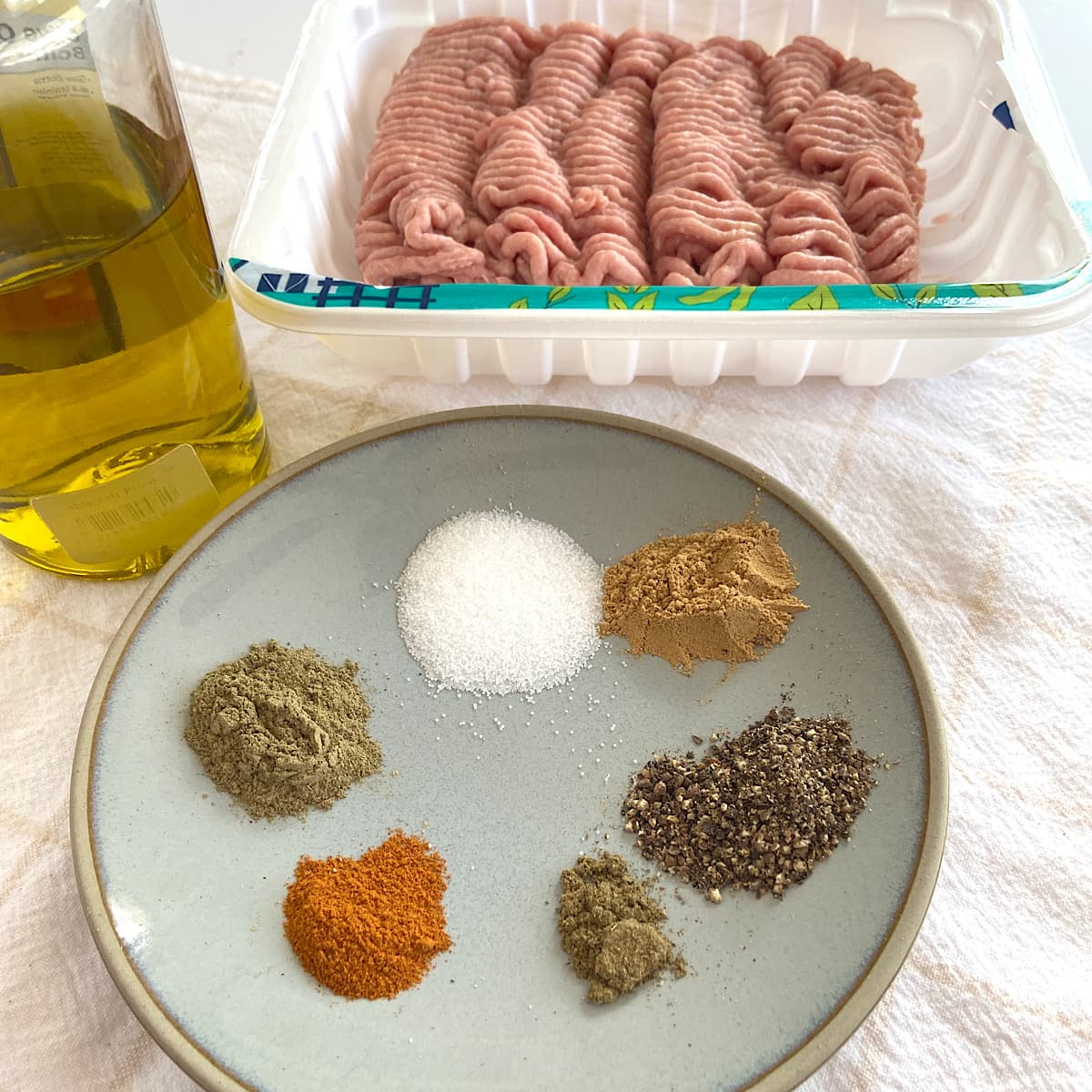 Instructions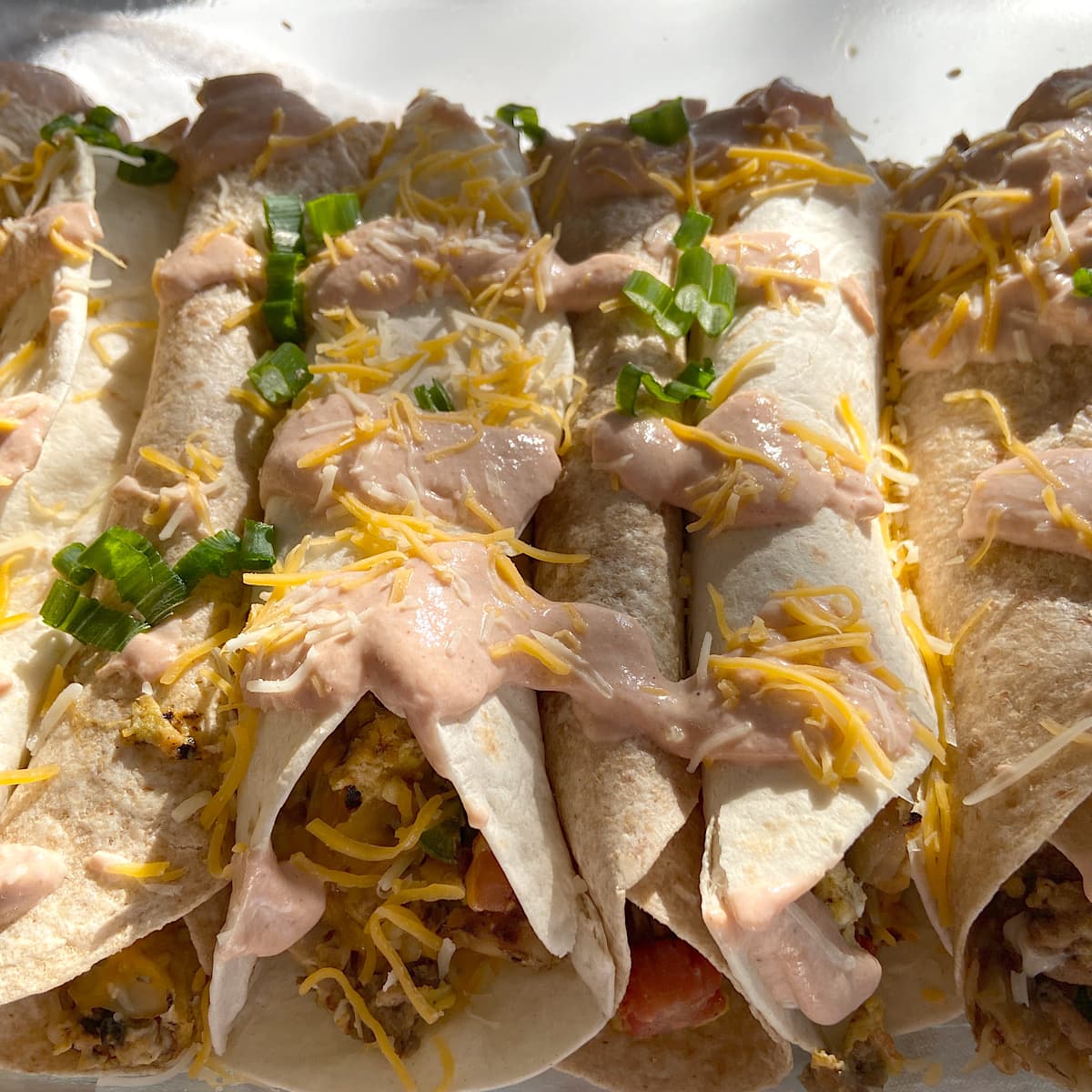 Step 1. Preheat oven to 350F. Wrap tortillas in foil and seal tightly. Place on the lower rack of the oven while cooking the burrito filling.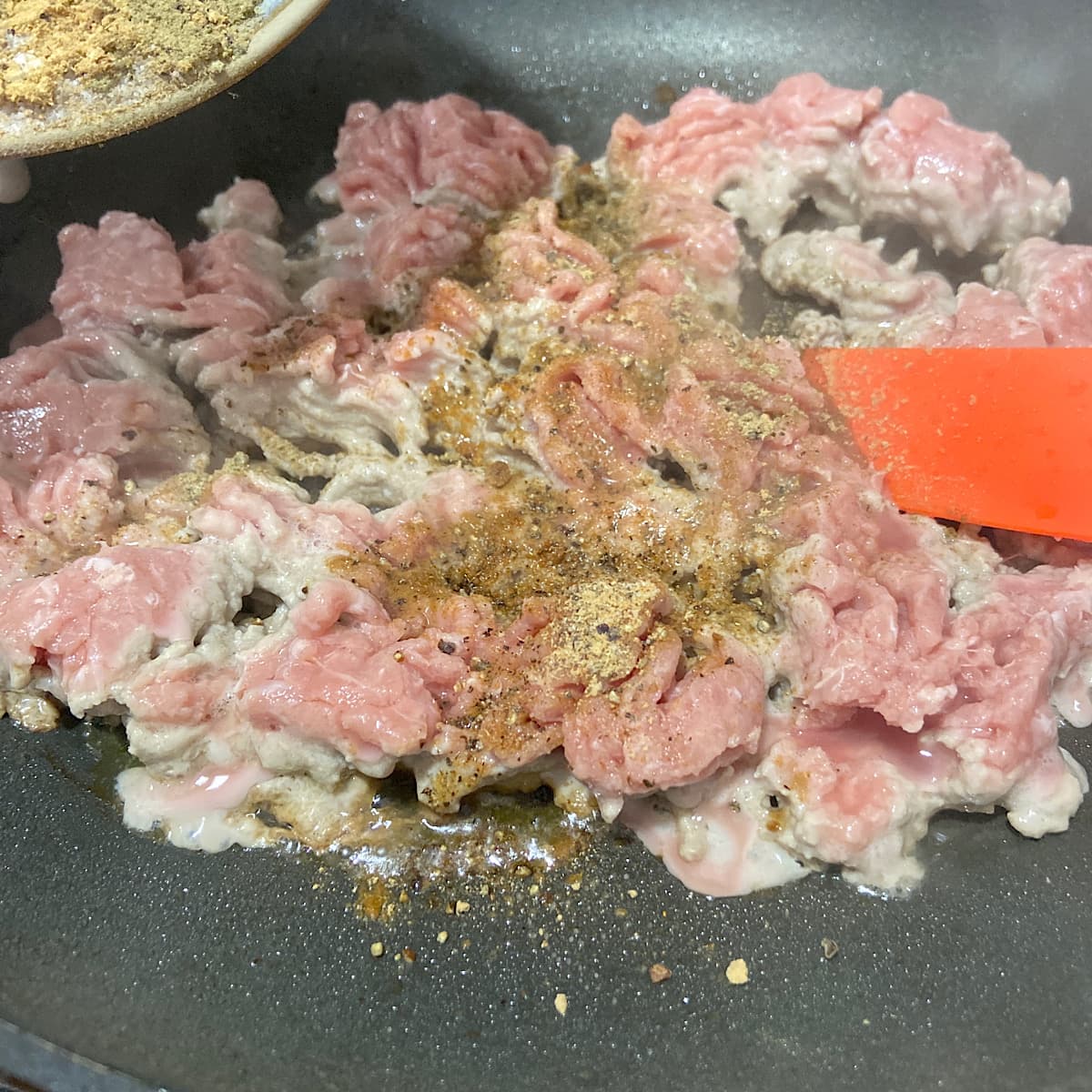 Step 2. Heat olive oil in a frying pan over medium-high heat. Add ground turkey to the pan and cook for 3-5 minutes until browned.
Mix spices, salt, and pepper. Sprinkle evenly over the turkey. Turn the turkey and break it into bite-sized pieces. Continue to cook over medium heat until the turkey is no longer pink. Remove from pan and drain over paper towels.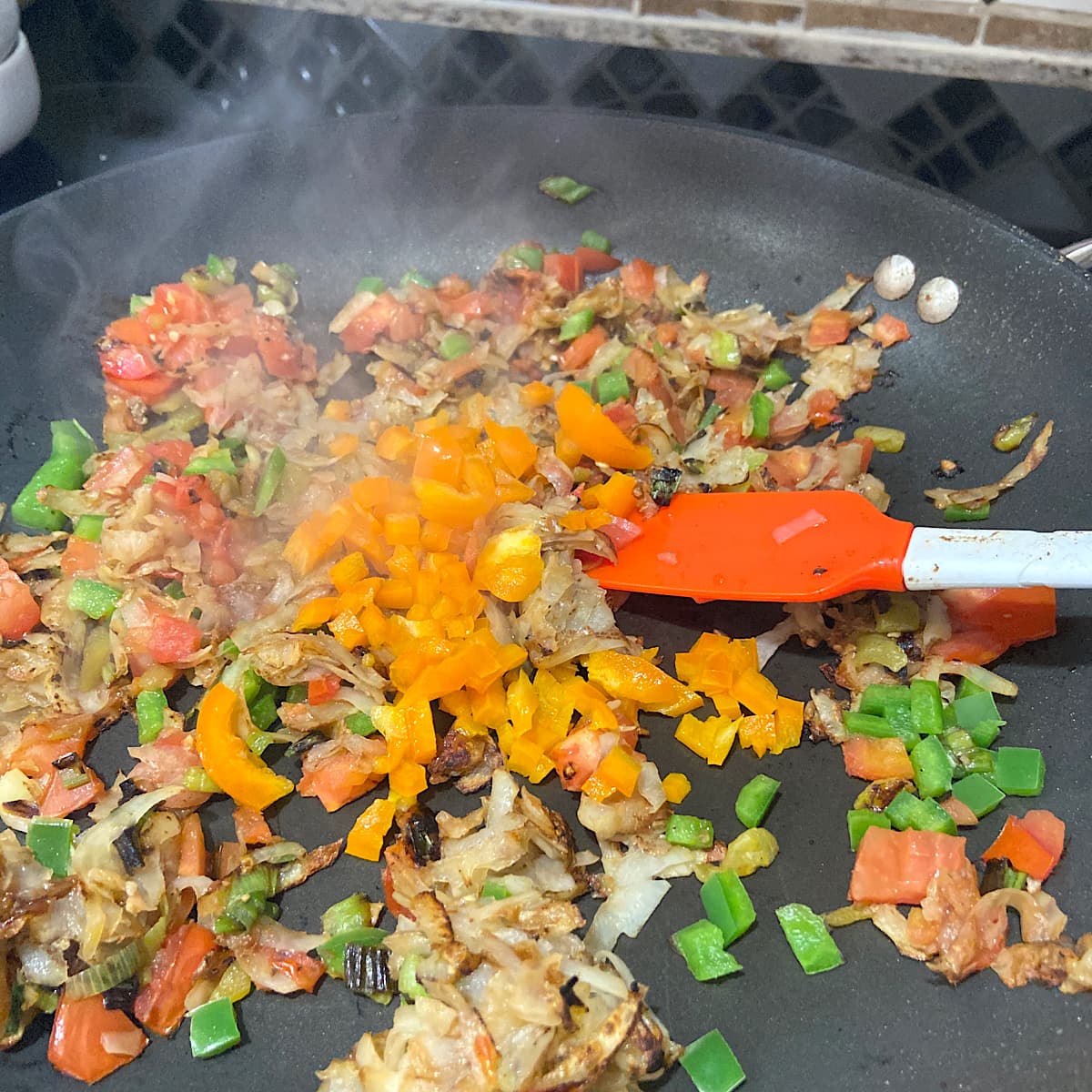 Step 3. Add more olive oil to the frying pan and heat over medium heat. Chop green onion and shred potato. Add to heated pan. Cook and stir for 2-3 minutes. Add minced garlic and green chilies. Cook and stir for 2-3 minutes. Chop tomato and peppers. Add to pan and cook and stir for 2-3 minutes. Push vegetables over to one-half of the pan.
Step 4. Whisk eggs. Add to pan and cook and stir until set and solid. Stir in cooked turkey. Remove from heat.
Step 5. Add 2/3 cup filling to a tortilla. Sprinkle 1 tablespoon of shredded cheese over the filling. Roll up the tortilla and place it in the baking pan. Continue with the remaining tortillas.
Step 6. Mix Picante sauce and Greek yogurt. Drizzle over top of burritos. Sprinkle with a tablespoon of cheese and chopped green onion.
Step 7. Place the baking pan on the bottom rack of the oven. Heat for 15 minutes until the burritos are heated through and the cheese is melted.
Frequently Asked Questions
What is the Difference Between a Tortilla and a Burrito

Available in flour, whole wheat, corn, and even low-carbohydrate varieties, a tortilla is the bread container of a burrito.

A burrito is a tortilla plus the filling included in the tortilla. Common fillings include meat, cheese, rice, vegetables, and seasonings.
How to Store Breakfast Burritos

These can be stored in an airtight container in the refrigerator for 2-3 days. Reheat in the microwave for 30-45 seconds until heated through.

For longer storage, you can freeze it by individually wrapping it in plastic wrap and then in foil. They can be stored frozen for one to two months. Remove from foil and microwave for one to two minutes until heated through.
Can Breakfast Burritos be Premade

You can make breakfast burritos the night before you serve them. Skip heating the tortillas. Follow the other directions, except for heating the filled burritos. Wrap the pan with plastic wrap and foil. Store in refrigerator.

Remove from refrigerator and set out on the counter while the oven heats. Heat burritos for 20-30 minutes until they are heated through.
What to Serve With Breakfast Burritos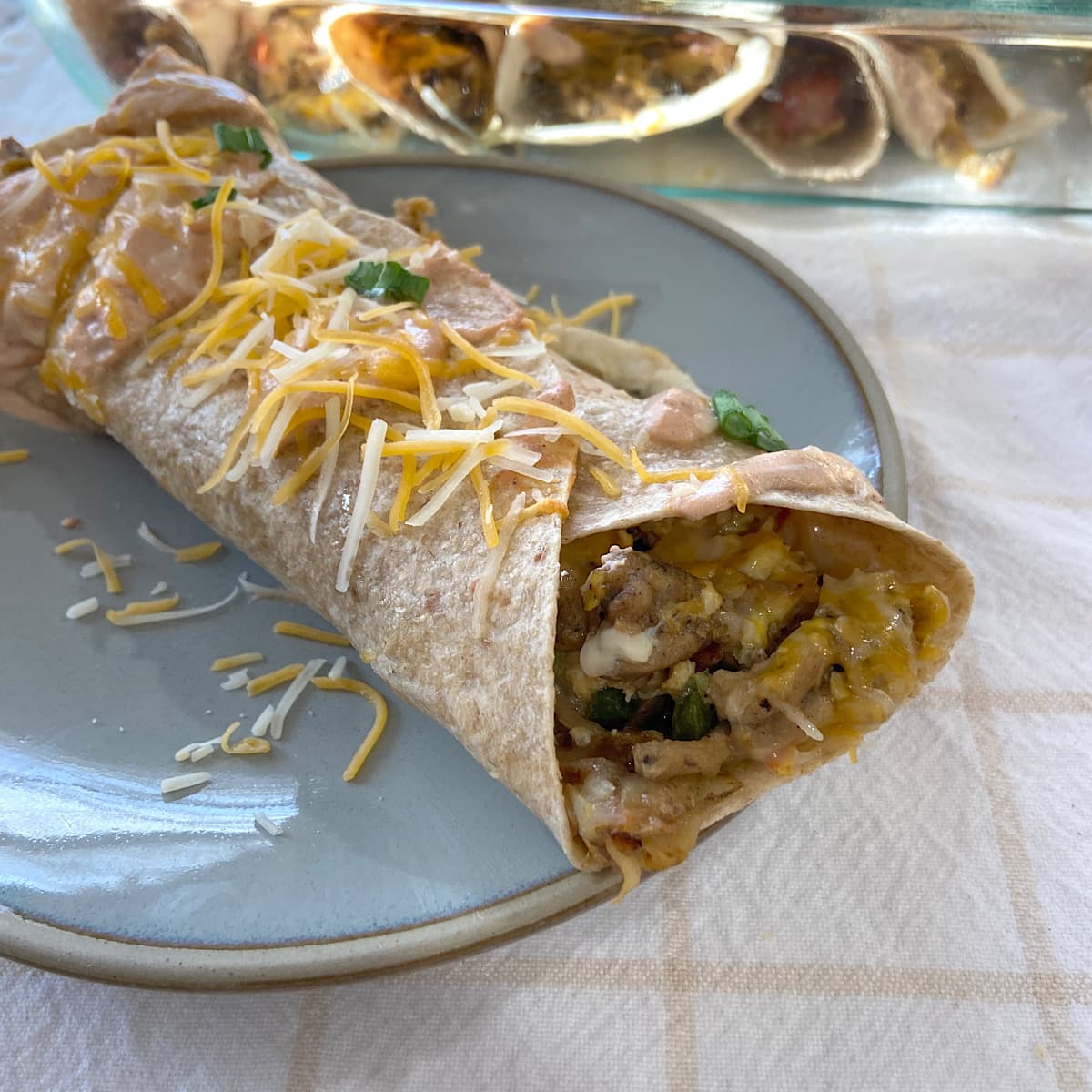 Serve these hearty sausage and potato breakfast burritos with a serving of fruit or juice when enjoying breakfast or brunch. These also work as a filling lunch or dinner with a leafy green salad.
Other Healthy Breakfast Recipes for You
---
October 2022 Update: Minor post and image updates.