This post may contain affiliate links. This means I may make a small commission at no additional cost to you when you make a purchase. Find out more in the Disclosure Policy
By the end of Summer, most gardens are overflowing with zucchini. So much that I am looking for recipes to help manage the abundance. My Moist and Healthy Zucchini Bread Recipe is tender and full of Fall spice. It's an easy recipe that comes together quickly and won't disappoint.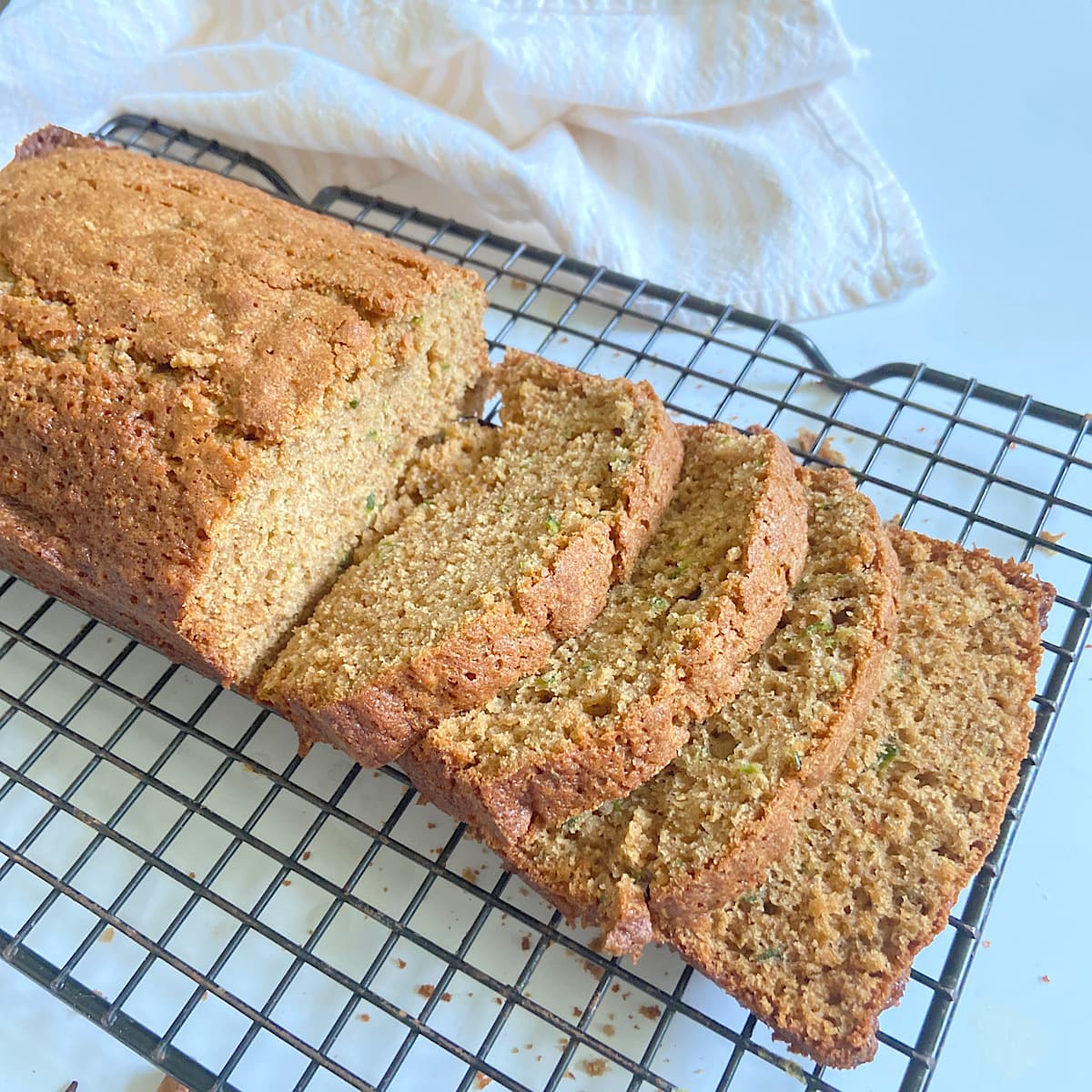 This Moist and Healthy Zucchini Bread Recipe reminds me of the loaves my grandmother and her friends made every year.
I adjusted my grandma's recipe to include whole wheat pastry flour #ad. It is whole wheat flour with a finer texter, a lighter color, and a mild flavor.
It adds the whole grain benefits to this recipe without the grainy texture some whole wheat flours are known for.
I also cut back on sugar and used olive oil for the fat. This bread is still plenty sweet without all the sugar you use in regular zucchini bread.
Here are all the ingredients for a 9-inch loaf.
Ingredients in Healthy Zucchini Bread
Spices set the flavor stage for this recipe. Here's what you need:
baking powder, baking soda
cinnamon, nutmeg, ginger, cloves
How to Make Zucchini Bread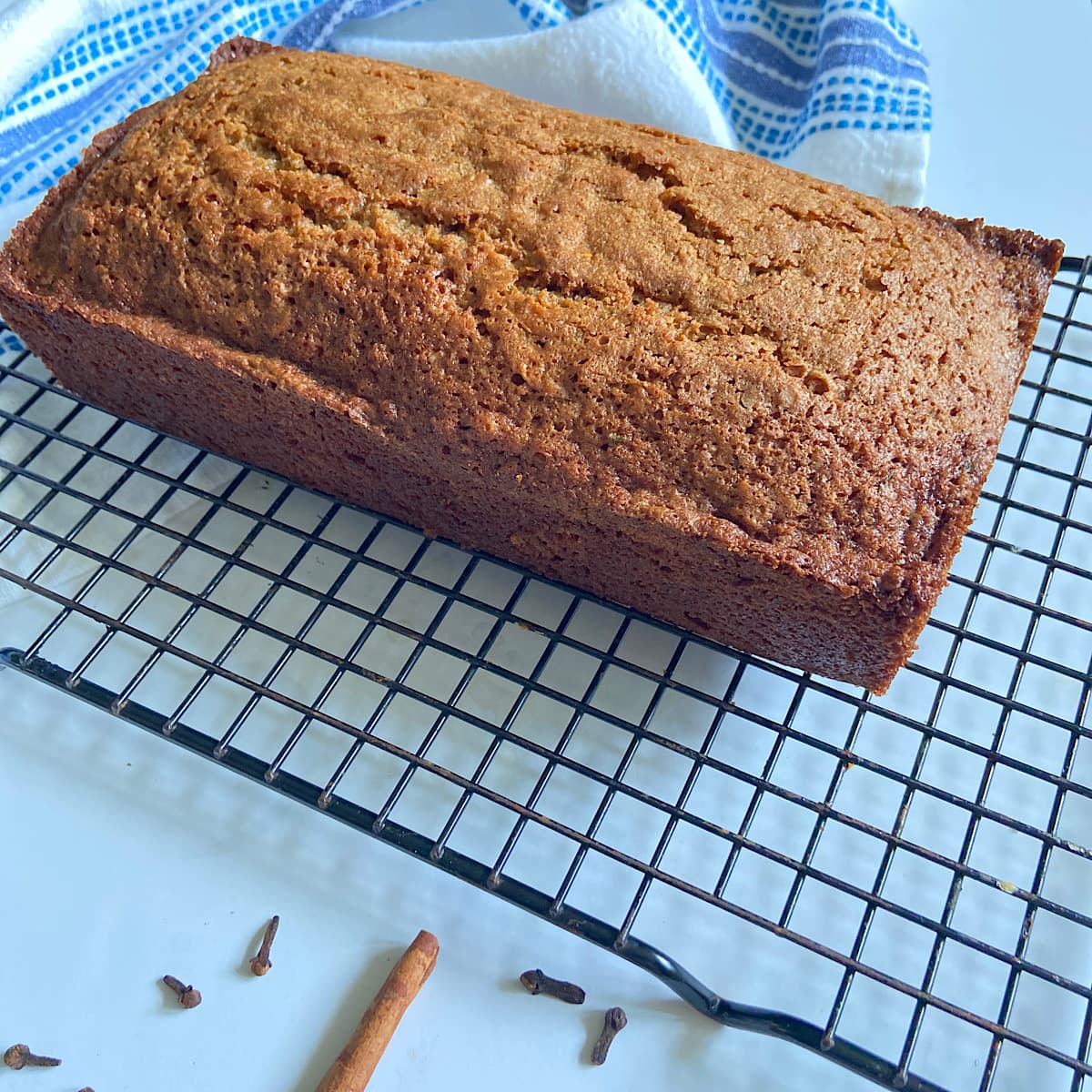 Quick bread recipes are simple.
Start by preheating the oven to 350F.
The first step is grating zucchini.
How to Grate Zucchini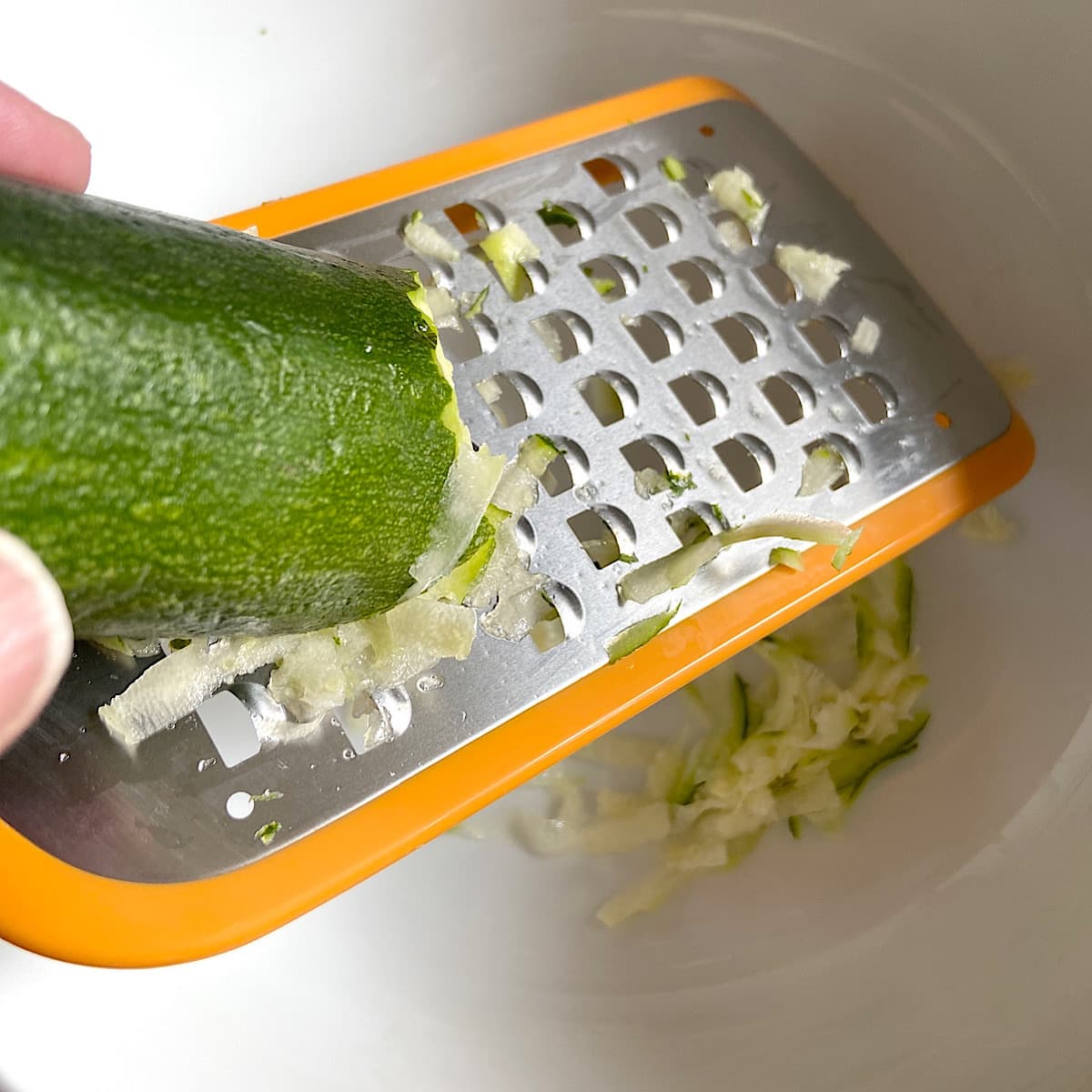 This recipe calls for 2 cups of grated zucchini. A medium zucchini will grate to approximately 2 cups.
Rinse and scrub zucchini with water. No need to peel. The zucchini skin is soft and will incorporate into the bread.
You can use a hand or large cheese grater to shred the zucchini. Get a medium to a large bowl and arrange your hand grater #ad over a bowl. Make sure to keep your fingers back from the metal grate as your push the zucchini through the grids. Rotate as you go to keep the squash an even diameter. Set aside.
You may notice green streaks in the finished bread, but little else of the original vegetable.
Wet Ingredients
Next, whisk eggs and mix in oil. Add sugars and vanilla. Sugars are usually added to wet ingredients. Once everything is mixed well together, add zucchini.
Dry Ingredients
Whisk dry ingredients including flours, baking powder, baking soda, and spices so everything is evenly mixed.
The dry ingredients are then added to the wet and stirred until just incorporated.
Since there is whole wheat flour in this recipe, I suggest letting the batter rest for 10 minutes.
Then, spoon batter into the 9-inch loaf pan.
Place loaf pan on the bottom rack of a preheated oven. Bake for 45 minutes.
Additions and Substitutions When You are Out
Flour: I love using Whole Wheat Pastry Flour. It includes all the nutrients and fiber of other whole wheat flours but has a finer texture, milder flavor, and a lighter color. If you can't locate pastry flour, then I would substitute White Whole Wheat Flour.
Oil: For this recipe, I used olive oil because it is low in saturated fat, but canola oil is another healthy substitute. You can also use other oils on hand.
Spices: Some zucchini bread recipes are spice-free, but I love to add more than just cinnamon. If you are missing or don't care for one of the spices, you might add more of one of the others. For my taste, I generally go light on nutmeg and cloves.
Nuts: I didn't include nuts in this recipe, but toasted walnuts or pecans would add additional crunch.
How to Store Zucchini Bread
Once the bread is cool from the oven. Wrap in plastic wrap to seal. Then wrap in foil.
Zucchini bread keeps fresh and moist on the counter for 2-3 days. If you prefer, you can wrap it the same way and store it in the refrigerator.
The wrapped loaves can also be stored in the freezer for up to 2 months with a similar flavor and quality. Consider storing in a zip lock bag for longer freezer storage.
Looking for healthy recipes? Check out these other recipes made with whole wheat pastry flour:
August 2021 Update: Updated recipe post with ingredients, preparation instructions, and new images. Recipe card updated with ingredients and instructions.