This post may contain affiliate links. This means I may make a small commission at no additional cost to you when you make a purchase. Find out more in the Disclosure Policy
My family loves pancakes. So much in fact, I decided to look for a better option than my traditional all-purpose flour recipe. They love these Mediterranean Diet Pancakes that are tender and fluffy. They are made with whole wheat flour, giving them a slightly nutty flavor. The bonus is these pancakes are packed with flavor as well as nutritious ingredients.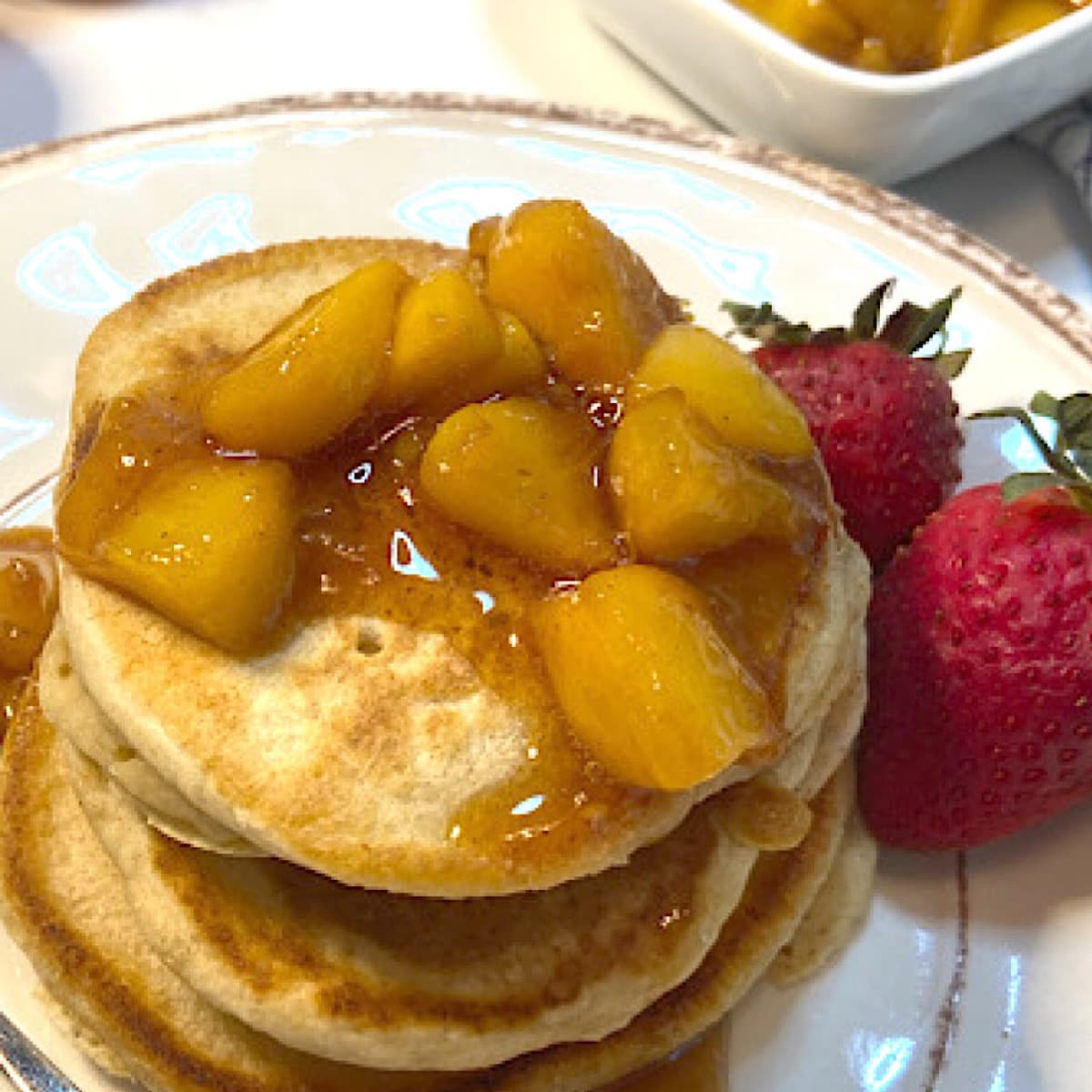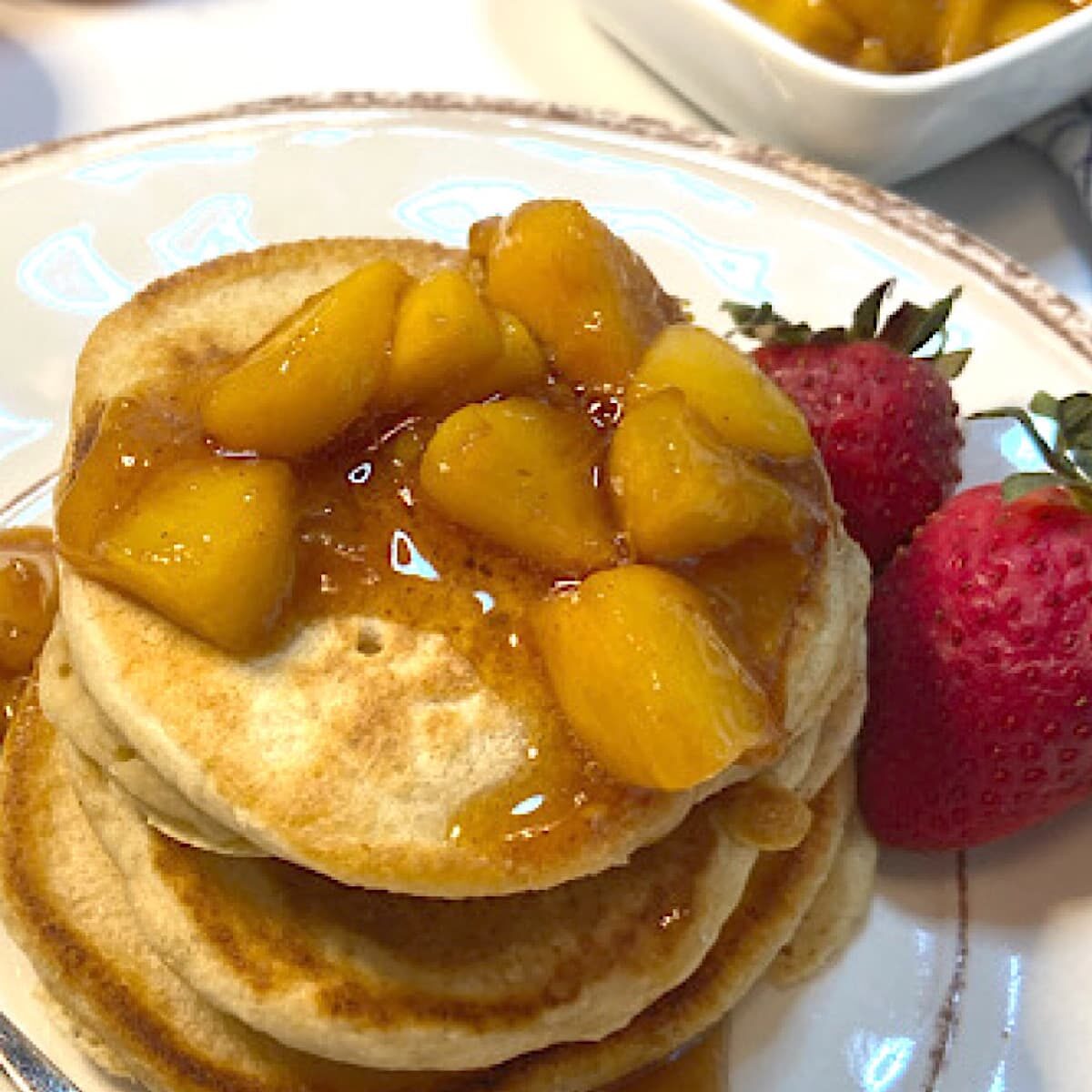 When considering a recipe for healthy pancakes I looked at regular whole wheat flour but felt its heavy texture wouldn't be an acceptable substitute.
Another option is white whole wheat flour. This is flour that is ground from soft white wheat. It has a lighter color and a milder flavor. But for the best healthy pancakes, I chose to use whole wheat pastry flour.#ad
Pastry flour from white whole wheat is an excellent substitute for all-purpose flour in baked goods, including pancakes.
To learn more about the benefits of whole grains, including the whole wheat pastry flour used in these Mediterranean Diet pancakes, read my post on Get the Scoop on Whole Grains.
Ingredients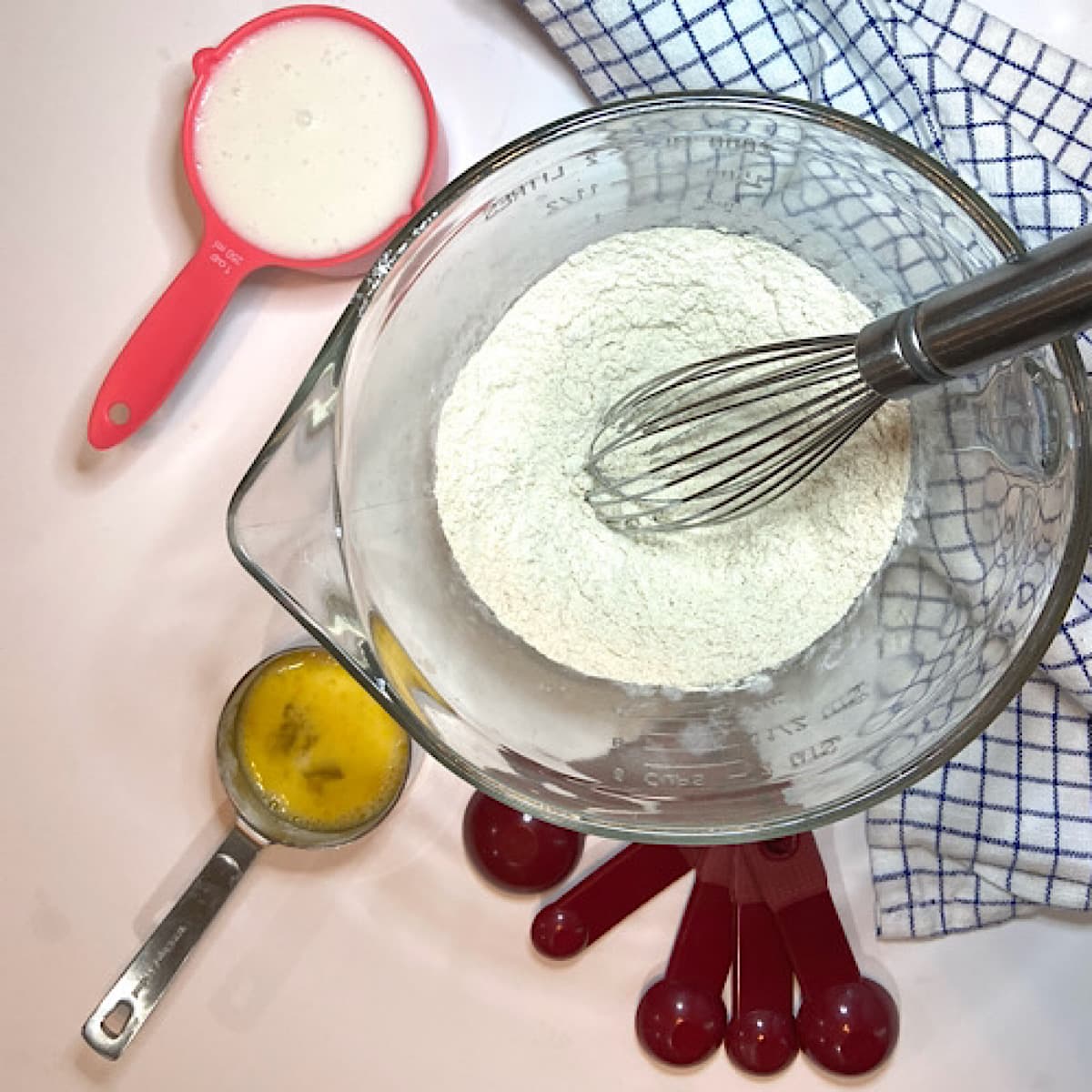 These Mediterranean pancakes include just a few simple ingredients. Whole wheat pastry flour sets the base for these pancakes.
Other dry ingredients include brown sugar or honey if you prefer, salt, and baking powder.
Wet ingredients include an egg, olive oil, vanilla, and almond milk.
Whole Wheat Pastry Flour Tips
While whole wheat pastry flour is similar to all-purpose flour, it is still whole wheat and slightly heavier than all-purpose flour. The following are 3 tips for working with whole wheat pastry flour:
I generally cut back 1 tablespoon per cup of flour when I convert a recipe.
Whole wheat flour also benefits from a light mix. Stir until combined, but it is ok to see a few small lumps of unmixed flour. Less mixing helps make a tender baked good.
A final tip for working with whole wheat flour is to give the batter time to rest. Wait 10-15 minutes before making your pancakes or other baked goods.
Instructions
Step 1. Whisk eggs, brown sugar or honey, if preferred, olive oil, milk, and vanilla together.
Step 2. Mix dry ingredients, including flour, baking powder, and salt in a large bowl. Add egg mixture and gently stir until well mixed. The dough may have small lumps that are not totally combined.
Step 3. Let batter rest for 10-15 minutes.
Step 4. Heat extra virgin olive oil in your frying pan over medium-low heat.
Step 5. Add 1/4 cup of batter to the pan. Most large frying pans will fit 3-4 pancakes. Adjust heat to low. Cook until you start to see bubbles form in the batter.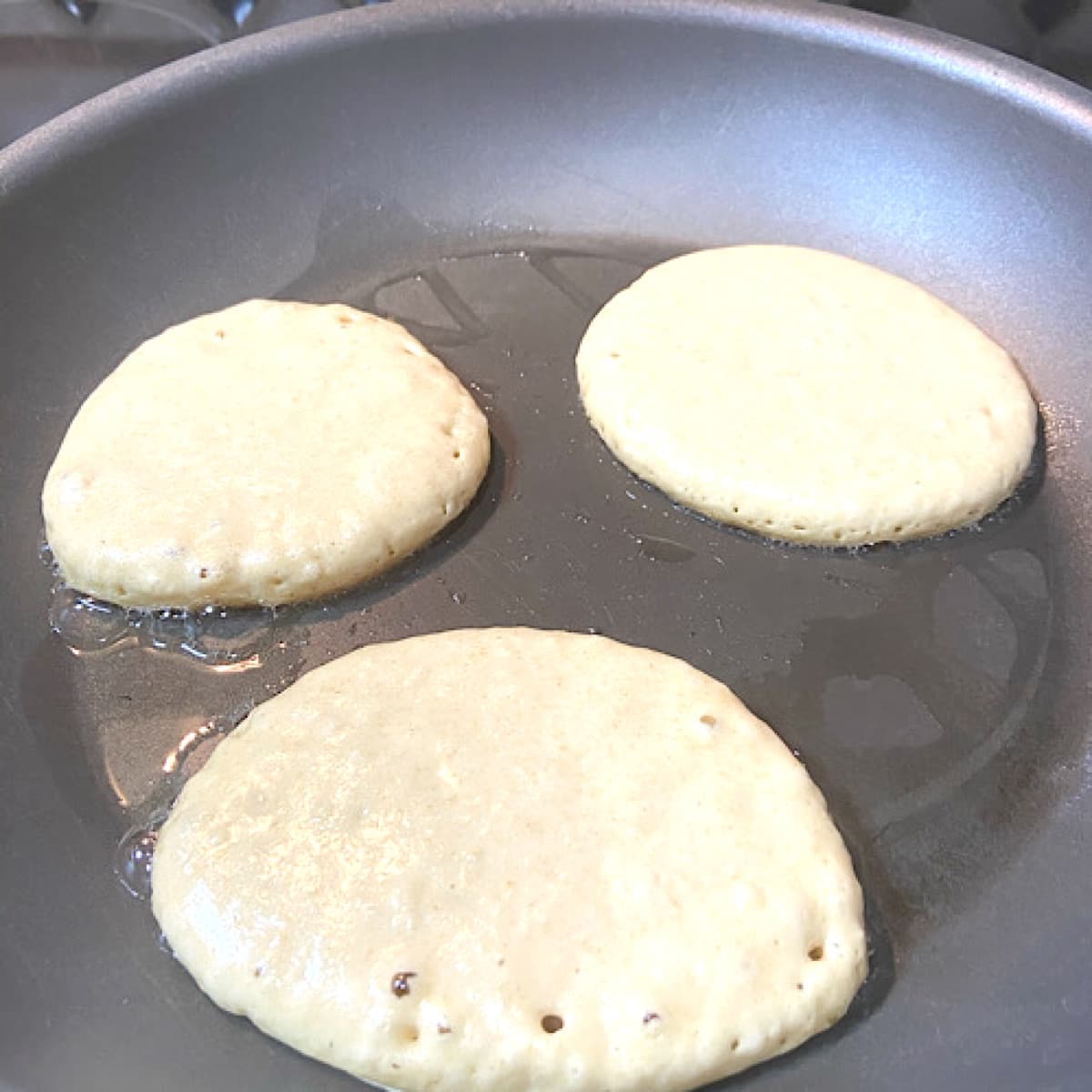 Step 6. This is the point where you want to flip the pancake. Continue to cook until the pancake springs back when you gently press it with your finger. Don't press pancakes flat with a spatula.
Step 7. Serve and enjoy with cooked fruit or pure maple syrup.
FAQs
How to Reheat Pancakes
Sometimes when I know we have a busy week ahead, I will double the batch. Most of the second batch I store in the refrigerator in an air-tight container.

These are great for a quick breakfast before running out the door.

Microwave: heat on a plate for 30 seconds. Rotate and continue to heat in 15-second increments until pancakes are heated through.

Toaster: Set toaster on low and allow to toast. You may need to rotate and heat again.
What to Use if You Don't Have Whole Wheat Pastry Flour

The pancakes can be made with White Whole Wheat Flour or even regular Whole Wheat Flour.

The texture may be a little more grainy and you may need to increase the liquid so your batter is pourable.
How to Substitute Honey for Brown Sugar

Honey is sweeter than brown sugar and has more water. In replacement of one tablespoon of brown sugar, use approximately 2 teaspoons of honey.
How to Serve Healthy Pancakes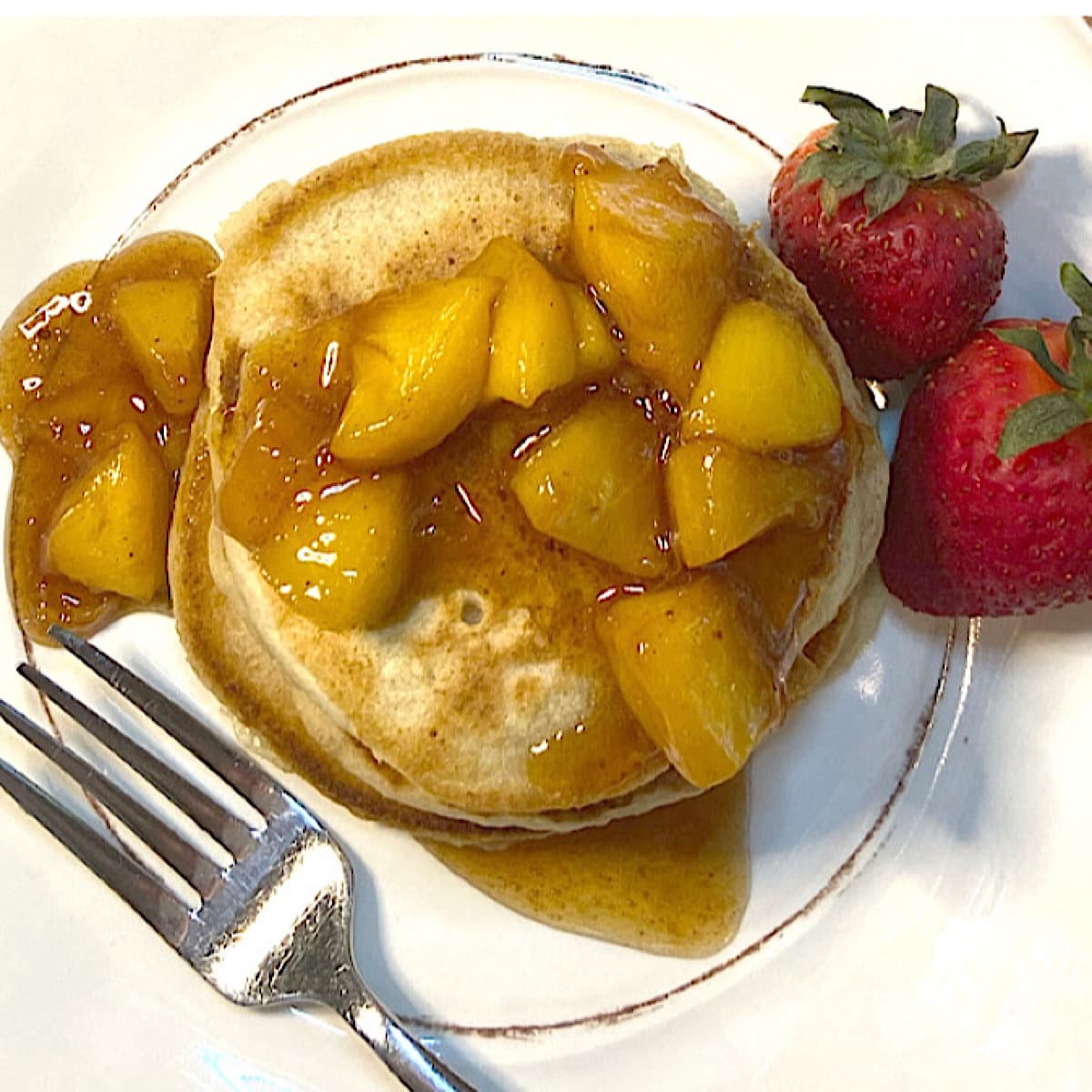 Serve Mediterranean pancakes with cooked fruit such as peaches, blueberries, or bananas. See my recipe notes for a quick way to make a fruit sauce to serve with pancakes.
Looking for other healthy breakfast ideas? Try a simple Mediterranean Vegetable Omelet or an Asparagus Frittata.
Other Healthy Breakfast Ideas
---
March 2022 Update: Added Other Healthy Recipes section to post.