This post may contain affiliate links. This means I may make a small commission at no additional cost to you when you make a purchase. Find out more in the Disclosure Policy
Starting the Mediterranean Diet is super easy and flexible. So flexible it is sometimes a challenge to know what you should eat. I put together a list of Mediterranean Breakfast ideas that will help make your first meal of the day a breeze on the Mediterranean Diet.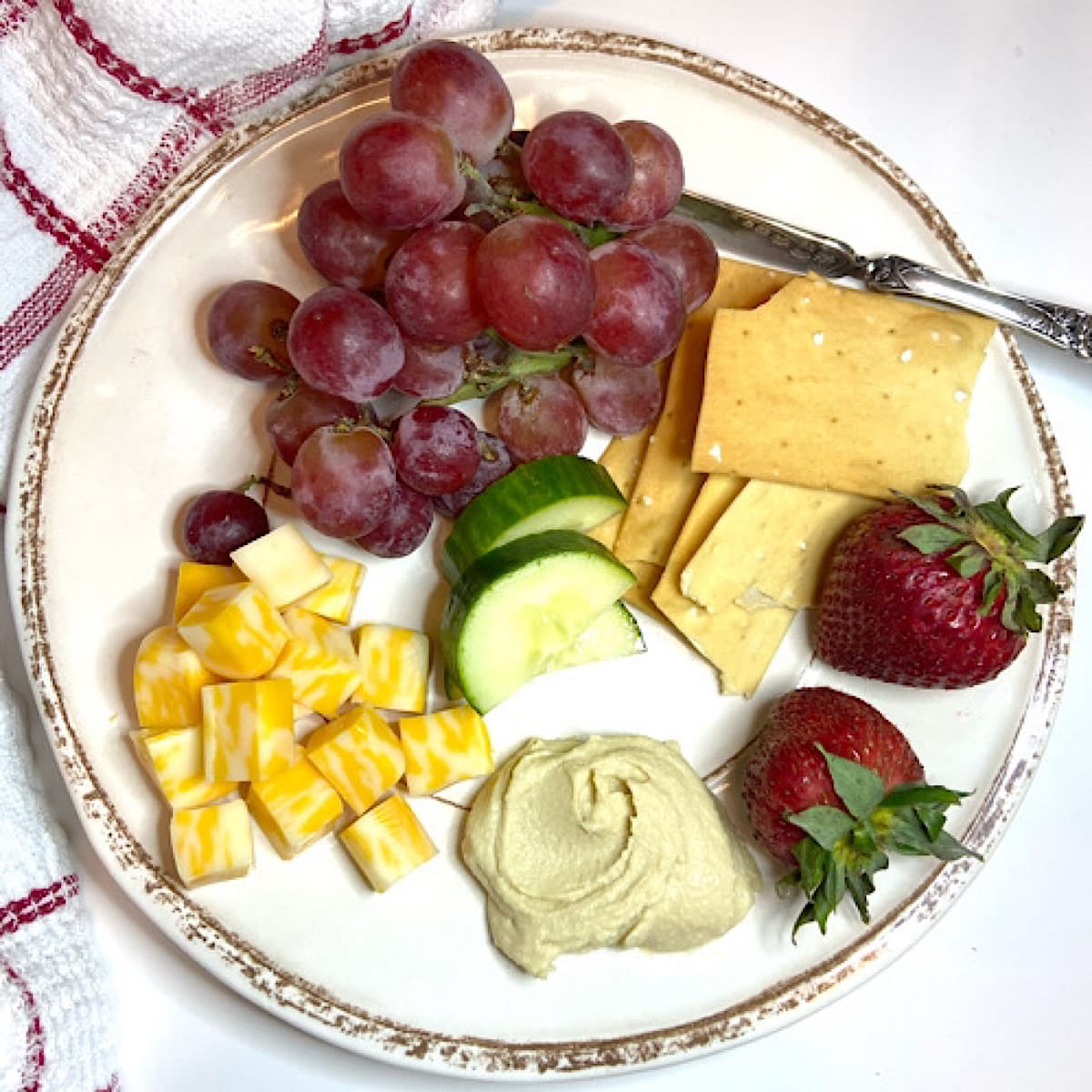 Typical Mediterranean Diet Breakfast
Breakfast is a light meal in the Mediterranean. Leftover grains flavored with nuts, fruit, and a drizzle of honey, yesterday's bread toasted and spread with hummus with vegetables, or with nut butter and sliced fruit. It can be as simple as cheese cubes, with a piece of fruit, when you are pressed for time.
Below I include recipes for simple recipes as well as more complex meals, starting with simple ingredients that are readily available and quick to prepare. As well as a couple of recipes that have multiple steps and may take a bit to put together. Check out my Breakfast Category for additional recipes.
Recipe Index
1. Greek Yogurt Smoothies
Smoothies are one of my favorite breakfasts. I love to use unsweetened plain low-fat Greek Yogurt. It is a dairy product that is packed with protein. It also contains beneficial probiotics that keep my digestive tract happy.
Easy Greek Yogurt Smoothie
Light and filling either plain or with fruit. This smoothie will get you out the door and keep you til lunch.
Recipe Details
2. Whole Wheat Toast with Nut Butter and Fruit
Another quick breakfast is wholewheat toast #ad with nut butter and sliced fruit in season. I love sliced peaches, nectarines, or apples.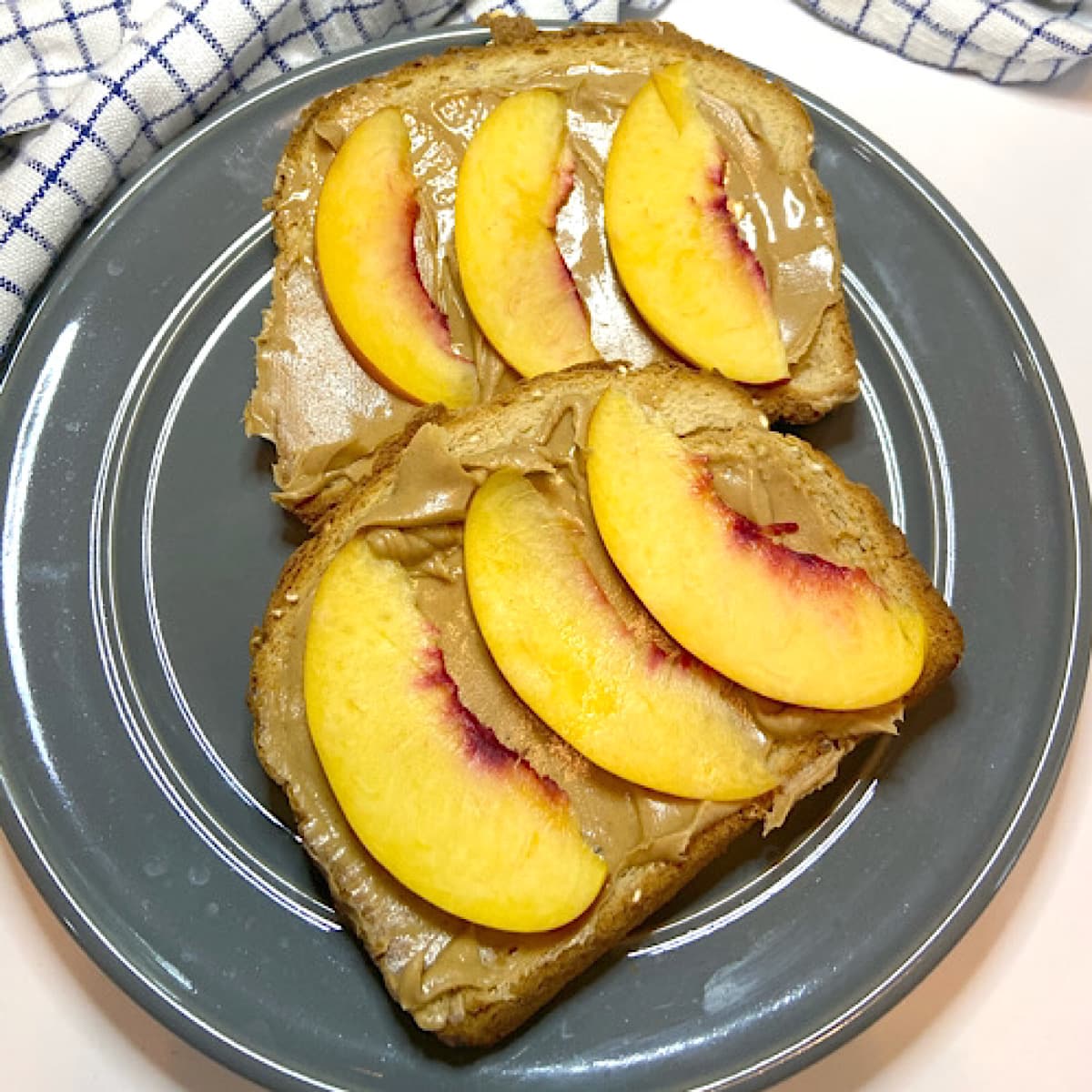 Prefer a savory start to your day? Spread hummus on your toast and layer with thinly sliced radishes, spinach, and a slice of cheese.
3. Greek Yogurt with Fruit Oats, and Nuts
This is one of the easiest breakfasts on my list. It is healthy and filling and will keep me satisfied until lunch.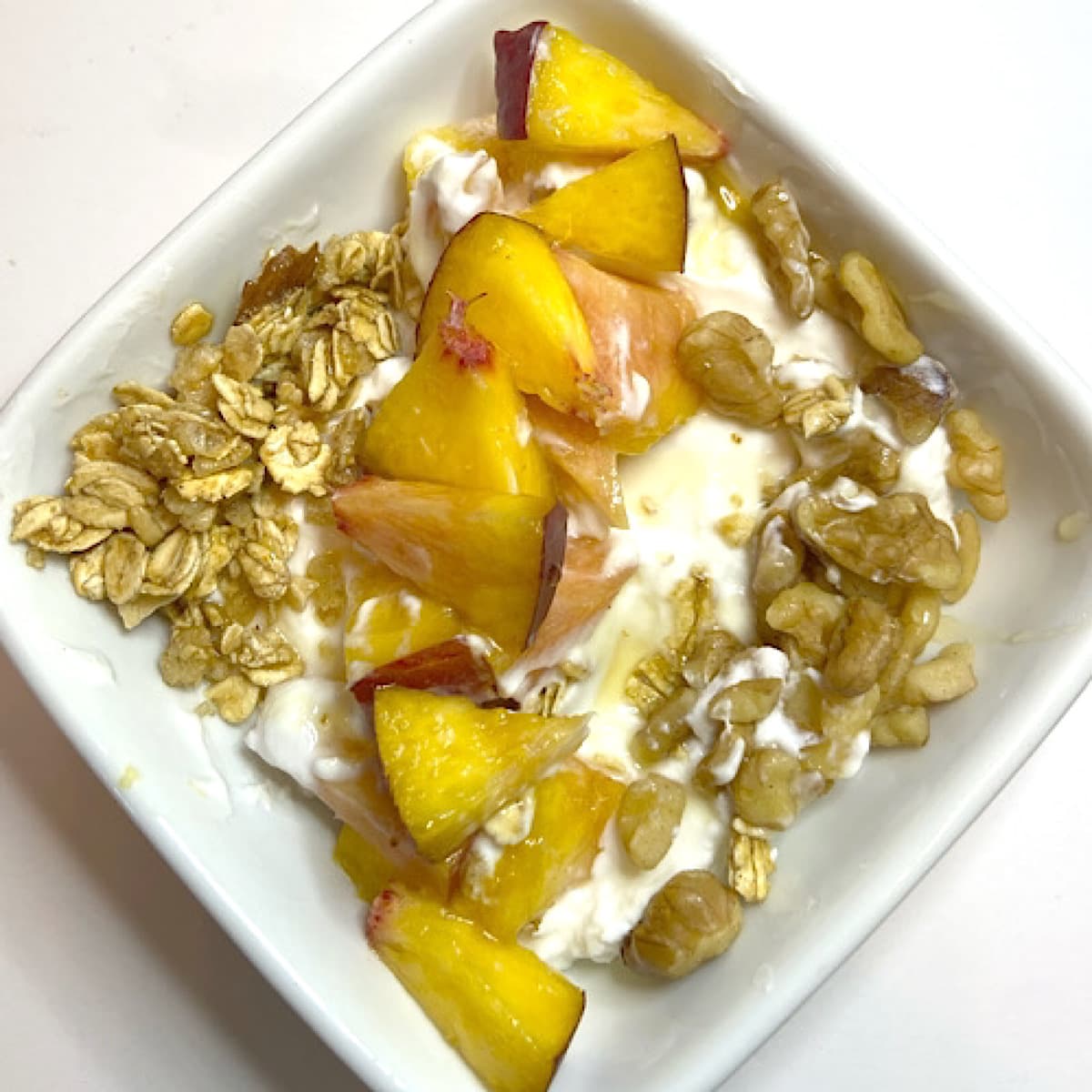 This is another easy and filling Mediterranean Breakfast idea;
1/2 cup low-fat Greek yogurt,
1/3-1/2 cup chopped fruit,
1 tbsp crunchy granola, and
A drizzle of honey gives it a little more sweetness.
For this, I used a nectarine, but a peach, strawberries, blueberries, or even melon works. Add vanilla granola and your favorite nut.
You could also substitute low-fat cottage cheese instead of yogurt if that is what you have on hand or prefer.
4. Oatmeal with Cinnamon, Nuts, and Chopped Fruit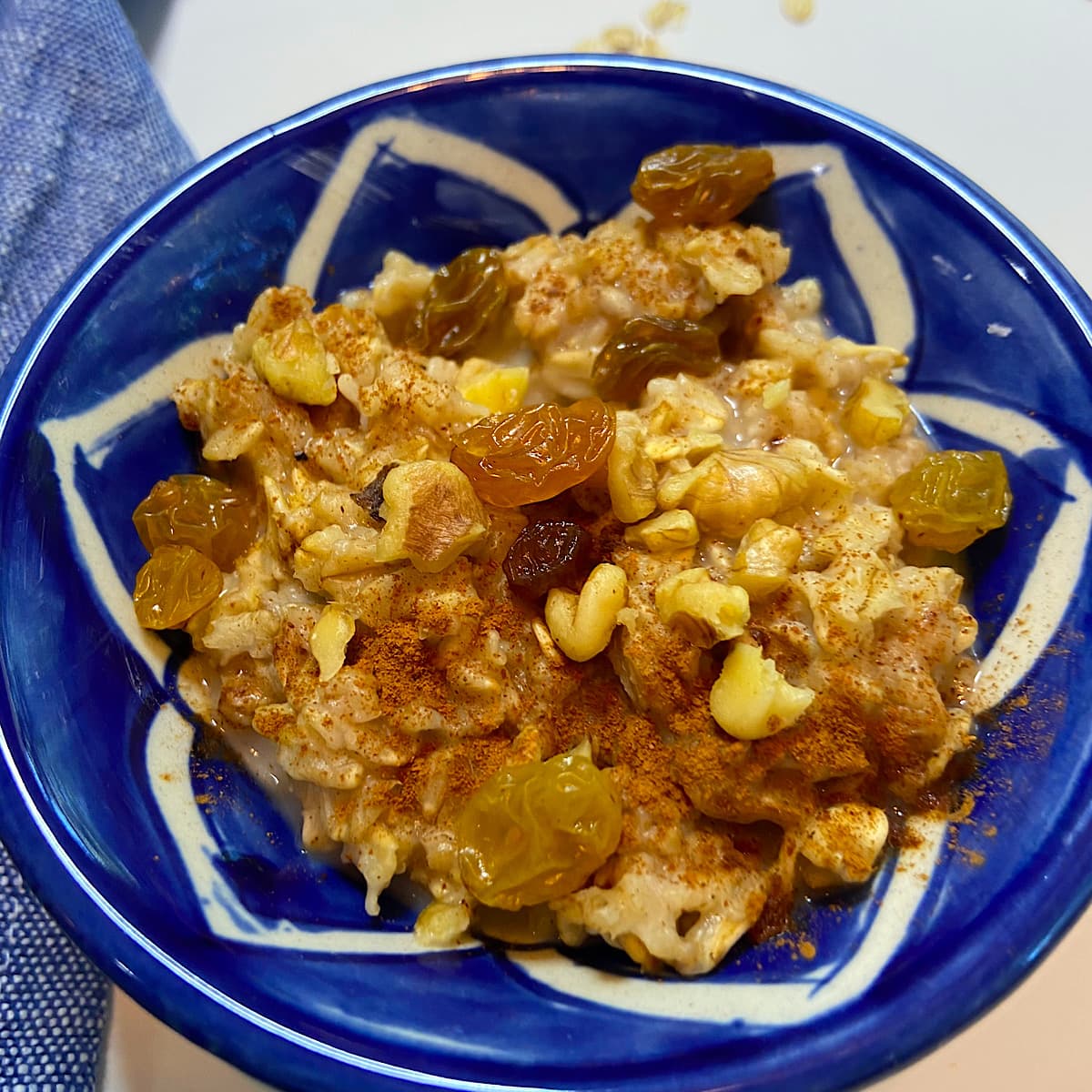 I know what you may be thinking, oatmeal is often cooked on the stove, becomes heavy, thick, and has a sticky texture. Clean up of the pan is also a challenge.
But if you make the oatmeal in the microwave it is really one-dish easy. The finished oatmeal is not overcooked. It is not sticky, and the oats are chewy. You can taste the texture of the oats.
Clean-up is a breeze in the bowl you cooked it in.
Add chopped dried fruit, raisins, nuts, cinnamon, or other spices. A teaspoon of brown sugar or honey adds a little sweetness. For a different flavor, you can add a tablespoon of nut butter.
Serve with nut milk and it is a hearty breakfast.
1/3 cup old-fashioned oatmeal
2 tsp brown sugar or honey
1 tbsp chopped dried fruit
1/4 cup milk, almond, etc
Directions: Add water, oats, brown sugar, nuts, fruit, and cinnamon to a bowl. Microwave on high for 1 minute, and 15 seconds. Stir. Microwave for an additional 30 seconds. Serve with milk.
5. Mediterranean Breakfast Vegetable Omelet
If you have a bit more time, consider throwing together a veggie omelet for another breakfast on the Mediterranean Diet.
This simple omelet includes eggs, fresh spinach, tomatoes, leek, and shredded Parmesan cheese. Get my Mediterranean Vegetable Omelet recipe here.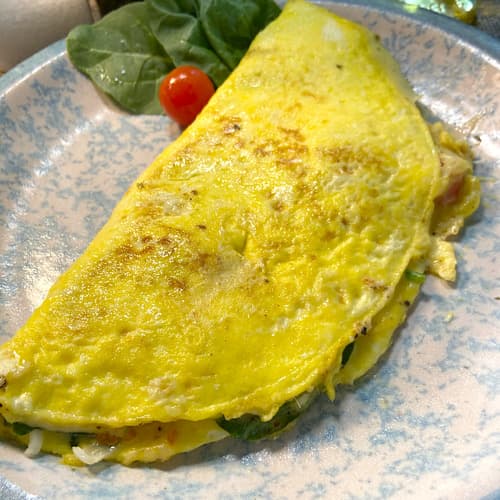 Savory Vegetable Omelet
Quick and simple vegetable omelet with spinach, tomato, leek, and shredded parmesan cheese.
Recipe Details
7. Smashed Avocado Toast with an Over-Easy Egg
You will love the great flavor and creamy texture of this simple avocado toast with over easy egg. Filled with healthy whole grains, protein, and unsaturated fats, it is a breakfast that is filling and will keep you satisfied until your next meal.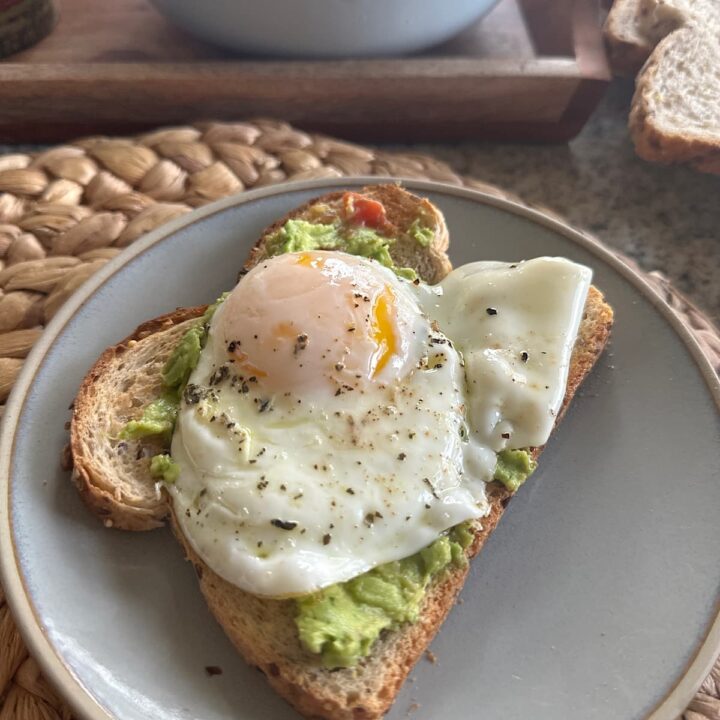 Easy Smashed Avocado Toast with Egg
This easy and flavorful breakfast toast is packed with healthy whole grains, creamy avocado, and a protein packed egg.
Get the Recipe
6. Potato Leek and Asparagus Frittata
For a lazy morning, you might consider making a potato, leek, and asparagus frittata. This recipe has a few more steps but the frittata is worth the effort.
Serve with whole-wheat toast, fruit, and tomato salsa.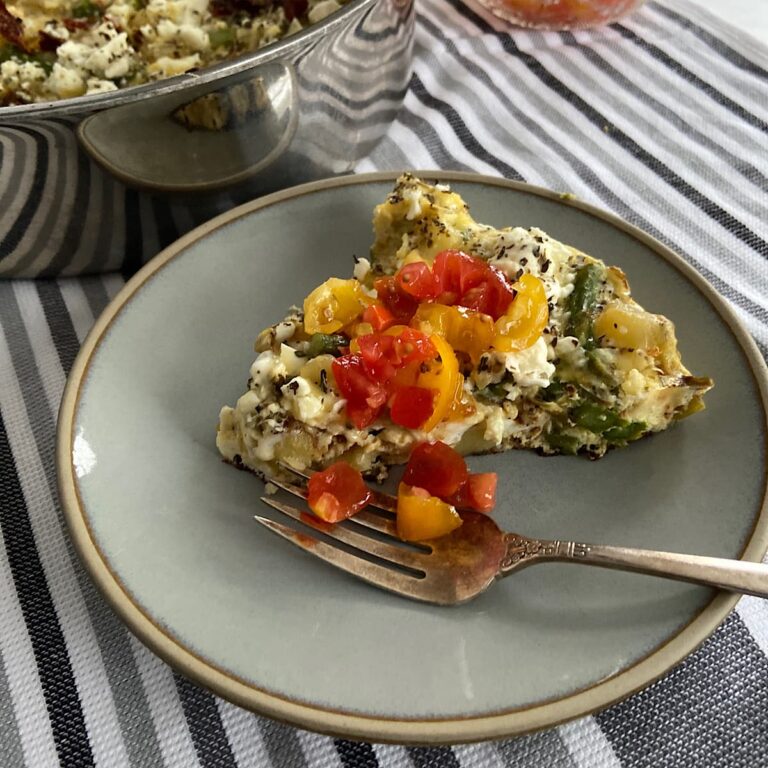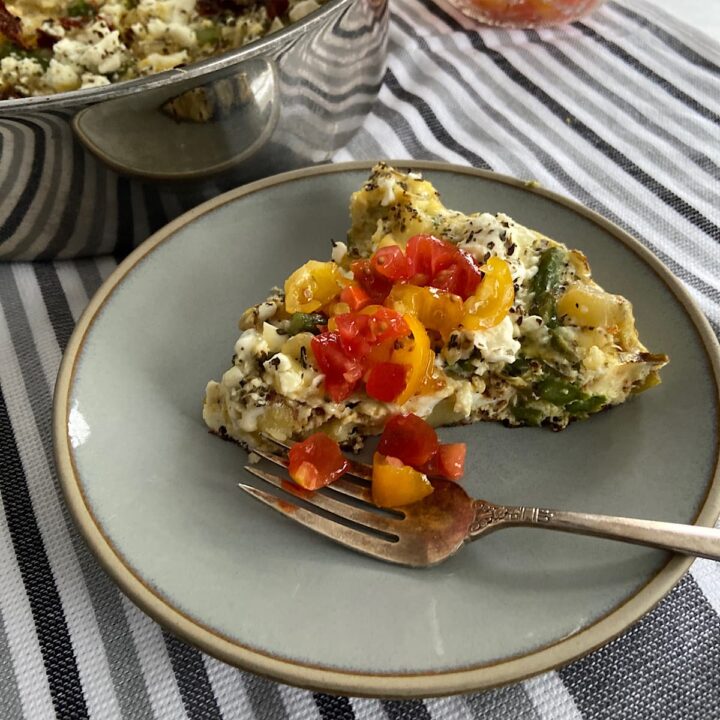 Potato, Leek and Asparagus Frittata Recipe
Easy leek, potato, and asparagus frittata recipe is flavorful and filling. Perfect for brunch or lunch.
Recipe Details
7. Whole Wheat Pancakes with Fruit Topping
Another lazy morning recipe, Whole Wheat Pancakes are light and fluffy. Made with Whole Wheat Pastry Flour, they are filling, but have a tender bite.
A simple peach compote adds additional flavor. Other fruits you might consider are strawberries and blueberries. Get the recipe here.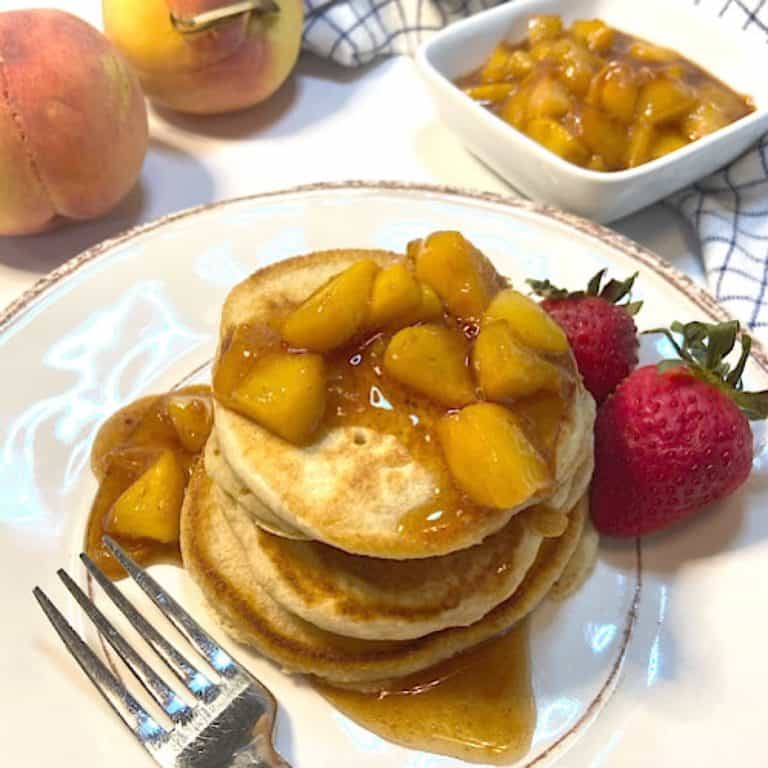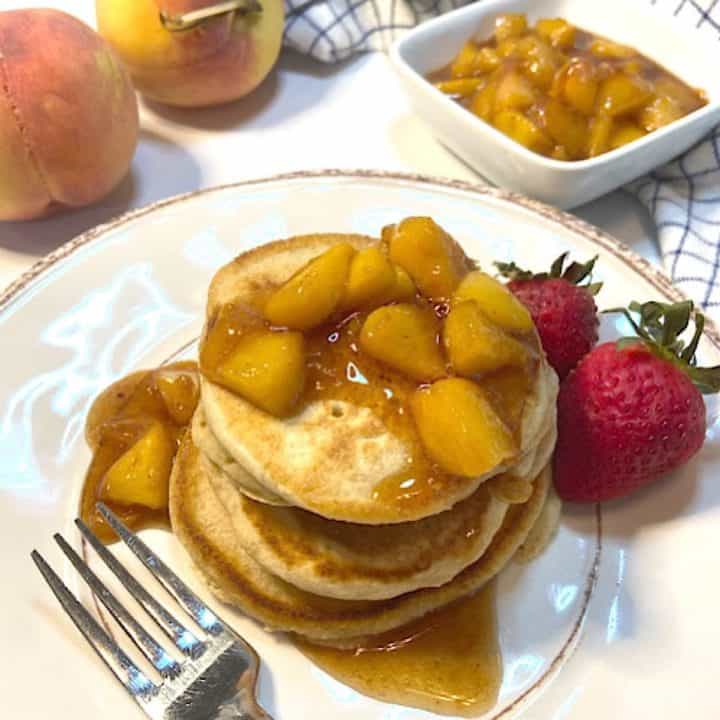 Light and Fluffy Healthy Pancakes
Healthy pancakes made with whole wheat pastry flour are light and fluffy.
Recipe Details
Looking to change up your regular pancake recipe? Try these unbelievably good Healthy Banana Pancakes.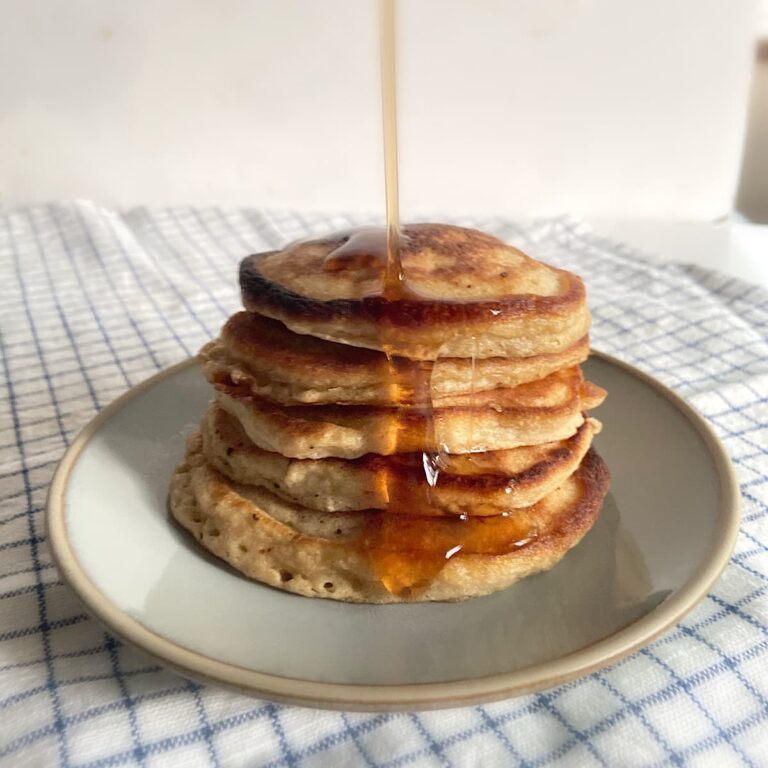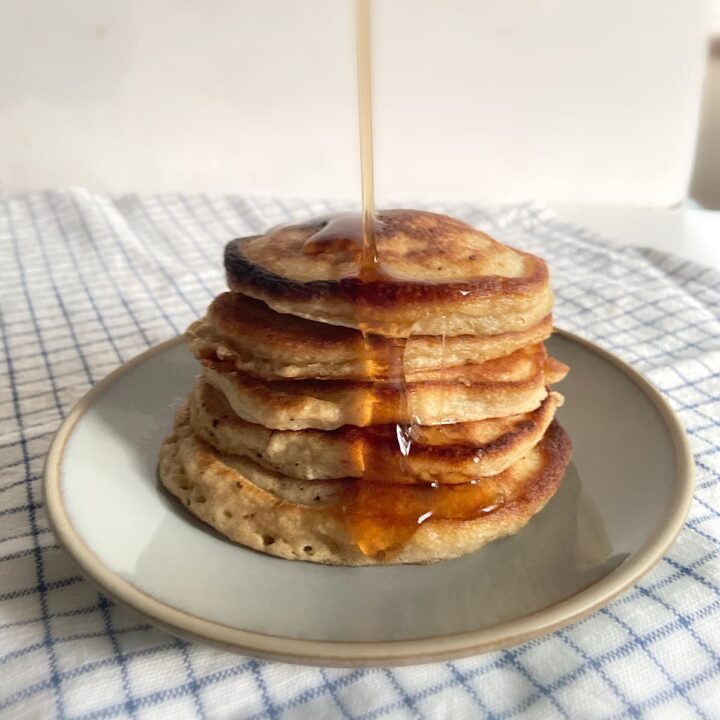 Healthy Banana Pancake Recipe
Healthy Banana Pancake Recipe is a quick and easy recipe that is full of banana flavor.
Recipe Details
8. Whole Wheat Muffins
Made with either White Whole Wheat Flour or Whole Wheat Pastry Flour and olive oil, these muffins are a healthy alternative to traditional baked goods.
Store in the refrigerator or freezer for busy mornings when you are on the run and they will be a filling breakfast or snack for you and your family.
Two options are Apricot Oat Muffins and Streusel-Topped Apple Muffins.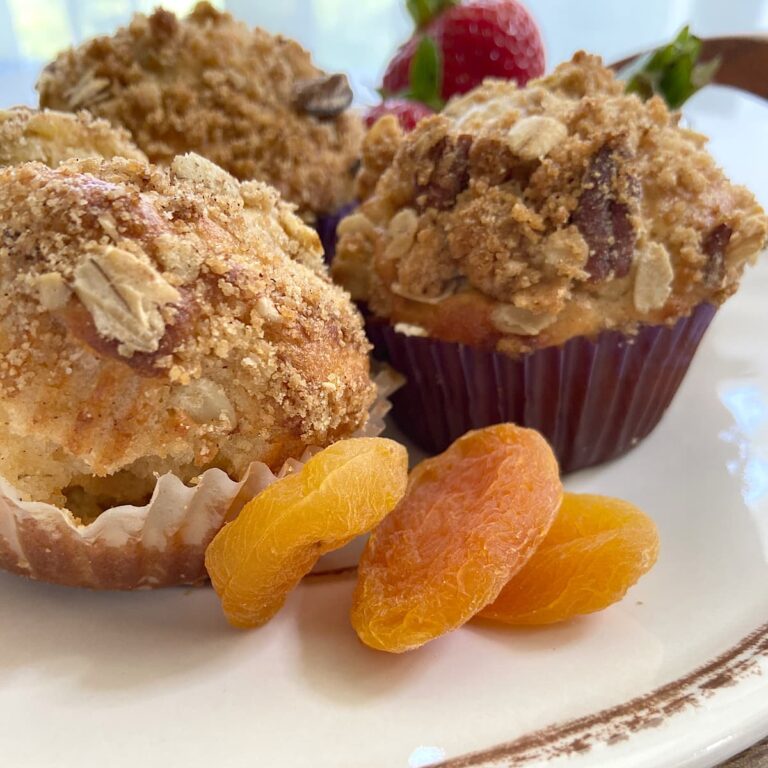 Streusel Topped Apricot Oat Muffins
Streusel-Topped apricot oat muffins are made with whole wheat pastry flour, olive oil, and greek yogurt for a moist and tender muffin.
Recipe Details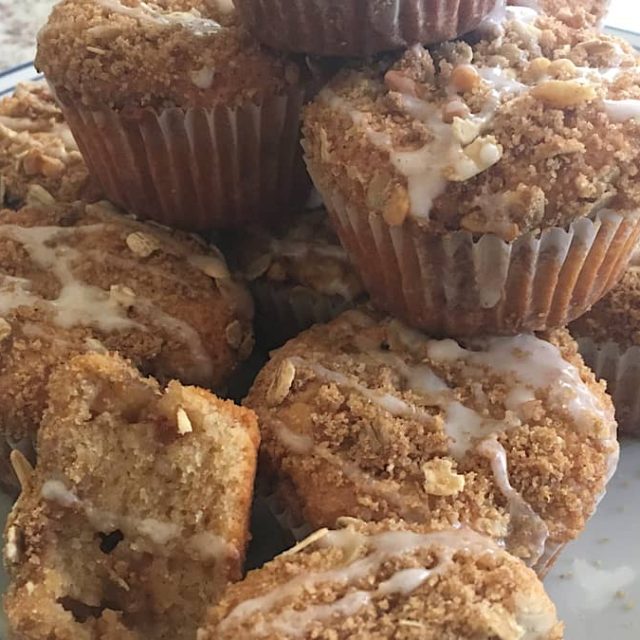 Streusel Topped Whole Wheat Apple Muffin
Healthy olive oil, whole wheat apple muffins with oatmeal walnut struesel topped.
Recipe Details
9. Quiche
Try this healthy twist on Quiche Lorraine. Made with healthier ingredients, it is filling and full of flavor. Serve for breakfast or with a leafy green salad for lunch.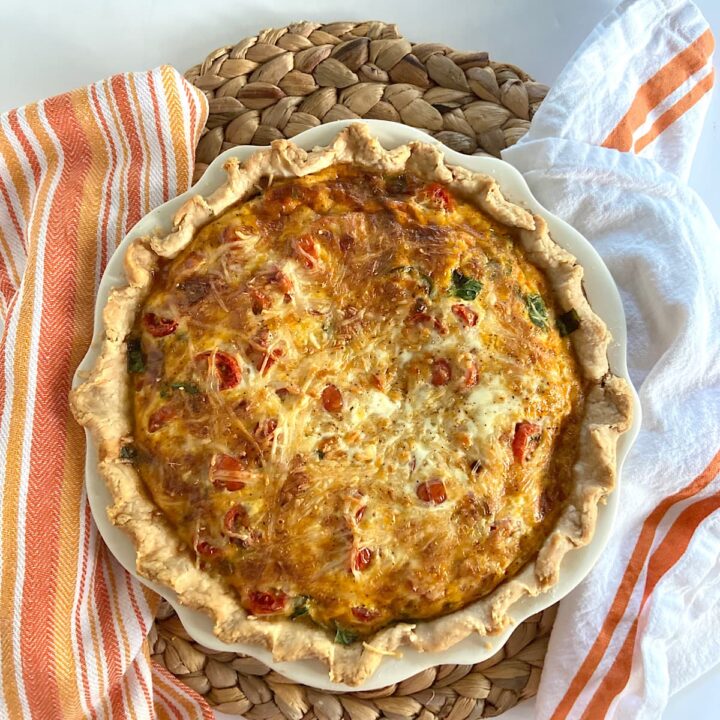 Spinach, Tomato, Ham and Cheese Quiche
Simple quiche made with spinach, tomato, ham, Parmesan and Gouda cheese.
Recipe Details
10. Breakfast Burritos
Feeding a group? These tasty Breakfast Burritos are made with sausage-flavored ground turkey, eggs, and cheese. Drizzle with a Greek yogurt sauce for extra flavor.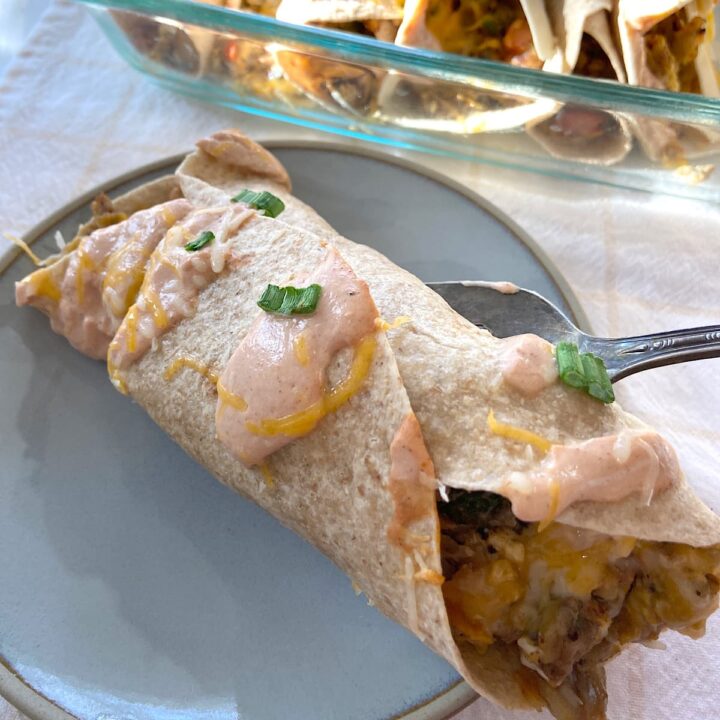 Breakfast Burritos
Breakfast casserole of sausage-flavored ground turkey, egg, potato, and cheese in flour or whole wheat tortillas.
Recipe Details
September 2021 Update: post updated with new images and recipe links.