This post may contain affiliate links. This means I may make a small commission at no additional cost to you when you make a purchase. Find out more in the Disclosure Policy
An Easy Greek Yogurt Smoothie is one of my favorite breakfasts. I love to use unsweetened plain low-fat Greek yogurt and just a few simple ingredients to make a quick and filling snack.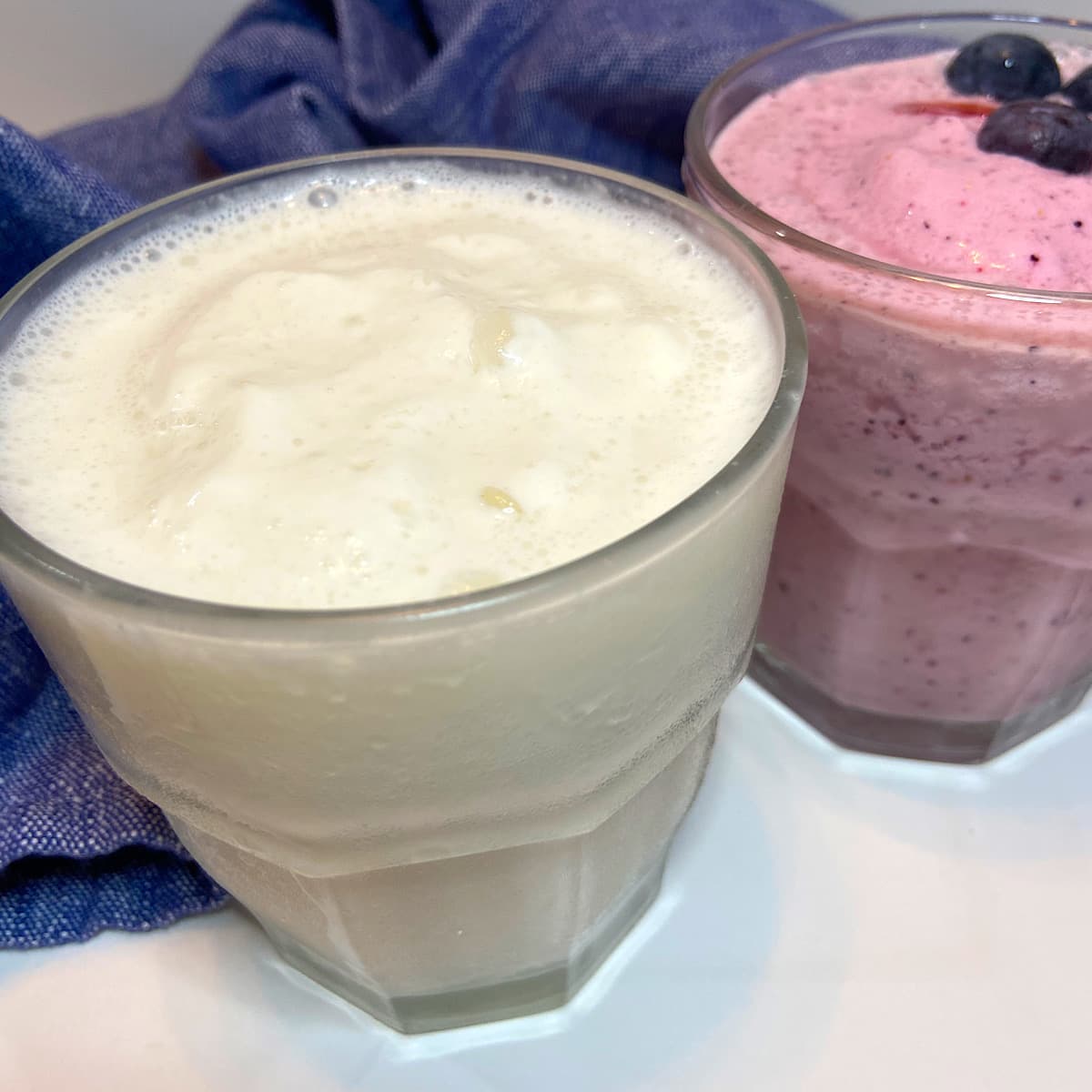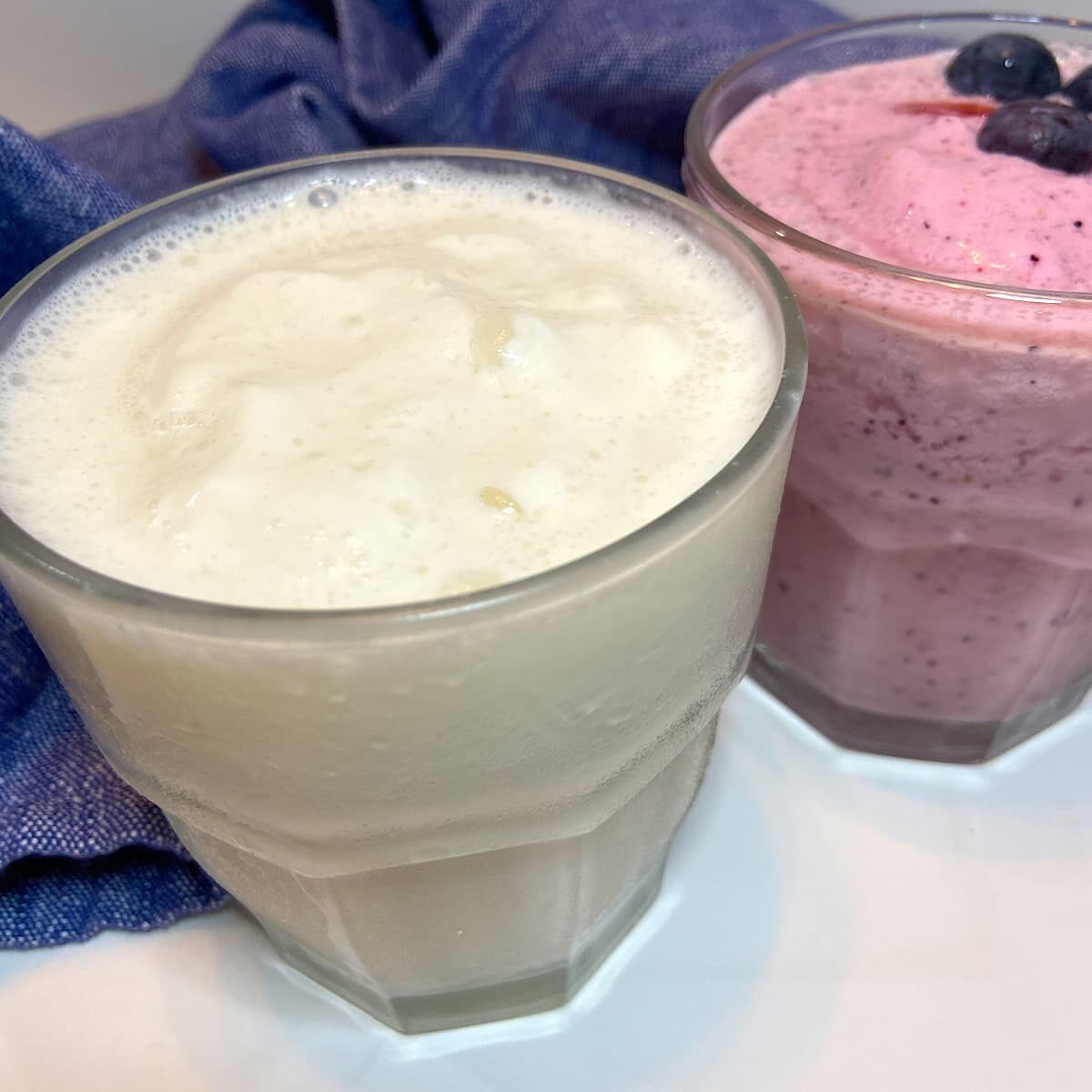 Greek yogurt is a dairy product that is packed with protein. It also contains beneficial probiotics that help keep my digestive system happy.
Below are directions to whip up a simple Vanilla or Blueberry light and fit Greek Yogurt Smoothie.
Ingredients
Vanilla Smoothie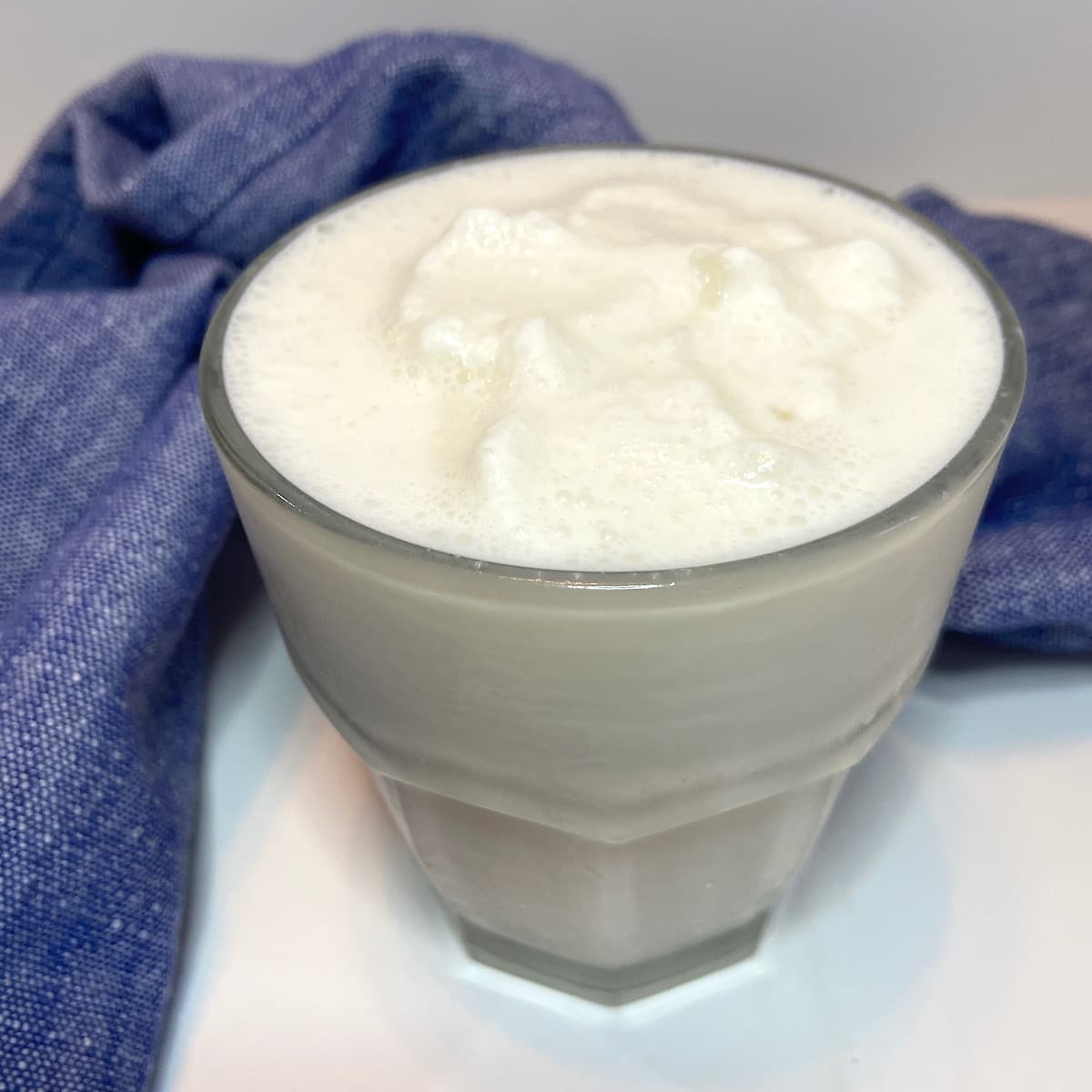 The basic vanilla smoothie includes 4 ingredients, Greek yogurt mixed with unsweetened Coconut Milk, a small amount of honey, and ice. It is light and refreshing.
With this smoothie, you don't have to worry about having lots of ingredients. It is filling and gets me through until lunch.
Honestly, it almost tastes like a vanilla milkshake, well at least I think so when I am on a diet.
1/3 cup Plain Low-Fat Greek Yogurt
1 cup milk, almond, or other
Instructions
Step 1. Mix hot water and honey to dilute.
Step 2. Add ice, yogurt, milk, and honey to the blender.
Step 3. Pulse on high speed until smooth.
Makes 1 1/2 cups.
Strawberry & Blueberry Smoothie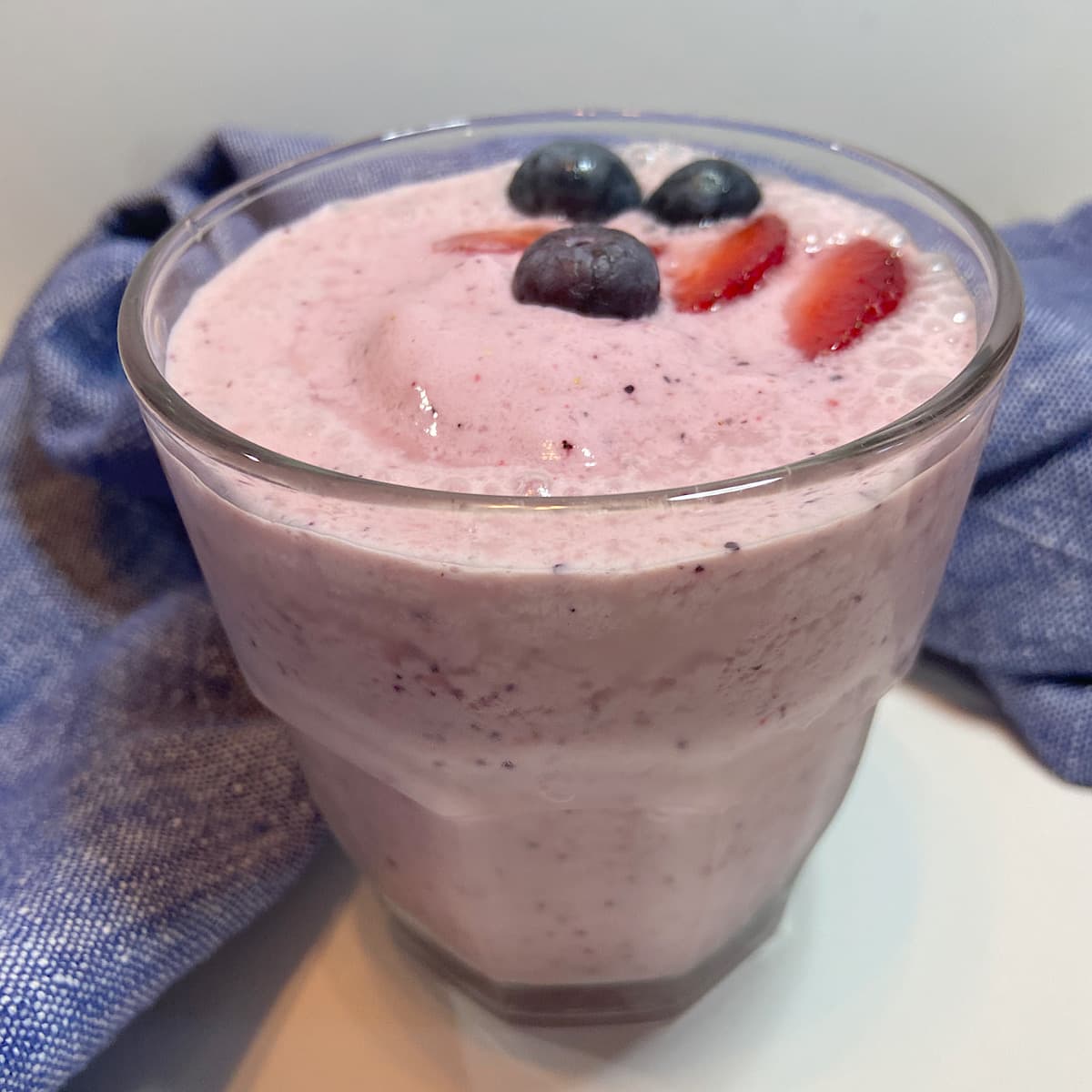 The second Greek yogurt fruit smoothie recipe builds on the basic Vanilla Yogurt Smoothie by adding 10 strawberries and 10 or 15 blueberries. Add the berries after the ice and then the milk, yogurt, and honey and whirl in your mixer. Yum!
1/3 cup Plain Low-Fat Greek Yogurt
1/2 cup unsweetened vanilla-flavored coconut milk, almond, or other
Directions: Mix hot water and honey to dilute. Add ice, yogurt, fruit, milk, and honey to the blender. Pulse on high speed until smooth. Makes 2 cups.
Frequently Asked Questions
Smoothies are simple and forgiving recipes. Mixing fruit, yogurt, milk, fruit juice, or greens is the basis of a smoothie.
What Can I Add to Thicken a Smoothie

If you feel like ice dilutes a smoothie, then you can include a banana,
frozen fruit, an extra scoop of yogurt, or canned pear juice

Any of these additions will help thicken the smoothie without ice.
What is the Best Fruit for Smoothies

Almost any fruit will work. Common fruits added include pineapple, banana, berries, etc. Remove the fruit's skin and large pits if they have them.

Some of the best fruit for smoothies are peaches, mango, strawberries, and blueberries. Bananas help thicken and can substitute for ice in smoothies.
How Can I Increase the Nutrition of the Smoothie

You can improve the nutrition of your smoothie by adding additional ingredients to thicken and increase the protein in the smoothie.

For example, a tablespoon of nut butter, such as almond or peanut butter helps thicken the smoothie and adds protein.

You can include a scoop of protein powder, collagen, oats, and other healthy ingredients such as spices to improve the recipe's nutrition and health benefits.
What is the Best Smoothie Drink Maker

A smoothie maker needs to have enough power to crush ice and frozen fruit.

My favorite smoothie maker is a Vitamix blender. #ad It is a quality blender. The Vitamix includes metal gears that turn the blades. We have had ours for over 20 years and it is still going strong.

Another excellent blender is the NINJA Blender for Shakes and Smoothies. It is quick and convenient and has easy cleanup in the dishwasher.
Other Breakfast Recipes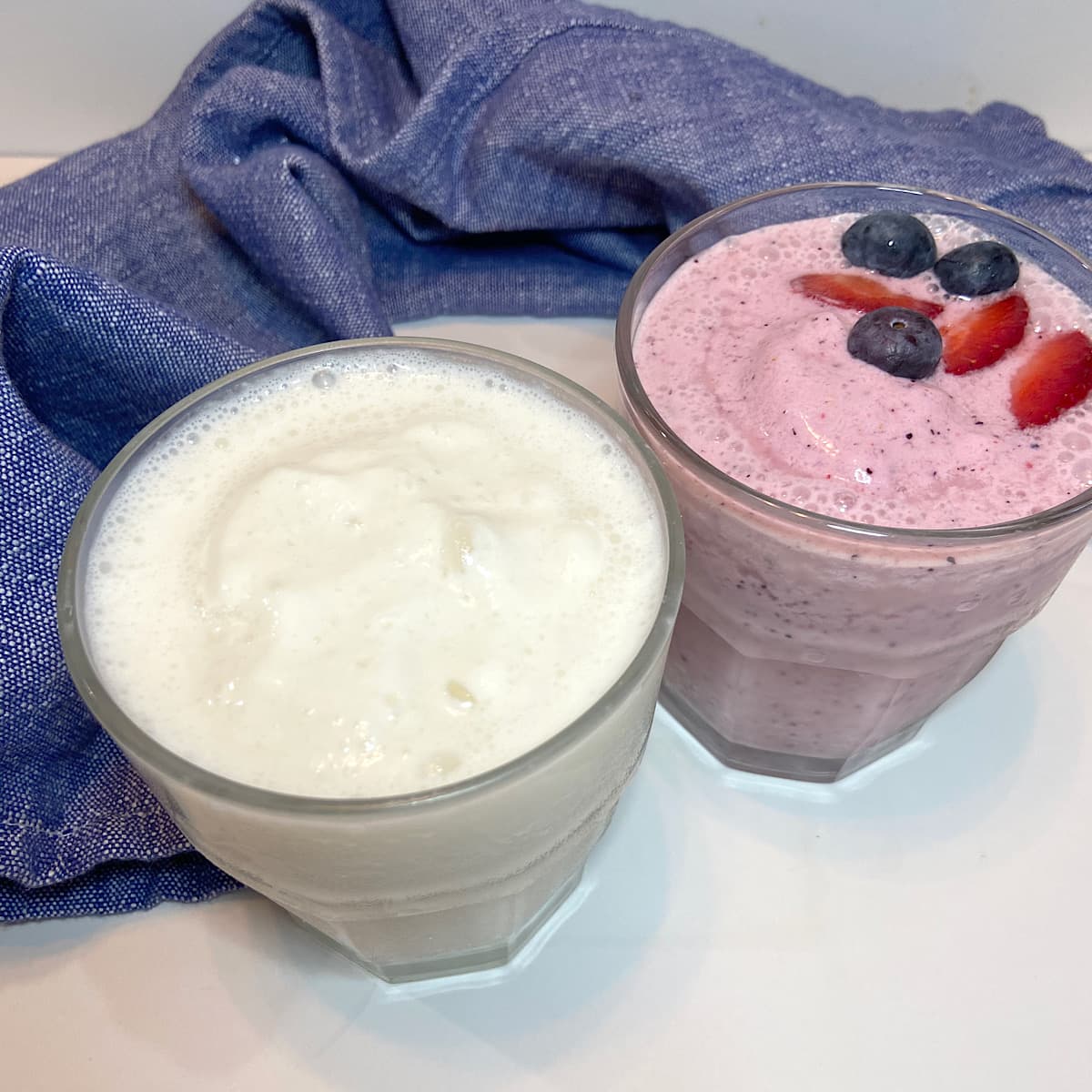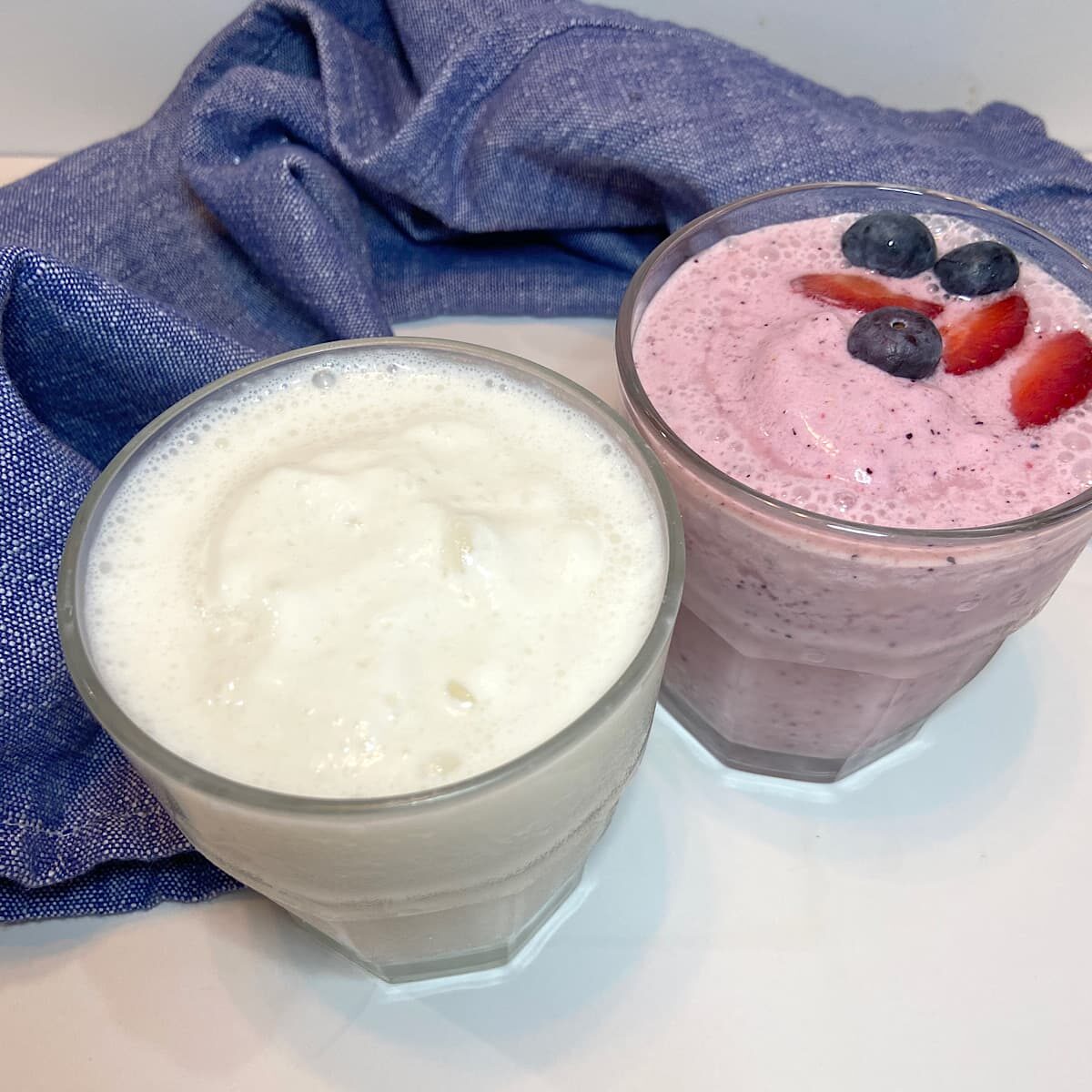 This Mediterranean Diet Breakfast Smoothie recipe is a quick and filling drink. Add a handful of fruit to change it up and add punches of flavor.
Looking for more healthy breakfast ideas, check out my Breakfast Recipes.
Other Breakfast Recipes for You
---
May 2022 Update: Minor post updates.