This post may contain affiliate links. This means I may make a small commission at no additional cost to you when you make a purchase. Find out more in the Disclosure Policy
This Healthy Banana Pancake recipe makes pancakes light and fluffy and full of banana flavor. Made with healthy whole wheat pastry flour, no one would know they are also gaining whole grains while enjoying this early morning breakfast treat.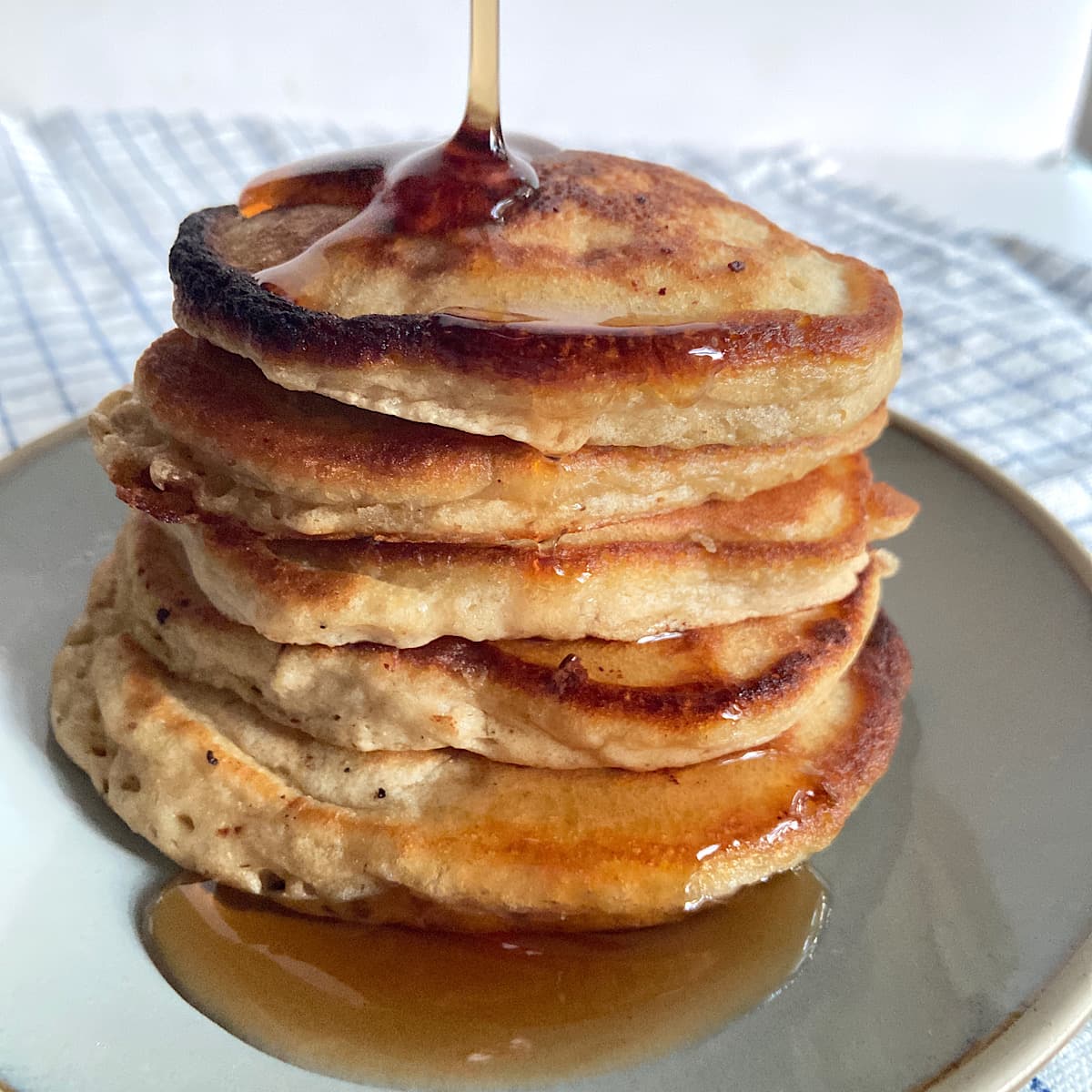 Mix up your pancakes with this quick and simple recipe. These light and fluffy pancakes are full of banana flavor and also whole grains.
Made with whole-grain pastry flour #ad rather than all-purpose flour makes them a healthier option because you are getting the nutrients and fiber from whole grains.
A great way to use up a banana or two when you don't have time to make banana bread.
Ingredients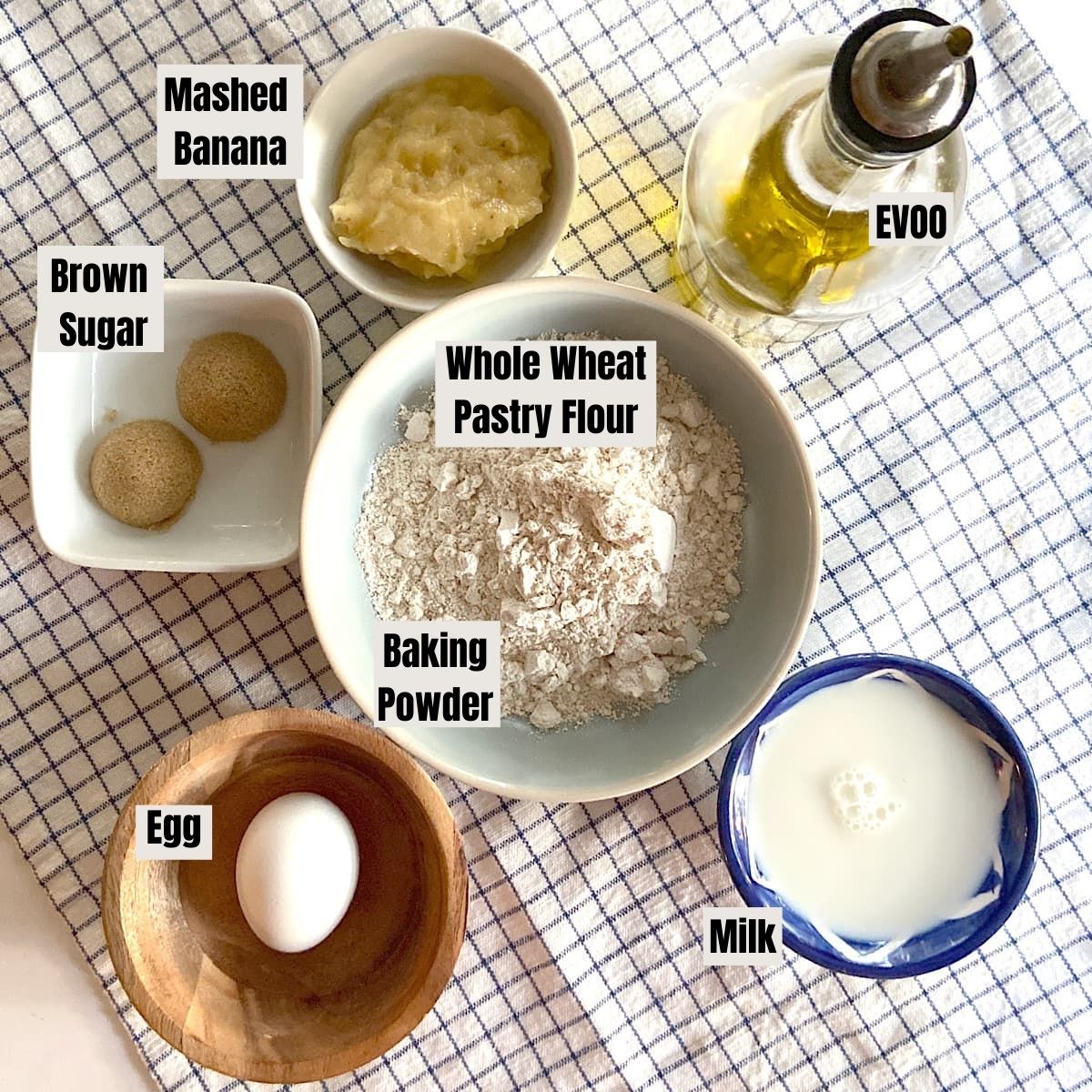 For this recipe, I used whole wheat pastry flour. This is a flour similar to all-purpose flour in color and texture but retains the whole grain benefits.
To make the pancakes light and fluffy, I added baking powder. Baking powder is a leavening agent. That means that when included in your recipe it forms bubbles of carbon dioxide, that add air pockets to the baked good and helps lighten its texture.
Adding an egg, a binding agent, helps the pancakes hold together. It also adds color and flavor to the pancakes.
Brown sugar adds a bit of sweetness and molasses flavor to the pancakes, but also adds moisture and volume.
Milk adds moisture to the dry ingredients along with protein, and flavor.
Extra virgin olive oil or EVOO adds healthy fats to the pancake and is used as cooking oil to fry the pancakes.
Preparation
Mash a very ripe banana with a fork until it forms a semi-solid form with most of the lumps removed.
Combine flour and baking powder and whisk to combine
Whisk egg with brown sugar. Add milk and EVOO. Mix until completely combined.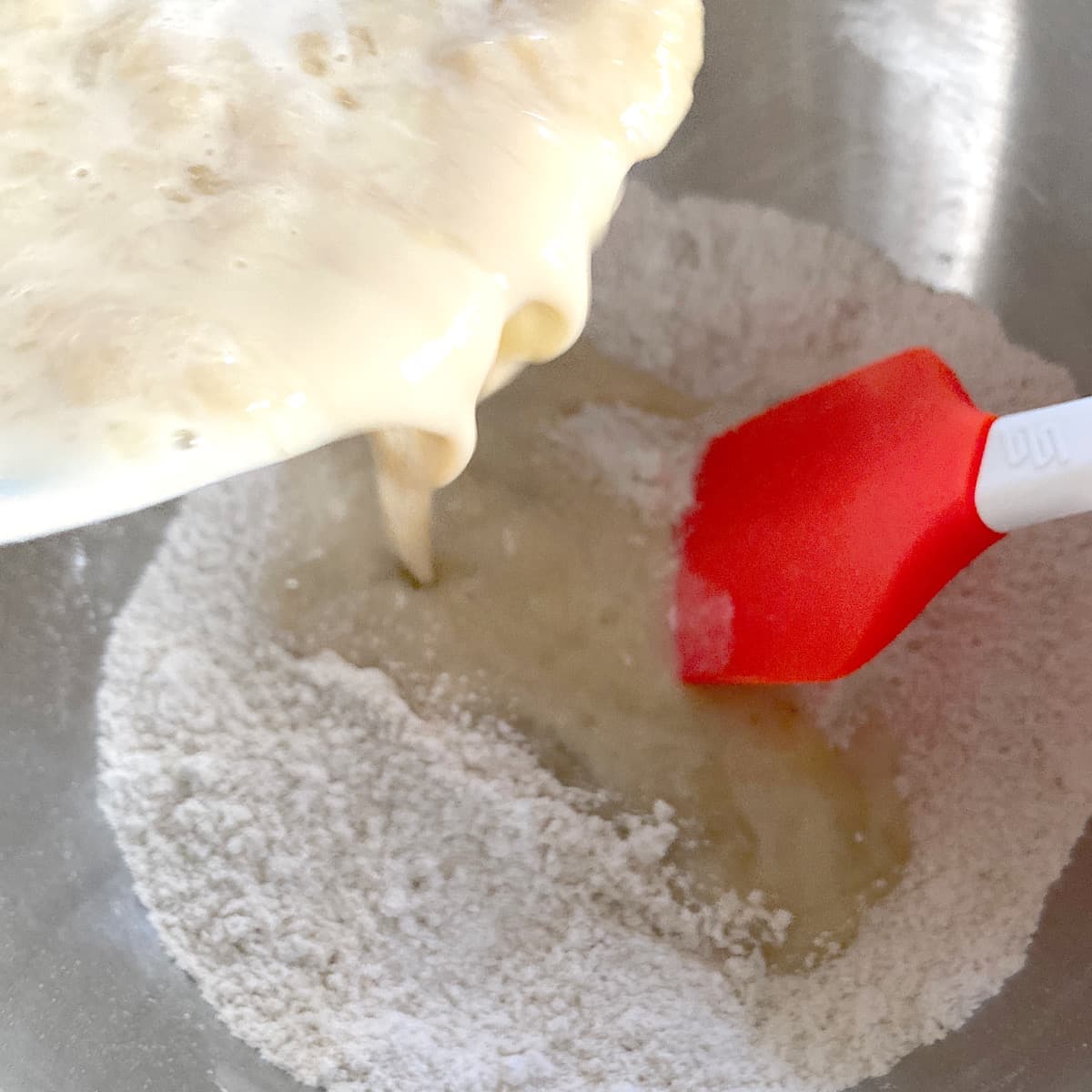 Add egg mixture and banana to flour. Stir until combined.
Heat a frying pan on medium heat. Add olive oil.
When oil is hot, add a 1/4 cup of batter to the hot pan. Depending on the size of your pan, add 3-4 servings of batter.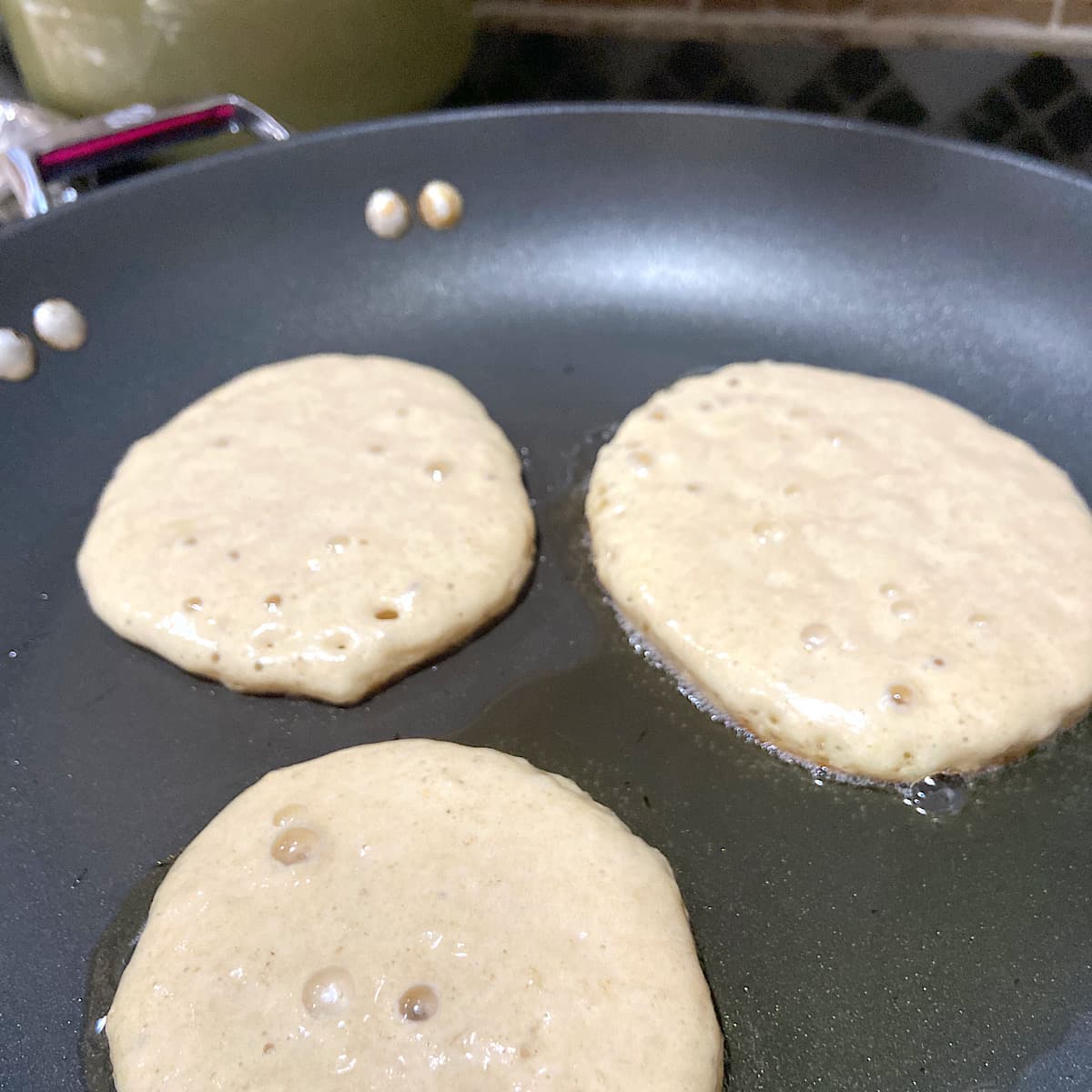 Allow batter to cook until bubbles start to form in the pancake and the edges start to brown.
Using a spatula, flip the pancake.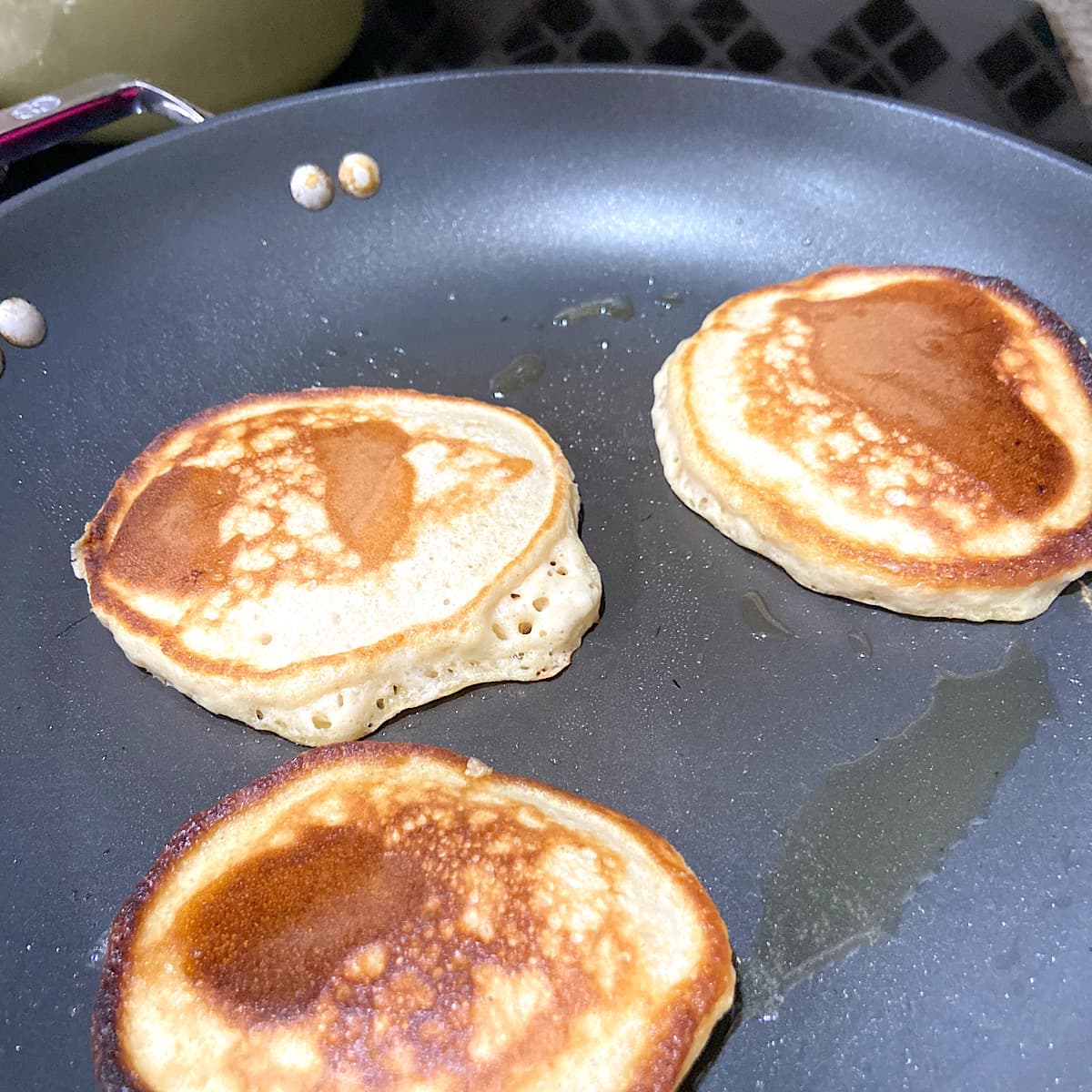 Cook until the pancake has browned and the top of the pancake springs back when lightly touched with your finger.
This recipe makes 4 servings of three 4-inch pancakes.
What is Whole Wheat Pastry Flour

Whole wheat pastry flour is a whole grain flour milled from white Spring wheat. The texture of whole-grain pastry flour is similar to all-purpose flour, but it retains the fiber and nutrients of whole grain.

Compared to whole grain flour it has a lighter color, a finer texture, and a milder flavor. It works well in baked goods and as a substitute for all-purpose flour in non-yeast-based recipes.
Other Healthy Breakfast Recipes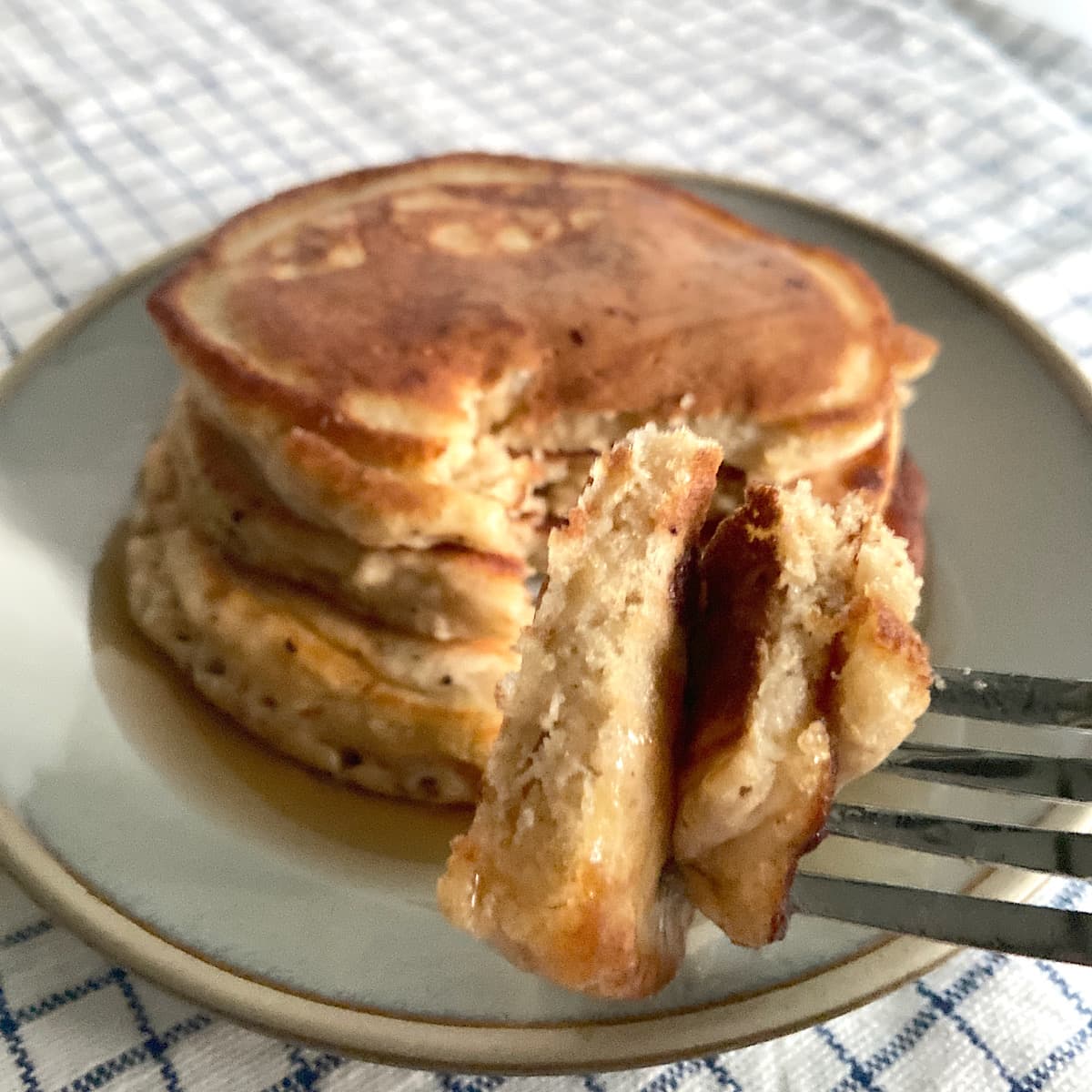 This Healthy Banana Pancake Recipe makes light and fluffy pancakes and is delicious with a drizzle of maple syrup.
Looking for more healthy breakfast ideas? Check out the following recipes:
Quick Vegetable Omelet - a light and tasty omelet flavored with tomato, fresh spinach, leek, and a sprinkle of parmesan cheese.
Healthy Zucchini Bread - a quick bread made with healthy ingredients that is tender and moist and full of Fall spice flavors.
---