This post may contain affiliate links. This means I may make a small commission at no additional cost to you when you make a purchase. Find out more in the Disclosure Policy
Healthy and Moist Pumpkin Bread has a tender crumb and comforting pumpkin pie spice flavors. It is not too sweet but a light brown sugar crumb adds additional flavor.
There is something about the start of school that makes me start thinking of Fall and baking.
Today I decided to make pumpkin bread. I wanted moist bread. I also wanted to incorporate healthy ingredients like whole wheat flour and olive oil. The recipe that I made is a healthier alternative and is super moist pumpkin bread.
Ingredients
Of course, the primary ingredient is pumpkin. In a perfect world, I would cook raw pumpkin and make my puree from scratch. But, with my limited time, it is a lot quicker and easier to use canned pumpkin.
I try to use whole wheat flour in my recipes. My favorite is white whole wheat pastry flour. #ad It is ground from white Spring wheat and has a lighter color, a milder flavor, and a finer texture than regular whole wheat flour.
Learn more about the benefits of including whole grains in your diet in my post, Get the Scoop on Whole Grains.
For this moist pumpkin bread recipe, I used a mix of whole wheat pastry and all-purpose flour.
Most recipes will use butter in baked goods, but again for a healthier recipe, substituting olive oil helps decrease the saturated fat in the recipe.
I cut back on sugar and brown sugar in this recipe. Salt, vanilla, and a tablespoon of molasses add a depth of flavor to the bread.
Eggs add binding to hold the bread together. Baking soda adds leavening so the bread can rise.
Spices take the lead in this recipe. I added pumpkin pie spice as well as cinnamon, nutmeg, and ginger. For an extra touch, I added a sugar crumb topping.
Instructions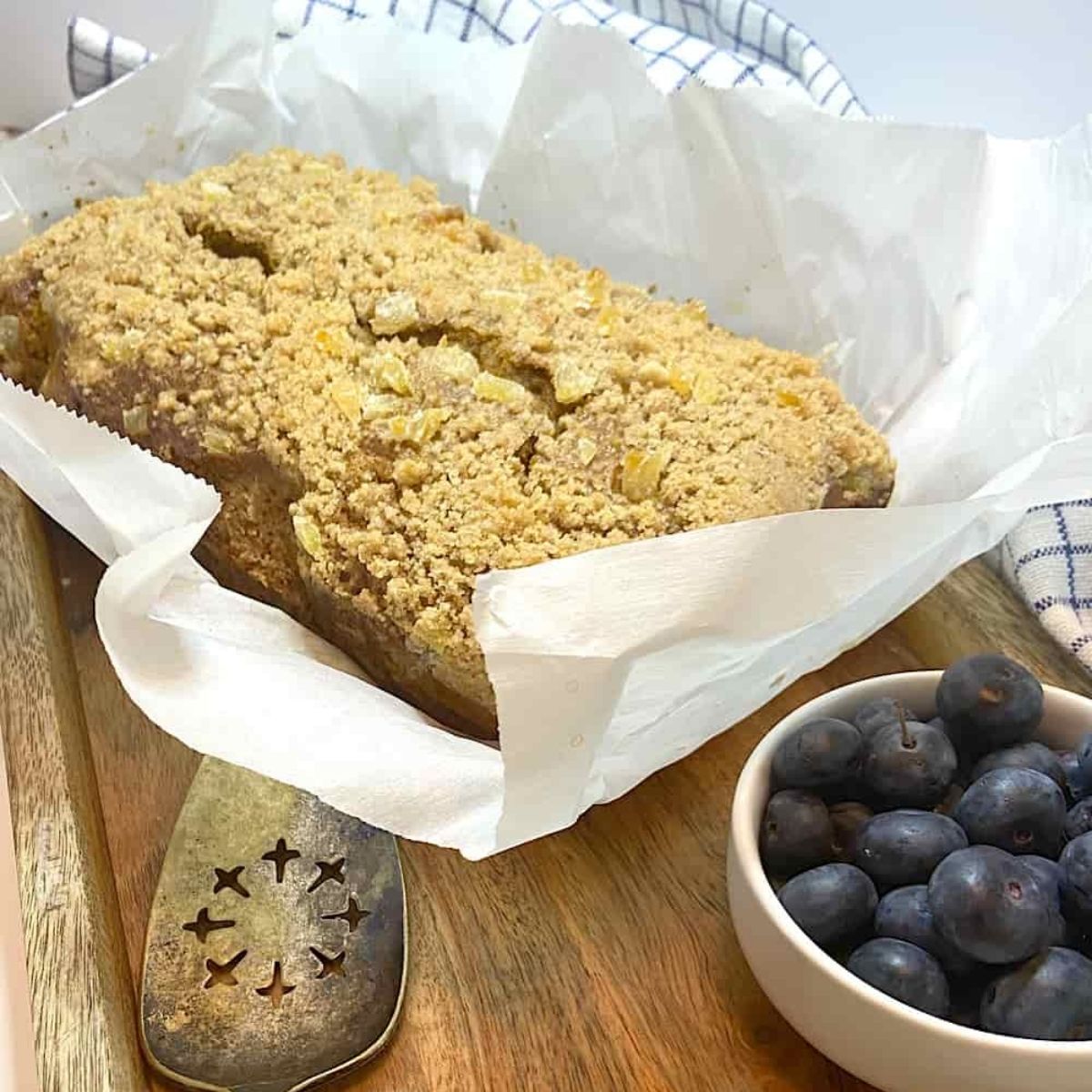 Step 1. Preheat the oven to 350F. Spray two loaf pans with cooking spray. Set aside,
Step 2. Measure and combine dry ingredients including flour, baking soda, salt, and spices.
Step 3. Whisk eggs. Add the remainder of the wet ingredients including pumpkin, olive oil, sugars, molasses, and vanilla to the bowl.
Step 4. Add dry ingredients to the bowl with the wet ingredients and mix until just combined. Divide batter between two loaf pans.
Step 5. Combine flour, brown sugar, cinnamon, and ginger until combined. Add olive oil and mix until a crumb forms when pressed in your hand.
Step 6. Place pans on the bottom rack of the oven. Bake in the 350F preheated oven. Depending on your oven, the cooking time may range from 40-50 minutes. During last 10 minutes, check every 5 minutes until a toothpick inserted in the center of the loaf is mostly clean when removed.
Cool, slice, and enjoy!
Frequently Asked Questions
How to Store Healthy Pumpkin Bread
To keep your bread moist, wrap it in plastic wrap and then in foil. It will keep on the counter for up to 3 days. You can also store it in the refrigerator for up to 2 weeks.
For longer storage freeze for up to 3 months. For the best result, wrap in plastic, then foil and store in a ziplock freezer bag.
How to Substitute All Purpose Flour
If Whole Wheat Pastry Flour isn't available, simply substitute 1 1/2 cups of all-purpose flour. The total flour in the recipe would be 3 cups of all-purpose flour.
Other Healthy Baked Goods Recipes
Healthy Zucchini Bread Recipe - tender bread and full of Fall spice. It's an easy recipe that comes together quickly and won't disappoint.
Peach Crisp Recipe - juicy and tender peaches with a crunchy oat crumb topping. Serve over a scoop of Low Fat Greek yogurt or your favorite vanilla ice cream.
Easy Carrot Cake - a moist and flavorful cake full of spicy carrot and cream cheese flavors.
---
August 2022 Update: Updated Ingredient, Instructions, and Frequently Asked Question sections in post. Minor updates to the recipe card.
Want more healthy recipes? Try my FREE 7-Day Meal Plan & Shopping List. An eBook that includes favorite recipes. Get a copy sent to your email below.