This post may contain affiliate links. This means I may make a small commission at no additional cost to you when you make a purchase. Find out more in the Disclosure Policy
Cauliflower and Broccoli in Gouda Cheese Sauce is a mouth-watering vegetable side dish. Made with fresh broccoli and cauliflower and coated with a gouda cheese sauce, it is a delicious side dish for Sunday dinner or a special occasion.
Broccoli is one of our favorite vegetables. We usually steam it with a little butter and salt. But if I want to take it up a notch I add a homemade Gouda cheese sauce. Adding cheese to vegetables always makes them special, but I love smoked Gouda cheese. It adds extra depth to the sauce.
This gouda cheese sauce is very versatile. You can make it with just broccoli or add other vegetables like cauliflower or carrots.
Ingredients
Tips:
I often make a homemade soup base, but when I am in a pinch for time, I use a canned soup. This recipe works well with cream of chicken, cream of mushroom, or even cream of celery soup bases
Instructions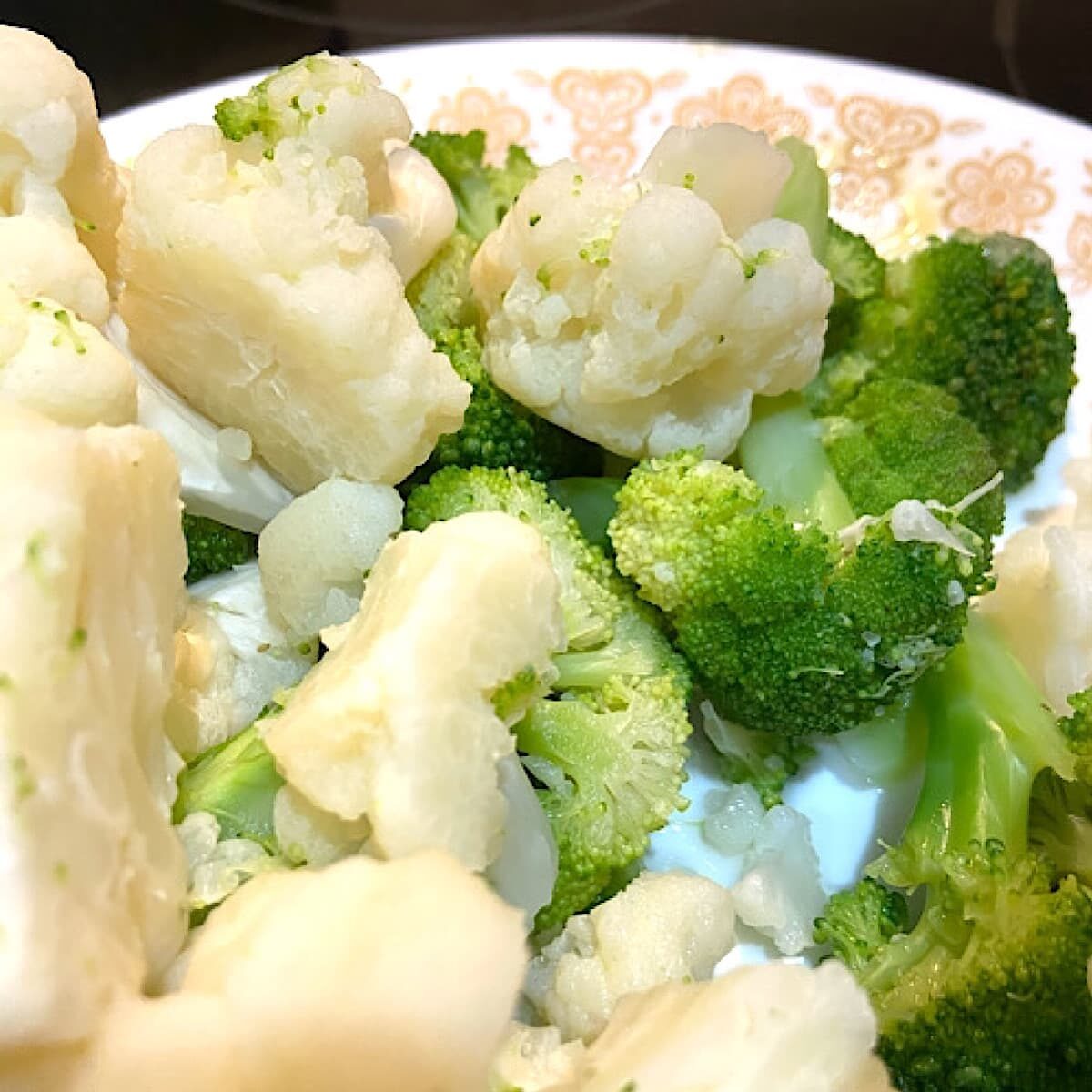 Step 1. Preheat the oven to 350F. Spray a baking dish with cooking spray. Set aside.
Step 2. Add broccoli and cauliflower to a pan with a small amount of water. Bring to a boil and cook for 5-7 minutes until fork tender.
Step 3. Drain and add vegetables to a 1 1/2 quart baking dish.
Gouda Cheese Sauce
Step 1. Heat olive oil over medium heat in a large pan. Add chopped onion and cook for 2-3 minutes until the onion is tender and starts to brown. Lower temperature to medium-low.
Step 2. Add soup to the onion. Stir to combine over low heat. Next, add cheese, milk, pepper, basil, or other spices.
Step 3. Heat and stir until the cheese melts and you are ready to add to the vegetables. Pour over vegetables into the baking dish. Gently stir to coat cauliflower and broccoli.
Step 4. Melt butter and add to bread crumbs. Stir to combine.
Stir 5. Sprinkle buttered bread crumbs on vegetables. Place pan in oven and heat for 15-20 minutes until bread crumbs start to brown.
Frequently Asked Questions
What is the Best Cheese to Melt for a Cheese Sauce

Pick a soft cheese or a semisoft cheese and your sauce will be creamy. Cheese varieties like gouda, cheddar, Gruyere, and Havarti are examples that will melt to a pleasing texture for your sauce.

Avoid feta, goat cheese, and ricotta cheese that won't melt as easily and may not produce a creamy texture in your sauce.
Can Broccoli with Cheese Sauce be Made Ahead

This recipe can be prepared the night before up to the addition of bread crumbs and baking in the oven.

You can chop the vegetable and cook them until fork-tender. Store vegetables in an air-tight container.

Cook sauce and pour over vegetables. Sprinkle with buttered bread crumbs and bake for 30 minutes until heated through and bubbly.
How to Store

This recipe can be stored in a covered container in the refrigerator for up to 5 days.
How to Reheat

Reheat in the microwave on high for 1-2 minutes. Lightly stir and continue heating for 30-second intervals until heated through.

This dish can also be reheated in the oven for 20-25 minutes until heated through.
What to Serve With Vegetables in Cheese Sauce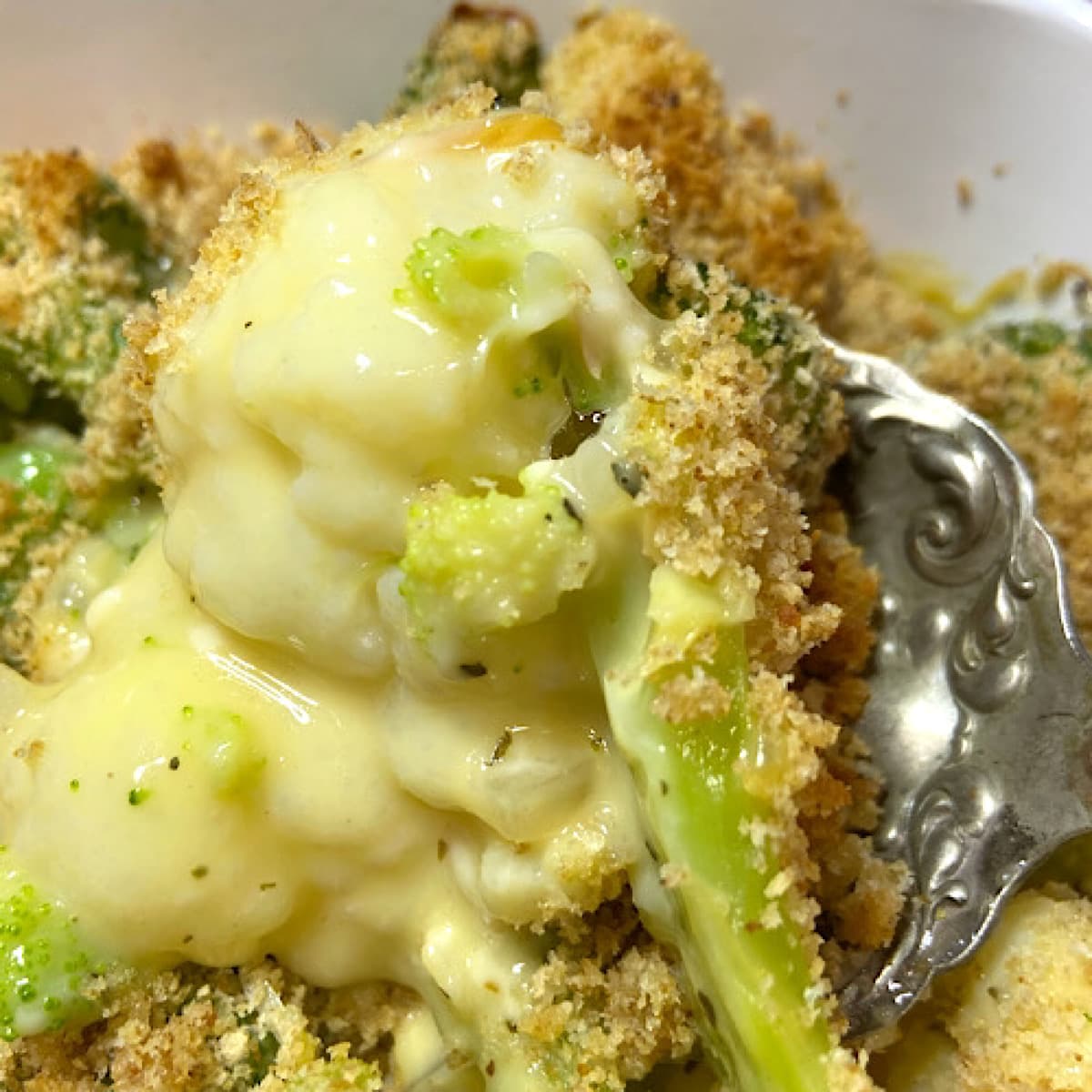 This cheesy broccoli and cauliflower in Gouda cheese sauce side dish is perfect with chicken, pork, or, beef dishes. You might like it with one of the following dishes:
Balsamic Chicken Breasts - Easy and flavorful balsamic chicken breasts add a delicious Italian twist to weeknight baked chicken.
Bacon-Wrapped Grilled Chicken Breasts - Juicy grilled chicken breasts seasoned with a barbeque rub and wrapped in bacon are an easy weeknight dinner.
Other Tasty Side Dishes for You
---
October 2022 Update: Minor updates to recipe post.