This post may contain affiliate links. This means I may make a small commission at no additional cost to you when you make a purchase. Find out more in the Disclosure Policy
Acorn Squash Soup Recipe is a hearty but healthy soup perfect to warm you up on a cool Fall day. This creamy soup includes simple vegetables and earthy spices, with a slightly sweet-savory flavor combination of squash, sweet potato, and spices.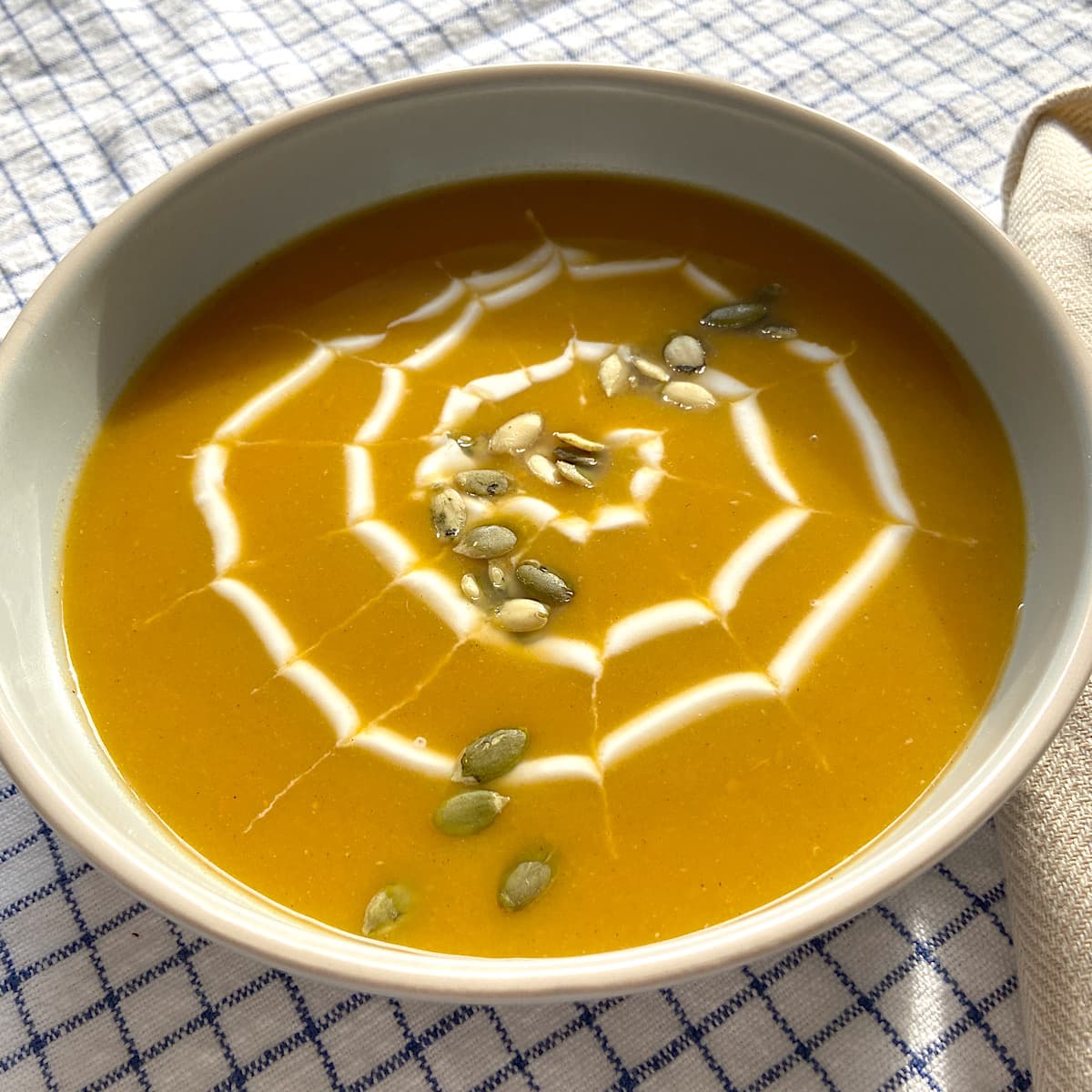 Soup is a standby meal for our family in the Fall and Winter. This flavorful soup only uses 5 ingredients besides spices. It is perfect for a busy weeknight or a light weekend lunch.
Ingredients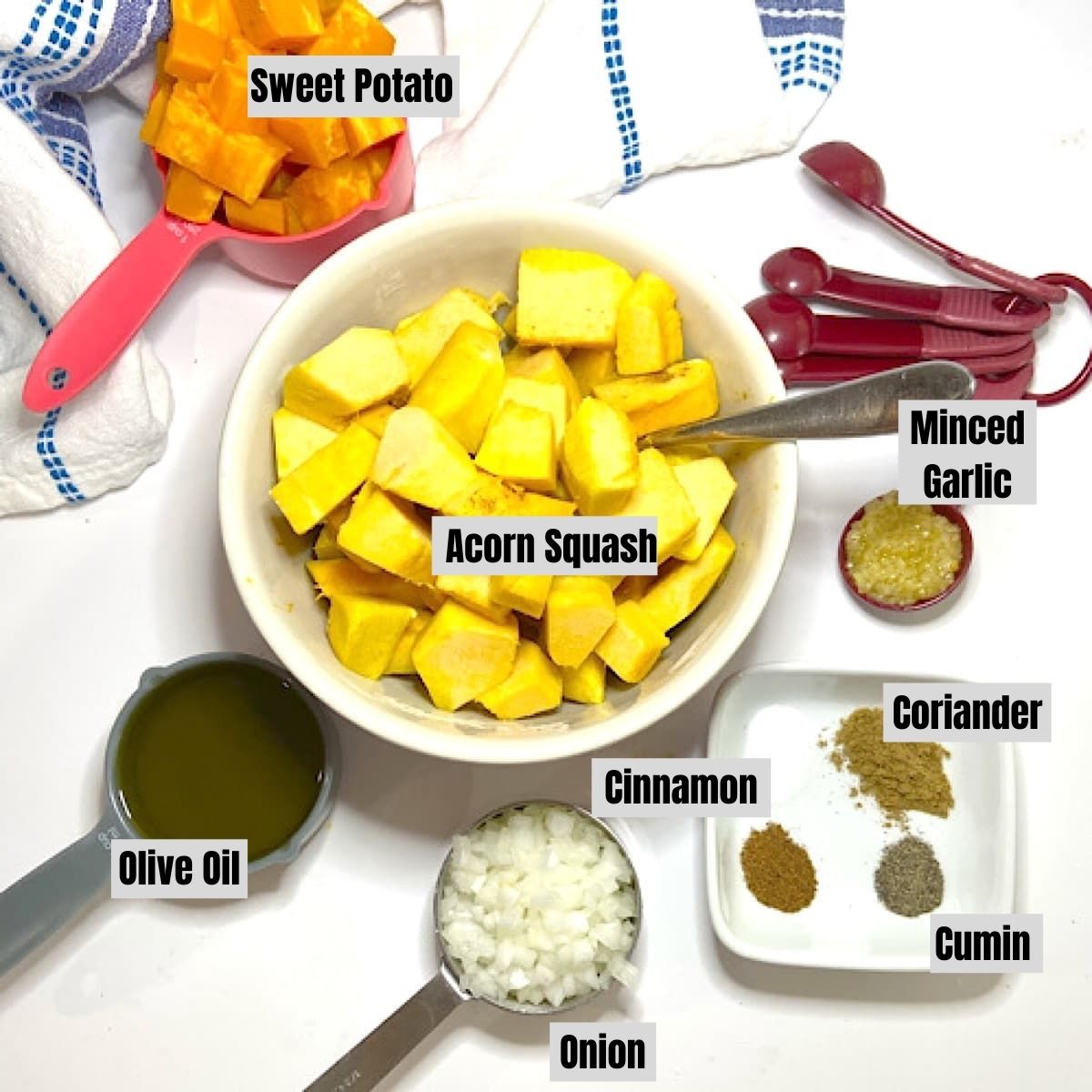 While this Acorn Squash Soup Recipe is perfect for a cool day, acorn squash is usually available at your local grocer year-round. Pick a medium to large squash. Generally, the acorn squash is a deep green color but may lighten to orange over time. Added Bonus: look for pre-cut Acorn squash in the produce department. This is a time saver!
Pick a large sweet potato for this recipe. It adds deepened color to the soup and also adds a subtle sweetness to its flavor.
For the onion, you can add up to a cup, but for this recipe, I added a 1/2 cup. Mince two to three cloves of garlic to equal a tablespoon.
I usually have chicken broth in my freezer, but you can use vegetable broth if you prefer.
For spices, I included coriander, cinnamon, and cumin. But you can substitute your favorite spices.
Instructions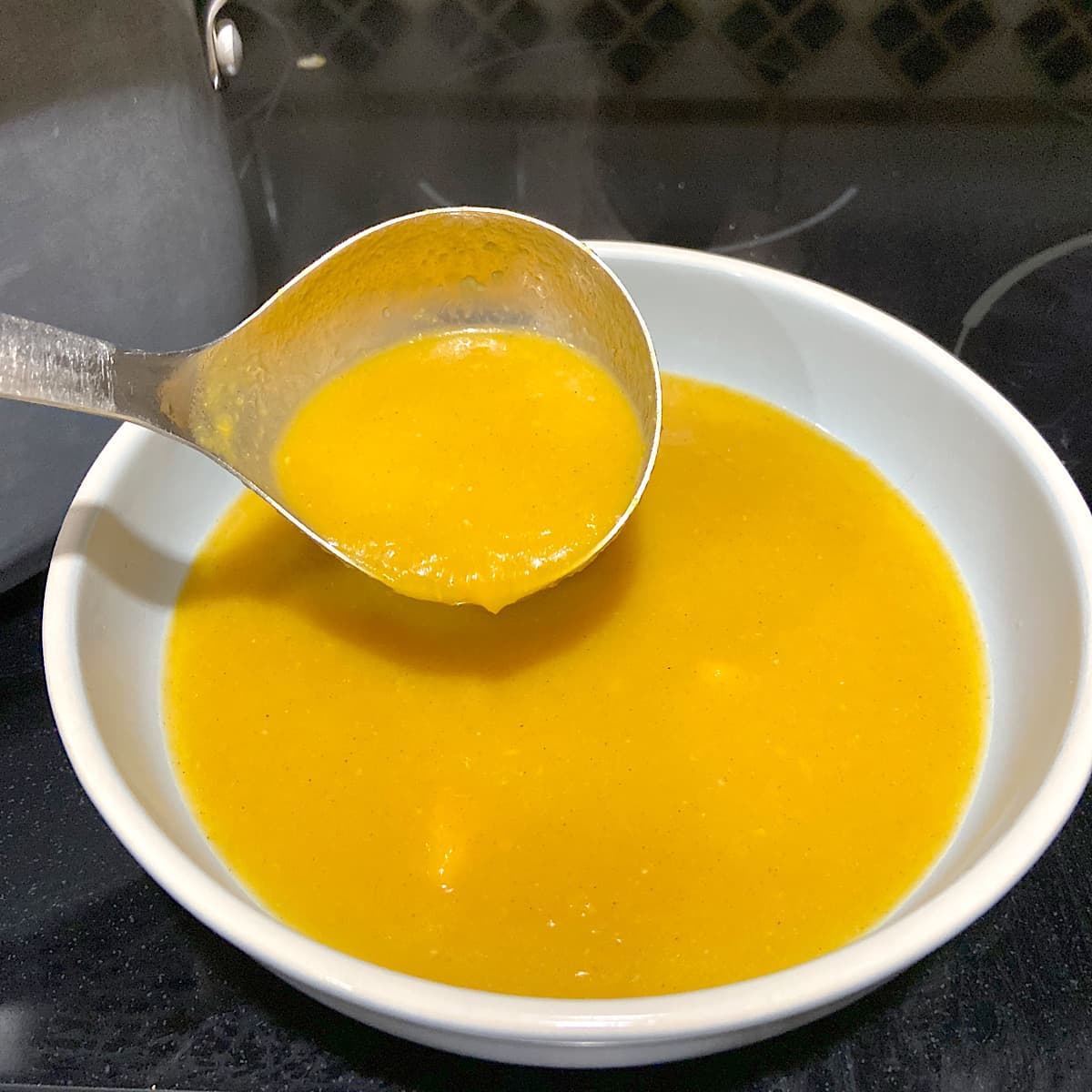 This soup is another one-pot recipe.
Step 1. Wash and peel the acorn squash and sweet potato. See the tip below for making this process easier if you are using a whole, uncut Acorn Squash rather than pre-cut cubes from the produce department at your grocery store. Prick the skin of sweet potato all around. Microwave for 2 minutes. Turn sweet potato and microwave for 2 minutes. Use a peeler to remove skin and chop into 1-inch cubes. Set cubed acorn squash and sweet potato aside.
Step 2. While the squash and sweet potato are heating in the microwave, heat olive oil over medium heat in a stockpot. Add chopped onion. Saute and stir for 2-3 minutes. Add minced garlic and stir.
Step 3. Next, add the chopped squash and sweet potato and saute with onion and garlic for 3-5 minutes.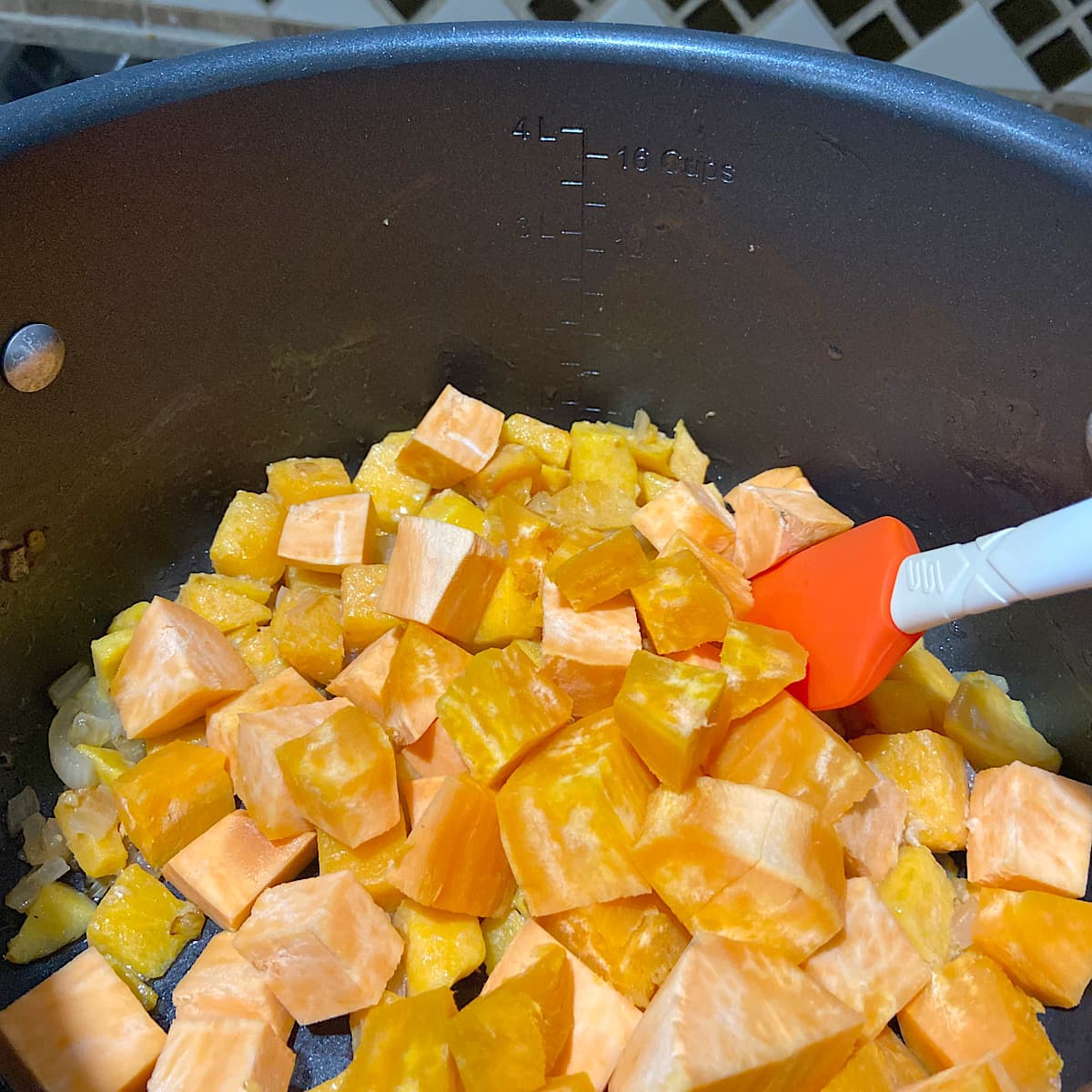 Step 4. Add broth and spices. Bring to a boil and then simmer over medium-low heat for 25 minutes, until vegetables are tender.
Step 5. Remove pot from heat and allow to cool for a few minutes. Use an immersion blender to pulse Acorn squash and sweet potatoes until the soup reaches a smooth consistency.
Step 6. Serve in bowls with a drizzle of Greek yogurt and a sprinkle of pumpkin seeds.
My Favorite Kitchen Tool
For blending the cooked vegetables into soup, I love using an immersion blender. This small kitchen appliance is a time saver!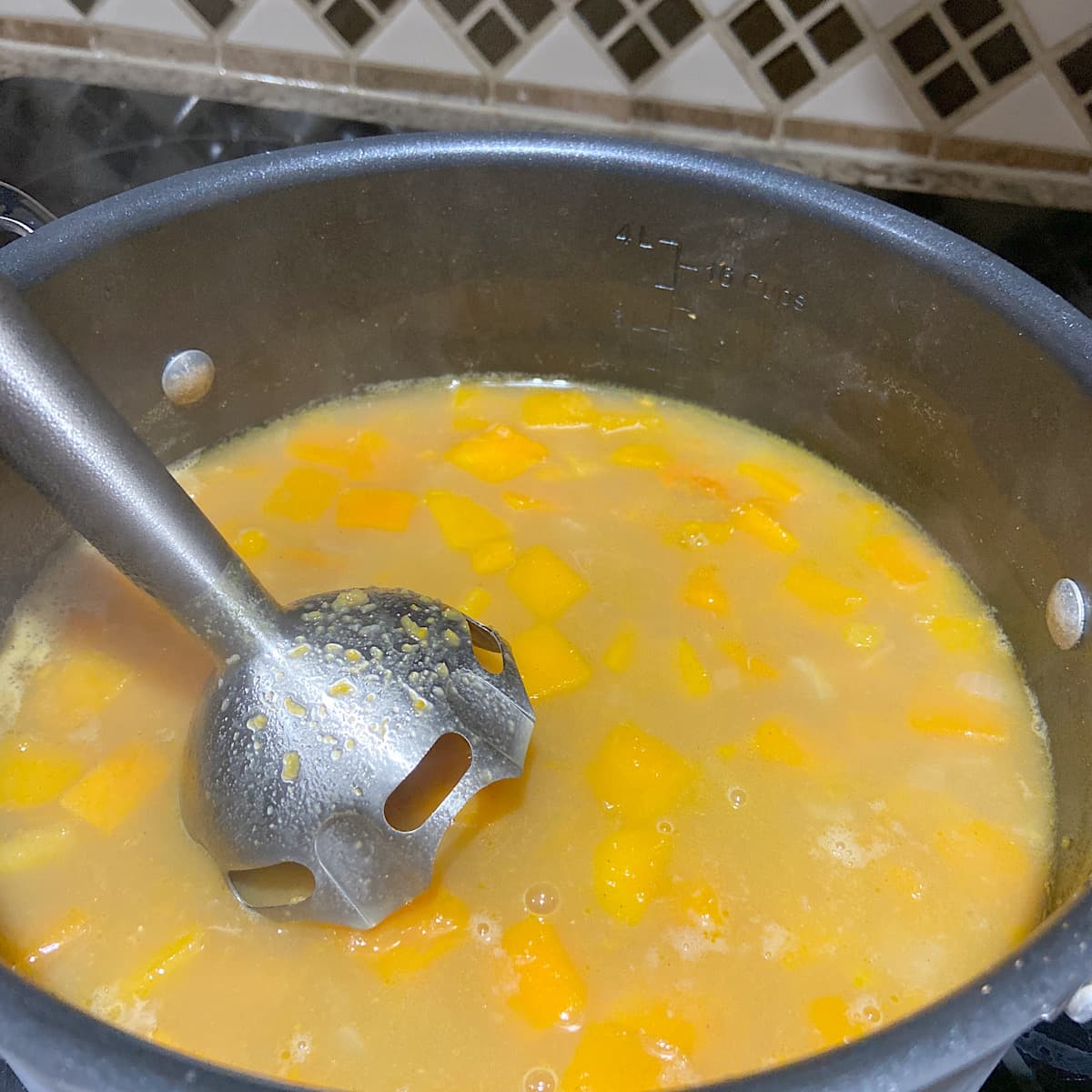 If your soup is hot, it is important to use it carefully when blending. But the blender allows you to use only one stockpot for this recipe.
Place the head of the blender under the surface of the cooked vegetable and broth and stand upright on the bottom of the pot. Pulse several times. Make sure that the blender has stopped prior to lifting it and moving to a different area. This will ensure that you aren't splattered with hot soup.
It's that simple. Move it to a new area and blend again. Repeat until the soup is the consistency you are looking for. See tips for using a tabletop blender in Recipe notes.
Frequently Asked Questions
How to Remove Skin From Acorn Squash

Acorn Squash is a summer squash with thick tough skin. Peeling this squash to maximize the eatable part can be time-consuming. Here's a tip to make it easier.

Pierce the skin of the squash with a fork all around. Place the squash on a plate and place it in the microwave. Microwave for 2-3 minutes, then turn the squash and microwave an additional 2-3 minutes. This will soften the tough skin and make it easier to prepare.

Let the squash cool for a few minutes.

Secure the squash on the counter and cut it in half. You may see that some of the flesh is softer where it was cooked from the microwave, but we will cook it more in the soup so that is no issue for this recipe.

Clean out the seeds and then use a knife and peeler to remove the skin. Slice or cube the squash for the recipe.
What to Serve with Acorn Squash and Sweet Potato Soup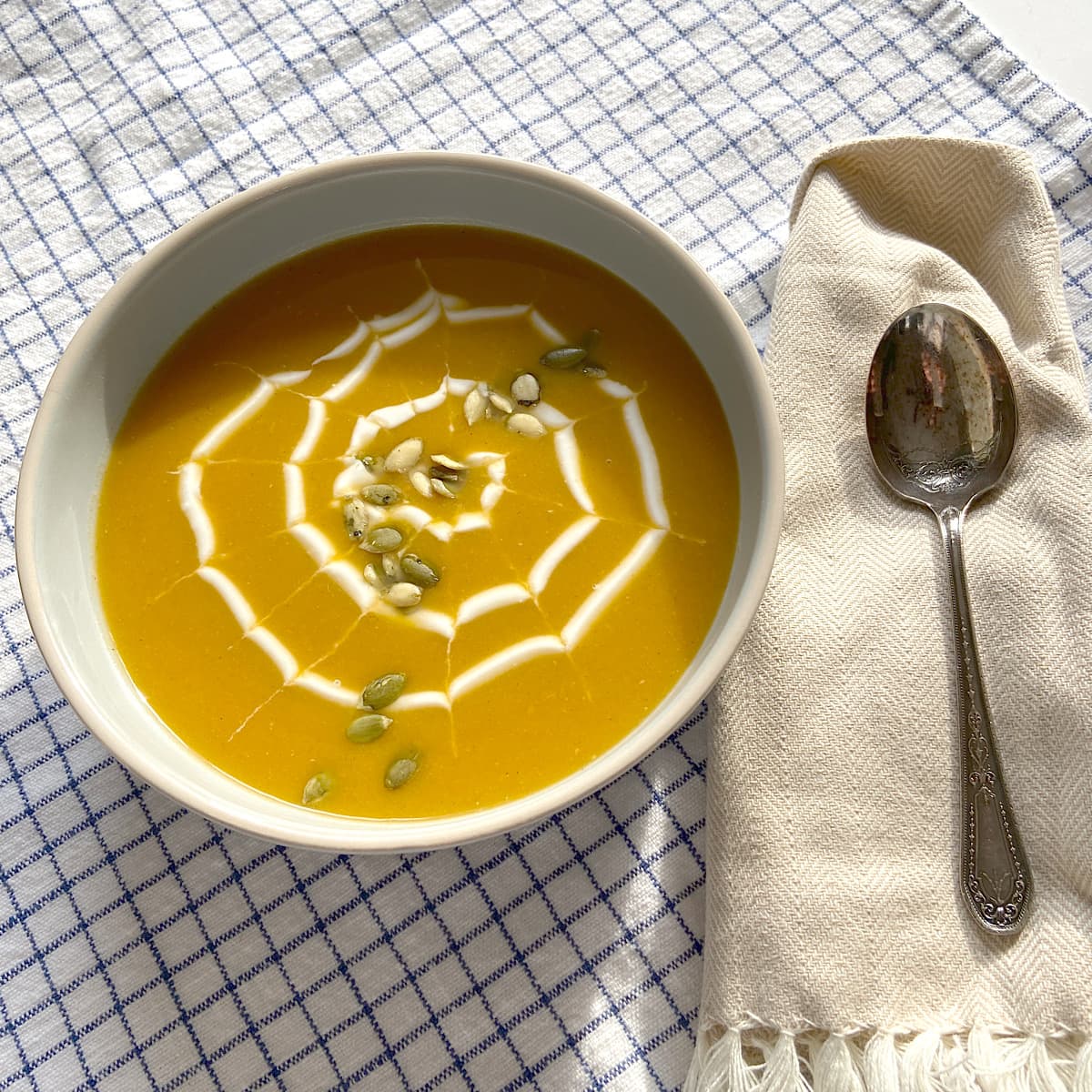 I like to add a tablespoon of low-fat Greek yogurt to this Acorn Squash Soup Recipe. You can also add homemade whole-grain croutons, add a sprinkle of your favorite cheese, or a few pumpkin seeds. Serve with a salad and melted parmesan toast. Yum!
Other Healthy Soup Recipes for You
---
March 2022 Update: Added new images, Ingredients, Instructions, and Other Recipe Sections. Minor updates to post and recipe card.