This post may contain affiliate links. This means I may make a small commission at no additional cost to you when you make a purchase. Find out more in the Disclosure Policy
Flavorful and hearty ham and bean soup recipe is a simple and quick recipe that is ready in less than an hour. This is a perfect recipe to use up leftover ham from a holiday meal.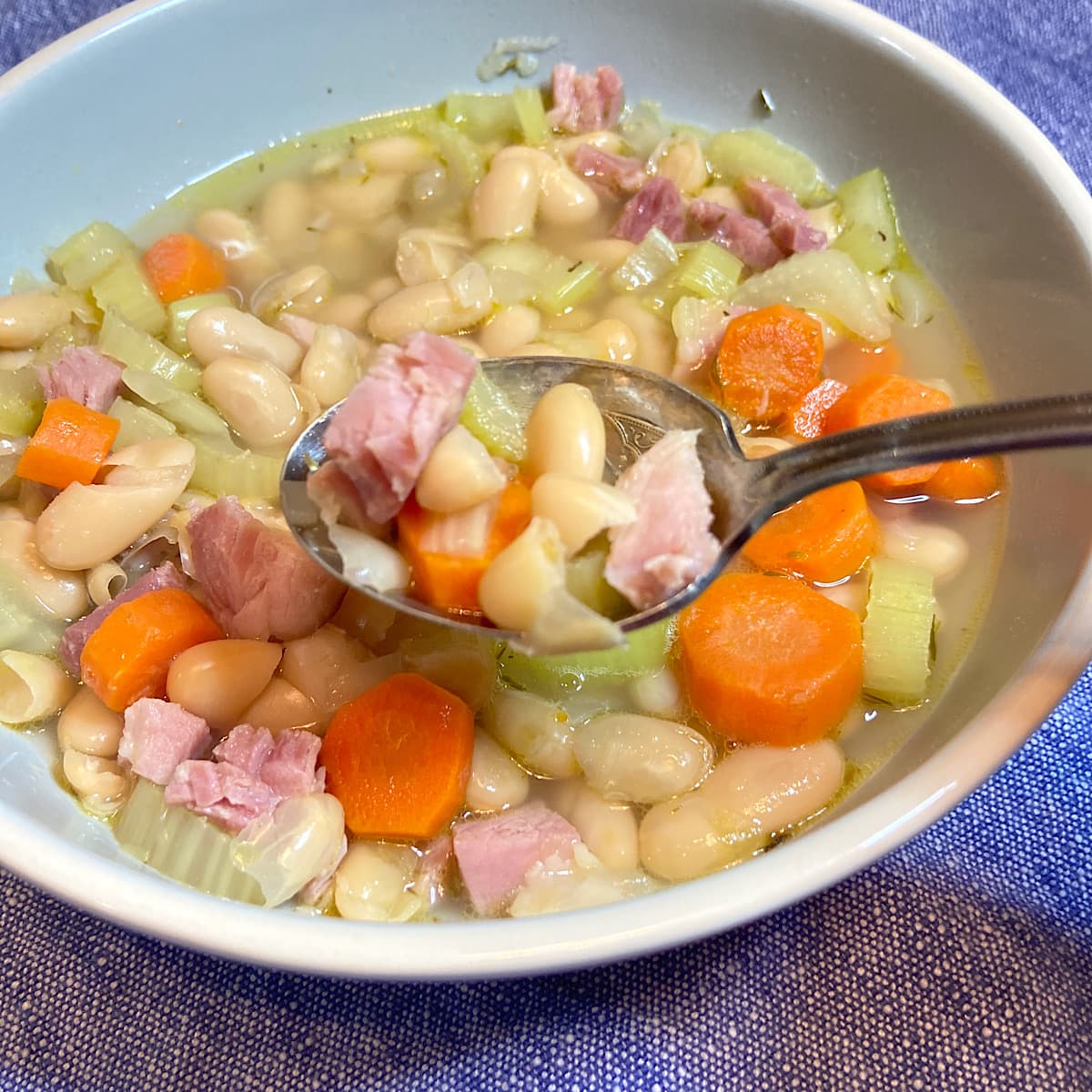 Looking for a simple ham and bean soup recipe to use up that holiday ham? This recipe is perfect for a cold evening. Filled with vegetables and white beans, it is a healthy recipe full of fiber and nutrients.
Ingredients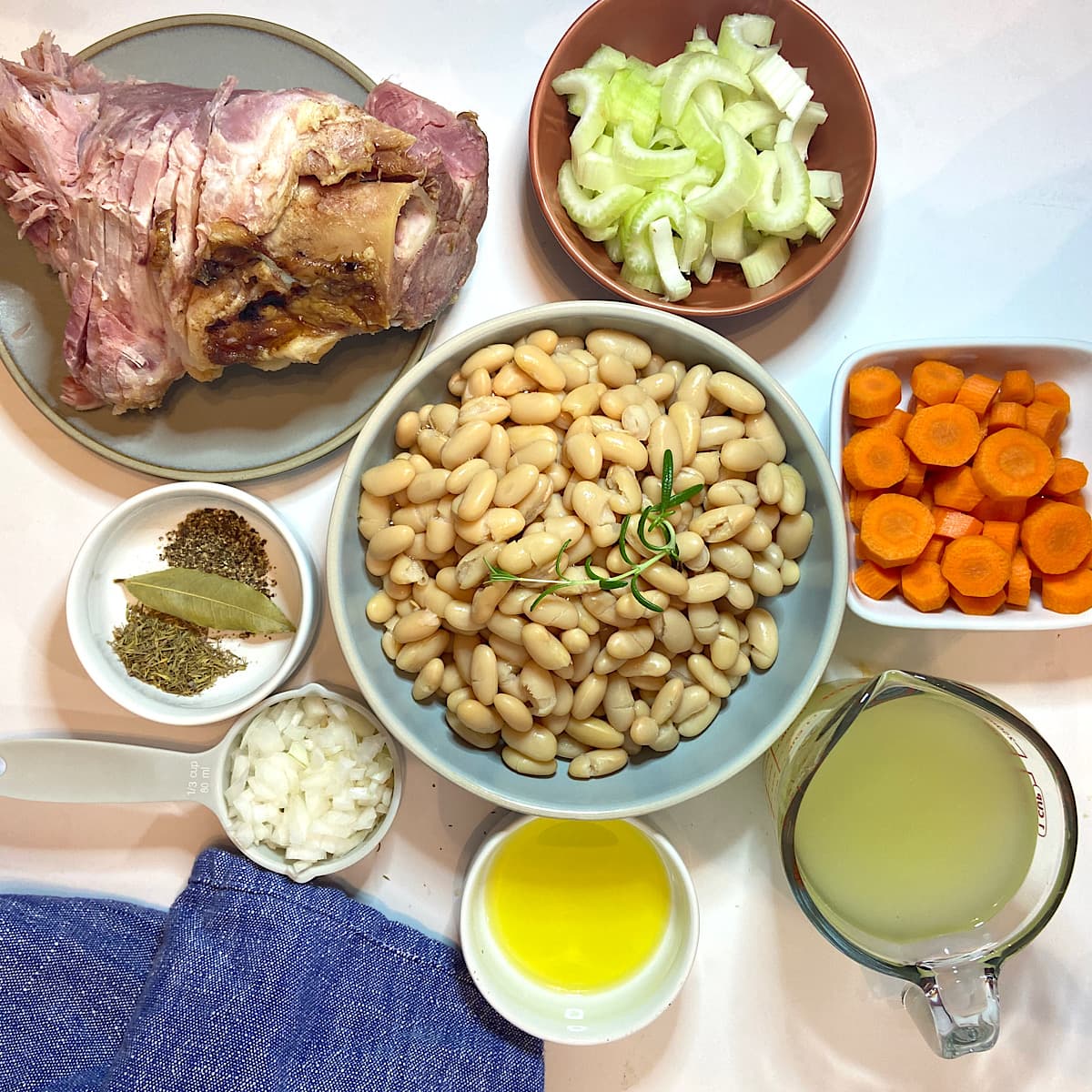 The key ingredient in this recipe is a ham hock. Another option is uncured ham. Available in small portions, you can have the taste of ham without the typical ingredients used to cure ham.
Next, you need the three classic ingredients in mirepoix. That is chopped carrots, celery, and onions. All sautéed in olive oil until just tender.
Broth, chicken, or vegetable provides the liquid to simmer the ham hock. Add a bay leaf, thyme, and pepper for flavor.
I used white cannellini beans, but white navy beans will work just as well. Because I want my soup finished fast, I used canned beans. Ready to use, just rinse and drain.
Instructions
Step 1. Peel and chop carrots, celery, and onion. Heat olive oil in a large pan. Add carrots and saute for 5 minutes. Add celery and onion and saute for an additional 5 minutes.
Step 2. Add ham hock, broth, bay leaf, thyme, and pepper, and bring to a boil. Lower heat and simmer for 10 minutes.
Step 3. Open and rinse the beans. Add to pan and bring to a boil. Lower the temperature and simmer for 10 minutes. Use a knife to remove the remaining ham from the bone.
This recipe uses ready-to-use canned beans so it is ready in just over a half-hour. Traditional recipes, often include dried beans that can take hours to soak and cook.
All ingredients are prepared in one pan on the stovetop. Ingredients are added to the pan and simmered. That's it. Quick and Simple
This recipe makes four generous servings that are about 1 1/2 cups each.
Frequently Asked Questions
How to Store Ham and Bean Soup

This recipe makes a small batch of 4 one and one-half cup servings. If you have leftovers, you can store them in a covered dish in the refrigerator for 3-4 days.
What to Serve With Ham and Bean Soup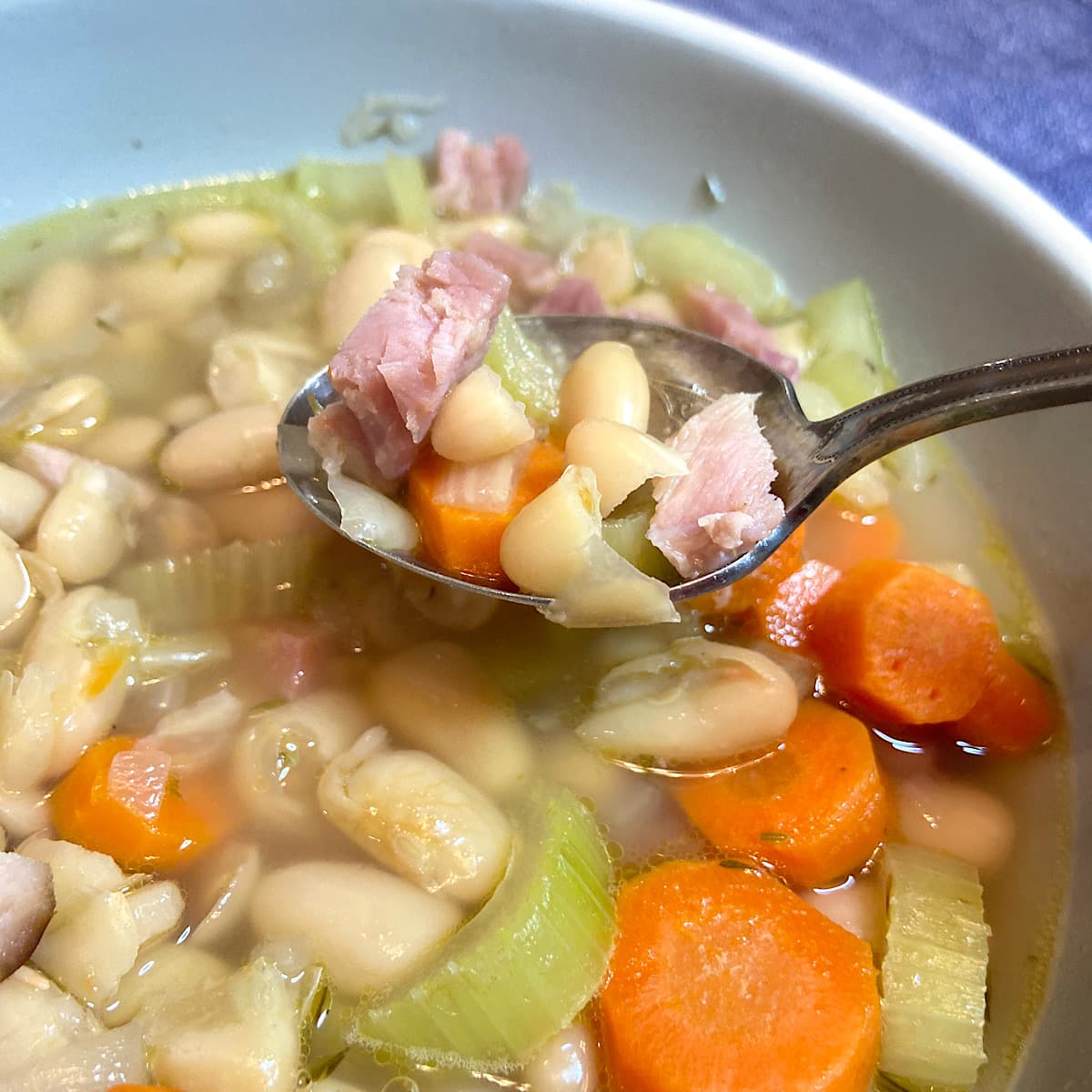 Serve this healthy soup with a leafy green salad dressed with homemade Ranch Dressing and a slice of French bread.
Other Healthy Soup Recipes for You
---
October 2022 Update: Minor post updates.