This post may contain affiliate links. This means I may make a small commission at no additional cost to you when you make a purchase. Find out more in the Disclosure Policy
Easy potato soup is a quick and flavorful recipe ready in less than an hour. Made with healthy ingredients, this soup is full of vegetables, and creamy Greek yogurt.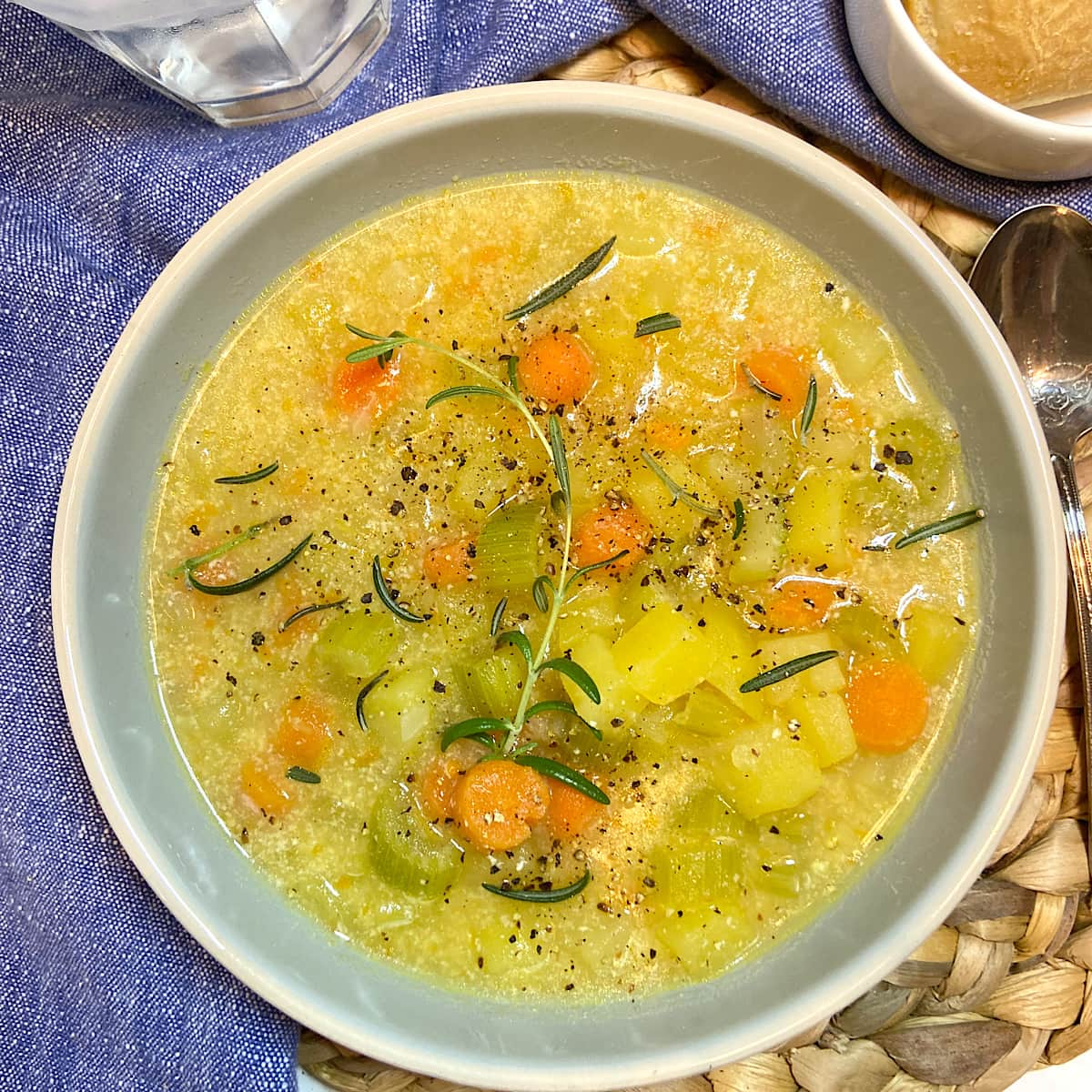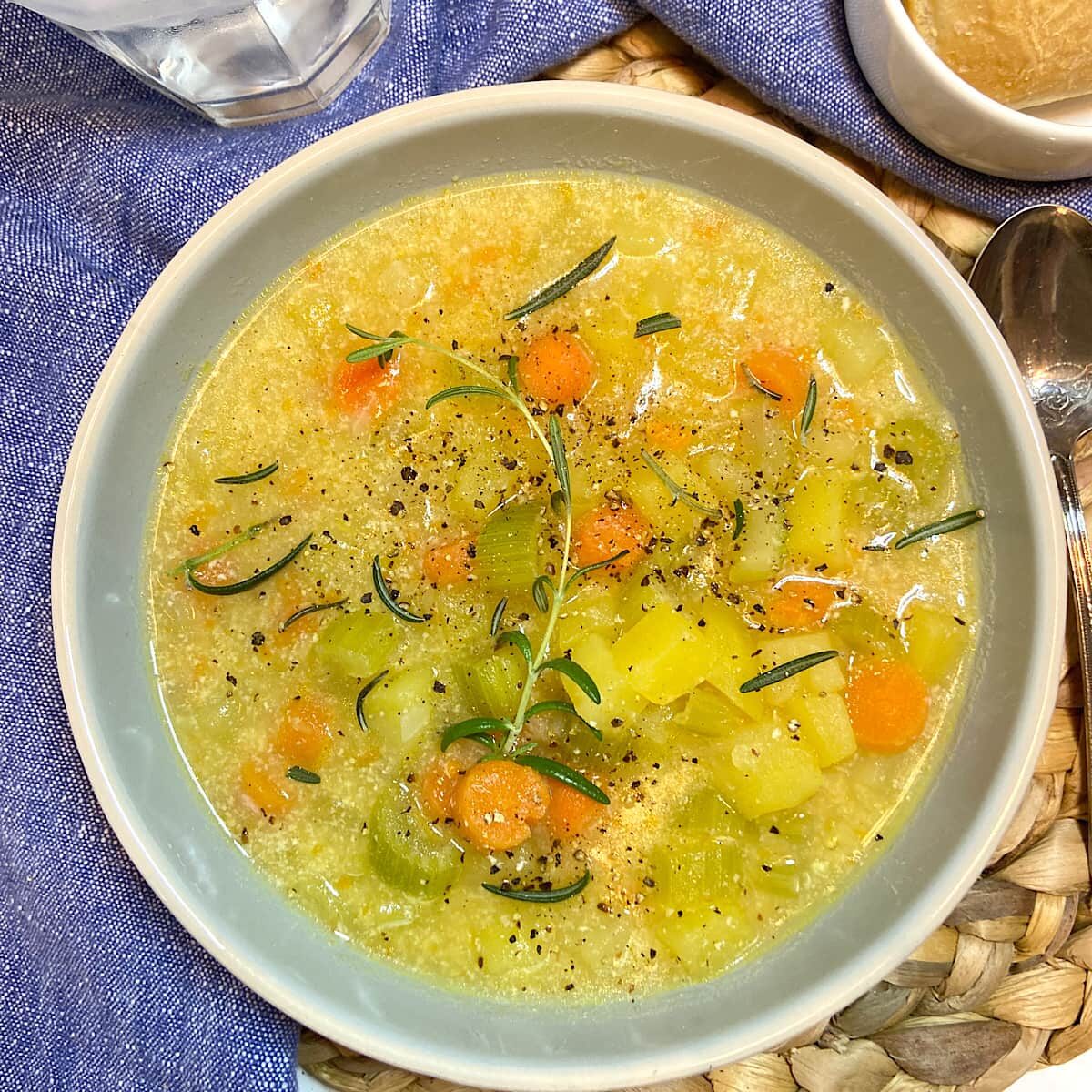 Sometimes I am tight on time for dinner with working late and running kids to activities.
This Easy Potato Soup is filled with vegetables that I almost always have on hand which makes this a great recipe when you haven't had a chance to run to the grocery store.
Ingredients
This soup uses just a few basic ingredients. Of course, it includes potatoes. You can use red or golden potatoes. Use whatever you have on hand.
It also includes a mix of carrots, celery, and onions. Extra virgin olive oil is used to cook the vegetables.
The liquid base of the soup is the broth. You can use chicken or vegetable broth depending on what you have on hand.
Low-fat Greek yogurt adds creaminess to the soup without adding a lot of saturated fat.
Simply season with pepper and salt to taste. That's it. A super simple recipe.
Instructions
Step 1. Peel potatoes and chop them into 1-inch cubes. Peel carrots and chop them into 1/4-inch slices. Chop celery into 1/4-inch slices. Finely chop the onion.
Chop vegetables into roughly the same size pieces so they are done at the same time.
Step 2. Heat olive oil in a large pan over medium-high heat. First, add the carrots since they are the densest. Stir and cook for 5 minutes. Add celery and then onion. Finally, add potatoes. Make sure and stir regularly so the vegetables don't over brown.
Step 3. Add broth to cover the vegetables. Heat to a boil over medium-high heat. Then lower to a simmer. Cook until potatoes and carrots are fork-tender.
Step 4. Remove from heat. Using an immersion blender like this one #ad, place the blender nose under the surface of the soup and gently pulse several times.
Step 5. Stir in Greek yogurt. The soup is ready to serve.
This recipe makes 4 hearty one and one-half cup servings.
What to Serve with Potato Soup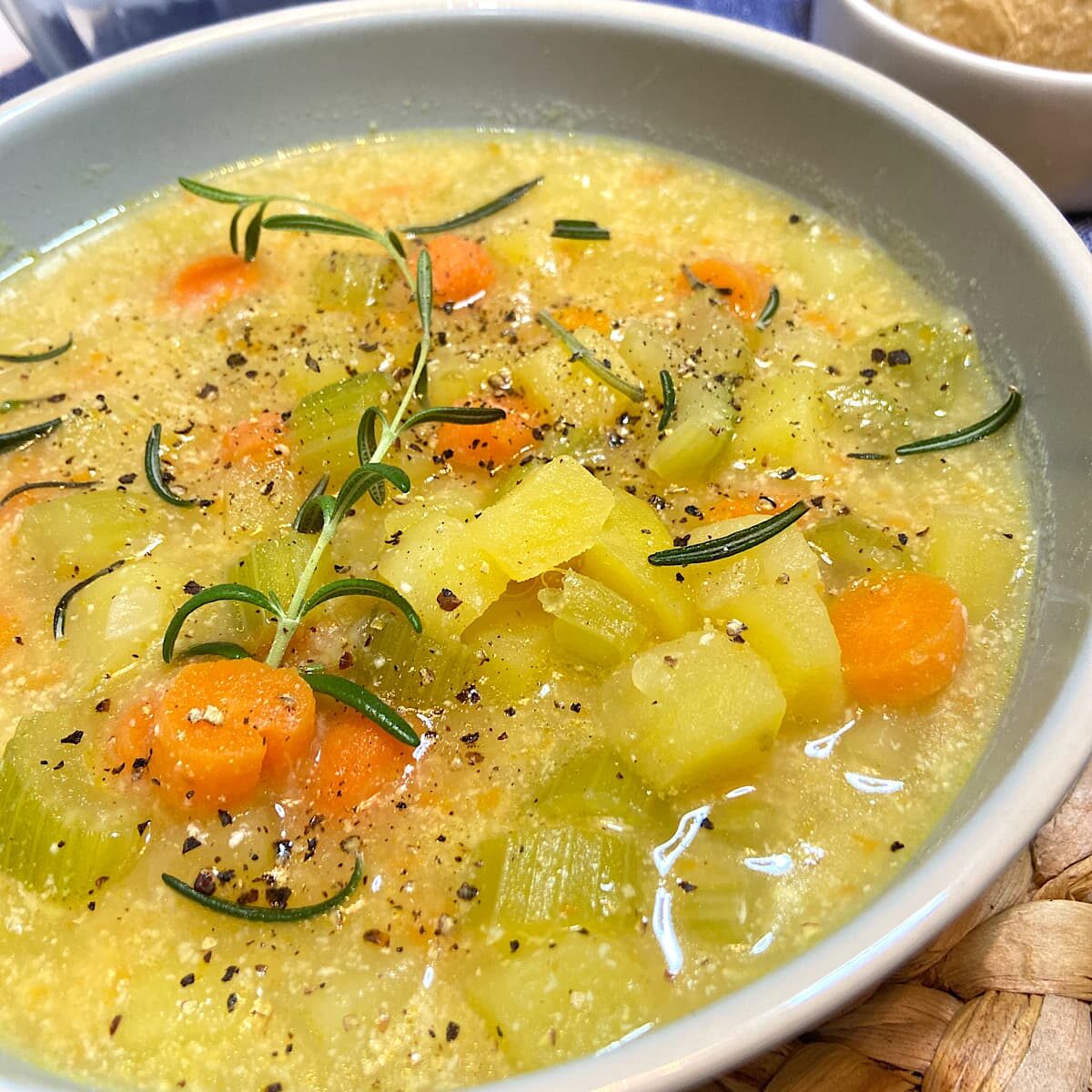 Serve this healthy potato soup with a green leafy salad dressed with balsamic vinegar and olive oil, or a Homemade Ranch Dressing and a crust of French bread for a flavorful meal.
Other Healthy Soup Recipes for You
---
September 2021: Adding Instruction section, minor updates to post, and recipe card. Updated images.