This post may contain affiliate links. This means I may make a small commission at no additional cost to you when you make a purchase. Find out more in the Disclosure Policy
Chilled green bean salad is an easy vegetable side dish that you can prepare any time of year. I usually make this canned French-style green bean salad as a side dish for Spring Holiday meals.
Filled with vegetables and dressed with a sweet and tangy dressing, it is a perfect complement to your meal.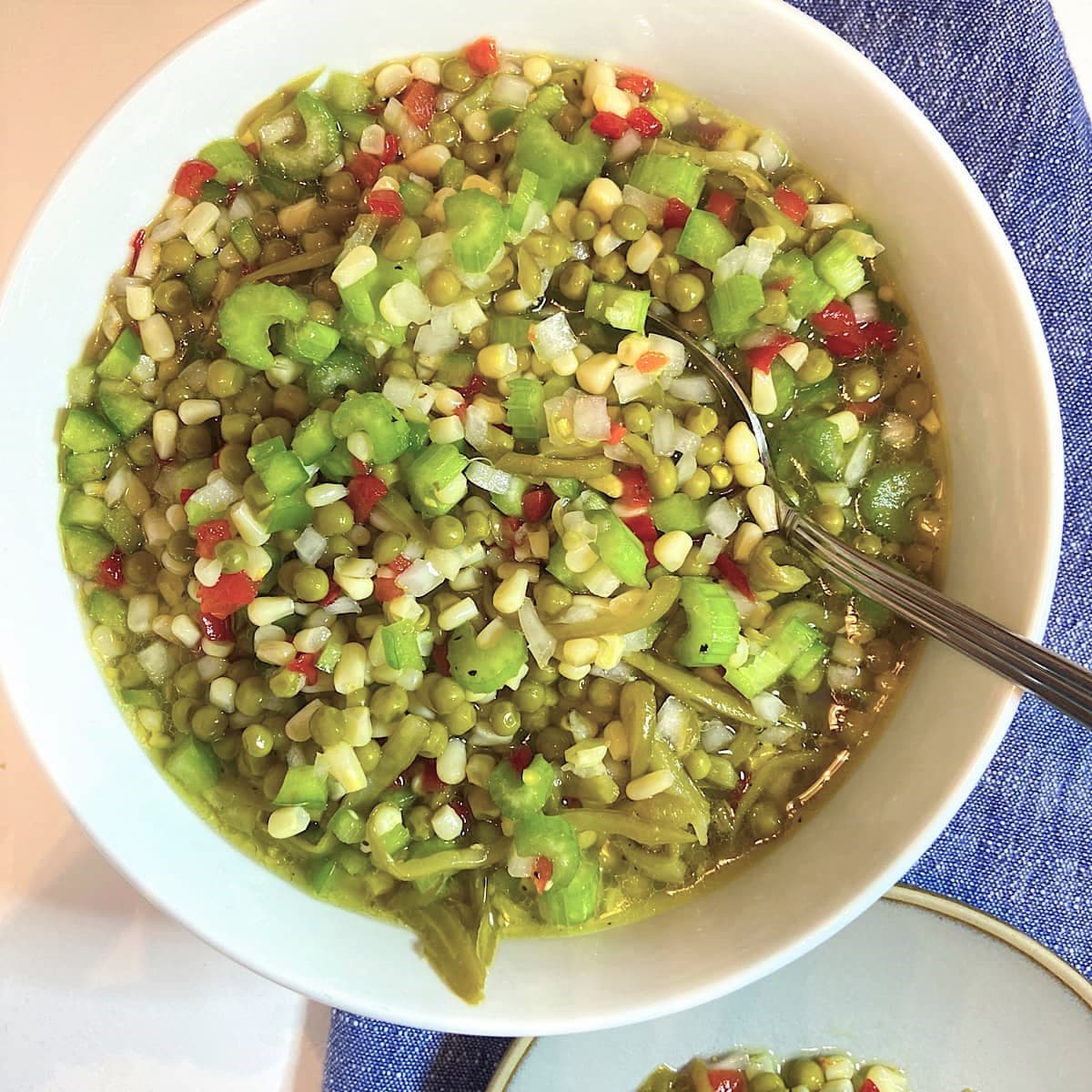 I have made this canned corn and French-style green bean salad recipe for years. It reminds me of my grandma's church potlucks with tables filled with every type of salad dish imaginable.
Simple ingredients and preparation make this an easy side dish with a big flavor impact. The most important tip is to chill the salad before serving, at least 4 hours or overnight.
Ingredients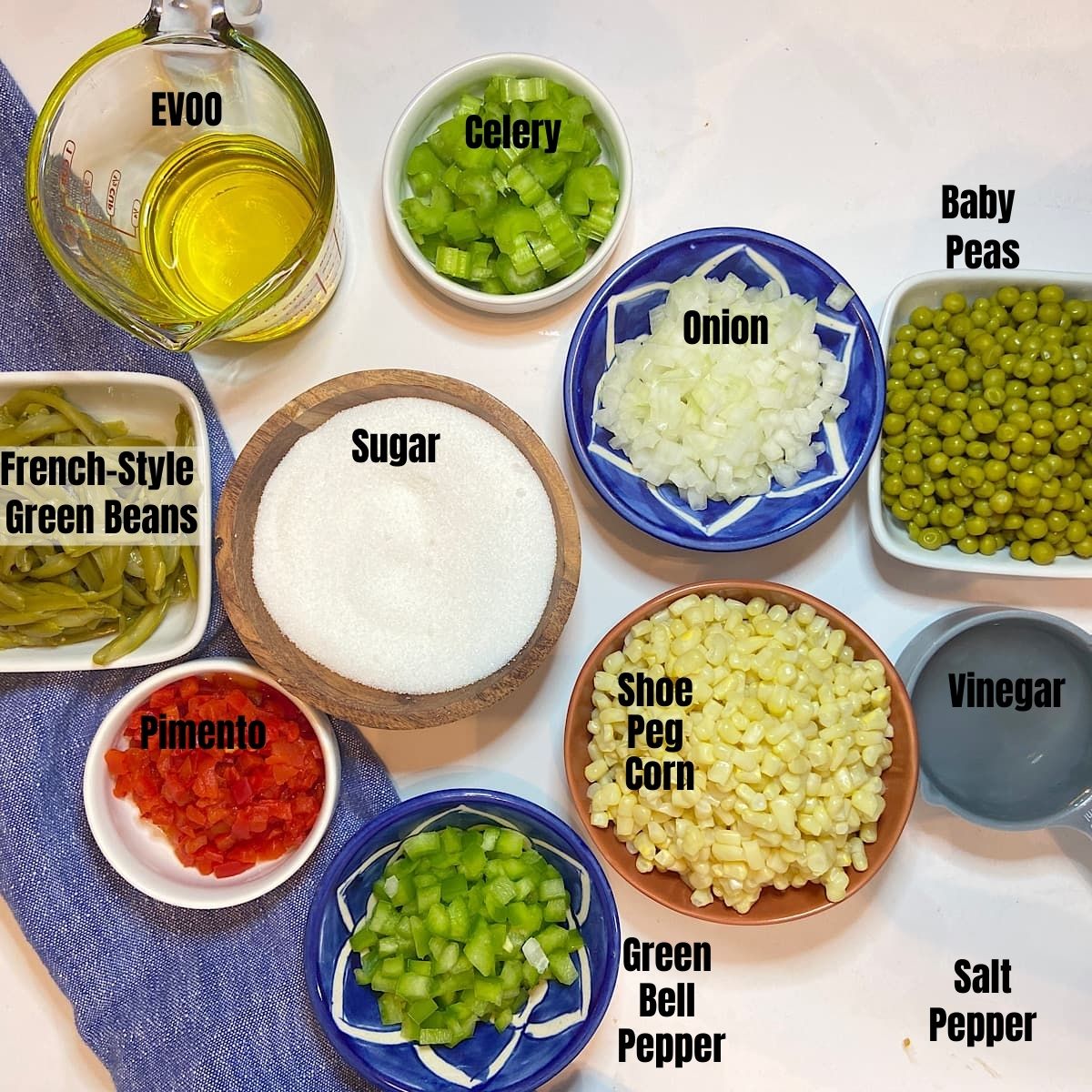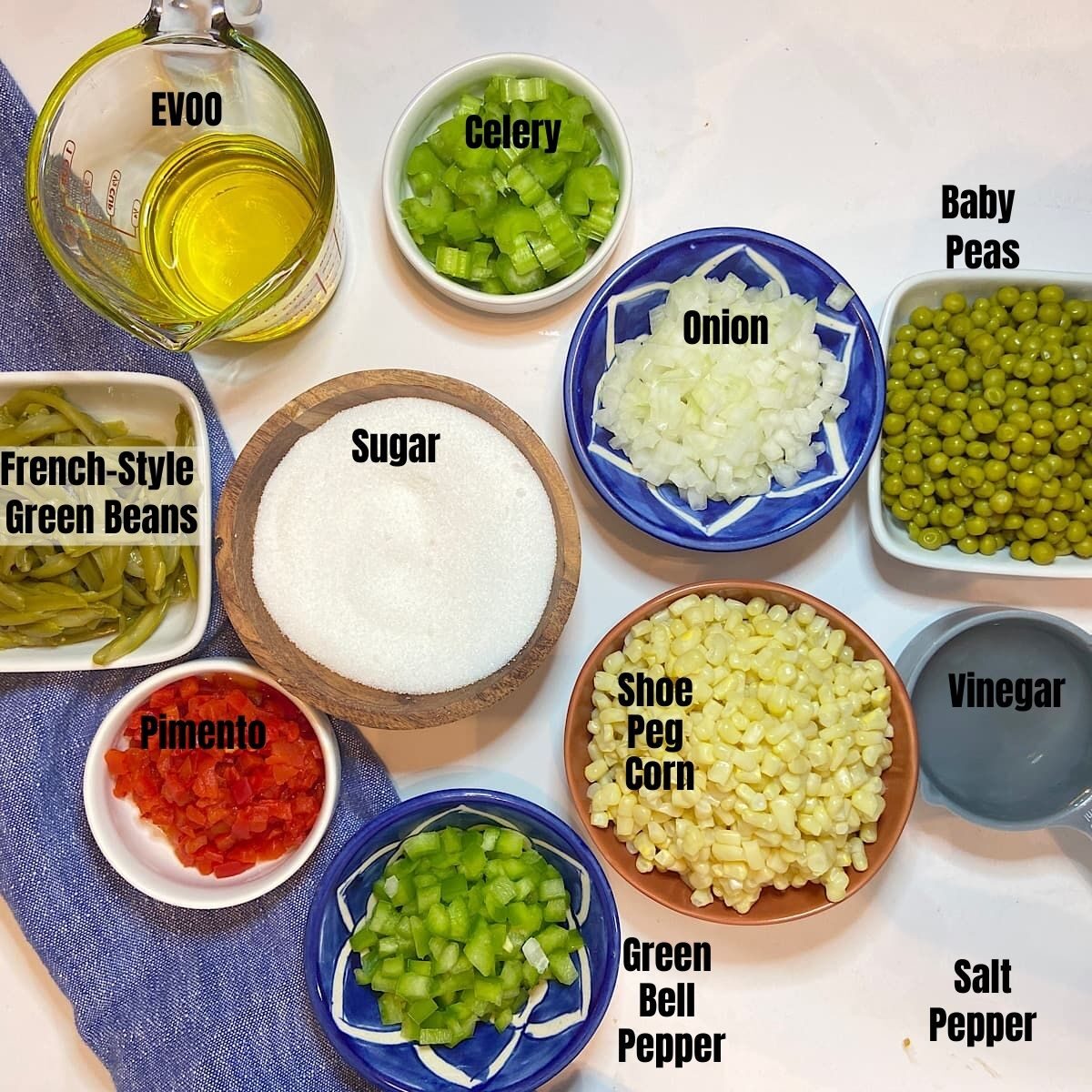 This salad is really a mixture of colorful vegetables. Half of the vegetables in the salad are canned which makes this a salad I often make in the Winter when there is not a lot of fresh produce.
For green beans, I suggest the French-Style. These finely sliced cuts of beans provide a different texture for the salad. Of course, you can substitute other types of cut green beans if that is what you have on hand in your pantry.
I am usually not particular about the type of corn in a recipe, but this one uses shoe-peg corn. This variety is mild, lightly colored sweet corn.
Use tender baby peas in this salad. They are sweet pea that is harvested early. If you use frozen, cook according to package directions prior to adding to the salad.
The pepper in this salad is a green bell pepper. You can substitute any color of bell pepper. The color is not important, it is the flavor that adds to the dish.
If you can find it, look for smaller celery stalks. This of course is not crucial, but I like the texture of the vegetables to be roughly the same size.
A small jar of pimento, usually found by the olives in the grocery store adds more color and flavor. If you don't have pimento, then chopping a fresh tomato will work. The flavor will be a bit different.
The simple salad dressing is made with sugar, olive oil, and vinegar.
Salt and pepper finish the salad seasoning.
Instructions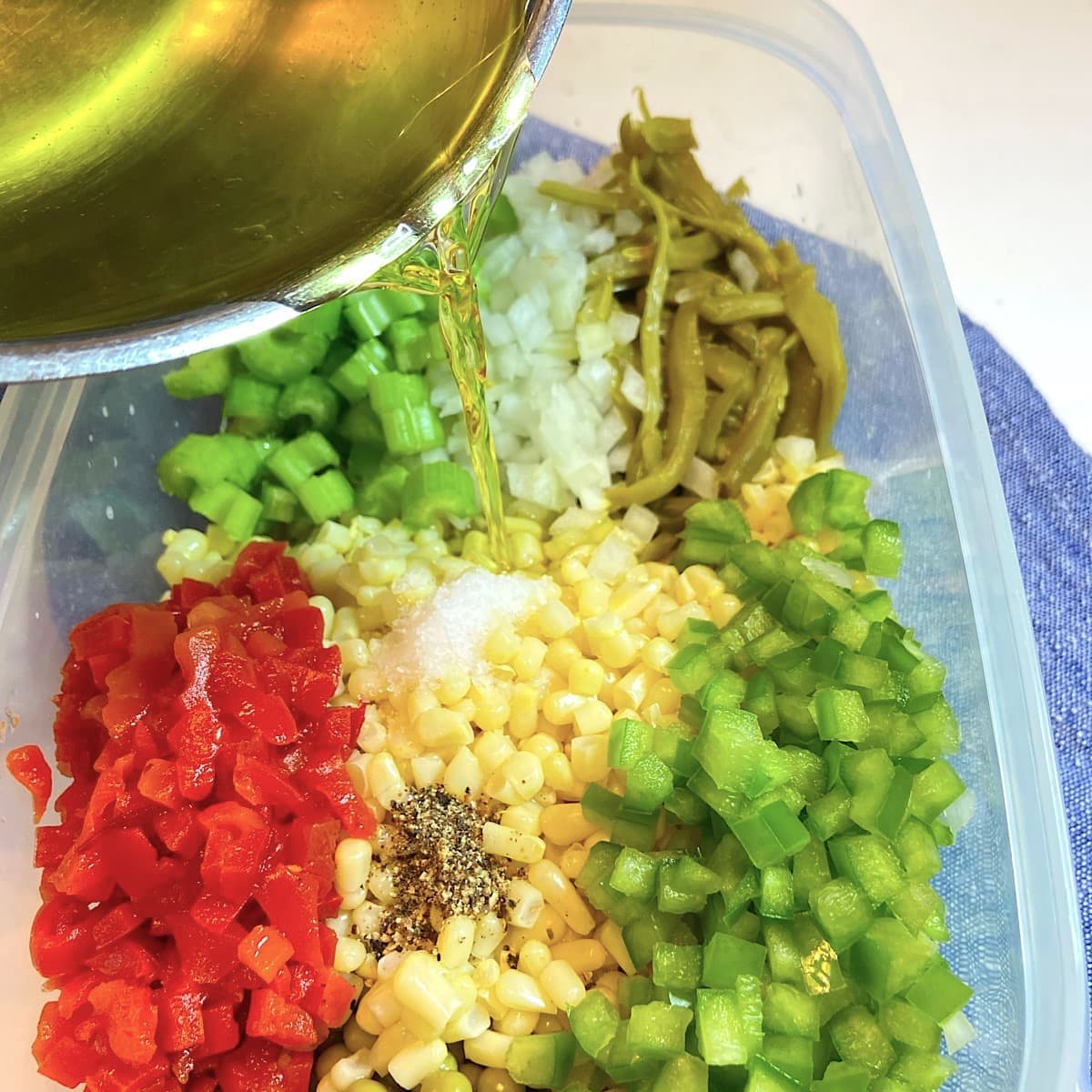 This is a super simple salad.
Step 1. Gather your salad ingredients and chop your vegetables. Set aside.
Step 2. Heat sugar, vinegar, and olive oil in a pan over medium heat. Stir until the sugar dissolves in the oil and vinegar.
Step 3. Add vegetables to a covered dish along with salt and pepper. Pour dressing over the vegetables. Stir and cover.
Step 4. Refrigerate until chilled. At least 4 hours or overnight. Serve salad with a slotted spoon.
This makes ten 1/2 cup servings.
Frequently Asked Questions
How to Store

Store Green Bean Salad in an airtight covered container for up to 7 days in the refrigerator.
What to Serve with Chilled Green Bean Salad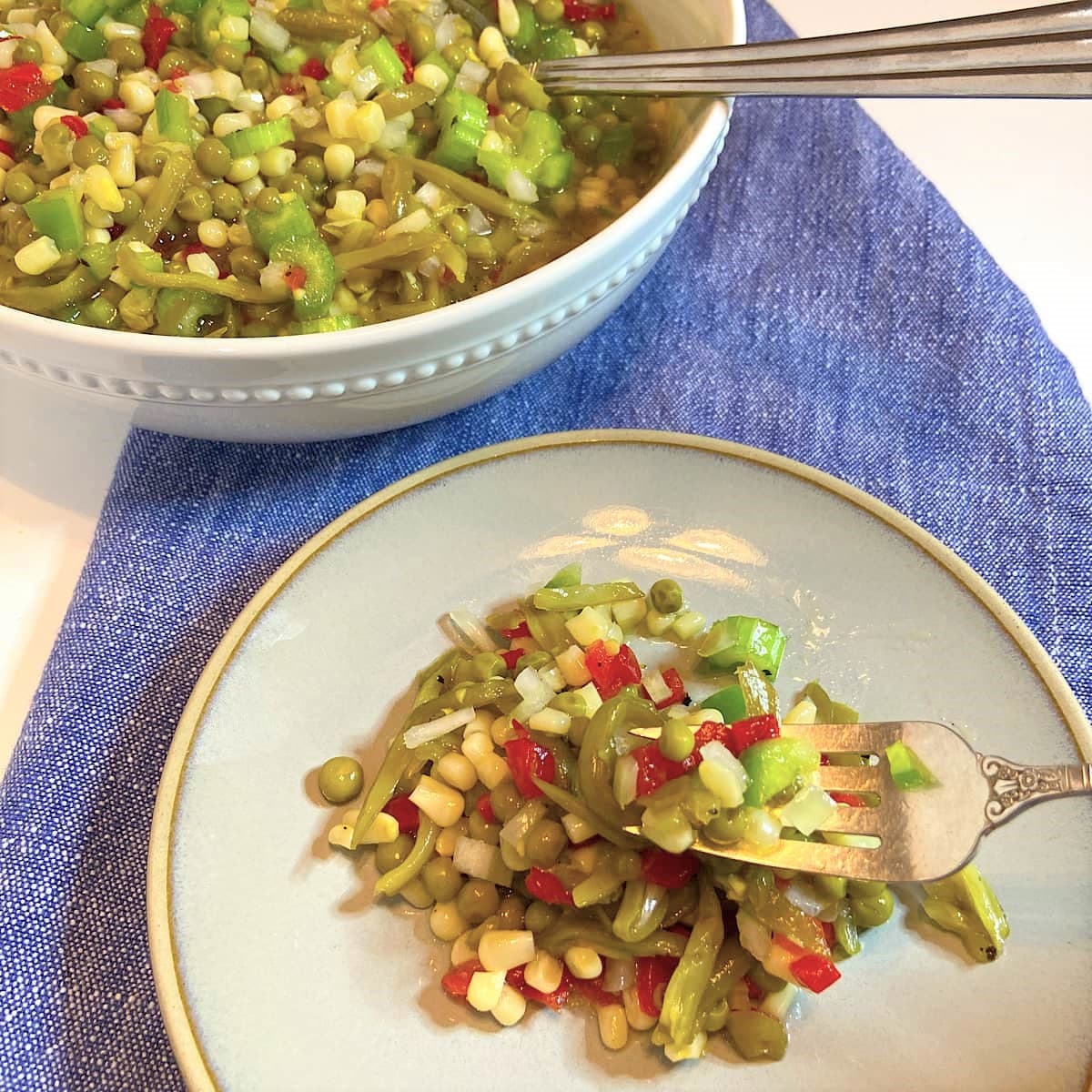 This sweet and tangy canned french-style green bean salad is a perfect side dish recipe any time of year. I consider it a great alternative to pasta salad. Consider serving it with a roast, poultry, or grilled meat dish. You might also enjoy it with one of the following recipes.
Grilled Bacon Wrapped Chicken Breasts - easy and flavorful chicken dish. A barbecue rub adds additional flavor. Grill or bake.
Peppered Turkey Meatloaf - bell pepper and ground pepper add flavor to this easy turkey meatloaf. Top with a sweet and tangy red sauce for more flavor.
Oven Baked Bone-In Turkey Breast - flavorful and moist turkey breast made with simple ingredients.
Other Salad Recipes for You
---
August 2021 Update: Minor updates to post and images.