This post may contain affiliate links. This means I may make a small commission at no additional cost to you when you make a purchase. Find out more in the Disclosure Policy
This simple steak marinade will add fantastic flavor to your grilled steak. Made with simple ingredients, right from your pantry. Mix marinade prior to grilling, no need to allow time for the steak to marinate. It takes steak to the next flavor level. No kidding.
At our house, we try to focus on poultry and fish for most meals. But, occasionally, we like to include beef. A pot roast made in the crockpot is a monthly favorite, but once the weather warms up, we grill out a lot more. There is nothing like a flavorful and juicy grilled steak.
My husband is in charge of the grill. When he grills steak he likes to use what he calls his "secret sauce" marinade.
I think this is the best steak marinade because it enhances the flavor of the steak without overpowering the beef flavor. This simple steak marinade with Italian dressing and soy sauce also lightly tenderizes the meat.
Ingredients You Need for Steak Marinade
You need just a few ingredients to boost up the flavor of your grilled steak,
Check your pantry and refrigerator for:
This recipe makes about a cup of marinade. It marinates up to 2 pounds of steak. Discard any remaining marinade once you are finished grilling.
Instructions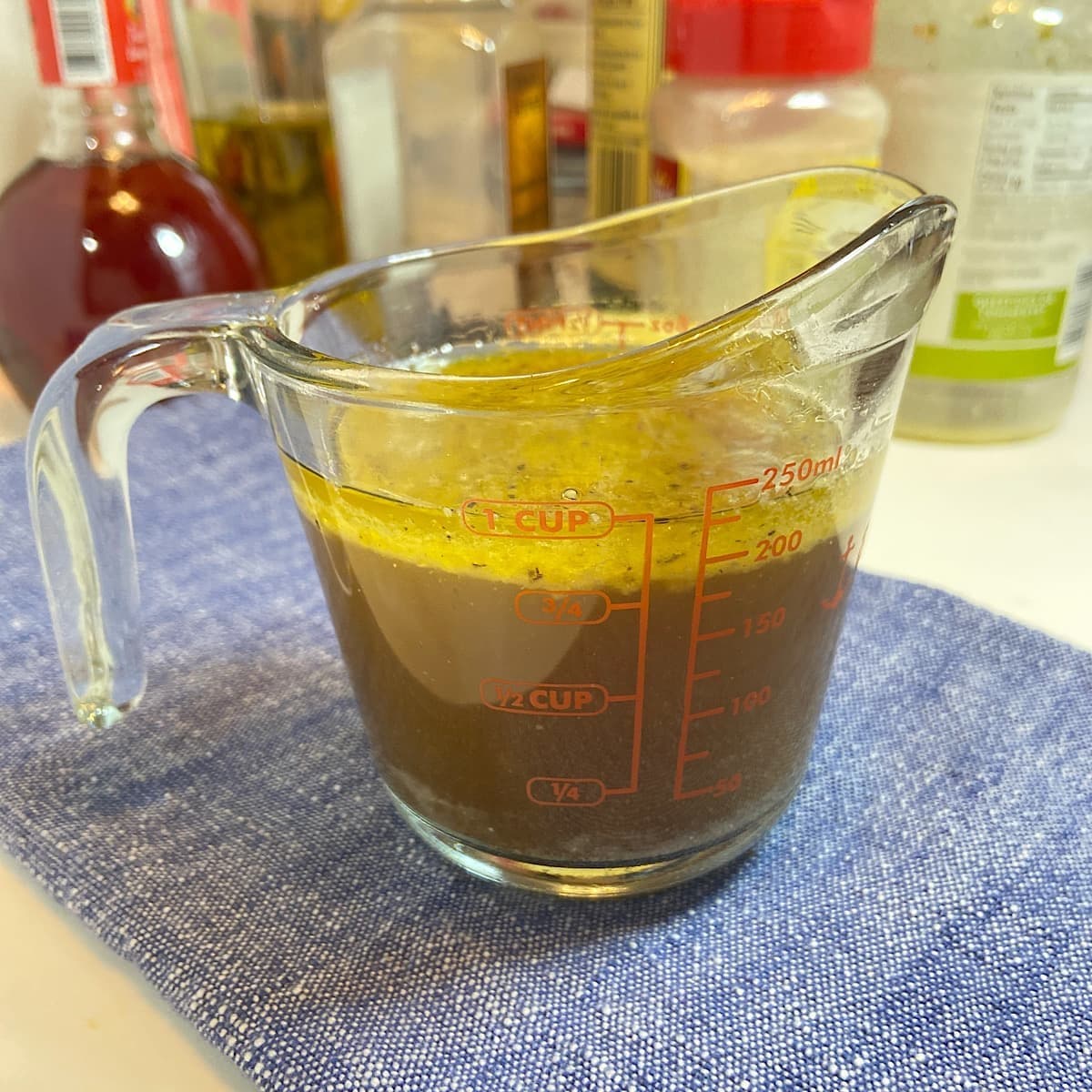 The great thing about this marinade is that it has simple preparation.
Step 1. Whisk Italian salad dressing, Worcestershire sauce, Soy sauce, wine vinegar, lemon juice, EVOO, garlic powder, pepper, and water together in a bowl.
Step 2. Preheat the gas grill so the inside is hot. Turn one side of the grilling area off. Please steak on the non-heated side. Brush or spoon marinade on steak. Cook with grill lid down.
Step 3. For a medium-rare steak that is roughly an inch thick, grill 4 minutes each side with the lid down. Brush or spoon marinade on beef or kabobs every 2 minutes. For a more well-done steak adjust the cooking time for an additional 1-2 minutes.
To ensure the steak is perfectly grilled, check the internal temperature with a probe #ad and remove it from the grill when the temperature registers 135 o F.
Marinade Tips
This marinade works with all cuts of beef. I especially like the extra flavor it adds to a beef tenderloin filet. The ingredients help tenderize other cuts too such as sirloin, or rib-eye steak.
Unlike other marinades, simply brush or spoon this marinade on the beef as it grills. The key is to brush or spoon it on about every 2 minutes to ensure the best flavor.
Recipe As Seen on Meal Plan Mondays
Other Tasty Dinner Recipes for You
---
May 2022 Update: Minor updates to recipe post.