This post may contain affiliate links. This means I may make a small commission at no additional cost to you when you make a purchase. Find out more in the Disclosure Policy
This simple Creole Black-Eyed Peas Recipe is made with ingredients right from your pantry and is ready in just about 30 minutes. Full of spicy flavor and crunchy vegetables, it is a perfect side dish for a weeknight dinner or a weekend barbeque.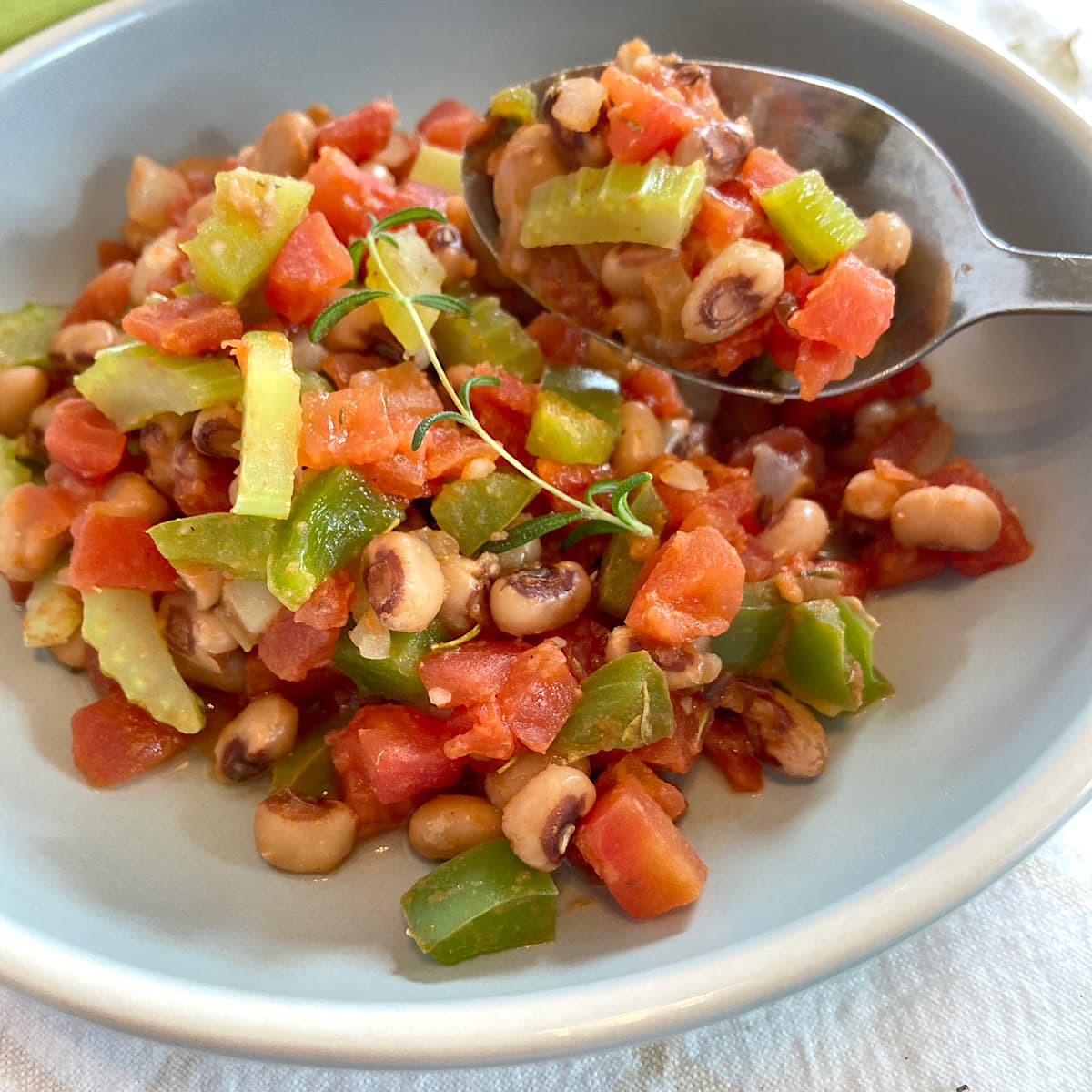 Enjoying black-eyed peas on New Year's is a southern inspired tradition. They are thought to bring luck and prosperity for the New Year.
The Mediterranean diet suggests including beans and legumes regularly in your diet. Beans, including black-eyed peas are filled with protein and fiber and are nutrient-dense.
I have only a few bean recipes, but this Creole Black-Eyed Pea dish is full of spicy flavor, one I love and I know you will too.
Ingredients
Simple ingredients make this recipe quick and easy. For black-eyed peas I used canned. Canned are already cooked and ready to go. You just need to gently rinse prior to use.
I always have onions, celery, and some color of bell pepper in my fridge. And when I add onion, I almost always add garlic. They just seem to go together in most recipes. I keep a jar of pre-minced garlic in the fridge or you can mince your own.
For tomatoes, I used the petite diced variety. I like to keep all the vegetables finely chopped.
When sautéing this dish I try to use just a little olive oil. If it feels a little dry you can add 1/4 to 1/2 cup of broth. I make my own and freeze it in pre measured portions. If you don't have any frozen then use a small amount broth base. These broth bases usually have a lot more flavor than the canned and boxed varieties.
The spices are super simple. Add dried thyme, or add basil if you prefer. Add small amounts of salt, pepper, a pinch of allspice, and a bay leaf. To heat the recipe up, add cayenne pepper, and a dash of hot sauce. Adjust the amount of heat to your taste.
Instructions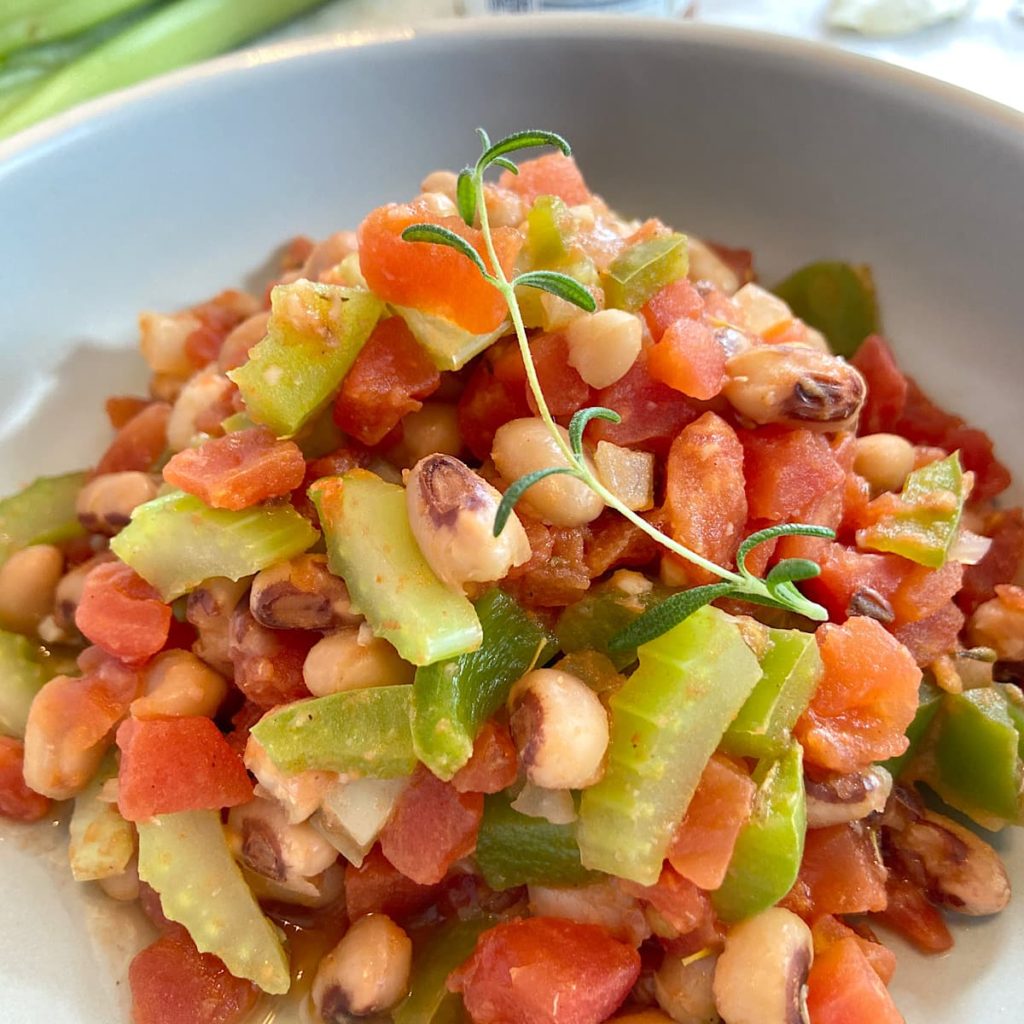 This quick side dish is prepared in one pan.
Step 1. Start with chopping your vegetables. I like to chop them roughly to the size of black-eyed peas.
Step 2. Heat olive oil over medium heat in a large sauce pan. If you don't have olive oil you can substitute canola oil or another healthy oil you have on hand.
Step 3. Add the celery, bell pepper, and onion. Stir and cook for 3 minutes.
Step 4. Add garlic and continue to cook. Stir the vegetables a couple of times so the garlic doesn't burn.
Step 5. Drain and rinse the black-eyed peas. I used canned peas in this recipe to save time. But, if you have frozen, you can cook per the package directions and then continue with the recipe.
Step 6. Add drained tomatoes, broth, thyme, pepper, salt, hot sauce, allspice, and bay leaf. Stir to mix.
Step 7. Lower the heat to low and continue to cook for about 10 minutes until everything is heated through. The dish is done. Remember to discard the bay leaf prior to serving.
Frequently Asked Questions
How To Store

Store for 4-5 days in a covered dish in the refrigerator. Heat before serving.
What Are Black-Eyed Peas

Black-Eyed Peas are actually a bean or a legume. They are identified by a pale bean with a large dark spot or eye on the inside of the bean.

You can find them at the grocery store in dried, frozen, or canned form.
What to Serve with Black-Eyed Peas
This creole black-eyed pea recipe is quick and simple to pull together. It makes a tasty side dish, perfect next to a variety of entries. I usually serve it with Collard Greens, and Cornbread.
For a protein add Roasted Chicken Legs, or Bacon Wrapped Chicken.
Celebrating the New Year? Serve Black-eyed peas for prosperity, greens for money, cornbread for gold, and ham for moving forward.
Other Vegetable Recipes for You
---